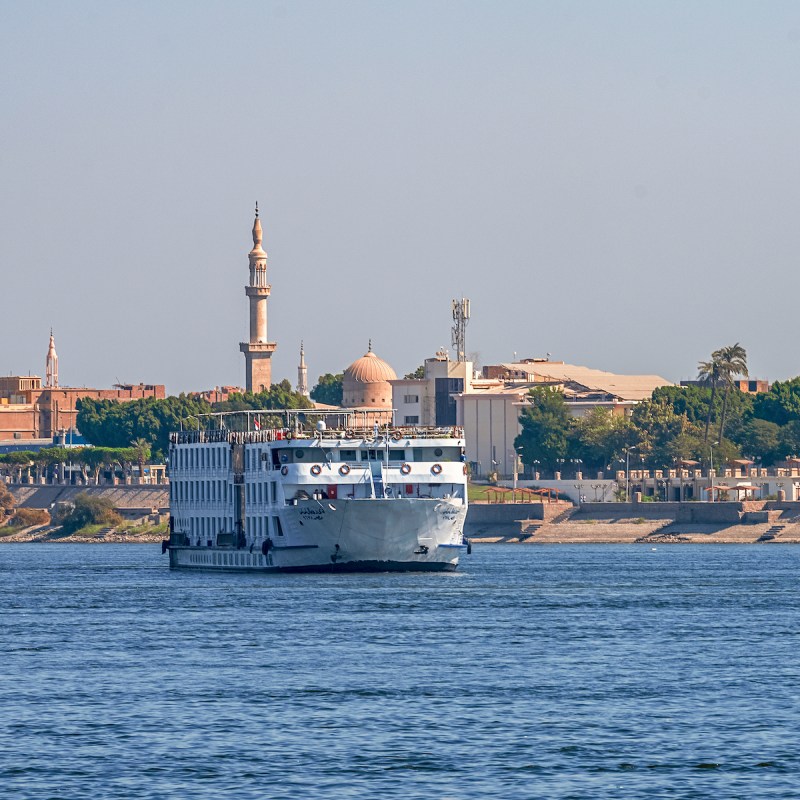 A Nile cruise is on nearly every international traveler's wish list. The wonders of ancient Egypt go way beyond the pyramids and the sphinx, with countless treasures lying further south, a stretch away from Cairo, lying either within reach of Luxor or Aswan, which is why most people opt for a cruise between the two cities, stopping off at the most important sites along the way.
Having visited Cairo before, a Nile cruise had been on my wish list for years until I finally found the right ship, which I knew I would enjoy, together with the right duration of cruise and itinerary to suit me. It took a lot of research and some luck to chance upon the cruise that was right for me: very small, few people, historic connections, a touch of the glamor of 1920s- and 1930s-style travel, and plenty of class. I found my ideal cruise on the SS Sudan, the last true paddle steamer on the Nile, the one Agatha Christie sailed on and where she wrote Death on the Nile — and where the subsequent movies were filmed. Small enough to allow for privacy, large enough for comfort, with a five-night, six-day itinerary between Luxor and Aswan.
But what is perfect for me isn't necessarily perfect for everybody else. Some might want a pool, a shop, more people to socialize with, or maybe more modern cabins, and probably going from Aswan to Luxor, or even cruising the whole way from Cairo to Aswan. Timing is crucial as well, as is deciding what to do at either end. There are many things to consider before embarking on a Nile cruise, so, here I have listed a few points to mull over and research before you book yourself that trip of a lifetime.
Up Or Down River?
Let's start with some nomenclature you will need to go along the right route: Cruising up the Nile means you are going south, toward the source of the Nile, which, by the way, I recently discovered in Uganda. Cruising down the Nile is sailing toward the estuary in the Mediterranean. But, just to confuse things, Upper Egypt is in fact southern Egypt, while Lower Egypt is in the north, by the coast.
Most Nile Cruises, except for the ones setting off from Cairo and cruising all the way up the Nile, actually sail only in Upper Egypt, between Luxor and Aswan.
I am unsure about what the statistics are when it comes to preferences, but all the cruise ships in Upper Egypt either cruise from Luxor to Aswan or from Aswan to Luxor. Both Luxor and Aswan have airports you can fly into from Cairo, the main international airport in Egypt, so the choice really is yours. That said, personally, I felt that going from Luxor to Aswan was my preferred option simply because — in my mind — Aswan is so much prettier than Luxor. And from Aswan, you can travel to the temples in Abu Simbel, leaving you with the best bit at the end of your journey. But many people would argue the opposite and there really is no right or wrong.
Hotels At Either End
While many travelers, mostly those who are time poor, head straight from the airport to the cruise ship and, once docked after the cruise, fly straight back out again, I would like to plead for a night or two at either end. Not only does it give you the option of overcoming any jet lag or travel fatigue, but also there are some lovely historic hotels that are worth spending a night in. In Luxor, the famous Winter Palace is a historic hotel, a little frayed around the edges, but with a fabulous garden and a pedigree of former guests that is hard to beat. The only place that can beat the guest list of the Winter Palace is the Old Cataract Hotel in Aswan where Agatha Christie stayed at the end of her cruise, and you can take a tour through numerous suites named after illustrious guests who stayed there over the last century. And the hotel offers rooms with some of my favorite views in the world.
What Kind Of Boat
There are essentially four types of boats on the Nile that can take you from A to B. There are modern cruise ships, relatively small when compared to ocean-going cruise ships with around 50 cabins, but many with swimming pools, cabins with balconies, and shops and restaurants on board. There is the SS Sudan, alone in its class, without amenities such as pools or shops, but with only five suites and 18 cabins, plus a superb sundeck, a bar, and a restaurant. Then there are the dahabiyas, beautiful boats with a sail at either end — and even more private with many only catering to around 12 passengers. The dahabiyas come without engines, but often have a tugboat for added speed, and offer the most tranquil and secluded cruises. Lastly, there are the feluccas, small sailboats, where in some cases you can spend one night on board, but generally, these lovely and traditional sailboats are only used for day trips.
Where Are The Stops?
Between the most popular cruise harbors of Luxor and Aswan lie the most amazing sights, most of which are taken in by all the various cruises, because, after all, that is why everybody is there. The main stops are Qena, a little downriver from Luxor, with the Dendera and Abydos temples; Luxor, with the various valleys of tombs; Edfu with the fabulous Kom Ombo temple; and lastly Aswan, with a visit to Philae. On a five-night cruise upriver (so going south), you will stay overnight in Qena, Luxor, Edfu, and two nights in Aswan.
Length Of Cruise
Most cruises between Luxor and Aswan take between three and seven days, the shorter ones skipping Qena and only staying one night in Aswan, the longer ones adding extra nights, usually in Luxor.
If you are lucky enough to have the time to sail from Cairo to Aswan, the itinerary takes a minimum of 11 nights, but more often than not 14 nights, with sightseeing in Cairo included, usually reaching Luxor on Day 11. Despite the current of the Nile, which is evident but quite slow, the cruises up or down the river take the same amount of time.
When Best To Travel
The best time to visit Upper (southern) Egypt is between October and April. That said, I went at the end of October, and the temperatures were still in the 90s Fahrenheit, making sightseeing a bit of an exhausting undertaking. In the summer, these temperatures are much, much worse, so travel then is best avoided. In December and January, the coldest months, the temperatures hover around the mid-70s Fahrenheit. As for rain, the rainy season is between October and April, with a negligible spike at less than an inch of rain in October.
What You Must Pack
Even if yours is a fancy cruise, pack light, pack layers, and pack sensible shoes. It will be hot and sandy whenever you go exploring. In the Valley of the Kings, for example, there is much sand, no shade, and plenty of stairs and steps to conquer, so light clothing but good shoes that keep you firmly on the ground are useful. Bring a light cover for the evening and something nice for the boat. A clothes brush to get the sand and dust off you at the end of the outing and a handheld fan to bring you some air when it gets warm are essential. And, if you like a tipple or two, know that in Egypt imported wine and champagne are extortionately expensive, so, get your full allowance in the duty-free shop and enjoy along the way.
What To Do Before (Or After)
Chances are that you will fly into Cairo, and unless you are embarking in Cairo, some sightseeing is a must. Allow at least two extra days to see the main sights before heading south. And once you are in the south, note that all cruise ships stop at Aswan because of the dams. If you want to see Abu Simbel, you can either fly from Aswan to Abu Simbel or take a tour either by bus or private car, but you will need to book the car in advance. This is because the tourist road caravan sets off first thing in the morning and is escorted by police all the way between Aswan and Abu Simbel because of potential bandits, and all travelers need to be registered and accounted for by the day before at the latest.
What To Read And Watch About The Nile
To get you in the mood and keep you going while you're there, here are some books and films set in exactly the places you will be visiting, so you can go, "Oh, I know that place!" as you read or watch.
One fantastic historical TV series presented by Bettany Hughes is entitled The Nile and is full of information, making for perfect viewing before and after your trip.
Pro Tip: In many places, you will either have to pay for a photography permit, or, at times, won't be able to take photographs. But don't let that stop you from carrying your camera everywhere with you!