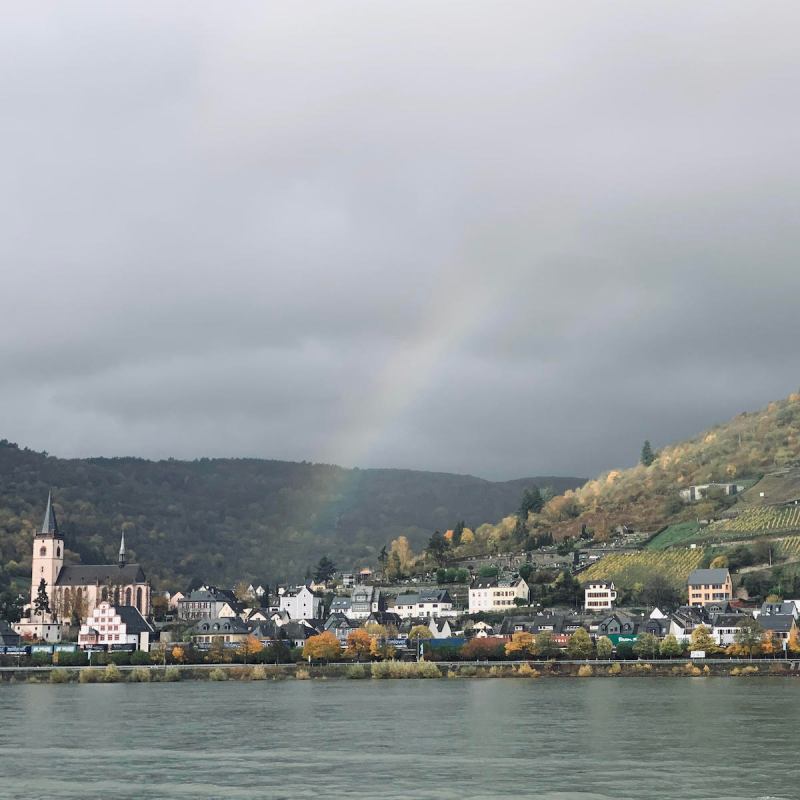 Your elegantly appointed stateroom with full sliding doors opening to a French balcony with an ever-changing scenic slideshow is your home for the next 7, 10, 14, or more days. First, you are compelled to open the slider and enjoy your view — even if it is the dock side — imagining all the panoramic landscapes you will encounter along your journey.
You unpack the suitcase that has magically appeared in your stateroom, organizing clothes into drawers and closets tucked into every nook and cranny. As you read the daily shipboard newspaper filled with activities, you already know why river cruises are perfect for retirees.
1. Unpack Once
No one loves living out of a suitcase; it gets tiresome quickly. Additionally, space is at a premium in a stateroom — no room for a bulky suitcase. Take a few minutes to unpack and tuck away your luggage. Your cabin will stay tidy and comfortable, your clothes will be neatly folded or hung, and you can turn your attention to more important tasks like having the time of your life.
2. Eliminate Transportation Woes
When you book your airfare and airport transfers as part of the cruise package, the cruise line becomes responsible for any hiccups. Traveling always comes with a bit of the unknown, and it is comforting to know you have a team to work out any kinks that arise.
Once on the ship, your ship-booked excursions include transportation. If you book with an outside vendor, you will need to make certain you are back in plenty of time for the all-aboard call.
3. Excursions For All Abilities
Most cruise lines offer excursions with a variety of exertion levels. They still offer the guided bus tour where you only get off for photos and maybe a short walk. However, many now include bike tours, hiking, and outings geared to a more athletic traveler.
For example, on Viking's Grand European Tour, the excursions in Cologne include a Cologne Walking Tour (moderate), Cologne by Bicycle (active), and Cologne's Beer Culture & Dinner (easy). This variety of activity levels allows you to go at your own pace and offers appropriate options for all guests. Most ports of call offer at least one excursion for the gentle traveler.
4. Locally Guided Tours
Cruise lines love repeat customers, and word of mouth is their best marketing tool, so they hire the best local tour guides to lead their excursions. Local guides bring a personal perspective to the local culture, history, and traditions.
When you only have a brief time in a location, touring with a local guide is the best way to absorb area highlights. Local guides are also terrific referral resources when you have time to explore on your own.
5. Enjoy Regional Cuisine
Cruising and delicious food go hand-in-hand. The main dining room typically offers one or two dishes inspired by the local cuisine. As you travel through Regensburg, Germany, perhaps you will find traditional German sausage and sauerkraut on the menu. This allows you to sample regional dishes without having to scout out the perfect restaurant.
If you are a foodie, be sure to check on the onboard cooking lessons and food-focused excursions offered on your voyage.
6. Fun Onboard Activities
When river cruising, you usually don't have too many "at sea" days; there is typically a port of call each day. However, while sailing, you will find plenty of activities to keep you busy. Of course, there is the pool, gym, and the ubiquitous bar. But also there are intellectual talks, demonstrations, wine tastings, card games, and on some ships, a casino.
You can always find a comfy chair with a view and simply watch the world float by.
7. Sample A Variety Of Cruises
There is a river cruise for everyone. The variety in the type of cruise may be just as important as the location of the cruise. Themed cruises like history, art, wine, knitting, cycling, and Christmas markets are just a few. Learn more about your favorite retiree pastime or immerse yourself in a new adventure.
Retirees are flocking to river cruises to enjoy the amenities, port stops, cultural immersion, and meeting new friends with similar interests. It is the perfect getaway for seniors who want to explore the world one port at a time.
8. Score Last-Minute Deals
As retirees, we have plenty of free time. Last-minute cruise deals are appealingly budget-friendly. If you have a trusted travel agent, and you should use one to book your cruise, they are a good source of last-minute deals. Also, when you sign up for the cruise lines newsletter they will inundate you with cruise information — including any last-minute deals.
Hopping on an all-inclusive cruise at the last minute requires little or no planning. Simply book it and show up — it's the best way to travel.
9. Bookended Adventures
You can book a getaway extension on the front and/or back end of your cruise in cities offered by the cruise line. They will take care of your transportation, hotel, and often a "get-acquainted city tour." Additionally, a cruise director is onsite at the hotel for guidance and assistance. It's like having your own concierge.
Many cruise lines offer different cities for pre and post-embarkation stops for cruises along the same route. For example, Prague is a pre/post stay for the Danube River Cruise, and requires a good bus ride to reach the embarkation city. The pre/post stays are a nice way to explore destinations more in-depth.
10. Smooth Sailing
Guests on river cruises are less likely to suffer from seasickness. The rivers are calmer than the open seas, so the ship rocks less. Most of the sailing is overnight and the gentle rocking has more of a soothing effect than the rocking of rough waters.
11. Small Ships Equals Personalized Service
The guest-to-staff ratios on river cruises tend to be almost one guest to one staff or two guests to one staff, though it varies by cruise line. The ratio is conducive to smaller crowds and is more favorable than the larger cruise ships. With more staff tending to guests along with the low guest capacity (around 250 passengers), river cruises offer more personalized service.
You become very familiar with your cabin steward, server, and cruise director. They get to know you quickly and can attend to any special needs or requests.
12. Ports Are Close To The City
Cruise ships are small and can dock close to the city center. They fit into port slips much easier than larger cruise ships that may have to dock out of port. This allows guests gangway access to the port city or the excursion transportation. Very seldom does a river cruise require tenders for disembarkation.
13. Easy Mobility Access
The smaller ships, fewer people, and personalized service make access easier for guests with mobility issues. The ships are smaller to navigate, typically dock in the port or old port area, and guest services are more attuned to a particular guest's needs.
You will encounter many guests requiring varying levels of access.
14. Solo Travel Friendly
Solo travel is becoming extremely popular. Long gone are the days when singles had to find a travel buddy before they embarked on an adventurous journey.
Many cruise companies offer decreased single supplements — some charging no additional fee. You will find singles meet-ups and many guests going solo on excursions even if they are traveling with a companion. As a solo traveler, you can have as much or as little alone time as you desire.
15. Language Immersion
If you are looking for a unique language experience, book a trip on one of the cruise lines offered in a language other than English. French Waterways offers luxurious cruises where the staff speaks French and English. Immerse yourself in the country you are visiting — the scenery, gastronomy, and language — for a cultural experience you won't soon forget.
Top River Cruise Lines
Below is the list of Travel Awaits Best Of Travel 2022 Favorite River Cruise Lines. Recommendations by fellow river cruisers are always a great place to start.
River Cruises Are A Wonderful Travel Option
River cruises are one of my favorite ways to travel. Waking up to beautiful fjords, ancient port cities, and bustling harbor views starts the day off full of promise with a peek at what lies ahead. As retirees, we have the luxury of time; river cruising is one of the best ways to enjoy relaxed travel. Bon Voyage!