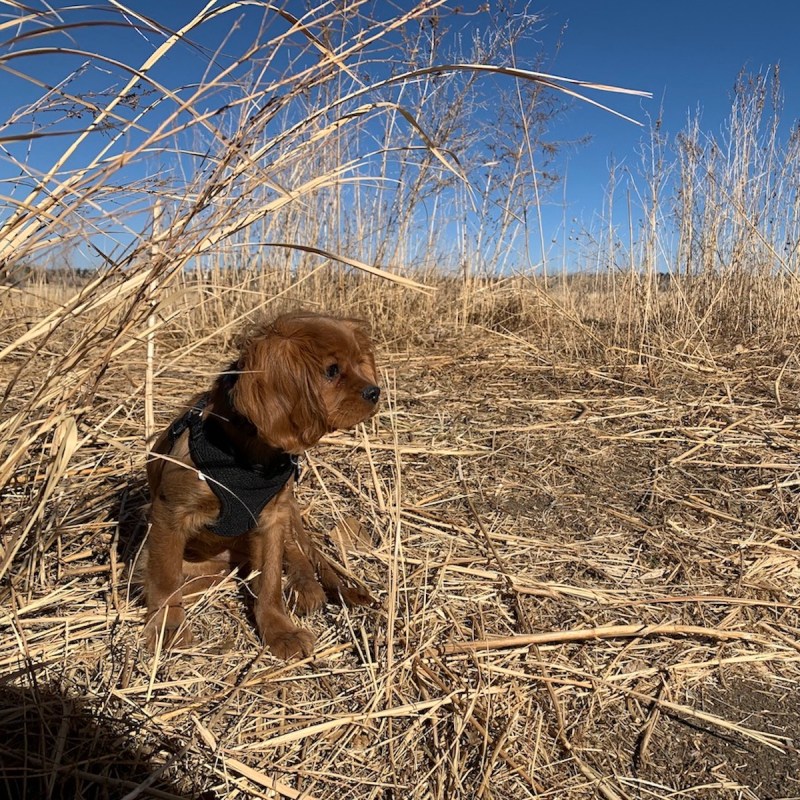 For many of us, our four-legged friends are so much more than just mere pets. We treat them as cherished members of our family, and we love to include them in our activities as much as we can, including our travels and vacations. An increasing number of hotels and resorts recognize the big business pet travel can bring and have made policy changes to accommodate and welcome them, making it easier than ever to bring your buddy along on adventures.
But there are a few key things you'll want to keep in mind while traveling with your pet — beyond just getting to your destination. Here are some important prep steps that made a big difference when we recently hit the road with our new puppy … and they might make your next trip a little more manageable, too!
1. Do Your Research
This nearly goes without saying as it relates to booking accommodations — you don't want to be sneaking your sweet ball of fluff into your room, or worse yet, getting caught and risking the remainder of your reservation. Even if a hotel is pet-friendly, some might designate only certain rooms pet-permissible, so you'll want to give the staff a heads-up when booking.
We also found it really helpful to call ahead to check in on cafes, restaurants, and other locations. We did so on a recent trip to Denver, ensuring we could tote along our puppy, Marvel. To our delight, many places greeted her with open arms — and some even had biscuits and other treats on hand for her, too! That included spots with outdoor, heated patios and indoor spaces, such as breweries, where we could bring our own food. There were even several shops where she was allowed in, and we lucked out finding a pub with an entire dog-friendly section set aside. Bottom line: Do your research before you go to prevent disappointment. It's on you to make sure both you and your four-legged friend are welcome.
We also found some terrific dog parks not too far from where we were staying. These were wonderful spots to visit so Marvel could burn off some energy, and we never would have known they were there without a little bit of advance planning.
One more thing: we never expect anything bad to happen to our sweet babies while we're traveling. That said, it's not a horrible idea to scout ahead and figure out where the nearest emergency vet clinic is, if only—and hopefully if only—for your peace of mind.
2. Pad Your Travel Budget
This is crucial and will absolutely come in handy when on the go with your pet. While many hotels will allow your sweet friend to stay, they may also charge an extra cleaning fee after you check out. Ours was $150 and non-refundable, but when we did the math and compared that to boarding Marv during our vacation, it was certainly a bargain. And we had the added benefit of having her with us!
And while we drove to our Denver destination, there are of course separate up-charges to bring your pet aboard if you're flying or taking a train during your vacation. Small dogs and cats can come aboard Amtrak for most routes 7 hours or less for $26 one-way; airlines typically charge $100-$150 one way for domestic flights. And those approved pet carriers for public transit? They'll also set you back some bucks.
Again: plan ahead and know that it will likely cost a bit more to bring your best friend along on vacation. In our case, with a new puppy, we knew it was worth the cost to continue the bonding process with our new family member!
3. Factor In Extra Travel Time
Even with an older, well-behaved animal, you'll need to budget in extra travel time as well. I mentioned we drove on our trek out to Denver, and the gas-bathroom-snack stops took a bit longer with our puppy in tow. We needed to attend to ourselves, and then to her, before we could get back on the road.
At the airport, it will likely take longer to clear the TSA line with your tiny friend in tow, and the same goes for boarding your train. Make sure you factor in extra time for you and your pet to reach your destination to prevent any undue stress or strain.
4. Perform A Safety Sweep
This is an important one, especially if you're traveling with a curious puppy. Perform a safety sweep of your accommodations before you let Fido loose. Do this as if your pet was a toddler. Look for electric cords that they might want to gnaw on and get them out of reach. Consider moving the toilet paper off the holder and to higher ground to prevent messes and/or an upset stomach in a chewing pup. Get out the flashlight on your cell phone and check under tables, stands, and in nooks and crannies for anything that could have accidentally been left behind that your pup might find interesting or edible.
We speak from experience on this point as well. Our son saw our pup with something in her mouth shortly after we checked in, and fortunately, he fished it out just before she swallowed it. Turns out it was a powerful pain pill that, given her size, could have been lethal. She'd found it in the carpet under the nightstand, where even the best housekeeping staff would have missed it. Thank goodness our kid noticed and prevented what could have been a disaster!
Accidents can happen, of course. But you'll lessen the chance of them by getting down on your pet's level and doing a quick check of your room, suite, or rental home.
5. Have a Potty Plan!
Chances are your pet is fairly particular about where she or he goes to wee. Be it the grass, a particular patch in your landscaping, or the litter box, expect and plan for disruptions if you're on the road.
Case in point: Our hotel was lovely — and in the heart of everything — in downtown Denver. The only thing that was lacking? Nearby green space. Our pup needed extra time to figure out she needed to go in abandoned tree planters up the block where the rest of the urban dogs in the neighborhood did their thing. We also had to make sure we could get dressed and downstairs in a hurry in the middle of the night if she had to go. Spoiler: she did. And so did we.
So pack extra patience when it comes to finding a new potty spot, and getting your pet there when she or he needs it.
6. Be Mindful Of Others
I know, I know … it's tough to believe, but not everyone will think your pet is amazing as you do. And while many of the places we visited with Marvel were incredibly accommodating and gracious, we tried to make sure we didn't overextend our welcome, or make anyone around us uncomfortable.
In the elevator at the hotel, I held her close instead of letting her wander and welcome random strangers (which she would have happily done without my intervention). I let people approach us if they wanted to say hello and give her a pat or a scratch behind the ears. When we went out to eat, we made sure she was leashed and well under our control, either in our arms or at our feet. If she got whiny (or worse yet, barky), we would remove her from the situation. And at all times, no matter what, she was leashed and under our control. This was for her safety as well as for those around her.
Here's the thing: not everyone has the same relationship with animals as we do, and that's OK! Some people have animal-induced allergies and need to keep a distance. Some people are afraid of dogs, no matter how tiny and sweet, perhaps because of a bad experience once upon a time. Other folks just don't like animals, period. No matter what, we wanted to make sure we were mindful of all of those around us when on our vacation with Marvel, and you should, too.
7. Bring Plenty Of Supplies
Last but certainly not least, bring more of what you think you'll need for your pet during your vacation. This includes toys, treats, medications, sanitary supplies, and of course, poop bags. (Any dog owner knows there's nothing worse than running out of those while out on a walk!)
If your pet is on a special or restricted diet, it's smart to bring an extra couple of days' worth of food, particularly if it's a prescription or lesser-known or sold brand. You don't want to be in a bind should you run out and not be able to find exactly what your pet needs at your vacation destination.
We love to travel with our puppy and find it's worth the extra associated time and cost. Do your homework ahead of time, and plan well, to ensure a successful and fun time including your entire family, four-legged members included!