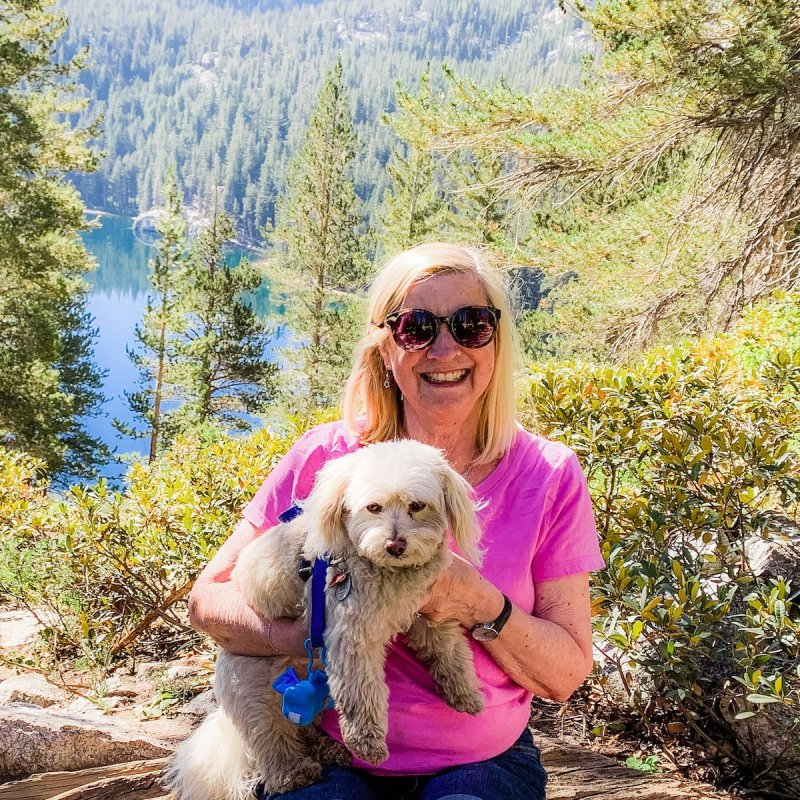 What could be more fun than a long hike out in nature with your pup? Sometimes it's not easy to find dog-friendly trails, though. National parks generally don't allow dogs, unless it's on a short meadow trail, which is the case at popular Yosemite. So, here I've narrowed down a few of my favorite dog-friendly hikes where you are to free explore for miles with your best friend.
All these trails call for your dog to be leashed. And some of these are wonderful in the spring, summer, and fall but get buried under snow in the winter. So, check weather conditions before you hike. These hikes range from easy to moderate, and you can often find connecting trails if you want a longer or more strenuous hike.
Carry snacks and water for you and your dog, take a few safety precautions, and get out and enjoy yourselves!
Editor's Note: Vacationing in California? These are the nine best pet-friendly hotels along California's coast.
1. Climb Up To Crystal Lake At Mammoth
First up is my favorite California dog-friendly trail. The Crystal Lake hike at Mammoth Lakes offers the best of hiking in the Sierra Nevada mountains. While Mammoth Mountain is famous for skiing, it's not as well known that Mammoth also offers superb hiking trails in the late spring, summer, and fall. Dogs are allowed on many of these trails. And you will enjoy the pine trees, clear blue lakes, and panoramic views. If you have time for only one trail in Mammoth, choose Crystal Lake.
The hike to Crystal Lake, in the Ansel Adams wilderness, begins at the Lake George day-use area, where you can park. Follow the trail signs and start winding up through fir trees, pines, and manzanita. Much of the trail is in shade, which helps keep you and your pup cool in summer heat. As you ascend, look up to find the towering granite Crystal Crag watching over you.
You will reach pristine Crystal Lake after 2.7 miles of climbing. You're at an altitude of 9,600 feet, which may sap your energy. Relax along the shore, eat your picnic lunch, breathe in the clean air, and reenergize.
The round trip will take about four hours. The trail calls for navigating several switchbacks and some stone steps that are as high as 14 inches. So, you and your dog should be up to a bit of a challenge. And be sure to take plenty of water, especially in the warmth of summer. I've found that the easiest way to keep Bailey hydrated is to take a collapsible water bowl and pour him water out of our water bottles.
With stunning views all along the way, the hike to Crystal Lake and back is a great adventure for you and your dog.
2. Visit Idyllwild, Where Dogs Rule
The mile-high mountain town of Idyllwild, just a short drive from Los Angeles or San Diego, is a starting point for many hiking trails. Located in the San Bernardino National Forest, Idyllwild offers trails through alpine wonderland and also up into the nearby San Jacinto Mountains.
One good choice for hiking with your pup is the Ernie Maxwell Scenic Trail. Park and take off from Humber Park. Pick up an Adventure Pass in the lot before heading out. The distance going out and back is four miles.
Mayor Max, Idyllwild's mayor, who happens to be a Golden Retriever, favors this trail. His humans note that the trail starts out downhill. They park a car at the two-mile turnaround point and go only halfway for an easier hike.
Devil's Slide Trail is a longer dog-friendly hike with a trailhead also at Humber Park.
Idyllwild is a dog-friendly town, and as long as you keep your dogs on leash, you will find the town and the trails here most welcoming.
When you head to the mountains, it's especially important to protect your pup from fleas and ticks. My dog's vet has him on Trifexis for fleas. But I didn't realize that additional protection against ticks is a good idea. And Bailey brought a tick home from our first mountain hike. So, add a flea and tick collar or check with your vet about tick products before you head to mountain territory.
3. Hike Up To Santa Barbara's Inspiration Point
Lovely Santa Barbara, a coastal city north of Los Angeles, has not only a harbor but also foothills rising gently from the beach town. One trail I've enjoyed is the hike to Inspiration Point that takes you from the edge of the residential streets of Santa Barbara up into the mountains. Once you reach the peak, all of charming, red-roofed Santa Barbara lays before you, with the ocean sparkling in the distance.
To begin your hike, drive a mile up Tunnel Road to find parking on the right side before reaching the turnaround by the trailhead for Tunnel Trail. Walk to the trailhead for Tunnel Trail. The hike up and back is 3.5 miles and is rated as moderate.
Once you've ascended to Inspiration Point, you can walk a tenth of a mile down a footpath to a point 75 feet below for another viewpoint. Stop for a drink of water and snacks — remember to bring along some for your pup — while you gaze at the scenery.
Along the trail, note the charred trees from the 2009 Jesusita Fire. Santa Barbara battles fires regularly, and this was a major one. Also, from Inspiration Point, be sure to turn and look the other direction from the ocean. You are about halfway up the mountains, so behind you is more of the scenic Santa Ynez range.
Other trails crisscross the area. Some lead away from the views of the ocean. I recommend this Tunnel Trail fire road route for the best views.
4. Get Up Close To The Hollywood Sign
Take your dog to Hollywood! Or at least hike up to the Hollywood sign for a look at this iconic landmark. Park in the lot at the Griffith Observatory. Or park along the street if the lot is full. The sign is visible as soon as you set out. While it is off-limits, you can get near and see all the letters larger than life. Each aluminum letter is 45 feet tall and quite impressive.
The most popular route up from the parking lot is the Charlie Turner Trail. Less than half a mile on, you will come to a grove of pine trees called the Berlin Forest. The trees were planted by Berliners to honor their sister city of Los Angeles. This area has tables and benches where you can sit and look at the Hollywood sign through pine branches. It's definitely a photo op spot.
Further on, you will come to a sign for Dante's View. Take this short detour to see a garden of native plants tended by locals. Then continue to the summit, which is 1,625 feet high. A lookout with a protective railing awaits.
This easy three-mile hike is great for older dogs. You enjoy scenery all the way as you look out at the San Gabriel Mountains and the cityscapes below. The sign is visible as soon as you set out. And the views in all directions are stunning.
This trail is popular, and people love to bring their dogs here. Remember not to be "that person" who forgets plastic bags to clean up after their pet. I tend to forget the bags, but Bailey wears this handy bag holder that attaches to his leash, so I don't have to think about it. And I can always help out a fellow dog owner in need.
Editor's Note: For more tips, consider Sage Scott's picks for the 10 best places to see the Hollywood sign (plus how to get to them!).
5. Enjoy Stunning Views At The Tahoe Rim Trail From Tahoe Meadows
Lake Tahoe straddles California and Nevada. Wherever you stay around Lake Tahoe, you can drive anywhere in the area for a day hike. So, while this trail is technically a few miles across the California state line in Nevada, it's my favorite dog-friendly hike during a stay at Lake Tahoe. And you can enjoy it easily no matter where you are based at Lake Tahoe.
This trail starts at Tahoe Meadows on the Mt. Rose Highway. Park in the lot or along the highway. Start through the meadow, which offers a 1.3-mile loop trail. Turn to the right and enter the wooded area at the far end of the meadow. Here you will join the Tahoe Rim Trail that surrounds the lake and covers 165 miles. At this juncture, you can go for a few miles and be assured of breathtaking views of Lake Tahoe. Take a lunch along and plan to sit on a rock while looking down at the vast, azure lake as you munch your food.
What's great about taking this trail with your pooch is that you can decide how far to go out and back. Vistas and stately pines are a constant, so no matter how far you get, you will enjoy the hike. Use the trail's interactive website to help you plan your day hike.
Note: This was the first mountain trail and long day hike we took with Bailey. We figured we would carry our 10-pound furry friend when he got tired. We hiked for about six hours, and he happily trotted the entire way. Every dog is different, of course, but I appreciated the options for length of hike on this segment of the Tahoe Rim Trail.
I was also nervous about taking Bailey to the mountains of Tahoe, where I had seen dogs run off and get lost. So, I made sure he had his name tag always on, with my cellphone imprinted. For peace of mind, check that your dog's tag is legible and up to date.
Stunning landscapes wait for you and your dog to explore. Head for hikes with panoramic views, deep blue lakes, stately trees, and fresh air. You might swear your dog is smiling with happiness during your adventures.