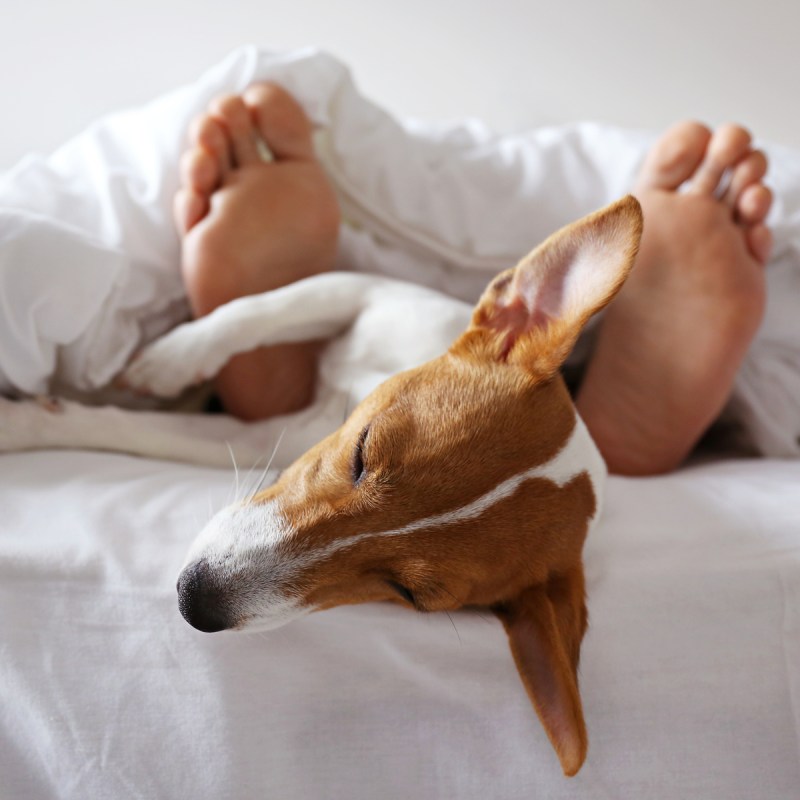 Is there anything worse than when you have packed your bags for a trip, piling them up in the hallway, and your dog comes along, sniffs the bags, and looks at you knowingly, with eyes saying: "You are not taking me with you, are you?"
While it is difficult to take a pup or kitty with you when you are traveling internationally — especially if yours isn't a purse-sized pet — if you are enjoying a staycation, there is absolutely no reason not to take your pooch along, even if you are going to indulge in a luxury break.
In the United States, there are plenty of good hotels that are not only set up to welcome you and your pup, but that positively encourage you to bring your furry friend so that both of you can be pampered during your stay.
A word of warning, though: While you'd expect to spend more when adding a dog to your travel itinerary, and most hotels will charge extra for cleaning and services for pets, it can be difficult to find out quite how much those extra charges amount to. Also, many hotels have a pet size limit and a limit of two pets per room. So before you book, verify the details with the concierge to avoid a shock that could potentially ruin your trip.
For this compilation of lovely hotels that cater to you and your pet alike, I have gotten the input of seasoned travelers and pet lovers who have tried and tested these places and recommended them wholeheartedly.
1. The Hermitage Hotel
Nashville, Tennessee
The Hermitage Hotel in downtown Nashville, with its old-world beaux-arts splendor, dates to 1908. Just looking at the beautiful ceilings in the lobby and bar is a treat.
The luxury carries right through to your pup, who will receive special bedding, food and water bowls, organic treats, and an in-room dining menu. A leash and collar and nightly turndown service with a few treats are also included. And for those times when you would prefer not to be accompanied by your furry friend, a pet-walking and chauffeur service is available upon request.
There is a $150 charge per dog, per stay.
2. The Oxford Hotel
Bend, Oregon
The Oxford Hotel is not only sustainable and green (it operates on 100 percent renewable energy), but it is also stylish and comfortable, with easy access to the best things Oregon have to offer.
That includes many walking trails and a nearby off-leash park for your dog to enjoy. Your pup will sleep in his own comfortable bed, chew on delicious treats, and get to keep his water and food bowls as souvenirs. You will get a map showing all the nearby walks and dog parks.
There is a $59 charge per pet, per stay.
3. The Jefferson
Washington, D.C.
The Jefferson in the nation's capital is a very grand hotel indeed, complete with marble fireplaces, historic busts, and wood paneling. It's very reminiscent of an English gentlemen's club. The hotel has played host to 13 presidents; literary greats such as Scott and Zelda Fitzgerald and Gertrude Stein; Charlie Chaplin; Elvis Presley; and many others. Fancy doesn't begin to describe it.
Your pup will get his own set of bowls, a bed, special dog treats, and filtered water to keep him comfortable. You'll receive a map of walks and dog-friendly places nearby, and the hotel also organizes a walking tour entitled Famous Dogs and Animals in American History.
There is a $50 charge per pet, per stay.
4. Kimpton Journeyman
Milwaukee, Wisconsin
Kimpton Hotels are known as some of the best places in the U.S. for pets and their owners. The no-frills Kimpton Journeyman in Milwaukee is not only close to the city's sights, but it also offers perks such as in-room yoga mats, backpacks to carry on your daily treks around the city, complimentary morning coffee and tea, and hotel bicycles to take out and about.
Happy hours complete with craft beer are sure to delight human guests, while their pets are welcomed no matter their size or number. A director of pet relations will greet you with a bed, mat, bowls, and door hanger letting people know you've got a non-human staying with you. What's more, that all comes at no extra cost!
5. The Little Nell
Aspen, Colorado
Steps away from the slopes, The Little Nell in Aspen prides itself on making every guest feel special and spoiled. Guests enjoy complimentary mini-bars with snacks and soft drinks, Lavazza coffee machines, daily newspapers, and access to a concierge who can organize anything and everything for them. Complimentary shuttles through town and to and from the airport and slopes, plus off-road bikes, are all available.
Pets are welcome and are pampered with their own bowls, cozy beds, and epicurean pet menu. To get your pup used to the altitude, the hotel even offers a puppy jet lag kit.
There is a $125 cleaning fee plus a $25 charge per pet, per night.
6. Hotel Nikko
San Francisco, California
This Japanese-style hotel in San Francisco, with its clear-cut lines and elegant decor, is not only perfect for business but also for sightseeing, located as it is in the heart of the city. The hotel has all the amenities a human guest could wish for, including a large indoor pool, a gym, restaurants and bars, and comfortable rooms.
But it also has something not many hotels have: their very own canine operating officer named Buster. The little white fluffball lives at the hotel and welcomes guests, especially those who have left their furry friends at home. Should you bring your own Buster, he will be looked after very well indeed. Apart from the usual pet amenities like beds, bowls, and treats, the Hotel Nikko has a rooftop terrace where canine visitors can run free while their owners enjoy the view.
There is a $50 charge per day, per dog. There is also a refundable cleaning deposit of $150. Canine visitors must be less than 50 pounds.
7. Moonrise Hotel
St. Louis, Missouri
The Moonrise Hotel is a fun, funky, colorful, and artsy hotel filled with moon- and space-related decor. It's located right on the Gateway City's Delmar Loop, which is just as hip and bustling as the hotel. If you are a moon enthusiast, you will get updates on any special moons during the month of your visit. You can even go on a haunted St. Louis walk!
As for your pup or kitty, he will be spoiled rotten here. Beds, bowls, and homemade treats are provided, in addition to souvenir bandanas and tags and information about pet shows and other local events.
There is a one-time cleaning fee of $45 per pet, per room, per stay.
8. The Pines Lodge
Beaver Creek, Colorado
The Pines Lodge in Beaver Creek offers more than just a superb mountain location. Its amenities range from a large heated outdoor pool and a spa with customized massages to countless sports and fitness programs and roaring open fires at which to relax after a sporty day out.
As for your pup, he will be fitted with a GoPro (extra charge) for filming the walks along the dog-friendly routes. He can receive a treatment at the dog spa, and after happy hour, he'll relax with a rawhide bone on his comfy bed. There's even a guest book where your pup can leave his pawprint!
There is a $50 cleaning charge per dog, per night.
9. Aloft Hotel
Greenville, South Carolina
If you are traveling or even living without a dog but would like a dog in your life, then book a stay at the Aloft Hotel in Greenville. You might not arrive with a pup, but you just might leave with one! All Aloft properties are pet friendly and pamper any pooch you might bring along, but some also offer adoption services. What better souvenir from your travels could you possibly bring home with you?
Dogs up to 40 pounds stay free of charge.
Pro Tip: While these hotels offer beds, mats, and bowls for pups, traveling can be unsettling for furry friends, so I suggest that you bring a favorite blanket and toy along with you. The familiar smell will undoubtedly be a comfort to your canine companion.