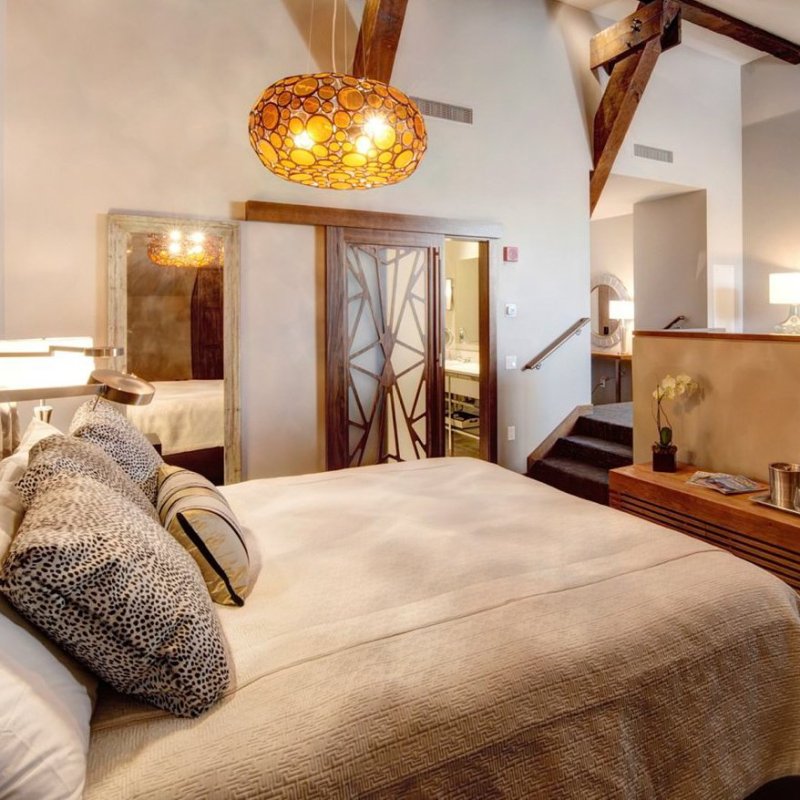 Break away from the ordinary on your next trip to Denver. How does a "bath butler" sound? Or a room inspired by Jimmy Buffet or the Ghostbusters? The Mile High City has several unique hotels to make your trip that much more memorable.
1. Hotel Teatro
Unique amenities make the Hotel Teatro a one-of-a-kind experience in Denver. Perhaps the best is the "bath butler" — a package that gets you everything you need for a relaxing bubble bath, along with a bottle of champagne right in your room! It's a perfect way to unwind from a long day of traveling or sightseeing. Hotel Teatro is pet-friendly too with no pet fees or weight limits (a rarity!), so your furry family member can also tag along on your adventures.
Other amenities include free cruiser bikes (but get them early — they are first-come, first-serve), free shuttle service within a 2.5-mile radius (which covers most tourist attractions downtown), plus a fitness center and free daily newspapers.
Staying at Hotel Teatro is a walk into Denver's history. The hotel's building was once home to the Denver Tramway Company. It even operated as a fortress during the Tramway strike in 1920. The building's rich history earned it a spot on the National Register of Landmarks. It was transformed into a hotel in the mid-90s, and the hotel's restaurant, The Nickel, is even a throwback to the time when people would pay a nickel to ride the streetcars. The restaurant's weekend brunch highlights its history by featuring a bar car with Bloody Marys, mimosas, and White Russians complete with cereal-infused milk.
2. Hotel Monaco
Relaxation is key at the Hotel Monaco. Start your morning off with coffee and tea in the lobby and end the day with the hotel wine hour — all free! Even better: The wine hour involves short chair massages! During the day, the hotel's close proximity to all downtown attractions — including the Denver Mint and 16th Street Mall — will make your vacation easier. You can walk or grab one of the hotel's free cruiser bikes to get around. If you need a little more pampering, head to the VEDA Spa and Salon near the lobby or unwind with your (free) yoga mat in your room.
Hotel Monaco is a family-friendly and pet-friendly place, welcoming pets with in-room beds and bowls. Don't have a four-legged friend to bring with you? You're not out of luck. For the second year in a row, Hotel Monaco will offer its Puppies and Prosecco package on International Dog Day (Wednesday, August 26, 2020), meaning you can book your very own puppy party, complete with pup guests from a local rescue — plus a bottle of bubbly. Book this hotel online if you can. You'll be able to unlock special deals, including a daily breakfast for just $1.
Hotel Monaco is also home to one of the best Italian restaurants in the city: Panzano. The Zagat-rated restaurant serves breakfast, lunch, and dinner, though the happy hour is the best — and most economical — way to experience all Panzano has to offer.
3. Crawford Hotel
If you're headed to Denver strictly to experience downtown, the Crawford Hotel is a great choice. It's a relatively new hotel — part of the massive renovation of Denver's Union Station, the transportation hub of the city. You can take the A-Line directly from the airport to the hotel, eliminating the rental-car hassle. Many of Denver's light rail lines either start or go through Union Station, making most of the city and its outlying areas very accessible from the Crawford.
Staying at the Crawford puts local restaurants and shops right at your doorstep. Inside Union Station, there's Terminal Bar, where you can grab a cocktail and sit in the old train lobby dubbed the Great Hall. Look up and you'll find what the hotel calls its "best kept secret," the Cooper Lounge. It's a more intimate lounge overlooking all the hustle and bustle below. Inside Union Station, there's also Snooze, an AM Eatery — a local favorite brunch spot — plus a popular local bookstore, and an ice cream shop, and a variety of cuisines for dinner. Even better — your daily resort fee at the hotel gives you free items, discounts, and potentially even priority seating at some of these eateries — making you feel like a true VIP.
Once you're fueled up, take in the city's sights by foot. Places like Coors Field and LoDo are mere blocks away. The hotel's free Tesla will take you anywhere within a two-mile radius or grab one of the hotel's free e-bikes to explore other attractions.
4. Brown Palace Hotel
Having opened in 1892, the Brown Palace Hotel is the oldest hotel on this list. Located in Denver's financial district, the hotel is decadent and charming starting with its exquisite lobby, where you can listen to live music weekly. The Brown Palace has hosted the Beatles and the Rolling Stones, among other famous musicians.
Start your stay with a tour of the hotel to learn about its intricate history. Then fuel up at one of its restaurants or bars, which includes the pub-style The Ship Tavern, upscale dining at the Palace Arms, and The Churchill Bar, a full-service cigar bar. Look closely and you may be able to spot a local politician.
A popular attraction for visitors (staying at the hotel or not) is Afternoon Tea at The Brown. It's a proper tea with scones, tea, and imported butter. The tea during the holidays is a real treat, as the lobby is exquisitely decorated with lights, garland, and a large tree in the middle.
The Brown Palace Hotel is within walking distance of area attractions including the Denver Art Museum and the 16th Street Mall, but it does also offer a free car service within a five-mile radius.
5. The Curtis, A Doubletree By Hilton
It's all fun and games at this boutique hotel in the heart of downtown Denver. The 13-floor Curtis, a Doubletree by Hilton boasts several over-the-top themed rooms. Stay in the Ghostbusters room, the Chick Flick room, or the room inspired by Jimmy Buffet. The hotel's retro lobby is just as fun, with board games, an extensive art collection, and even a five and dime with old fashioned treats.
The hotel is steps away from many of Denver's attractions and has a restaurant frequented by locals before a show at the Denver Center for Performing Arts next door. And here's an insider tip: If you want to try for a free room upgrade, grab a nearby hula hoop and show them your skills or ask for a friendly game of rock paper scissors!
Headed to the Mile High City? Don't miss these eight wonderful hidden gems in Denver.