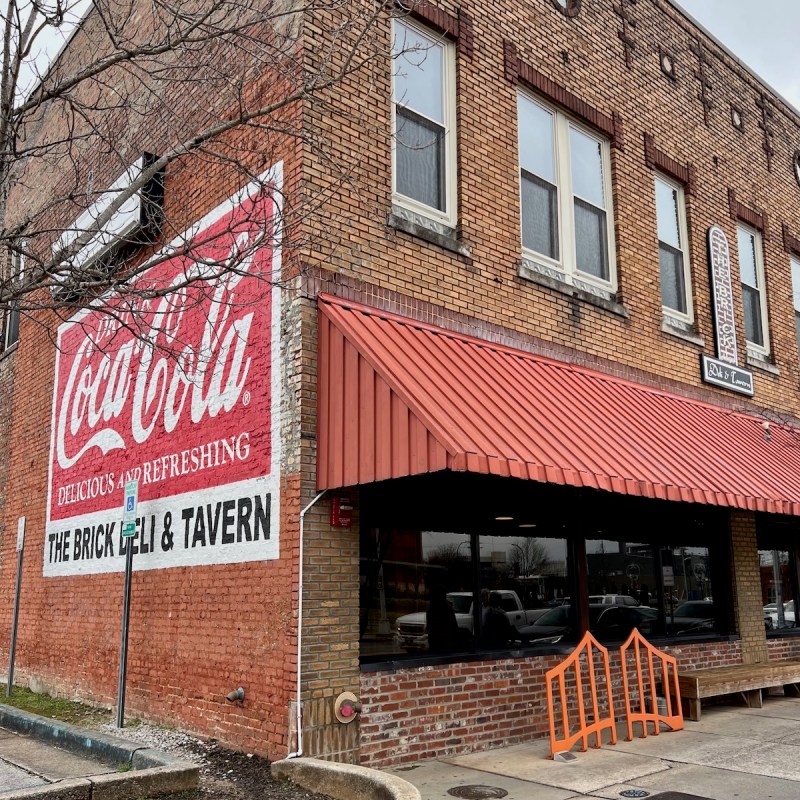 Drive down 6th Avenue or Beltline Road in Decatur during mealtimes, and you will wonder if anyone cooks at home anymore. People in Decatur love to eat out, and it might be because they have so many delicious choices.
Note: Simp McGhee's and The RailYard are two special occasion choices. Whisk'D is popular for breakfast and brunch. B.B. Perrins, Alfonso's, Josie's, Francesco's, and Let's Do Lunch are very casual. Brick Deli specializes in sandwiches and live music at night. Penn's and Big Bob's have the greatest longevity and are synonymous with Decatur. All are on my list of favorites, but they are not listed in order of preference.
1. Simp McGhee's
Simp McGhee's is open for dinner Tuesday through Saturday. The menu features seafood prominently, but it also includes steaks, chops, chicken, duck, lamb, and pasta. The preparations have a noticeable New Orleans and Cajun influence, and the Derby Pie is a signature dessert.
The restaurant's name is borrowed from a notorious riverboat captain who was the subject of many colorful stories on the Tennessee River and from his stops in Decatur. He bought a brothel in Decatur and put his girlfriend Miss Kate in charge. He is also said to have sat at the bar he owned drinking beer with his pet pig.
The restaurant does not have the atmosphere of a speakeasy, although there is an extensive bar. The dishes served are bursting with flavor.
2. The RailYard
You can enter The RailYard either from 209 2nd Avenue SE or from a ground-level door near a parking lot at the corner of Grant Street and 1st Avenue. The name makes sense when you hear the trains rumble nearby and catch glimpses of the tracks. It is open for lunch and dinner Tuesday through Saturday. Owner Tyler Jones is a Decatur native and is happy being a major player in this town he loves.
Salads, burgers, and sandwiches share the menu with lunch entrees like shrimp and grits, Salisbury steak, and salmon, and dinner entrees such as graham cracker chicken, grilled ribeye, and glazed scallops.
3. Whisk'D
Whisk'D shares an owner and a parking lot with The RailYard. It is open from 7 a.m. to 1 p.m. 7 days a week and is a popular eatery with merchants and business people in downtown Decatur and with those who visit the seasonal farmers market a block away.
At Whisk'D, diners place their orders and pay at a counter, then find a seat in the main area with whimsical art-filled walls or in a sunroom with window walls on two sides. Notable menu items include the free coffee and the fried potatoes prepared five different ways. You will find waffles, omelets, French toast, scrambles, and typical breakfast a la carte favorites.
4. Josie's Mediterranean Cafe
Josie's has a very fortunate location across the street from the Princess Theatre, making it perfect for a date night of dinner and then a live performance or showing of a classic film — while only needing to find parking once. Josie's is open for dinner Tuesday through Sunday and for brunch on Sunday. It is owned by the same couple who owns Simp McGhee's. Josie's menu is Mediterranean, and the restaurant's name was inspired by a song recorded by the rock group Steely Dan.
As expected with Mediterranean cuisine, you may order pizza, pasta, wraps, salads, paella, tacos, falafel, chicken shawarma nachos, tiramisu, and limoncello martinis, among other less exotic dishes. Brunch dishes include avocado toast, eggs Benedict, and chicken and waffles.
5. The Brick Deli And Tavern
Brick Deli is a short walk around the corner from Josie's. It is open for lunch on Monday and Tuesday, for lunch and dinner Wednesday through Saturday, and is closed on Sunday. Word has it that if you do not enjoy loud music, plan your visit before 7 p.m. Live music is a big part of Brick Deli's appeal for those who are looking for nightlife. Sandwiches, salads, and soups make up the bulk of the menu, and potato salad and banana pudding get rave reviews.
The building that houses Brick Deli is over a hundred years old. It was an office building and a furniture store before becoming a restaurant, but before that, it was also a speakeasy and a bordello. The upstairs is reported to be haunted, so the owners allow it to be the site of the annual Nightmare on Moulton Street haunted house.
6. Let's Do Lunch
Let's Do Lunch is, as the name implies, only a lunch place, open Monday through Friday from 10 a.m. to 3 p.m. Many businesses and customers take advantage of their order online feature for takeout and catering offerings in addition to enjoying a casual lunch at the indoor or outdoor tables.
Let's Do Lunch has been serving hungry Decaturites since 1988, and its cornbread salad made the AL's list of "100 Dishes to Eat in Alabama Before You Die." There are a few hot items on the menu, but most are cold salads and sandwiches. You will see plenty of men here, but this place is perfect for girlfriend lunch dates.
Pro Tip: My favorites when I visit are the four varieties of chicken salad — traditional, buffalo, grape, or cranberry pecan — or the strawberry pretzel salad.
7. B.B. Perrins Sports Grille
Benny Perrin was a football star at Decatur High School who went on to play for Bear Bryant at the University of Alabama and spent four seasons with the Saint Louis Cardinals of the National Football League. When he made his way back to Decatur, he and his brother Braxton opened the first sports bar and grill in town in 1988. Without apology, the décor is made up of sports memorabilia.
The menu at B.B. Perrins Sports Grille has a generous variety of burgers, gourmet pizzas, sandwich plates, tacos, and barbecued meats. The tempting side dishes are equally appealing, and homemade desserts are worth the splurge.
Pro Tip: My favorite sides are fried okra, garlic mashed potatoes, turnip greens, and poolroom slaw.
8. Alfonso's Pizza & Italian Restaurant
Alfonso's Pizza & Italian Restaurant began serving customers in 1977 on 6th Avenue. In the last year, the owner (daughter of the original owner) moved her restaurant to 725 Beltline Road SW in a sleek new building decorated with wooden pizza paddles and metal pizza pans. Her dad still comes in every morning to start the sauces simmering, so the consistent taste that has created many loyal fans is continuing in the new venue. All sauces and doughs are prepared fresh daily.
Open for lunch and dinner every day except Sunday, the lunch specials, which are primarily half-size portions of dinner pastas, are attractively priced and exceedingly popular. Pizzas with a choice of 16 toppings are outstanding at Alfonso's.
Pro Tip: My personal favorite is the Spaghetti Bake served with buttered garlic bread.
9. C.F. Penn Hamburgers
Charles Franklin Penn opened his first burger café in nearby Hartselle in 1927 and a second location in Decatur in 1939. The Hartselle café closed, but the Decatur eatery continues to serve Depression-era burgers to diners who love them. And, if the burgers are good enough for Elvis Presley, then they deserve to stay in business.
The story goes that Elvis never made it to Penn's, but his good friend Charlie Hodge from Decatur introduced him to these unique burgers. On occasion, Elvis sent a driver from Memphis to pick up a few dozen.
The menu is small, offering burgers, hot dogs, fries, onion rings, and soft drinks. The burgers are not all beef. Cooks during Depression days added filler to stretch the meat, so a secret recipe of fillers is still used today. Admittedly, they are an acquired taste.
10. Big Bob Gibson Bar-B-Q
Big Bob Gibson Bar-B-Q has a nationwide reputation gained from its white sauce and its vast collection of barbecue competition trophies. Big Bob started serving barbecue to his friends from his backyard grill in 1925. By the early 1950s, his 6th Ave SE storefront packed in customers daily for hickory-smoked pork, chicken, beef, brisket, turkey, and ribs with sides of beans, slaw, potato salad, mac and cheese, or chips. Anyone who visits Decatur for the first time will be directed to Big Bob's for a meal. A second location is on Danville Road, but take note that it is not open on Sunday.
Pro Tip: The pies are almost as famous as the barbecue. Be sure to save room for a slice of coconut cream, lemon icebox, chocolate, pecan, or peanut butter pie. Or better yet, take a whole pie home to share with your family.
11. Francesco's Italian Restaurant
Francesco's Italian Restaurant has an extensive menu of the most popular Italian favorites. The lunch specials offered Tuesday through Saturday include a salad and their wonderful garlic knots for less than $10. The Sunday lunch bunch fills the dining room with lively conversation and the anticipation of great food.
Pro Tip: The generous portion of baked spaghetti is my personal recommendation, along with Italian lemon cream cake for dessert.
Other Decatur spots that should be mentioned among the best restaurants are Libby's Catfish and Diner on Highway 67 S, Moe's Original BBQ next door to the Princess Theatre, and Bank Street Grill located, of course, on Bank Street. All have great food, and you can make a stop after your meal at Tess' Place on 2nd Avenue for ice cream.
Menu predictability has its place — there are times when you are simply not in the mood for surprises and want exactly what you ordered and enjoyed in other parts of the state and country. Chain eateries on Beltline Rd SW include Buffalo Wild Wings, steakhouses such as Texas Roadhouse and Logan's Roadhouse, Applebee's, Chili's Grill & Bar, O'Charley's, and the expected fast food places.
A half dozen Mexican restaurants are also in that area. I, however, favor locally owned businesses, especially those that have survived the critical test of time and are still thriving and bringing in loyal customers. I enjoy restaurants and chefs who understand the tastebuds of North Alabama diners and know how much experimentation we will tolerate.
The 11 restaurants I have suggested are found near the major thoroughfares and on Bank Street and 2nd Avenue in historic downtown Decatur. Within 10 minutes and by driving only about 5 miles, you can travel from my northeast Decatur recommendations to those in the southwest. That makes it easy to check out several that sound promising before committing and going inside.
I hope I have enticed you to visit Decatur. Wheeler National Wildlife Refuge and Cook Museum of Natural Science are premiere attractions, but good food is also a chief reason to explore this North Alabama town in Morgan County on the Tennessee River.
Further Reading: