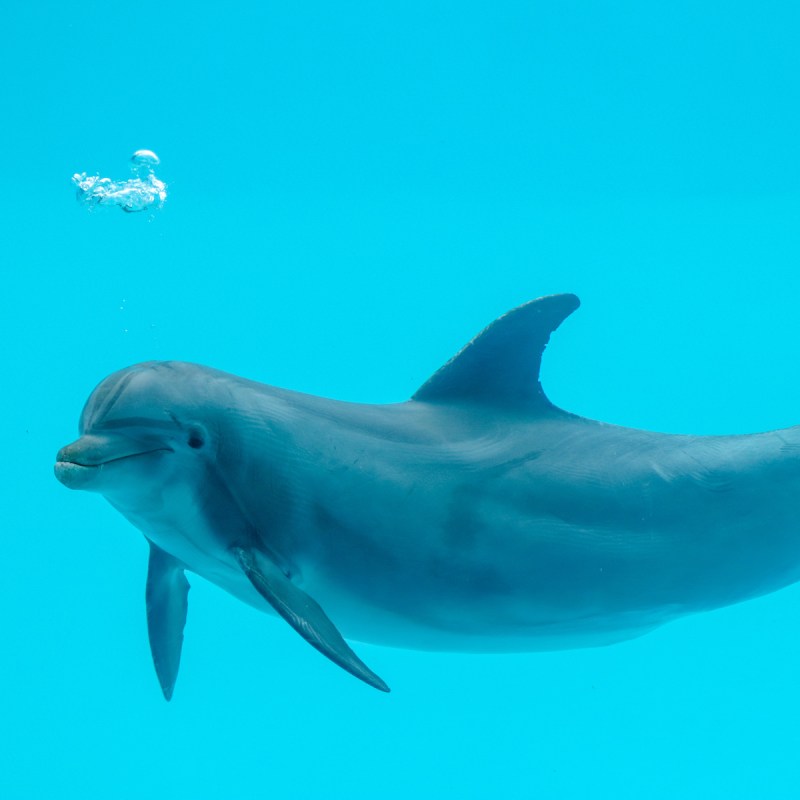 Come face to face with polka-dot stingrays, sharks, pot-bellied seahorses, spitting fish, and lionfish in the ultimate land-and-sea adventure with the family. Experience interactive exhibits where you touch the rays, anemones, starfish, and sea turtles. Get up close and personal with a largetooth sawfish, a spotted moray eel, jellies, or a Jack Dempsey cichlid. Appreciate the conservation superstars that protect endangered species, create marine ecosystems, and teach the importance of coral reefs.
You can do all this, believe it or not, in the Lone Star State. Here are six aquariums in Texas that are well worth the visit. They're listed in no particular order.
1. Texas State Aquarium In Corpus Christi
Designated as the number 5 aquarium in North America by USA Today, the Texas State Aquarium connects people with animals, fosters an appreciation for the Gulf of Mexico and the Caribbean Sea, and supports wildlife rescue, rehabilitation, and conservation. A visit to the Texas State Aquarium is a must when considering things to do in Corpus Christi.
Visit the Coral Reef exhibit to see a Mesoamerican barrier reef as you'd see off the coast of the Sian Ka'an Biosphere, near Tulum, Mexico. You'll see the fragile ecosystem and its colorful fish, like angelfish, parrotfish, grunts, and butterflyfish. Then see lionfish, nurse sharks, tarpon, and other marine species in the Blue Hole exhibit, which simulates a deep underwater cavern.
The H-E-B Caribbean Sea showcases a 68-foot-long acrylic window, the longest in North America, to view a massive Spanish galleon shipwreck, with reef sharks, barracudas, stingrays, and a spotted garden eel that looks like a green stick stuck in the sandy bottom.
In February 2021, the aquarium's Wildlife Rescue Team and other partners admitted and rehabilitated over 1,000 cold-stunned sea turtles and released over 950 sea turtles back into their natural habitat.
And the Texas State Aquarium doesn't just host sea dwellers. Two sister ocelots (spotted wild cats) named Milla and Leeloo from the Albuquerque BioPark arrived in late March 2021 as part of the Ocelot Species Survival Plan. Conservationists estimate that only 50 to 80 ocelots remain in the wild, pushed to tiny population pockets. The aquarium is working with Texas A&M University Kingsville's range management team to coordinate the ocelot's new home.
See the other exhibits to learn about dolphins, the jungle, saving sharks, jellyfish, and the largest exhibition built around a decommissioned oil platform, which blossomed into a home for sharks, barracudas, groupers, jackfish, snapper, and more marine life.
The Port of Corpus Christi Center for Wildlife Rescue at the state aquarium is under construction. It will have state-of-the-art veterinary medical equipment, a multimedia theatre, and a wildlife center. Veterinary students and technologists will treat and rehabilitate thousands of shorebirds, birds of prey, marine animals, and sea turtles.
2. SEA LIFE Grapevine Aquarium
In Grapevine, take a stroll under the sea at Texas's only 360-degree ocean tunnel at SEA LIFE Grapevine Aquarium. The tunnel is teeming with stingrays, sea turtles, sharks, jellies, flashlight fish, and more. The ocean display is 160,000 gallons of water and 15 feet deep. And you must visit the working sea turtle hospital, where Grapevine is the first Sea Life aquarium permitted to rehabilitate sick and injured sea turtles and release them back into the wild.
Explore interactive rockpools where sea stars crawl along the ocean floor with hundreds of tube feet and anemones feast on plankton and other tiny creatures. Visit the Stingray Bay exhibit to see the rays bury in the sand, swim around with happy faces, and eat fish, crabs, and snails. Learn how sharks help balance the ecosystem, and you'll see why many conservationists are calling for catch limits that help maintain oxygen levels from the seas. And explore the Amazon Rainforest exhibit, which includes barking piranha, an albino python, two dwarf caimans, and caimans Mulder and Scully.
I was particularly mesmerized by the jellies, a species that has been around for more than 650 million years, moving like ghosts underwater with no brain, heart, blood, or nerves.
Pro Tip: If you can't get enough of SEA LIFE aquariums, visit SEA LIFE San Antonio, located at the Shops at Rivercenter.
3. The Dallas World Aquarium
I could spend hours at The Dallas World Aquarium perusing unique and rare species like the scorpionfish, harlequin shrimp, potbellied seahorse, leather coral, and giant clams. Clownfish, angelfish, spotted garden eel, cuttlefish, sea anemone, spider crab, triggerfish, and octopus are colorful, mystifying species you can find here.
The Mundo Maya area is home to the ocelot, hawk-eagle, the American flamingo, and a Central American agouti, an eight-pound rodent considered good eating and hunted throughout Mexico, Central America, and South America. And you can't miss the axolotl, a critically endangered Mexican tiger salamander that once occupied the area covered by Mexico City.
The Borneo display documents birds like the shoebill stork, a blue penguin standing 16 inches and weighing three pounds, and New Guinea's Victoria crowned pigeon, palm cockatoo, and a tree kangaroo.
The South African display boasts the red tomato frog, a giant day gecko, panther chameleon growing up to 20 inches, the Madagascar big-headed turtle, and the African green pigeon.
The Orinoco display contains birds like the toucanet, hawk-headed parrot, barbet, Hoffman's two-toed sloth, and the red-backed bearded saki. This rare monkey looks like an adorable stuffed animal.
Pro Tip: You'll find three restaurants at the Dallas World Aquarium. Eighteen-O-One Restaurant serves international gourmet selections, like tuna steak sandwiches or wonton shrimp wraps, and is located on the first floor of the Aquarium. Café Maya offers traditional Tex Mex cuisine with views of the ocelot, flamingos, and the shark tunnel. On the third floor of the Orinoco, The Jungle Café serves deli sandwiches, salads, pizzas, and snacks.
4. Children's Aquarium Dallas At Fair Park
Established in 1936, the Children's Aquarium Dallas at Fair Park is the oldest aquarium in Texas. Enjoy its interactive, hands-on exhibits and aquatic animals from around the world.
Its Freshwater Zone has caiman lizards, blind cavefish, red-bellied piranha, and more. Visitors can discover beautiful sea urchins and sea stars in the Intertidal Zone.
The Shore Zone offers fascinating seahorses, rhinoceros iguana, batfish, and a fish that walks on the seafloor. See eels, clownfish, moray eels, the Queensland grouper, and zebra sharks.
Visit Stingray Bay and blacktip reef sharks in the enormous outdoor shark habitat. Feed the archerfish that spit water to knock food from above into the water for a tasty meal. Caution, you might get wet!
5. Downtown Aquarium, An Underwater Adventure — Houston
Two downtown Houston landmarks, Fire Station No. 1 and the Central Waterworks Building, were redeveloped into a six-acre entertainment and dining complex: the Downtown Aquarium.
It includes a 500,000-gallon tank featuring over 300 aquatic species from all over the world. You'll enjoy a full-service restaurant, upscale bar, geographic exhibits, plus shopping and entertainment. You can purchase a full-day adventure pass, which includes the aquarium exhibit, stingray reef, and all the rides. Use your Houston CityPass for discounts.
Pro Tip: Eat on location at Landry's Kitchen for seafood, steaks, chicken, salads, or pasta.
6. SeaQuest Fort Worth
At SeaQuest Fort Worth, build an ultimate land and sea Adventure Bundle with any three of four interactions: a 20-minute Animal Whisperer Tour where you learn food preparation, medical care, habitat maintenance, and plumbing and filtration of the living quarters. Meet the animal whisperers as you assist them in feeding the different animals behind the scenes.
On top of that, you can meet, feed, and pet Honey the kinkajou, a tropical rainforest mammal sometimes called a honey bear because they raid bees' nests. They're found in southern Mexico, across Central America, and through Brazil.
Interact with a two-toed sloth named Flash, where you learn about the sloth, pet and feed him healthy snacks, and take pictures. And meet Chip and Dale, two Asian small-clawed otters, as you feed them, learn about their habitat, and watch them play.
Sleep With the Sharks is a unique sleep-over experience for a group of 25 guests who spend the night, watch movies with popcorn, have an early morning breakfast, and help the staff with closing and opening routines.