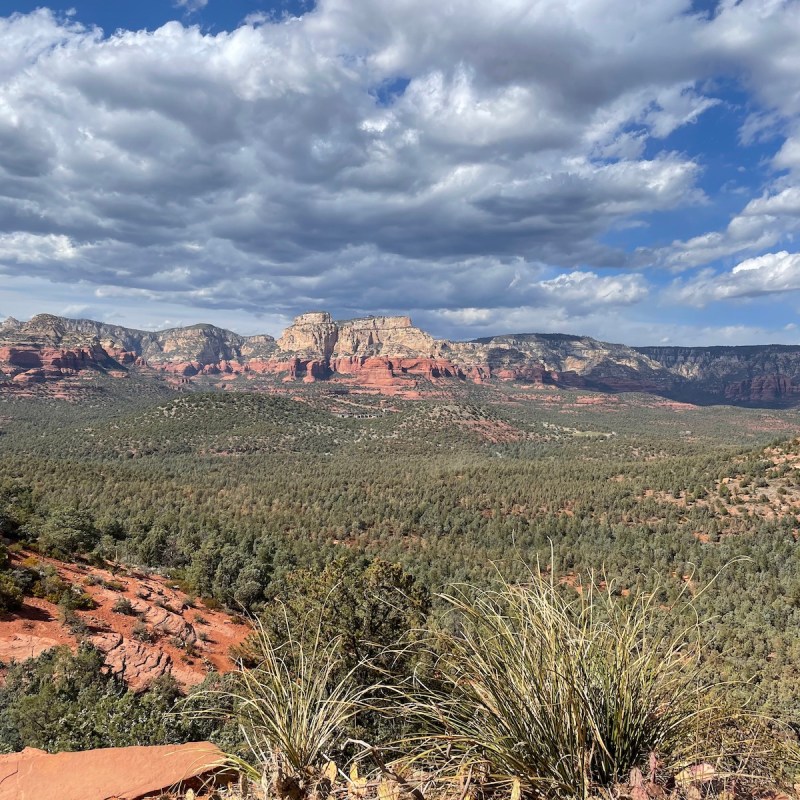 When planning a day or weekend trip from Phoenix, Arizona, two of the most enticing places are Sedona and Flagstaff. Traveling by car, you can easily reach either one in a little over two hours. If you have a few more days, you can visit both. Located north of Phoenix, the towns are separated by only 30 miles but provide very different experiences.
Both cater to vacationers and provide good hiking and restaurants. Sedona's greatest appeal is its spectacular scenery and multiple art galleries. Its main strip offers many choices of restaurants and souvenir shopping and has a touristy feel. Flagstaff, meanwhile, offers a small-town eclectic atmosphere with a main plaza amid a grid layout of shops. You can feel the effects of being a college town — innate energy and authenticity.
1. Landscape
A sense of awe envelops you as soon as Sedona comes into view. The dirt gradually turns red and the gorgeous red-rock buttes arise on the horizon. Driving into town, you have to force yourself to watch the traffic and not get distracted by the beauty surrounding you. Fortunately, there are pull-outs along the way to stop and drink it all in.
The main strip of Route 89A hosts the main shopping and dining options and is surrounded by red-rock vistas in all directions. The scenery is the main reason for visiting.
Flagstaff, on the other hand, sits among ponderosa pine forests in the shadow of the San Francisco Peaks. In summer, many come from Phoenix to escape the heat, while the winter's appeal is the snow. The historic town center rests north of the train tracks with residential and shopping areas spread out in all directions.
2. Hiking
Sedona includes more than 200 trails, offering 400 miles of hiking. Whatever level of difficulty or length you want, you can find a perfect trail. I can't remember any hike here in which I was not entranced by the scenery. Bell Rock and Courthouse Butte are the first major formations you see when entering the area. There are easily accessible parking lots from the main road. Difficulty ranges from sitting at the overlook to hiking out to and climbing up Bell Rock. You can also take a jeep tour to get deep into the trails.
Pro Tip: If the parking lots at these trailheads are full, go to Yavapai Point trailhead and take the trail under the road to Bell Rock.
The Sedona trail map (PDF) shows all the trails and helps you to choose which one to follow. My family's favorite is the Brins Mesa Trail. It winds through a canyon, then brings you up to a stunning plateau overlooking the whole area. You can walk as far as you want and turn back or continue to Soldiers Pass Trail for a loop.
In Flagstaff, you need to drive a little out of town, but you can find several hiking trails offering various experiences. The Sandy Seep Trail brings you through fields of wildflowers while the trails at Sunset Crater National Monument follow lava fields.
Walnut Canyon National Monument allows you to see what it was like to live in this area 700 years ago. The one-mile trail descends 185 feet down steps then winds around an island butte. Along the trail, you can step into 25 cliff dwelling rooms that were once inhabited by the Native people that are called Sinagua by archeologists. You can also look out into the surrounding canyon and pick out other dwellings in the opposing cliffs.
Pro Tip: Flagstaff's 7,000-foot elevation can cause problems for visitors not used to it. Drink plenty of water and take it slow at first, as you will likely tire more easily.
3. Attractions
Many people travel to Sedona for wellness and spirituality practices. Many resorts, spas, and storefronts offer yoga, meditation, massages, and alternative healing. Certain sites are said to contain vortexes, or concentrated sources of energy. Simply spending time in nature gazing at the awe-inspiring vistas will generate a sense of calm and wellbeing.
In the winter, Arizona Snowbowl takes advantage of 260 inches of snowfall each year. Sitting 12 miles outside Flagstaff on the slope of Mount Humphreys, it hosts 40 ski runs from beginner to advanced. Snowboarding is also very popular here. Many places in the area provide other snow fun, such as sledding, tubing, and cross-country skiing, including Arizona Nordic Village and Flagstaff Snow Park.
But Flagstaff also offers options for enjoyment that don't involve snow or cold. Learn about Southwest Native cultures and natural history at the Museum of Northern Arizona. Explore 700 species of plants at the Arboretum or explore the universe at Lowell Observatory. Go on a tour of the Riordan Mansion, which was built in 1904 in the American Arts and Crafts style. If you are in Flagstaff for a few days, drive 80 miles up to the Grand Canyon.
4. Walking Around
First, Sedona: For more souvenir-oriented shopping and, of course, a fudge shop, walk along the strip of State Route 89, just north of where Route 179 meets it. Here you will find restaurants, sweet shops, souvenir stores, and places to sign up for jeep and hot air balloon tours. It is fun to stroll in the sun, listening to street buskers and taking in the red rock buttes all around you.
In Flagstaff, start at Heritage Square on Aspen Avenue between San Francisco and Leroux Streets. The blocks around here are laid out on a grid, so you will not get lost strolling around the town center. Many buildings have been preserved from the time of Flagstaff's origin in 1882. One fun stop is the historic train station built in 1926, which now also houses the visitor center.
5. Arts And Shopping
Sedona offers over 80 art galleries and shops to peruse. Tlaquepaque Arts and Shopping Village offers many galleries, with everything from paintings to sculptures to glassworks. A few restaurants and snack spots are sprinkled in along with other shops. It is fun to stroll through the Mexican-style village on cobblestone walks, among flowers and fountains. Along State Route 179 and sprinkled throughout the rest of Sedona, small art galleries provide plenty of opportunities to find wonderful art pieces. The beauty of the red rocks inspires many artists to live and work in Sedona.
Flagstaff boasts more than forty pieces of public art coordinated through the Beautification and Public Art Commission. A walk through the historic district will bring you past 23 colorful murals and several sculptures. You can also stop in unique shops to browse Native American crafts, fine art, clothing, and outdoor gear.
6. Dining Options
Sedona and Flagstaff both offer a variety of great restaurants. Sedona restaurants cater more to the view from your table whereas Flagstaff offers more cozy historic settings.
While strolling the main strip of Sedona, my family often stops at Canyon Breeze. A casual dining spot, there is a variety of choices from burgers and salads to pizza and quesadillas. After lunch, enjoy a smoothie, coffee, or ice cream. Dine outside on the large patio that overlooks a vast red rock vista. For more of a formal meal, cross the street and dine in the rooftop cantina of Oaxaca Restaurant. For forty years, they've made sauces and salsas containing local vegetables daily. Hearty traditional Mexican meals complement the wonderful margaritas.
Flagstaff also offers many great Mexican restaurants as well as many other types of cuisine. My choice though is usually one of the craft breweries. Just off historic Route 66, Mother Road Brewing Co. has been brewing craft beer for a decade. Munch on sliders or street tacos while sampling one of the 14 beers on tap. At Dark Sky Brewing Co., you can choose between five different volumes of their 16 craft beers, from 5oz to 32oz. You can grab a wood-fired pizza at Pizzicletta to accompany your beer.
7. Where To Stay
If you decide to stay overnight, view is vital in Sedona while location is more important in Flagstaff.
Sedona presents many options from luxury resorts to cabins alongside Oak Creek. Many resorts include relaxing spas, yoga classes, and opportunities for outings. Ask for a room with a window or balcony overlooking the red rocks.
In the Flagstaff area, there are many national hotel chains for a variety of prices levels. In the historic area, you can stay at the Weatherford Hotel, established in 1897, or the Hotel Monte Vista, built in 1927. These hotels give you a good feel of what it was like to stay in a railroad town and put you right in the middle of the action. However, you must be okay with some noise and not the most modern of furnishings. Short-term rentals also abound in the area. My family enjoys staying in the neighborhood near downtown to have some room to relax while also being within walking distance of the restaurants and shopping.
Bottom Line
Sedona and Flagstaff are great destinations an easy drive north of Phoenix. They both offer beautiful landscapes, fun outings, and great dining. Enjoy an escape from the heat of summer or a romp in the snow in winter. Sedona is more of a resort vacation while Flagstaff offers a historic town, but you can have a fun visit in either.
Pro Tip
Travel from Flagstaff to Sedona along Route 89A for a scenic canyon drive with hairpin turns. And when you're in either location, keep these articles in mind: