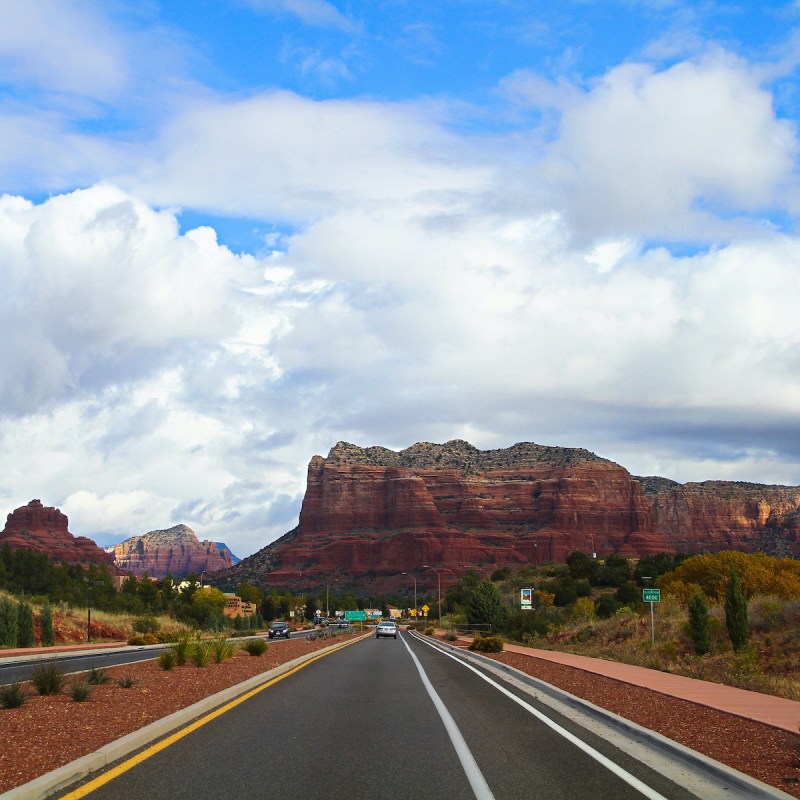 If you're planning a trip on Arizona's scenic U.S. Route 89A between Sedona and Flagstaff this spring or summer, you'll need to be prepared for major road construction.
For that matter, the projects could very well extend into 2023, according to the Arizona Department of Transportation (ADOT). While the road will — mostly — remain open, people traveling a 14-mile stretch of highway through Oak Creek Canyon can expect major traffic flow restrictions.
ADOT, along with the Federal Highway Administration, has already initiated the project which includes rockfall mitigation, drainage and sediment control, and Pumphouse Wash Bridge rehabilitation.
"All three improvements are vital to preserving the integrity and safety of the highway," Brendan Foley, assistant district engineer for ADOT's Northcentral District, said, according to the Arizona Daily Sun.
A Scenic Road Trip
Arizona's State Route 89A, an 83.85-mile state highway, runs from Prescott to Flagstaff. The highway is notable for its scenic value as it passes through Sedona and the Oak Creek Canyon.
"Just south of Flagstaff, Arizona State Route 89A descends a breathtaking series of switchbacks into a scenic, smaller cousin of the Grand Canyon," according to the U.S. Forest Service. "Known for colorful rocks and unique formations, Oak Creek Canyon is famous the world around for its spectacular scenery."
While it's possible to enjoy the scenery without leaving their car, many people choose to get out and enjoy the scenery. Indeed, there are numerous scenic overlooks, picnic areas, swimming holes, and hiking trails along the drive.
Necessary Repairs
ADOT's project will address three key needs.
First, the rockfall mitigation work will help reduce the potential for rock falls, which can happen at any time and without warning. When that does happen, the road must be closed while crews clear debris and obstructions.
At the same time, ADOT will make drainage and sediment-control improvements along the highway. That work will reduce erosion to help preserve deteriorating slopes and reduce downstream pollution.
Finally, ADOT will also rehabilitate the Pumphouse Wash Bridge, which was built in 1931 and is listed on the National Register of Historic Places.
Know Before You Drive
SR 89A will mostly remain open to traffic, however, ADOT officials did tell residents there may be up to 5 daytime and 10 overnight full closures from Sunday through Thursday, according to the Arizona Daily Sun. ADOT will provide advance notice of those closures at least 7 days in advance.
"We recognize these restrictions and full closures, in particular, are inconvenient for everyone," Foley said, according to the Arizona Daily Sun. "Unfortunately, there is no way to do these projects without some closure and extended lane restrictions."
You can learn how to receive traffic alerts and other updates about the construction here.
While you're thinking about the area, be sure to visit our Arizona coverage, including