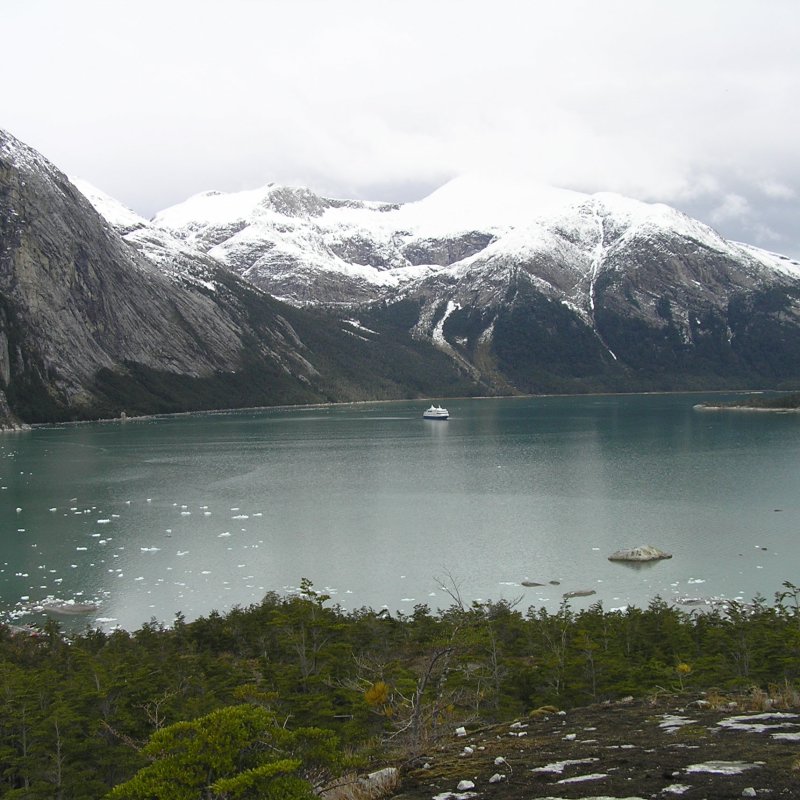 The more I travel, the more I appreciate not having to pack and unpack, carry bags up and down stairs, or worry about whether I can figure out a transfer from one point to another. Even though I speak numerous foreign languages, it's still a godsend to have someone else deal with the details like confirming reservations and itineraries. With increasing numbers of travelers and concomitant travel complications, it's wonderful to have someone else grab the reins.
With a cruise, a lot of the legwork is done for you. You decide on the itinerary, the type of ship you'd like to travel on, and voilà, off you go. The cruise line becomes your personal assistant, connecting with you prior to your trip and guiding you along as you drift away into worry-free bliss. Most days you wake up somewhere new, with the most pressing concern being What time should I have breakfast?
I've traveled on a variety of cruises, from the giants of the ocean to smaller vessels that glide down channels and rivers and easily visit tiny harbors and ports accessible only to them.
Here are my recommendations for memorable small-ship cruises.
1. Patagonia With Australis
You'll need to pack a variety of layers for this amazing five-day "Fjords of Tierra del Fuego" cruise from Punta Arenas, Chile, to the tip of Cape Horn and Ushuaia, Argentina. The Stella Australis expedition ship travels effortlessly through the inner fjords of Patagonia and "Glacier Alley," taking you to the bottom of South America with a backdrop of calving glaciers, ice-blue formations, and a sky filled with constellations seen only from the southern part of the world. Onboard you'll stay toasty warm in one of 100 cabins. But if you plan to venture to the top deck as well, you should see the Southern Cross and ponder the mysteries of the galaxy, you'll need all manner of clothes to keep you comfortable.
Excursions take you off the ship by zodiac, and the weather is variable from balmy, sunny, and rainy to downright freezing. This is a trip where you can be as physically active as you like. Visits to see the Magellanic penguins involve some hiking on sandy beaches, and a little pre-cruise training might be in order if you plan to summit Cape Horn. On the climb to the top, you'll likely encounter windy conditions, too, adding an extra challenge. For your achievement, you'll toast at the bottom with whiskey on the rocks, using actual snow. Expert guides on board offer educational lectures to prepare you for the sights and provide photography tips.
Pro Tips: Inclement weather can wreak havoc on your cameras and lenses. Bring your phone, a waterproof camera, and even a point-and-shoot or DSLR to be ultra safe. For the best weather and the most daylight, plan your trip during the months from November through March. As there is no Wi-Fi on board (how wonderful!), you might want to rent a satellite phone. There are no elevators, and the ability to climb into a zodiac is a requisite if you plan to leave the ship.
2. Tahiti And The South Pacific With Paul Gauguin Cruises
For a cultural immersion that's both beautiful and luxurious, Paul Gauguin Cruises' seven-night "Tahiti & the Society Islands" cruise explores Tahiti, Moorea, Bora Bora, and Huahine and is a delicious escape from the cold-weather blues. You'll start your sojourn with a flight to Papeete, Tahiti, where you'll overnight before boarding the ship. The m/s Paul Gauguin defines French style and luxury with 165 beautifully appointed staterooms and suites and restaurants with wine pairings and French cuisine that could attain Michelin star status. Services at the Deep Nature Spa and on-board entertainment are first-rate, filling at-sea hours with relaxation and Polynesian culture.
Each island has its own set of charms. Bora Bora is known as the honeymoon island, marked by resorts with overwater bungalows and deep turquoise waters. Moorea and Huahine are a mix of nature and activity where you can jet ski, snorkel with stingrays, explore volcanic beaches, and experience the French Polynesian lifestyle made famous in movies like Mutiny on the Bounty. A DIY stop on the itinerary, Paul Gauguin Cruises has its own private island, Motu Mahana, where you'll spend a day swimming, snorkeling, playing volleyball, and enjoying a beach barbecue replete with cocktails from a floating bar.
Pro Tip: If you're connecting on a flight to PPT, I recommend spending a few days in Papeete to adjust to any time difference. Papeete is a fun port with a shopping and food market and roulettes (food trucks) for local fare.
3. Croatia With Goolets
Not at all like the "reality show" experience on Netflix's Below Deck, Goolets promises superlative chartered-yacht service and happy passengers. Nearly 100 different ships at different price points can take you along the Dalmatian Coast and beyond, but I suggest going full bucket-list any time from May through October and choosing the superyacht Freedom or the family-friendly Ohana for your Adriatic journey.
The vision of husband-and-wife team Mitja and Alenka Mirtic, these superyachts are essentially floating mansions, understated in their luxury but staffed with smiling pros who attend to your every wish. With only 11 staterooms and a maximum of 23 passengers, Freedom is the jewel of the Goolets fleet. The superyacht is a beauty — there are four decks, an upper one with lounging areas, an outdoor pool, and a hot tub; the middle with the dining room, bar, and lounge; and two below with staterooms, a cinema, game room, spa, gym, and sauna. Ohana is a less-pricey choice for up to 30 guests with 14 cabins, recently renovated with a children's playroom, a cinema room, and a full complement of water toys (seabobs, jet skis, paddle boards) that you'll find on both superyachts. On each, meals reflect local delicacies and are catered to your tastes.
You can customize your itinerary, deciding which of Croatia's 1200 islands and islets you'd like to visit, and then Goolets will put it together, adding in little surprises like a visit to the island of Vela Stupe, a precious mini-island where you'll feast on oysters, Champagne, and wine at the one establishment there, restaurant Moro. Or transferring you to a zodiac and lifting the barrier ropes so you can float into the tiny entrance to gorgeous Stiniva Beach. Most cruises start in the medieval city of Split, a city worthy of spending three nights on its own merit to wander its warren of streets and visit Diocletian's Palace where Game of Thrones was filmed. Each island visited after that — Brač, Hvar, Korčula, Vis, and Vela Stupe — has its own charms and attractions from beaches and café life to 13th-century buildings, and, of course, dramatic scenery. Port stops on the mainland are possible, too, to include Makarska with its seaside walkway, charming shops, and Old Town square; or historic Dubrovnik (another favorite for Game of Thrones fans) and its low-key neighbor Cavtat.
Pro Tips: While not as well known as neighboring Italy for its wines and olive oils, Croatia excels in its offerings. Be sure to sample the many varieties that vary from island to island. Note that decks on these superyachts are connected by stairs only. You can learn more about chartering a Croatian yacht with Goolets here.
4. The Champagne Region With French Country Waterways
The pandemic has taught us a thing or two about the value of slowing down, and that's where a cruise on a French Country Waterways barge fits in perfectly. Leaving from and returning to Paris — where it's an absolute must to begin and end your journey with a few days in the City of Light — the Nenuphar is a luxuriously appointed barge that accommodates only 12 passengers for a slow 6-day float through the canals of Champagne. The intimate size guarantees that you'll get to know your cruise mates very well, over early morning coffee, during wine-and-cheese happy hours, and at lavish meals both on the barge and at the Michelin-starred Les Crayères in Reims.
You'll also become an expert in French wines and champagne production with private tours in Épernay and Ludes that include Moët & Chandon and Ployez-Jacquemart. For a foray into French history, the Gothic Cathédrale Notre-Dame de Reims stands sentinel in breathtaking glory. If you're feeling the need to be active, there are bikes to use, yoga mats to borrow, and villages to visit as you travel through the locks. You might even decide to lend a hand to help the lock keeper move the barge forward. But the true beauty of the cruise lies in lounging on the sundeck and taking in the lovely countryside as you glide past while enjoying renowned wines and cheeses.
Pro Tip: While not necessary, knowing a little French will help if you decide to visit local bakeries and bars. History buffs will enjoy excursions that mix French history with American WWI sites like the battlefield at Belleau Wood.
5. The Greek Islands With Celestyal Cruises
Sometimes a shorter cruise is all you want, and Celestyal's four-night "Iconic Aegean" itinerary covers the bases with stops at popular Santorini and Mykonos, split-personality Rhodes and Crete, and smaller islands like Patmos. Starting in Athens, schedule a few land-based days to explore the city's UNESCO World Heritage Site, the Acropolis, where you can visit the ruins of the Parthenon and the Theatre of Dionysus. Have dinner on the lively Plaka and day trip to Delphi to absorb the vibes of the famed oracle. Then it's time to board and enjoy the all-inclusive voyage on what is the largest of the small ships on this list with a typical passenger count of fewer than 1,000 guests.
Celestyal encourages you to get out and about, to do a deep dive into the personality of each island, rather than stay on the ship. A true benefit is that Celestyal is Greek-owned and operated, so they really know the country's culture and when to add extra docking time for exploring each island's archaeological wonders and mind-blowing scenery.
I loved climbing around the Palace of Knossos in Crete and comparing the new and medieval sides of Rhodes, which quickly became my favorite of the islands. In Santorini, my day was spent in Instagram-crazy Oia and Fira negotiating the steep stairs of the cliffs. In Mykonos, you can do as the locals do and simply laze by the pool and sip ouzo. On board, Celestyal's food and décor are notably Greek and Mediterranean with staterooms done up in the blue and white colors of the Greek flag.
Pro Tip: Many of the archaeological sites have a considerable number of stairs, and other areas are quite hilly. Ask in advance for assistance in arranging taxis or using cable cars, or for suggestions for alternate activities. A seven-night cruise is also available. Try to avoid the mid-summer months when crowds and heat can be overwhelming.Want more cruising tips and inspiration?
6. Burgundy With French Country Waterways
My second favorite slow-travel, barge cruise is French Country Waterways' Burgundy float. Traveling from and to Paris, the Adrienne takes you on a luxurious sojourn on the Canal de Bourgogne and the Canal du Centre through the Côte d'Or wine region. The crew on this cruise does double-duty, with wine and cheese presenters often turning into little elves who magically tidy up your stateroom as you dine, or captains who control the locks as you rise and descend along the canals while teaching you how to navigate. No wish is too large for the crew and you'll learn a lot about wine and cheese here, given the location of the cruise.
Excursions can be as leisurely as you'd like. You can visit stellar vineyards like Chassagne-Montrachet by motor coach or log your daily steps with walking tours through storied wine town Beaune or "Mustard Capital of the World" Dijon. Early risers will enjoy the hot air balloon experience over the region's beautiful rapeseed fields. Bikes are available to use any time you're tied up along the canals. In true French Country Waterways fashion, you'll enjoy a Michelin-starred dinner at Lameloise in the charming town of Chagny.
Pro Tip: With only six cabins, the Adrienne is small enough to book the entire barge for a group of your friends. French Country Waterways is more than happy to tailor activities to the group.
7. Normandy With Scenic Cruises
History, art, and music lovers have a luxurious option with Scenic Cruises' "Normandy and Gems of the Seine" itinerary. Leaving from and ending in Paris, the beautiful Scenic Gem is a river boat that caters to a mix of interests.
Having a focus on Normandy, history plays a large role in choices for your Scenic Freestyle excursions. You'll learn quite a lot about the Vikings' involvement in Rouen, the American heroics at Utah Beach and Omaha Beach and much more. To truly understand the importance of Normandy in World War II, one must experience it. Three excursions are offered to take you to the most important D-Day sites including a museum built into a German bunker overlooking Utah Beach, Omaha Beach, and the Normandy American cemetery where rows and rows of white graves are sobering reminders of the nearly 10,000 soldiers who died during the Allied liberation of France.
Art lovers will love the day at Giverny, soaking up the colors of Monet's residence, garden and famous lily pads, as well as the day trip to Van Gogh's last-known abode and grave site in Auvers-sur-Oise. An immersion into impressionism includes a tour of the Musée des Beaux-Arts de Rouen with an on-board painting class. Music features with walking tours by Maurice Ravel's home in Lyons la Fôret and the unusual Erik Satie Museum in Honfleur. A special evening of wine and music at a château is a Scenic exclusive, and the one chosen for this cruise includes an unusual quartet with a double bass, harp, vibraphone and clarinet.
Designed for a luxurious and comfortable voyage, each stateroom on the Scenic Space-Ship is gorgeously appointed and comes with your own butler. If you've ever wanted a perfect, all-inclusive cruise, this one's for you. While some cruises charge extra for excursions and beverages and expect you to figure out tipping at the end, Scenic eliminates those concerns. You pay one price at the beginning and your only add-ons are spa treatments and gift shop items. To sweeten that as well, Scenic gives you an on-board credit to apply.
Dining is an all-day affair on Scenic, starting with room service on your balcony if you so desire, or three full meals in the Crystal Dining Room. Menus change daily with a rotation of suggested wine pairings. Two private dinners are offered, one for all guests and a Chef's Table for passengers on the top deck. Your on-board activities go well beyond meals — in the evening the amicable (and very witty) Cruise Director leads a program that might include music trivia, cheese tastings, live music with dancing and more.
Pro Tip: Some of the tours involve extensive walking like the visit to Van Gogh's home where a steep, narrow staircase leads to the tiny bedroom. The walks to the museums, beaches and cemetery would be difficult for those with mobility issues.
8. Bordeaux With Scenic Cruises
If wine is more your thing, Scenic's river cruise along the Garonne and Gironde rivers passes through France's most storied wine region. Less about history and more about gastronomy, the "Bordeaux Affair" departs from the city of Bordeaux. Starting your itinerary with a visit to the city's impressive Cité du Vin gives you a useful introduction to the wines you will experience over the course of the cruise .
Similar to the Scenic Gem, the Scenic Diamond considers every aspect of luxury from beautifully appointed suites to balconies that turn into Sun Lounges with Scenic's signature moving glass walls and window. You'll also find a small gym, a spa, and a salt therapy room.
Dining includes regional specialties such as oysters from Bassin d'Arcachon, foie gras, and canelés, small French pastries made with rum and vanilla. A vast selection of wines takes full advantage of the vineyards on both sides of the rivers and is available at meals and at the bar at all times. Particularly enjoyable is Scenic's outdoor BBQ lunch served on the top deck. An all-day snack bar and room service are available if you don't feel up to restaurant dining.
On this culinary-focused cruise, guests also have the opportunity to experience Scenic Culinaire, on-board cooking demonstrations conducted by Scenic chefs. If you've ever wanted to learn how to make crêpes Suzette, croque monsieur, or French onion soup, this is your opportunity in an intimate setting. Sign-ups for these classes, as well as for the wide array of excursions and bike tours, are required. The Cruise Director can help you decide on the best ones to meet your interests and physical requirements. As with all Scenic cruises, an exclusive Scenic Enrich event, here a chamber music concert at a château on a wine estate, makes for a memorable evening and wine tasting.
Pro Tip: There are many options for purchasing Bordeaux wines at great prices. Bring some wine skins to pack bottles in your checked luggage. You can also have wine shipped to your residence with the VAT discount. Some to consider: Entre-deux-Mers, Sauternes, Saint-Émilion, Pauillac, Pomerol and Margaux.
9. Iceland With Windstar
Windstar's newly stretched Star Pride carries only 312 passengers and travels around the coastline of Iceland on the "Around Iceland" cruise. If you've been to Alaska and enjoyed the northern climes, The Land of Fire and Ice is a fascinating follow-up exploration of a volcanic country, or, should I say, of one huge national park.
The scenery is breathtaking on this seven-day sojourn with a range of waterfalls, glaciers, cliffs and geysers. Excursions from the cruise's six stops will take you for a dip in the famous Blue Lagoon where you can slather yourself with silica mud, ATV riding through some pretty challenging courses, and lava field hiking with crampons secured to prevent slipping off the oft-treacherous ridges. Slightly less challenging, you can hike to Þingvellir where you can pose with your arms stretched between two continental plates.
The Windstar crew are pros at service. Truly where "everybody knows your name," Windstar cruises are intimate, luxurious and thoughtful. Your cabin attendants will attend to your desires, from extra ice to special pillows, room service with surprises like towel animals, and sweet turndown treats.
A Windstar special, the exclusive Destination Discovery Event is an evening concert in the blue-colored church at Seydisfjordur where you'll also hear tales about Iceland's elves and trolls. If you're curious about how Icelanders dine, you can tour Reykjavik on a pub or foodie tour — Icelandic hot dogs are a must! Architecture fans will love Reykjavik's iconic Hallgrimskirkja church, a landmark that stands proudly overlooking the city's brightly painted buildings.
Dining options on Windstar give you choices to meet your mood. You can dine in the main restaurant where dietary restrictions are carefully noted, or order room service at your whim. The ship's specialty restaurant Cuadro 44 serves up tapas and sangria while the casual outdoor Grill by Steven Raichlen is a literal breath of fresh air.
Pro Tip: Given that Iceland is a pricey destination, taking advantage of Windstar's excursions is a smart way to tour. Be sure to sign up in advance or meet with the Shore Excursion Manager as soon as you board. Bring binoculars — you're sure to see puffins, whales, Icelandic ponies and many birds.
10. Penobscot Bay With Maine Windjammers
I grew up in a sailing mecca, the North Shore of Massachusetts, and having the opportunity to cruise on a historical schooner held real appeal. Retrofitted to accommodate passengers with modern conveniences, the Maine Windjammer that I sailed on, the Schooner American Eagle, had its first days as a fishing vessel in Gloucester, Massachusetts, the town where my mother was born.
Sailing on a windjammer isn't about luxury — it's about the voyage, the camaraderie of the crew and passengers, and the willingness to follow the wind instead of a set itinerary. You'll have the opportunity to learn to hoist the sails, cook in a tiny galley kitchen, and set up communal meals along with your fellow passengers. This cruise requires a bit of dexterity, maneuvering around your small cabin with its bunk beds or small double bed. Showers and bathrooms are shared, also requiring some coordination in tight spaces and necessitating climbing up and down ladders.
What you'll experience here is an exhilarating, seafaring voyage that hearkens back to the original days of sailing, without the frills. Meals depend on the talents of the chef and his assistants, and the captain sets the tone for the sail. Weather is unpredictable, and it is advisable that you bring appropriate rain gear as you'll spend most of your time on deck as you traverse Penobscot Bay. This wasn't for me, but the bravest among you can dive into the chilly ocean. I preferred the island visits that take you to an on-the-sand lobster bake or a homespun evening concert, Maine-style.
Pro Tip: It's important to ask the right questions before you consider booking a windjammer cruise. Different schooners offer different features, with some more "elegant" than others. The small sleeping and bathing spaces plus the ladders between decks and to the zodiacs may not be for you.
Check out our cruising and sailing content here.