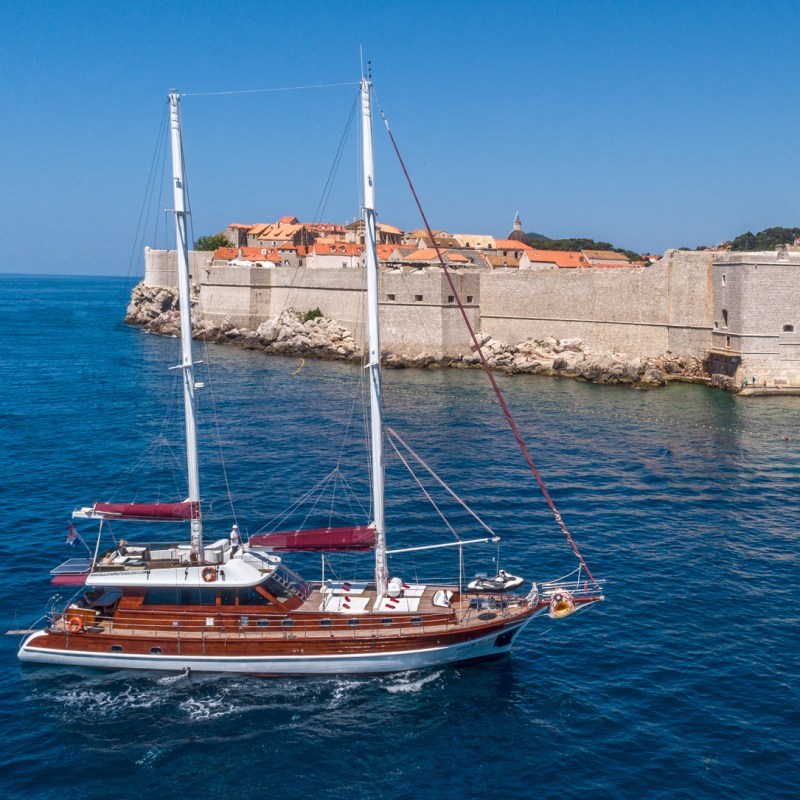 When most travelers think of a Mediterranean vacation, they imagine heading for Italy or Greece. But what if we told you Croatia is one of the most beautiful Mediterranean countries — and that experiencing it by boat is your best bet?
Whether you've been considering vacationing in Croatia or the idea is completely new to you, here are eight reasons why seeing Croatia by boat belongs on your bucket list.
1. You Won't Miss Croatia's Island-Speckled Coastline
Greece has 13,600 miles of coastline; Italy has 7,600. But only Croatia has the Route of 1,000 islands. That's right — while Croatia is a relatively small country in terms of landmass and population, especially when compared to other Mediterranean hotspots, it encompasses 1,244 islands, islets, and crags that boast lush forests, sandy beaches, and stunning vistas along its 5,800 miles of shoreline.
The Croatian National Tourist Board calls the country's west coast the Route of 1,000 Islands, and it is as magical as it sounds. Of course, the only way to really experience the route is by boat.
From Brac, a watersports' lover's paradise famous for its Zlatni Rat, or Golden Cape, white-pebble beach; to the Kornati archipelago, part of which is protected national parkland and boasts unique Mediterranean reefs; to Losinj, a northern destination known as the Island of Vitality, you can see, and disembark on, as many of Croatia's 1,000+ islands as your heart desires (and your trip duration allows).
2. You Will Get To Know The Adriatic Sea
According to Andrea Pisac of Croatia Honestly, "More — the sea — in Croatian always means blue." Why? Because the Adriatic, the arm of the Mediterranean you'll set sail in if you choose to see Croatia by boat, shimmers an intoxicating blue that's literally part of the Croatian people's understanding of the word — and what water should be.
Pisac tells the story of being shocked by the waters of the English Channel when she moved to Brighton in the UK, "not because the water resembled frothy mustard, but because the English called this the sea."
A week aboard a Croatian boat in the Adriatic means not only appreciating the country's breathtaking islands, but getting intimate with the water itself. Whether you want to scuba, snorkel, or back float in the buoyant water for hours, or prefer to take it all in while lounging on deck, you'll head home knowing more than Mediterranean beaches; you'll know the sea itself, and why Pisac says, "Croatian children grow up going to the sea every summer."
The waves, water, sun, and sand are so rejuvenating, you might even leave feeling more like a child yourself.
3. You Won't Have To Rent A Car Or Hire A Driver
The majority of tourists after a Mediterranean vacation in Croatia fly into Dubrovnik, a city in the far south. To enjoy even a fraction of Croatia's coastline, most visitors have to either rent a car or hire a car and driver. The good news when it comes to renting a car is that, like Americans, Croatians drive on the right-hand side of the road, which makes getting around less disorienting. The bad news is that doesn't make it any easier to traverse the hundreds of miles between the beautiful coastal and island destinations you'll want to experience — all in a foreign language.
A helpful Frank About Croatia post points out that cars and drivers aren't essential to exploring Croatia's big metropolises; you can get around just fine using public transportation in Zagreb, Split, or Dubrovnik. But if you want to see and do more, seeing Croatia by boat is the most bucket-list-worthy way to enjoy a truly Mediterranean holiday, and avoid a tedious road trip itinerary.
4. You Will Get To Interact With Locals Daily
Big boats — whether you opt to vacation on a gulet (a traditional Turkish sailing vessel popular in the Adriatic) or a cruise ship — require big crews. Captains, deckhands, and chefs are all in order. Some boats will even have hosts, hostesses, waitstaff, and bartenders. And depending on the company you opt to hit the water with, your crew will be comprised of Croatians.
The longer your vacation, the better you'll get to know your crew, especially considering 80 percent of Croatians are multilingual and 81 percent speak English. This can lead to meaningful cultural encounters, friendships, and cherished memories that aren't nearly as likely when a trip involves city and hotel hopping.
5. You Won't Have To Fuss Over Your Itinerary
There is a seemingly endless array of options when it comes to Mediterranean and Adriatic boating and cruising itineraries. With some companies, especially cruise lines, you can select from set, tried-and-true itineraries. Or, if you want to customize your vacation, and are working with a higher-end budget, you can collaborate with a private charter company to create a handcrafted itinerary that will ensure you hit all your bucket-list spots.
Either way, you won't be internet researching your itinerary on your own, and odds are you'll get to enjoy hotspots like Bol; the Korcula, Hvar, and Vis islands; and of course Dubrovnik in the south and Split further north.
6. You Will Enjoy Diverse Croatian Cuisine
Authentic Croatian food (and wine) is something few Americans have experienced, and dining on board will leave you wondering why. From more Slavic-influenced dishes to iconic Mediterranean bites, an onboard chef will curate menus that highlight Croatian specialties like Dalmatian dry-cured ham, seafood stews, risottos, and pastries, plus fresh Mediterranean produce. Of course, working with and getting to know a chef also makes it easier to accommodate special dietary needs, allergies, and preferences.
Top-tier gulet charter companies in the region, for example, go the extra mile by initiating a concierge process and demonstrating attention to detail from the moment you book. They gather essential information from travelers and pass it along to their onboard chefs, which means none of the hassles associated with managing dietary restrictions while dining at a different restaurant in a different town for every meal.
Also, while Croatia's grape-growing regions are further inland, that doesn't mean there won't be a healthy selection of vino on board. More of a beer drinker? According to Croatia Week, "the beer scene in Croatia is currently going through somewhat of a renaissance due to a growing interest in craft beer brewing," and "classic Croatian brands Ozujsko and Karlovacko, which have over 100-year histories, now face some stiff competition," which is all the better for the vacationer who wants to come home well-versed in all things Croatian food and beverages.
7. You Won't Spend Countless Hours Packing And Unpacking
A multi-destination trip usually involves a lot of packing and unpacking. But, as one of our writers pointed out in a recent piece on reasons to visit Norway by cruise, "getting around from Eifjord to Bergen" — two of her Norwegian destinations — "by boat meant my poor suitcase could take a break while I still had the flexibility of experiencing numerous Norwegian destinations. This stress reduction in and of itself may be my new favorite thing about cruising!"
Enjoy the same perk in a decidedly balmier destination. Seeing Croatia by boat means sprawling out — first in your own cabin, then on deck for those iconic Adriatic more views.
8. You Will Get To Actually Relax
Unless you thrive off of the kind of frenetic energy captured in films like Mama Mia!, odds are your ideal Mediterranean getaway doesn't involve a lot of hustle and bustle — but is chock full of sunny days, delicious meals, sightseeing, and opportunities to appreciate local culture. Oh, and relaxation: time to kick back and do nothing, whatever that means to you.
Services like Goolets, a luxury gulet charter provider, offer customization from start to finish. Individualized charter planning starts six weeks before your arrival and ends only after you've stepped off your gulet at the end of your cruise. Whether you have a detailed itinerary of your own or want to leave it up to the experts, Goolets has an itinerary for you and works to deliver a complete, bucket-list experience.
The initial steps are to establish your must-see Croatian destinations, or to consider the places Goolets' experts suggest based on the configuration of your charter group (whether a couple, a family, or a group of friends). They help their clients become familiar with the best itinerary recommendations for a cruise. Of course, the best part about trip planning with Goolets is the inside information and insight of a team dedicated to helping with the heavy lifting of trip and destination planning.