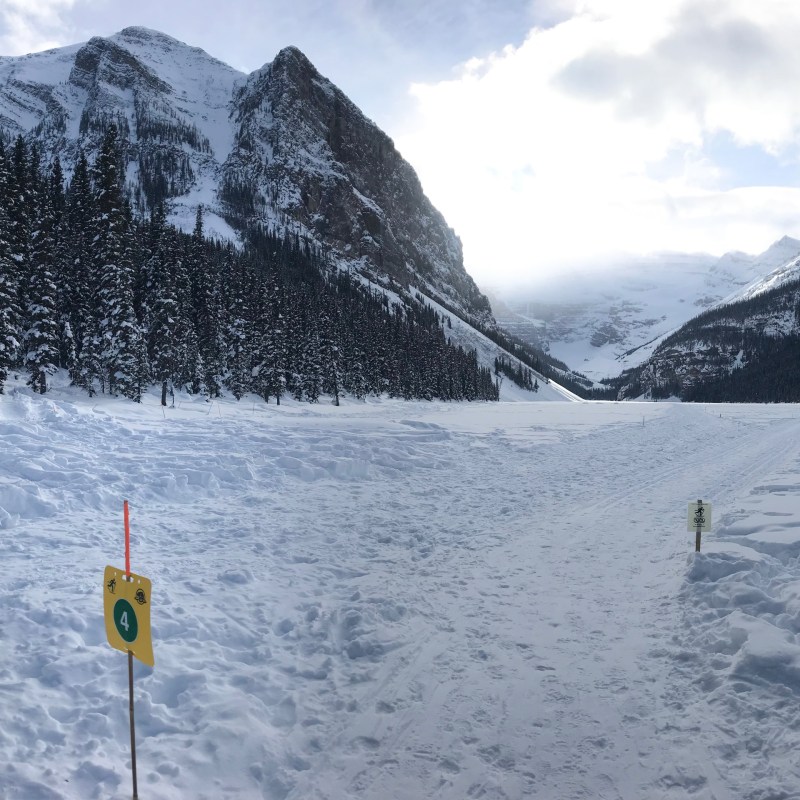 I didn't put on my first pair of skis until I was 48. As I stood on top of the bunny slope — what they call the absolute beginner run — at Mount Washington Alpine Resort on Vancouver Island, I was a little surprised by how nervous I felt.
I'm an adventurous soul, and besides bungee jumping, I'm pretty much up for anything. I've swum with great white sharks in South Africa, hiked alone in Taiwan, and kayaked with alligators in Alabama, but my knees were literally shaking as I strapped on skis for my first skiing lesson.
I was on Vancouver Island on a hosted press trip, and the other guests on the tour were snow experts. They grabbed their skis or snowboards to hit the slopes with the flair of people who have grown up learning winter sports. I, on the other hand, was learning "pizza and french fries" for foot placement while skiing and slowly swishing down a tiny hill with a bunch of toddlers.
I grew up in Oklahoma. We don't have any ski slopes. Heck, we barely get more than an inch of snow, but when it does snow, everyone freaks out and stays locked inside for the "snowmaggedon."
So, pushing 50, I was taking the very first ski lesson of my life. Surprisingly, it didn't go too bad, and I discovered that despite falling more often than I had hoped, I rather enjoyed the sport.
According to Snowsports Industries America's "SIA Snow Sports Industry Insights Study," in 2016, 11.857 million Americans went downhill skiing, 7.557 million snowboarded, and 5.059 million went cross-country skiing.
If you aren't one of those million Americans, don't worry. Here are five incredible ski resorts perfect for beginners — like you and me.
1. Mount Washington Alpine Resort
Vancouver Island, Canada
We may not be able to travel to Canada this winter, but I had to add this resort since it was my first exposure to skiing. Mount Washington Alpine Resort's Adult Snow School is designed to take you from never-ever skied to Hey, I'm getting pretty good at this in a matter of hours or days.
The resort has adult ski or snowboard packages daily, and the instructors are incredibly patient and willing to work with your comfort level. In March, the resort hosts Women's Week packages in which lessons are taught by and designed especially for women.
Once you get past the basics, you can opt for the Learn to Turn programs, which combine three of the adult programs in one package to help you get out on the slopes faster. Lucky for you, the resort has 10 easy slopes where you can hone your new sporting skills.
Even if lessons aren't for you, the resort is a beautiful place to go to enjoy a winter day. It's a year-round destination with stunning views from Mount Washington, and the winter brings 1,700 acres of snow-covered beauty and 1,656 vertical feet of alpine terrain. The resort also offers cross-country skiing and snowshoeing trails along with a Nordic lodge, a Snow Tube Park, and Fat Bike trails.
For a truly luxurious adventure, the Bear and Deer Lodge allows for ski-in-ski-out lodging. With two chairlifts at its base and close to the Alpine Lodge, it's a popular place to stay and watch the snowfall. The lodge offers some killer price packages, like Mid-Week Ski and Stay Packages for two nights.
Pro Tip: After a long day of learning how to ski, satisfy your appetite, and grab a local craft beer at Ted's Bar and Grill. If you haven't ever tried the Canadian treat called Poutine (fries covered in gravy and cheese curds), this is your chance. The restaurant offers three different kinds of poutine, including classic, pulled pork, and campfire poutine, which is fries covered in chili and cheese.
Also, be sure to check the website daily for the slope reports and to stay up to date on any closures.
2. Ober Gatlinburg
Gatlinburg, Tennessee
Gatlinburg, Tennessee, may not be the first location that pops to mind when you think of skiing, but the Ober Gatlinburg Amusement Park and Ski Area might just be perfect for learning how to hit the slopes.
When the weather gets cold enough for snow, this adventure park doesn't have to wait for snow to fall. Ober Gatlinburg makes its own snow for the slopes using massive snow guns that spray water mist. That mist turns into snow and viola! An instant snow slope is created!
The resort offers ski lessons daily that cover slowing down, turning, stopping, and gliding. The instructors are all members of the Professional Ski Instructors of America (PSIA) and the American Association of Snowboard Instructors (AASI).
Another reason this man-made slope is perfect for beginners? A lesson is mandatory for first-time skiers and snowboarders, which means greater safety for you and others on the slopes. You can join in the fun with other beginners with a group lesson or opt for private one-on-one training, especially if you want to improve upon specific skills.
Ober Gatlinburg offers more than just skiing in the winter, though. It also has ice skating, shopping, dining, snowboarding, and snow tubing.
When you are done with your day on the slopes, simply ride the Aerial Tramway back down to Gatlinburg proper for lodging and more activities.
3. Jackson Hole Resort
Jackson Hole, Wyoming
Jackson Hole Mountain Resort is located in Teton Village, Wyoming, and is surrounded by the majestic views of the Grand Tetons. Jackson Hole is famous for its powder snow, and the resort is home to 2,500 acres of terrain.
It's also a great place for beginners to learn, thanks to the Jackson Hole Resort Mountain Sports School at the Solitude Station.
The small group lessons have a maximum of three people, so you're sure to get personalized attention. The group lesson is an all-day affair, though you'll be able to take a break at lunch. Private lessons are also available, and you'll work one-on-one with a professional instructor who will plan your lesson based on your goals and experience. The private lessons are offered in half-day or full-day packages.
Once you feel confident in your new-found ability, the resort has five easy green runs that weave through the stunning backdrop of the Tetons. The resort also has 13 lifts and Big Red, the aerial tram.
Pro Tip: If sustainability and eco-friendly practices are important to you, Jackson Hole Resort is known for its commitment to lessening its carbon footprint. The resort is 100 percent wind-powered, and the trucks and snowcats at the resort are fueled using leftover vegetable oil.
4. Aspen Snowmass
Aspen, Colorado
Three nice and friendly beginner areas of Assay Hill, Fanny Hill, and Elk Camp and state-of-the-art facilities make the Aspen Snowmass in Aspen, Colorado, one of the best resorts for beginner ski enthusiasts.
The resort offers an adult first-timer lesson package, and the ski pros lead the classes. First-timers will learn the basics but are also taught mountain awareness and how to use the equipment properly. Each class is limited to five adults, so you'll get a lot of one-on-one help from the instructors, and you'll be provided with beginner equipment.
The resort recommends 3 days of instructions to really feel confident in the snow. Each lesson is held from 10 a.m. to 3 p.m., so be prepared for a full day of stress-free learning. The resort also has a similar package for adult first-time snowboarding lessons, if that is more your speed.
After honing your skills in the class, venture to the new Snowmass Base Village, which opened in late 2018. The village, which took 10 years to create, has a lot of non-ski fun options like an ice-skating rink, retail stores, art showings, live music, and special events. The new Limelight Hotel, a 126-room property located in downtown Aspen, is one of the new hottest lodging options in the area.
Pro Tip: Aspen Snowmass offers free naturalist tours daily, and you can choose snowshoe or ski tours. Join a naturalist to learn about the ecology of Snowmass Mountain as you travel along streams and ridgelines. This tour doesn't have any extreme hills, but you should be at an intermediate level if you choose to ski. Sign up for the tours at the Wapiti Wildlife Center at the top of the Elk Camp lift on Snowmass.
Another one of Aspen's best non-ski attractions is the Aspen Art Museum, located in downtown Aspen.
5. Bolton Valley Resort
Bolton Valley, Vermont
The Bolton Valley Resort is a great place for adult newcomers to try skiing for the first time, thanks to a Learn To Love It Program for adult snowboarders and skiers. This program includes a beginner lesson, equipment rentals, and even lift tickets at a pretty affordable price.
The resort also has group and private lessons.
The resort has five groomed easy routes and a dozen other ungroomed routes that are considered easy. With the exception of Wilderness Peak, beginners can ski around the entire area on slopes ranging from easy to very easy because the terrain at Bolton Valley is more on the tamer side. There's a practice lift near the base and a beginner's area as well.
Bolton Valley's Vista Quad also has a nice little base village, which is home to the Inn at Bolton Valley, the only slopeside hotel. The village has a few restaurants to help you refuel or relax and a Nordic center in case you want to try snowshoes, Nordic skiing, or cross-country skiing.
Ready for more of our ski recs? Read on!