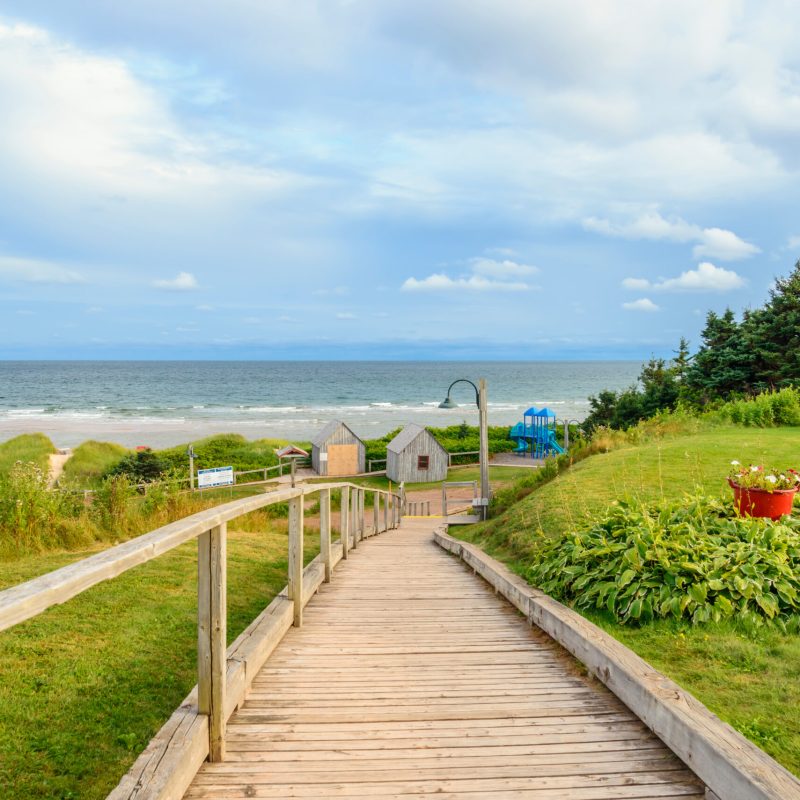 There's nothing like relaxing on a balmy beach, and there are many out there to tempt my travel budget. Did you know that there are green, pink, and black sand beaches to explore? And on Prince Edward Island, Canada's smallest province, there are even red sand beaches. This small island in the Gulf of Saint Lawrence is famous for its red roads and shores, the result of heavy iron oxide content. I've been there many times and I know how gorgeous they are. But I'm not thinking of red sand and vibrant colors when I dream of PEI's beaches — I've got a singing beach on my mind!
Basin Head Provincial Park is better known as the "singing sands" beach. Mineral content in the sand means that you hear a squeaking, squawking sound as you walk. Having visited on several occasions (most recently as part of a press trip) I am here to confirm that this is indeed true — and it is delightful. And best of all, the charming singing sands are just the beginning of the wonderful experiences you can enjoy at this free attraction.
Prince Edward Island is accessible via flights to Charlottetown Airport, by crossing a bridge (through New Brunswick), or via ferry (through Nova Scotia). Basin Head Provincial Park is located in eastern PEI, and you will require your own vehicle to get there. There's no public transportation. However, if you're feeling very ambitious, you can actually hike there. The province-wide Island Walk passes close by and a visit to this lovely beach would be a wonderful detour for anyone who is trekking around the area.
Here are some of the reasons you'll love this destination.
1. It's A Beautiful Beach
If it didn't "sing" a single note, Basin Head Provincial Park is still a lovely place to visit. You'll enjoy soft white sand and a view that includes green fields and red seacliffs. On a warm day, the water temperature hits 70 Fahrenheit (21 Celsius). Basin Head was named the best beach in Canada by Vacay.ca in 2016, and it's easy to see why. This is exactly the kind of spot that people dream about!
Basin Head is just as relaxing as it is pretty. The beach is divided by a channel of water (known locally as a "run"), with one small beach on your right as you approach and a much longer one stretching for nearly 9 miles on your left. On any given visit, you might notice that one side seems quieter than the other or that the kids congregate in a certain area. It's nice that you can gravitate to whichever section fits your mood — or hang out in the middle, where people cannonball from the footbridge that connects the two sections of the run.
2. The "Singing" Is Loads Of Fun
The sounds you hear as you run your feet or hands through dry sand are courtesy of minerals like silica and quartz in the sand. Scientists haven't completely solved the mystery as to why this sand sings. (Hello! It's obviously magic!) But one theory is that the tiny grains of quartz are spherical, the result of the constantly ebbing tides polishing the mineral into microscopic marbles. As such, they make a noise as they rub against each other. But the exact explanation remains elusive. There are other singing sand beaches in the world, including in Wales, Scotland, and other spots along the Atlantic coast.
If you see a line of footprints going through the sand that look like someone dragged their feet, you've spotted what's been nicknamed the "Basin Head Shuffle," evidence that people were taking slow, shuffling steps to hear the sand "sing" as they pass by.
3. There Are Great Facilities
I'm always thrilled when a beach has ample parking, washrooms, and changing facilities, and Basin Head delivers on all three. Visitors will also appreciate the outdoor showers and accessible features like a beach mat for water access and a floating wheelchair. Lifeguards are on duty from the end of June to the beginning of September.
4. It's Not Just A Beach; It's A Day Park
In truth, whenever I've visited Basin Head, I'm completely focused on the beach. However, this is a full-day park complex. On-site, you'll find a gift shop, takeout restaurant, gazebo, picnic area, volleyball nets, children's play zone, well-maintained gardens, and seasonal ice cream shop. Even if the weather isn't great for swimming, this would be a wonderful spot to enjoy a road trip break (especially if you have kids along who are feeling cooped up).
5. There's An On-site Museum
Basin Head Fisheries Museum is located not far from the parking lot. It reminds visitors that this area was an important fishing community long before it was a popular tourist spot. In fact, Basin Head is sometimes referred to as the "Atlantic Blue Fin Tuna Capital of the World." The museum contains artifacts pertaining to lighthouses, fog stations, shipwrecks, boat building, fish processing, and the culture of fishing communities. It's also home to a good gift shop. Seasonal admission from June to September is $5.
Pro Tip: Keep an eye on the Basin Head Fisheries Museum's Facebook page. The museum is home to a small outdoor stage and seating area and has hosted concerts in the past. It would well be worth checking things out to see if any are available during your visit.
6. It's A Great Stop On Route To The Magdalen Islands
When people talk about taking the ferry to PEI, they're referencing the ferry that connects the province to Nova Scotia. But there is a second ferry that is often overlooked. This 5-hour boat ride connects eastern PEI to the Magdalen Islands (Ȋles de la Madeleine).
The Magdalen Islands are part of the province of Quebec and they're located to the north of PEI and southwest of Newfoundland. They're a gorgeous travel destination well worth adding to your bucket list and the ferry to get there is based in Souris, a bustling town just 15 minutes from Basin Head Provincial Park. In fact, you can see the ferry go by when you're hanging out on the beach. If you're heading to or from the Magdalen Islands, Basin Head is the perfect spot to relax pre- and post-trip.
7. There's A Cool Behind-The-Scenes Tour
Basin Head is much more than a beautiful beach. It is a complex ecological system, and one organization has put together a tour to encourage visitors of all ages to get to know the area better. The Souris branch of the PEI Wildlife Federation offers a Beyond The Beach tour of Basin Head. The activities include a guided beach walk, a seaweed sampling picnic, and a net pull in the lagoon (which showcases the diverse marine life living there). Kids are often able to hold a jellyfish, which is always a hit. Tours generally take place on Tuesday and Thursdays at 10 a.m. in July and August and cost $25 for adults and $10 for kids.
8. There's A Creature In The Lagoon
I admit to a bit of hyperbole here but I couldn't resist. Basin Head Provincial Park does indeed have a lagoon and there's a unique life form in there, even if it's not technically a "creature." The tidal lagoon behind the dunes is a natural habitat for a variety of giant Irish moss (otherwise known as Chondrus crispus). In fact, it is the only habitat for this rare moss. You won't find it anywhere else in the world, and as a result, Basin Head is a designated Marine Protected Area.
9. There's Great Food Nearby
There's a small cafe and takeout spot in Basin Head Provincial Park called Pirates Basin Cafe. You can find things like fried clam strips and hot dogs on the menu. But foodies will want to head down the road to the nearby town of Souris, where there are ample services, amenities, and several good restaurants.
My personal favorite is 21 Breakwater, where I often choose the grilled chicken sandwich with applewood smoked bacon. Their thin, well-seasoned, hand-cut french fries are some of the best I've had — and that's saying something on PEI, where the potato is king. The Lobster Shack and Poke Shack are good stops for seafood lovers. And those who love sweets will appreciate Oh Fudge! (which makes PEI potato-based fudge) and Cherry on Top Creamery (for creative homemade ice cream).
Pro Tip: Where To Stay Near Basin Head Provincial Park
The closest accommodations to the beach are private rental homes and cottages. A three-star motel, the Singing Sands Inn, is a 3-minute drive away. This modest motel boasts a unique feature: a grass labyrinth on-site for relaxation and meditation.