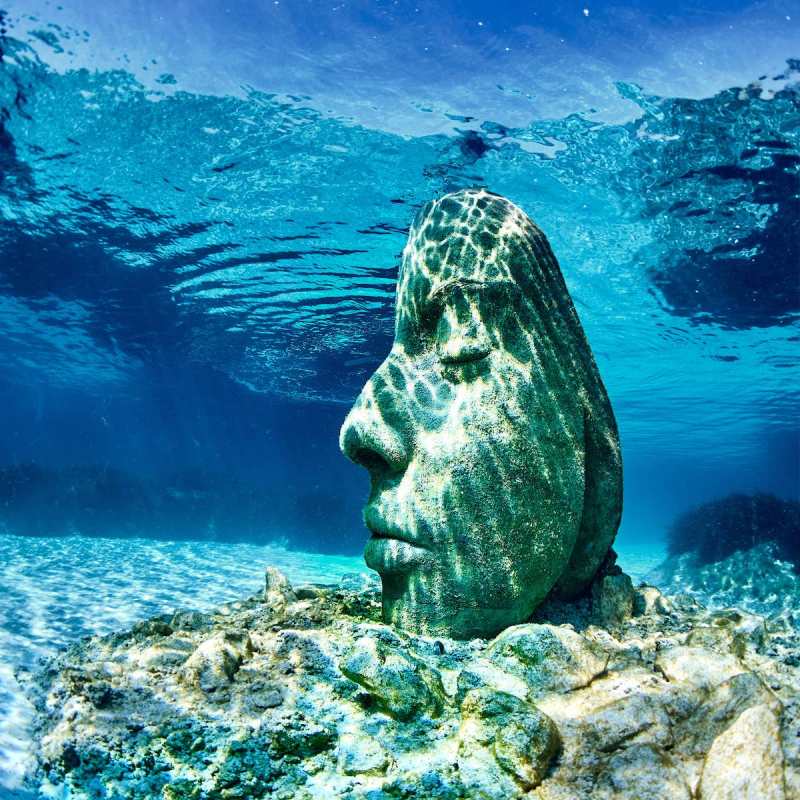 As a Marine Biologist by education, and an art lover by interest, combined with being an avid traveler and keen scuba diver, the idea of an underwater sculpture park is simply perfection to me. And what I especially like is that many of the newer underwater museums strive to create awareness about the environmental threats faced by our oceans today.
Take the MOUA along the Great Barrier Reef: Every single installation has a story, tells of specific threats, and is not just beautiful, but makes you think. And extracting awareness from a piece of art is always a bonus. But obviously, it also adds great fun and adventure to a trip to the seaside.
In just the last couple of years, new underwater museums have popped up around the globe, and they are all encouraging local as well as international tourism, raising residents as well as visitors awareness and a feeling of responsibility toward the sea and its creatures, while also adding a much-needed boost to tourism income to the community.
And they are so enjoyable. Whether you can scuba dive or not, the vast majority of these sculpture parks are accessible by glass-bottomed boats, some even have sculptures visible from land, but there is nothing quite like donning a mask and some fins and snorkeling in clear waters across an art installation.
Here are some of the best.
1. Museum of Underwater Art, Townsville, Australia
Off the coast of Townsville, along the Great Barrier Reef and not far from Magnetic Island lies MOUA, Museum of Underwater Art opened in 2020, and a superb showcase of installations by British sculptor Jason deCaires Taylor. MOUA is an innovative project combining underwater art, research, and education, accessible not only to scuba divers and snorkelers but also extending onto dry land. It prides itself in being a project telling an informed story about the Great Barrier Reef and the impacts of people and climate change. Jason deCaires Taylor's work is especially significant, as he is a leading marine conservationist, and his art, also seen at the Underwater Museum of Cannes below, is a powerful storyteller.
Pro Tip: This is a great addition to a Great Barrier Reef road trip, and goes very well with the simply superb Reef HQ Aquarium in Townsville, which allows you a look at all the creatures living in the sea, without having to get wet.
2. The Underwater Museum Of Cannes, France
Four years in the making, the Cannes Underwater Museum was opened in 2021 and is a great addition to France's Riviera Coast attractions. With the sculptures by Jason deCaires, of MOUA fame, nestled on the white sand and fringed by luminous seagrass, visitors don't even have to scuba dive to appreciate the installations, but can easily reach them by snorkeling the area. As already reported in TravelAwaits, the subjects of the sculptures are based on portraits of local community members covering a range of ages, including an 80-year-old fisherman named Maurice and a 9-year-old boy named Anouk, making the art even more personal and specific to the region.
Pro Tip: The godfather of scuba diving Jacques Cousteau was director of the Oceanographic Museum in nearby Monaco, which perches not only in a spectacular setting, but is a must-see if you are interested in the underwater world.
3. Museo Subacuático De Arte (MUSA), México
The Cancun Underwater Museum can be found on the bustling stretch between La Isla and Aquaworld and is probably one of the most diverse underwater museums where art is concerned. From people burying their heads in the sand to a VW car, abstract figures to domestic scenes, this museum takes some time to explore. And, luckily, you have various ways of exploration. Travel Art is a tour operator who specializes in tours of this museum, and offers snorkeling trips, glass-bottomed boat tours, and scuba diving, to make sure everybody can enjoy the art, not just skilled scuba divers.
Pro Tip: Scuba diving and snorkeling are extremely popular around Cancun, with amazing marine life to be viewed. Here you can learn to scuba dive, no matter your age, or, if you are already an expert, join in tours along the coast.
4. Museo Atlántico Lanzarote, Spain
And here, we have underwater sculptor Jason deCaires Taylor's handiwork again. This time, in the lovely setting of the Canary Islands off the coast of Africa. This museum predates the other two in Australia and France, having opened in 2016, but has lost nothing of its power: Designed to act as an artificial reef, the Museo Atlantico consists of 10 different groups of sculptures. There are powerful images, among others, such as the famous Raft of Lampedusa, a reference to the refugee crisis in Europe, and a group of 35 human figures walking towards a wall. Like in Cannes, the models used for these sculptures are residents of Lanzarote. The largest installation depicts a human gyre consisting of 200 life-size sculptures placed in a never-ending circle. According to the museum, the artist wants to highlight the beauty of the underwater world and emphasize the need to protect it with this piece.
Pro Tip: As this museum is best viewed while scuba diving, there is a special and quick program that teaches those without a diving license the basic skills and takes you out to see the sculptures, for a double adventure.
5. The Baiheliang Underwater Museum, China
This underwater museum is a little different, as it is not located in the sea, but in a river. The Yangtze River, to be precise. The archeological site of Baiheliang was submerged by the building of the Three Gorges Dam, and now the natural ridge and noteworthy sites such as stone carvings, lie beneath 140 feet of water. What makes this museum even more special, is that you can view the underwater sites from the museum and stay dry. No need to learn how to scuba dive for this one. Instead, the ridge has reportedly been enclosed in an arch-shaped glass dome that is filled with purified water. Two underwater channels with escalators and travelators have been installed from the museum on the riverbank, allowing museum visitors to go beneath the surface of the dam to see the stone carvings and inscriptions without needing to get into the water themselves. The museum also displays other treasures that have been rescued before the dam swallowed up the area.
Pro Tip: Combine the visit with a Three Gorges cruise, traveling through a magical landscape like no other.
6. Underwater Archeological Park of Baia, Italy
On the doorstep of the southern city of Naples, in the scenic Bay of Naples lies a treasure trove of Roman history, amazingly well-preserved under the waves. The bay has always been popular with sun-and water-seeking travelers, and Roman tourists were no different. Baia used to be a popular resort some 2,000 years ago. But then, an unusual seismic phenomenon called "bradyseism," made the resort sink beneath the Mediterranean Sea. Reportedly, unlike earthquakes which move mostly horizontally, bradyseism makes the ground move upward or downward and sank Baia. Now it is enjoying a revival, if only by scuba divers and snorkelers, who can enjoy seeing statues, Roman mosaic floors, and ruins all on the seafloor. There are seven underwater sites, all archeological reserves, and all at a depth ranging from roughly 15 feet to a maximum of 42 feet.
Pro Tip: The local scuba club offers an introductory snorkeling course, preparing you to see the Roman wonders underwater.
7. Molinere Bay Underwater Sculpture Park, Grenada
And one last underwater sculpture park filled with the sculptures of underwater artist extraordinaire Jason deCaires Taylor. The Molinere Bay — or Grenada Underwater Sculpture Park was not only the first of Jason deCaires Taylor's underwater art museums but also the World's first underwater museum, dating to 2006. It showcases 75 works covering an area of 8600 square feet in the Caribbean Sea, and less than 10 to a maximum of 16 feet under the surface. Like in many of these underwater parks, you can view the art by either scuba diving, snorkeling, or enjoying a tour on a glass-bottomed boat.
Highlights include a lost writer tapping on a typewriter, Christ under the Waves, and a man on a bicycle, with all sculptures, as is the habit of the artist, having been placed to form a new reef and habitat for the marine fauna and flora.
Pro Tip: To keep the theme going, why not try out the Aquarium Restaurant? It offers a huge choice of local, and very fresh seafood, plus a popular Sunday barbecue.
Underwater wonders can be experienced in a variety of ways: