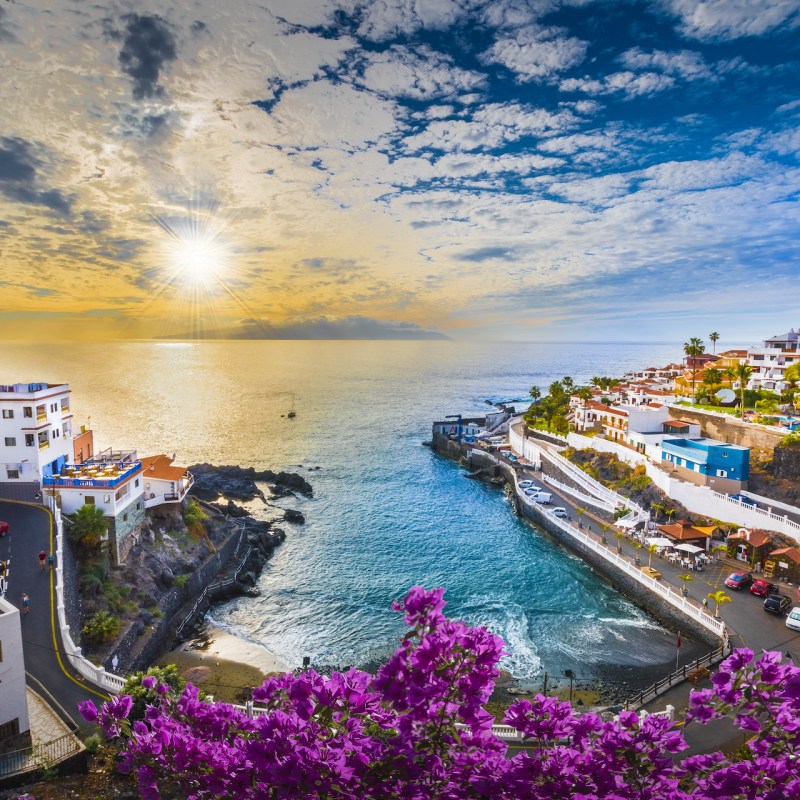 The Canary Islands are an archipelago located in the Atlantic Ocean, 71.5 miles off the coast of Morocco. There are eight major inhabited islands: Tenerife, Gran Canaria, Fuerteventura, La Gomera, El Hierro, La Palma, Lanzarote, and the tiny La Graciosa. The autonomous community is part of Spain, which means that passport and/or visa requirements are the same. Before booking your trip to the Canary Islands, make sure you are up to date on any current COVID-related restrictions, which can change at short notice.
With such a big choice of islands, we will show you which is the best according to your interests and abilities and provide insight on the climate, the best time to visit, and how to get around the islands, followed by a few practical tips to make your vacation a success.
1. Climate
Due to their location off the coast of Africa, The Canaries, as they are popularly called, have a subtropical, dry climate year-round. It's no coincidence that they are a favorite winter destination for northern Europeans who want to escape their home country's cold. Summer months see a big tourist boom too, so spring and fall are the best times to visit, not only because of the pleasant weather but also because there are fewer crowds and prices are lower. Most rainfall happens in February, November, and December.
Tenerife is a peculiarity, as the island's volcano, Mount Teide, divides it into two climate zones: the dry, desert-like, acrid south and the much greener north because of more rainfall and cloud cover.
Occasionally, trade winds will carry dust over from the Sahara. Known as la Calima, which translates to "the haze," the wind event reduces visibility and air quality for two to three days, covering everything in a layer of dust.
2. Getting Around The Canary Islands
The Canaries have three international airports: Tenerife North and Tenerife South, which are both located in Tenerife's capital city, Santa Cruz de Tenerife, and Gran Canaria. Other islands with domestic airports are Lanzarote and La Palma. Practically anywhere in Europe can be reached in 5 hours or less.
The best way to move between islands is by ferry. It's also the most enjoyable one. Three companies operate ferry services: Fred Olsen, Naviera Armas, and Transmediterranea, with Tenerife and Gran Canaria as the hub.
3. Language
The official language is Spanish, but English is widely understood, so you'll have no problem. In addition, there is the local dialect. Here are two words that differ from Spanish that may be useful: guagua for bus and papa for potatoes. Yes, potatoes are a staple in Canarian cuisine!
La Gomera has its own language, although you'll probably not hear it. Silbo Gomera is the centuries-old whistle language used to communicate across the deep valleys of the island. To keep the tradition alive, it's taught in the local schools. Ask some locals to show you if you are interested.
4. Beaches
The Canary Islands are of volcanic origin, which accounts for the islands' many black sand beaches. But there are spectacular white ones too, complete with giant desert-like dunes. One of the best is Mas Palomas, a 1.2-mile-long white beach in the south of Gran Canaria. As it is also a tourist resort and development, it's not a place for solitude. If you wish to enjoy far less visited white beaches, head to Fuerteventura, the oldest of the Canary Islands, or to tiny La Graciosa, just a hop across the water from Lanzarote. Why not experience a black beach too, flanked by bizarre rock formations? Head for Playa de los Gigantes or Playa de las Americas in Tenerife.
Those who are interested in watersports such as surfing, kitesurfing, windsurfing, and even paragliding, will find plenty of opportunities at area beaches. Snorkelers and divers should check out La Restinga Marine Reserve on the southernmost tip of El Hierro. Close to the nature preserve of Lobos island, this protected area is teeming with marine life, such as rays, barracuda, and dolphins.
5. Natural Beauty
The landscape of the Canary Islands is full of contrasts. From volcanos and lava fields to forests and fertile green valleys, you will be spoilt for choice. With four national parks and six biosphere reserves, there is something for every taste and physical ability.
Teide National Park
The largest and probably best known is the huge Parque Nacional del Teide, or Teide National Park, in Tenerife which has the 12,000-foot-high volcano of the same name at its center. In addition to being the home of Mt. Teide, the park is also a UNESCO World Heritage Site. Rock formations and lava flows can be seen as far as the eye can reach. If you are fit enough, you can climb up to the summit — if not, you can take the cable car and walk down.
Timanfaya National Park
Otherworldly Timanfaya National Park takes up nearly a quarter of the island of Lanzarote. Here, you can ride a camel across the lunar-like terrain, made entirely of volcanic soil.
Orotava Valley
By contrast, there is the fertile Orotava Valley in the north of Tenerife, where banana plantations and vineyards dominate the landscape. The wines are famous.
Caldera De Taburiente
Dubbed La Isla Bonita, (the Pretty Island), La Palma is also known as the "green island" because of its pine forests. The island features another beautiful park: Caldera de Taburiente.
Garajonay National Park
The island of La Gomera is home to one of the world's largest and best-preserved laurel forests, which can be found in the impressive Garajonay National Park. Something not to be missed is Jameos del Agua in Lanzarote. It's a system of interconnected lava tubes created by volcanic eruptions. You can walk the tubes on a guided tour past an interior lake, and there is even dining and music.
6. Stargazing
Because the Canaries are blessed with one of the world's clearest night skies, they have become a popular destination for scientists as well as enthusiastic amateurs. If you love to have your head in the stars, there are many observation points with gigantic telescopes. Here are the best: La Gomera and Mirado de el Santo to observe the Milky Way, La Palma and Observatory Roque de Los Muchachos and San Borondon (a natural platform jutting out over the Atlantic Ocean), and of course, Tenerife with Las Cañadas del Teide and Mount Guajara and Mount Izaña.
7. Art, Culture, And Architecture
It's not just the wonders of nature that make the Canary Islands so unique; man-made works of art define a great part of the islands. Lanzarote is practically shaped by one artist: Cesar Manrique. His works are everywhere, including his house (now a museum), the above-mentioned Jameaos del Agua, and many more.
While in Lanzarote, visit the port city of Arrecife, where you can see the lovely 17th-century Iglesia de San Ginés (Church of Saint Genesius) and its ornate Mudéjar-style ceiling in the picturesque Plaza de Las Palmas. San José Castle, an ancient fortress, has been transformed into The International Museum of Contemporary Art.
As my fellow TravelAwaits writer Richard Nahem notes in his article, My 3 Favorite Experiences On This Lesser-Known European Tropical Island, "Historically, Tenerife was a stop for explorers, including Columbus, en route to America and played an important role in Spanish colonization. There's a significant cultural heritage in the villages of La Laguna and Garachico and even a connection to Hispanic American culture waiting to be explored."
Las Palmas de Gran Canaria, the capital of Gran Canaria, was founded in 1478 and is a treasure trove of architecture of many centuries, museums, theatres, congress centers, and elegant townhouses decorated with statues and flower-filled balconies. There are parks, the Atlantic Center of Modern Art, and a beautiful marina. It's my favorite city in the Canaries.
An outstanding cultural event is the carnival of Las Palmas, often equal to the one in Rio. It's celebrated each year in February.
We have already mentioned the whistle language, and here is another tradition you shouldn't miss: salto del pastor, or "the shepherd's leap." It is now a popular sport practiced throughout the islands but has its roots in the traditions of the original inhabitants. They used long poles with sharp iron tips used to traverse deep ravines and difficult territory in giant jumps.
8. Food And Drink
Before visiting the Canary Islands, you should know about the best local food and drink to make your experience complete. The food is hearty and delicious, relying on what the islands grow. Grilled meat and fish (tuna and swordfish mostly) are accompanied by papas arrugadas. That's the omnipresent Canarian potato, much smaller than other potatoes and with a flavor provided by the volcanic soil. Papas arrugadas, wrinkled potatoes, are boiled in their skin, sprinkled with salt, and topped with a spicy sauce then served as a snack or with the main dish. For colder months, rancho Canario, a thick noodle stew with chicken and potatoes beats the cold. Baifo is marinated goat, and bienmesabe is a thick sweet puree made from almonds, egg yolk, sugar, and lemon zest and often served with ice cream.
The Canaries have a fine choice of wine. They mostly produce white wines, but there are a few reds and roses too. Many vineyards are to be found on the island of Tenerife, but the most unusual are in Lanzarote. The wines are planted and shielded against the winds in volcanic ash-covered semicircles backed by stones. The wines of the Canaries, often based on Malvasia and Palomino grapes, all have a distinct flavor.
9. Practical Tips
Pack beach and summer clothes, but don't forget a sweater for colder nights. As you can see, even if you don't climb el Teide, there is a lot of walking as the best means of transport and that calls for good walking shoes. Reserve flip-flops for the beach.
The currency is the euro and credit cards are accepted just about anywhere, but have cash for bus fares and the like.
If you are American, make sure you have adaptors to plug your electronics in. Voltage is 220 to 240! You don't want to blow them out.
Tipping culture is nothing like in the U.S. In restaurants, service charge is already included but nothing stops you from leaving a tip if you had very good service.
Related Reading: