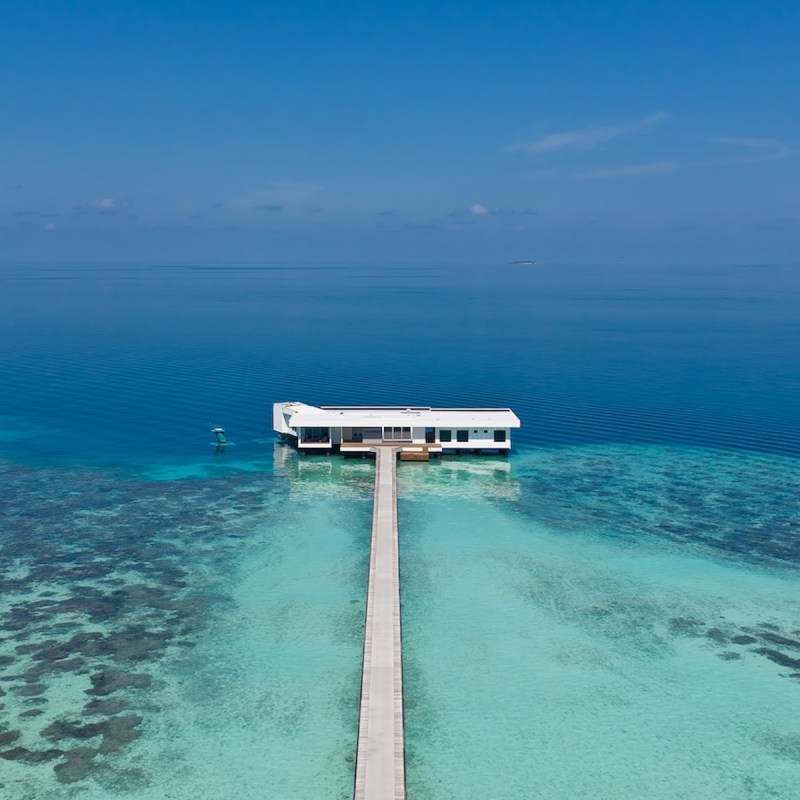 Below is our deep dive into the world of underwater stays. Advances in modern engineering mean "sleeping with the fishes is now a reality." No need for cement shoes or even wetsuits, though having a fat wallet certainly helps. Our list starts with gold-drenched luxury suites but dives deeper, plumbing the depths for affordable options.
1. The Muraka At Conrad Maldives, Rangali Island, Maldives
Twice voted the best hotel in the world, Conrad Maldives Rangali Island Resort was the first in the Maldives to perch luxury villas on stilts. In 2005, it opened Ithaa, the world's first all-glass undersea restaurant. In 2018, it created The Muraka, the world's first underwater villa suite. At $50,000 a night, the Muraka takes luxury to the next level. Half of the residence is above water with bedrooms and an outdoor deck complete with an infinity pool. The spiral staircase or elevator leads down to the underwater master bedroom 16 feet below sea level. Watch the tropical underwater paradise from a bed under a 180-degree acrylic domed tunnel viewing theater. The suite comes with a private speedboat, jet skis, and the services of a butler and chef. The Muraka sleeps up to six adults and three children.
2. Underwater Suite Atlantis The Palm, Dubai
The Atlantis The Palm, Dubai, could double as an Arabian palace. The lavish hotel was built on an artificially created island named after the lost city of Atlantis. Among the 1,500-plus rooms are two underwater suites, Poseidon and Neptune. These three-story options are partly submerged beneath the surface of the Ambassador Lagoon, where a manmade coral reef is home to around 65,000 marine creatures. Watch sharks, the huge Napoleon wrasse, and shoals of colorful angelfish glide past your bed. Float the evening away in a marble bathtub while looking out at the water wonderland. Head upstairs in your private elevator to the intimate lounge, where the waters of the Ambassador Lagoon lap at your window, complete with 24-hour private butler service and options for tank dives even for non-certified divers — priced from $8200 a night.
3. InterContinental Shanghai Wonderland, Songjiang, China
About 20 miles from Shanghai, the InterContinental Shanghai Wonderland is indeed a wonder. Architect Martin Jochman was tasked with creating a "groundscraper" inside a disused quarry. The result is the world's deepest hotel. Guests enter on a top floor and then shoot downwards in transparent glass elevators resembling cascading waterfalls. One of the floors is submerged and contains six underwater duplex suites facing the saltwater aquarium. I'm not sure the underwater suites are the only wonder here. Should you tire of looking at aquarium fish, you can rock-climb the face of the quarry, kayak through the quarry's lake, or zip-line over the water. A nightly show shoots water hundreds of feet into the air and neon drones fly in formation. The underwater suites start at $2,600 a night and include a 24/7 butler service.
4. Ocean Suites At Resorts World Sentosa, Singapore
Sentosa is an island playground off Singapore's southern coast, connected to the city by cable car, pedestrian boardwalk, and monorail. With beaches and the massive Resorts World, there are many ways to have fun. Equarius Hotel offers 11 two-story oceans suites, each with a window into one of the world's largest aquariums. Expect therapeutic and calming views of the blue water. With over 40,000 fish, there's no need to count sheep to drift off to sleep. When you electronically raise the panel into this water world, lights dim, like when a movie begins in a theater. A sunken bath near the window means bathing at eye level with majestic manta rays and hammerhead sharks. The top floor has an outdoor patio and private Jacuzzi with sky views, including the Singapore Cable Car gondolas overhead. A private butler can run your bath and organize your buggy rides. Resorts World Sentosa is vast with casinos, a Universal Studios theme park, and Adventure Cove Water Park, so the personal buggy services save your legs. Underwater stays start at $1,500 a night. Or stay in a standard room and dine at the Ocean Restaurant, which has similar underwater views.
Pro Tip: Reaching your bedroom involves climbing three flights of stairs.
5. The Underwater Room At Manta Resort, Tanzania
This sub-aquatic accommodation floats in a circular blue hole in the coral reef near Pemba Island, off the east coast of Tanzania. Swedish artist Mikael Genberg designed this project.
The wooden pontoon is like a raft floating about 100 yards offshore. While there are plenty of amenities, this is less of a luxury suite and more of a submerged observation cubicle. From the top deck, guests can sunbathe, leap into the water, and stargaze at night — the living quarters, including a bar, are in the middle. Submerged 12 feet beneath the surface is a bedroom entirely walled by glass. At night, the sea life is illuminated. Lights attract the plankton; the plankton attracts little fish who bring in the big fish. Anchored by ropes, the accommodation sways like a boat with the rhythms of the sea. The underwater room is an add-on to other Manta Resort bookings and costs start from $750 per person. The Mantra resort highlights the environment and is a popular destination with guests unwinding post-safari.
6. Jules' Undersea Lodge, Key Largo, Florida
The name Jules' Undersea Lodge references Jules Verne, who wrote 20,000 Leagues Under the Sea. The most adventurous of the underwater stays, this accommodation is 29 feet below the surface, and the only way to reach your bed is to scuba dive. Beginning life as an underwater research laboratory, the lodge is now a two-bedroom retreat. Creature comforts include hot showers, a well-stocked kitchen, and movies, although most guests prefer to lie in bed watching shoals of tropical fish. Breakfast, drinks, and snacks are provided. There are Scuba Eats rather than Uber Eats as a diver delivers your pizza. They can also bring down your phone so that you can document your stay. If you're not an experienced diver, the lodge offers scuba diving lessons. Stays start at $1,350 per couple.
7. Cruise Whitsundays Reefsuites, The Great Barrier Reef, Australia
Most underwater accommodations are built close to land, but Reefsuites are 45 miles from the mainland. These unique stays are possible because the rooms are beneath a $10 million pontoon complex called Reefworld moored over Australia's Great Barrier Reef. Tourists reach the pontoon via a 3-hour scenic cruise from Airlie Beach. There are two luxurious ReefSuites, where visitors can sleep 15 feet under the sea. Guests can eyeball Maori wrasse as big as divers, spot bright orange clownfish — one may well be Nemo — or watch candy-colored parrotfish perform an underwater ballet. Guests have the pontoon to themselves after the day-trippers leave. Find out more in our article The Ultimate Travel Adventure.
8. Walrus House, Pairi Daiza Resort, Brugelette, Belgium
The Diamond Theme Park Awards jury regularly ranks Brussel's Pairi Daiza as Europe's Best Zoo. Visitors can even stay with the animals, looking into their underwater habitat. Walrus House is a partially submerged hotel suite in the park's arctic-inspired resort hotel. Enjoy nose-to-whisker encounters with these playful creatures separated only by a glass partition.
The habitat always checks out their new playmates. The white-on-white room resembles a snow cave with faux fur rugs and Arctic motifs. Other partially submerged rooms offer similar encounters with polar bears or penguins. Prices start at $185 per person and include breakfast, dinner, and two days' park access.
9. A Submarine Stay, Manitowoc, Wisconsin
The Lovers Deep experience — the Mile Low Club where couples pay $292,000 for a night in a private submarine looms large on the internet. But when I got to the bottom of the matter, Olivers Travels no longer offers this stay. Save your money for that trip to outer space as a cheaper submarine stay exists. At Wisconsin Maritime Museum, guests can sleep on board the USS Cobia, a magnificently preserved World War II submarine docked on Lake Michigan. Perhaps not quite as romantic, expect some tight squeezes in the corridors. Maritime enthusiasts and WWII history buffs will love this stay. The 1943 sub is yours, so take your pick from the 65 bunks — some below the waterline. Roam the museum after-hours. Enjoy a private screening of The Hunt For Red October. In summer, sip sundowners at the Sub Pub rooftop bar with wondrous views over Lake Michigan. The $730 price includes up to five guests before additional fees apply.
Pro Tip: Expect to navigate stairs and bulkhead doors. Modern bathrooms are in the visitors center rather than onboard.
10. Utter Inn, Vasteras, Sweden
One guest wrote that the Utter Inn is "whimsical, deeply strange, and wholly special." Utter Inn (Otter Inn) is an art project by Mikael Genberg. He built the underwater accommodation, and because of all the attention it received, he was asked to build the Underwater Room At Manta Resort, Tanzania.
Utter Inn is built on an anchored floating platform on Lake Mälaren and resembles a Swedish cottage, albeit one bobbing on the water. Sunbake, swim, and wave at passing motorboats as you enjoy sunset drinks on the deck. The rustic inside has a latrine, propane stove, and battery-powered lighting or candles. Lift the hatch and climb down a ladder to a womb-like bedroom 10 feet below the surface, where you are rocked to sleep by the lapping water. Bring everything you need as paddling back and forth with the small inflatable provided would be onerous. Dinner deliveries are an option. Seasonal stays range from April–October starting at $250 a night.
For a more in-depth look at some of these amazing stays, check out these articles: