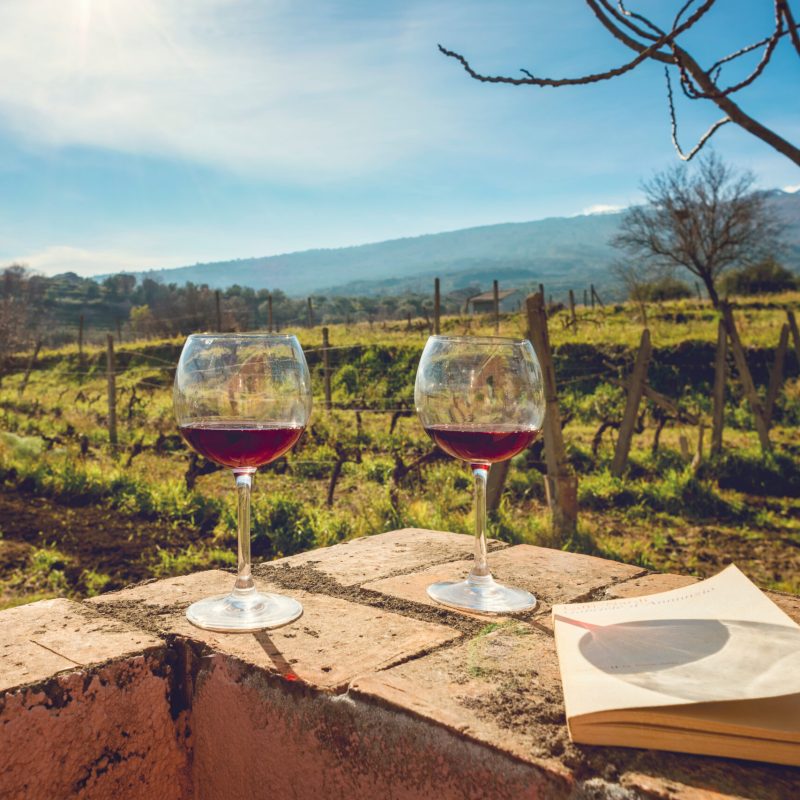 Anyone can bring a bottle of wine to a party, but if you want to offer someone a truly memorable gift, include a wine book along with the vintage of your choice. Given that there are probably as many books about wine as there are about travel, the possibilities seem endless. As such, I'm focusing on books that I have enjoyed myself and that come highly recommended by sources I trust. I tried to come up with a little something for everyone, from the novice sipper to the niche drinker. Cheers to easy gift giving!
Wine Simple, Aldo Sohm With Christine Muhlke
If your last name is Sohm, it seems like fate that you would grow up to become a sommelier. Sohm seems born for the role, not just because of his superb wine knowledge but also for the down-to-earth, friendly way that he shares the fundamentals of choosing and drinking wine. I love how Sohm's 2019 book talks about wine for real people with real budgets and gives low and high-priced options (because, let's face it, there are some parties that are worthy of an especially splurgy bottle. Others, not so much!)
This is the beginner wine book I recommend more than any other — perfect for anyone who enjoys wine and wants to learn more. Easy to read, easy to understand, and comprehensive without being overwhelming.
Wine For Normal People, Elizabeth Schneider
Billed as a book for people who like wine but not the snobbery that goes with it, I think that Schneider's 2019 book is an excellent alternative to Sohm's. They cover much of the same material but each has its own flow, arrangement, voice, and style. If I had to, I'd peg Schneider's material as being slightly more advanced than Sohm's but only by a little bit. Both are superb for beginners, but Wine For Normal People might find its mark more with folks who have done a few wine tasting experiences or who are a little less Euro-centric in their interests. I especially like how Schneider talks about scents and smells. There's nothing wrong with you if you can't pick up the so-called signature hints of cherry or apple in a wine. Your nose is just fine! In fact, the more you know about it, the better you'll be at assessing wines. I love this approach.
Wine Folly, Madeline Puckette And Justin Hammack
From the team behind the wildly popular WineFolly.com, this 2015 book is another excellent choice for beginners but tips more heavily into the experience of tasting many, many different varieties of wine. More than four dozen different grapes and appellations are profiled with easy-to-understand graphics, highlighting the flavor notes, growing areas, regional differences, and even pricing guidelines. I think it's perfect for any wine drinker who is just as curious about, say, Touriga Nacional or Carignan as they are Malbec or Riesling. As many wine books tip very heavily in favor of covering France and Italy, the large number of grapes represented in this book makes it a bit more balanced read.
Wine Grapes, Jancis Robinson, Julia Harding, And José Vouillamoz
Several friends in the industry recommended this 2012 book, which covers 1,368 vine varieties. Crystal Coverdale, the general manager of Moon Curser Vineyards in British Columbia, Canada, says that the book "is a great resource for information on grapes. At Moon Curser, we grow unique grape varieties rarely grown in Canada, so I often use this book when I need to source background info." But Wine Grapes is much more than a superb reference book for professionals. It's also a gorgeous work of art, and it looks, well, very gifty. It's a great coffee table book that you could crack open every time a friend brings over a bottle of wine.
Terroir Footprints, Pedro Parra
I've long hated the term "wine snob." A true wine lover is never a snob. They're geeky, they're passionate, and sometimes wildly romantic — and you can find all of that and much more in Parra's 2020 book about terroir. Long considered the exclusive domain of the proverbial wine snob, Parra takes the subject of terroir and creates a love letter to soil, sun, and sky. It's the perfect gift for a friend who loves to go down the proverbial "rabbit hole" when they're reading. And, in the words of Quench Magazine editor-in-chief Gurvinder Bhatia, it's "great for anyone that has an interest in learning more about wine, where it comes from, and factors that contribute to why certain wines taste the way they do." Just keep it away from any snobs you might know. They don't deserve such a lovely gift.
The Business Of Wine: An Encyclopedia, Jack And Geralyn Brostrom
Wine is agriculture, history, culture, and science, with a hearty dose of whimsy, community, and cuisine. And wine is a business, maybe above all else. The Brostroms' 2008 book The Business Of Wine, is a look at everything from what wines are served on airplanes to how varietals are assigned to the vast world of marketing (my friend and wine educator Liza Zimmerman wrote one of the marketing chapters, which is how this book got on my radar). This book is the perfect gift for a couple if one person loves wine but the other person doesn't necessarily enjoy drinking it. Anyone who loves books on the intersection of commerce and culture will enjoy this as much as the wine drinkers will.
The Essential Guide To Bordeaux Wines, In Collaboration With The Bordeaux Wine School With Sophie Brissaud
There are times when this 2015 book feels like a bit of a slog (unfortunately, there really is no way to make pruning an exciting topic). Other times, it comes across as a touch self-satisfied, which I suppose is justified when you're Bordeaux of all places. But if you can put that aside, this is a fascinating look at what viticulture looks like when you're one of the world's oldest and most important wine regions. It's an essential read for anyone traveling to France, and it would also make an excellent gift for anyone about to embark on a wine industry career.
The Essential Guide To Turkish Wine, Andrea Lemieux
So very hot-off-the-press that you might have to dig a little bit to find it, Lemieux's 2021 book is the result of four labor-of-love-filled years after the author was dismayed to find that there was no comprehensive English language guide to Turkish wine. Part wine book and part travel guide, The Essential Guide To Turkish Wine covers the country's long winemaking history, provides comprehensive descriptions of native grapes, and shares the stories of Turkey's wine producers — and includes location and contact information for visitors, including hotel and restaurant details.
I had the opportunity to interview the author about her work, and she told me: "Turkish wine is underrepresented and underappreciated globally, and I have really come to admire the people in the industry. The country has so much to offer with its wines — especially those made from native grapes you cannot find outside of Turkey! — and I kept going with the book, hoping it would encourage more people to explore Turkish wine and import it."
This is absolutely the book for any hard-to-shop-for person on your list. They won't have it yet, and they won't have anything like it. It's also a lovely choice for anyone who likes things just a bit off the beaten path.
Wine And War, Donald Kladstrup And Petie Kladstrup
The true story of the French vintners who protected their country's beloved wine from Nazi plunder in World War II, you don't have to be a wine drinker to appreciate this compelling tale of intrigue, published in 2002. It's a wonderful choice for anyone who loves the old vintages of France and for non-drinkers alike. Forget pairing this book with a bottle. Instead, tuck it in a package with some fine chocolate and fresh pastries for the perfect cozy present.