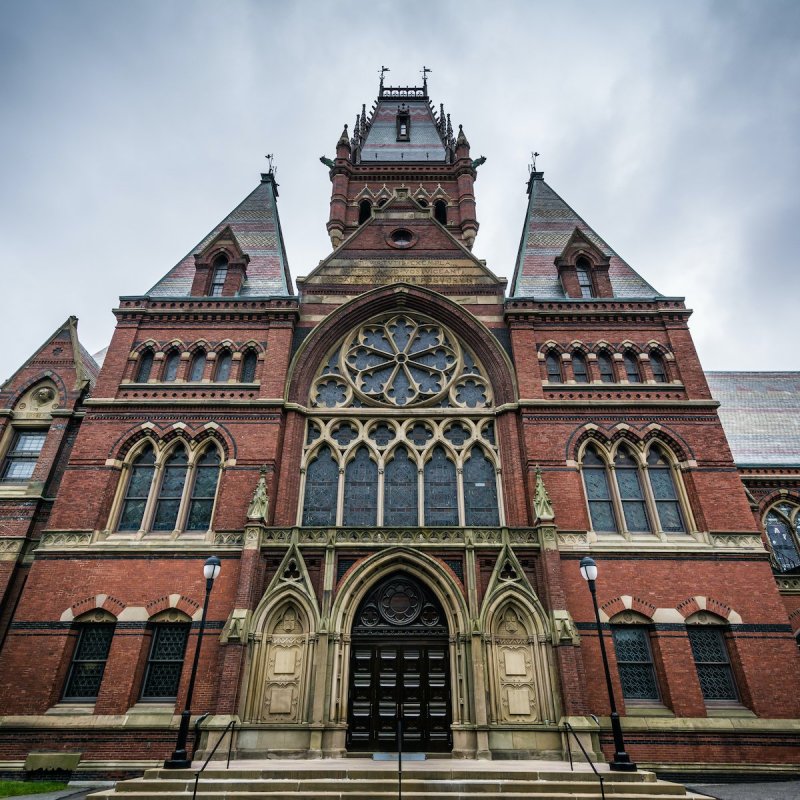 Youthful and vibrant, fun and funky, historic and cultured — Cambridge, Massachusetts, is the perfect spot to spend a sunny day. Home to Harvard University and the Massachusetts Institute of Technology, Cambridge is a college town; alive with everything world-class universities need to thrive.
Hip and trendy restaurants, homes of American heroes and thought leaders, classic architecture mixed with uber-modern buildings, and a thriving, neighborhood community all come together to make Cambridge a wonderful place to live and explore. Visiting everything in a day can be a daunting challenge, but with all the options available, you will have plenty to choose from to plan an itinerary for a fun-filled and educational adventure.
Things To Do In Cambridge
Across the Charles River, Cambridge faces the Boston skyline. As a major suburb of Boston, Cambridge has access to all the great things Boston has to offer but also has plenty of activities to keep visitors on the Cambridge side.
Harvard University
Harvard University is a world leader in education. Whether you attend as a student or visit as a guest, the university is a showcase of educational opportunities, fine art, and intellectual exploration. For a formal introduction and official tour, start at the Harvard University Visitor Center. University students are happy to guide you around their campus and regale you with stories and information about their beloved alma mater. Student-led tours will take you through the old brownstones and new, inspiring architecture. Visit Radcliffe's garden, home to many University student weddings, intriguing museums waiting for you to explore, and interesting statuaries that dot the campus. Harvard is a mecca for intellectuals and art lovers alike.
Harvard Museum Of Natural History
Supported by three research museums, the Museum of Comparative Zoology, the Harvard University Herbaria, and the Mineralogical and Geological Museum, the Harvard Museum of Natural History presents a collection of interesting and unusual exhibits. One such exhibit is the Birds of the World Gallery, which explores the tremendous diversity of these winged creatures. As you stroll the exhibit, the vibrant colors captivate your attention and inspire respect for these fascinating birds.
The Museum offers a selection of adult, children's, and family-oriented programs and classes throughout the year.
Peabody Museum Of Archaeology And Ethnology
While visiting Harvard University, make time to add the Peabody Museum to your must-see list. One of the oldest archaeological and ethnological museums in the world, the exhibits are uniquely fascinating. The Hall of the North American Indian features totem poles, ceremonial masks, and tribal artwork. In exhibits like Resetting the Table: Food and Our Changing Tastes, visitors can contemplate food choices and habits in the U.S. and how these choices shape our lives.
The Peabody offers student-led tours for groups of college-age and older visitors included in your museum admission. If you are visiting with younger children, an advanced reservation is required.
Harvard Square
Exploring trendy stores, dining in outdoor cafes, and resting on a bench while people watching are time-honored traditions in Harvard Square. While Harvard Square still retains some of its '70s hippie vibe, it is now boho chic as opposed to psychedelic flower child.
Cambridge Historical Tours offers private, expertly curated tours like the Tour of Old Cambridge. The neighborhood's history, art, and architecture are explored throughout the walking tour punctuated with stories of Longfellow, Helen Keller, and T.S. Eliot. The customizable tour is the best way to explore all the history embedded in the fiber of Cambridge, particularly when you only have a day or two for your visit.
Charles River
The Charles River, or simply "The Charles" to Bostonians, separates Boston and Cambridge. The busy path along the Charles offers an enjoyable waterside stroll or a perfect spot for a picnic lunch.
The Charles Riverboat Company has several cruise options that explore the Charles. Their Charles River Sightseeing Tour gives visitors the opportunity to sit back and enjoy the sights between Boston and Cambridge's river banks. Enjoy the small sailboats dancing across the water as your captain navigates the way.
Massachusetts Institute Of Technology
The Massachusetts Institute of Technology (MIT) campus is not only a world-class institute of technical learning, it is a showcase for art and architecture. By accessing the interactive Public Art Map, you find your way to the Stratton Student Center designed by architect Eduardo Catalano, The New Media Lab by Fumihiko Maki, and the Green and Wiesner Buildings designed by I.M Pei. Stroll through campus and experience a wealth of art installations including Figure decoupee by Pablo Picasso, the Sean Collier Memorial by J. Meejin Yoon, and many other thought-provoking pieces.
Mount Auburn Cemetery
Located in Watertown and Cambridge, Mount Auburn Cemetery is the first garden cemetery in the U.S. and is a designated National Historic Landmark. Stroll through the beautifully landscaped park along winding paths that weave around the stone markers across the 175-acre park. The horticultural collection of over 5,500 trees, shrubs, and plants gracefully interacts with tombstones of local citizens and famous Bostonians. Mount Auburn Cemetary's distinguished residents include Henry Wadsworth Longfellow, Oliver Wendell Holmes, Julia Ward Howe, Dorothea Dix, and Charles Sumner.
Longfellow House
The stately mansion on Brattle Street, Longfellow House, was the former home of poet Henry Wadsworth Longfellow. Now a National Parks Museum, the Longfellow house welcomed many famous visitors including Charles Dickens and Nathaniel Hawthorne. George Washington used the home as his headquarters for the Continental Army during the Boston battle arena.
Tour Longfellow's family home and step back in time as you explore the extensive collection of art and period furniture. Take a stroll through the beautiful gardens, which are particularly lovely in late spring.
Cambridge Restaurants
There is no shortage of restaurants in Cambridge. From small cafes and bakeries to upscale dining, the food scene is jam-packed with amazing restaurants featuring top-notch cuisine. Below is a selection of eateries that embody the flavor of restaurants in the Cambridge area.
Tatte Bakery And Cafe
Harvard Square is a thriving neighborhood with its own Tatte Bakery and Cafe. With Locations across Boston, Tatte began as a stall in the Boston farmers market and quickly attracted a loyal following. Known for their scrumptious sweet treats, they also offer delectable savory dishes. Stop in for a monkey bread croissant, a crispy palmier, or a beautiful buttermilk biscuit to enjoy with a piping hot cup of coffee. Join the cafe crowd — come for breakfast and stay for dinner.
Cambridge Brewing Company
Located in the vibrant Kendall Square neighborhood, Cambridge Brewing Company has a selection of handcrafted on-tap beers along with bottled and canned options. Tiny Geometries is a toasted red lager that is worth a try for a "reds" connoisseur. If you're looking for a beer to knock your socks off, give the 2020 Bannatyne's Scotch Ale a spin. Excellent pub grub is offered to accompany your favorite brew.
Oleana
Middle Eastern cuisine never tasted so good. When you take a classic dish and morph it into a dining adventure, you have truly captured something unique and memorable. Oleana serves up a masterful menu of reinvented dishes enticing you to try every meze on the menu. Sample the Kohlrabi Pancake with Haloumi, Vermont Quail Kebab, Topik, and so many other tempting delights.
Abe And Louie's
Across the Charles on Boylston Street awaits an exceptional dining experience. Abe and Louie's is a fine dining restaurant with an extensive and expertly prepared menu. Start with the escargot, beef carpaccio, or any of the gorgeously plated appetizers. Continue on with a 22-ounce bone-in aged prime ribeye, a meat lover's dream dinner, or the shrimp and scallop risotto. Dining at Abe and Louie's is the perfect way to celebrate your time in the city. The large selection of fine wines completes the feasting experience.
Pro Tips
Save time for a quick shop at The Coop (pronounced like a house for chickens), for all your Harvard and MIT gear. Their flagship store, purchased in 1906, is located in Harvard Square and is the gold standard of bookstores.
Cambridge is not just a suburb of Boston. It is home to thousands of university students and a thriving residential community that appreciates and contributes to the art, history, green space, and bustling vibe of the city. Take a day or two and explore Cambridge, you will have a great urban adventure and you will probably learn a little something in the process.
While in the Boston area, also consider