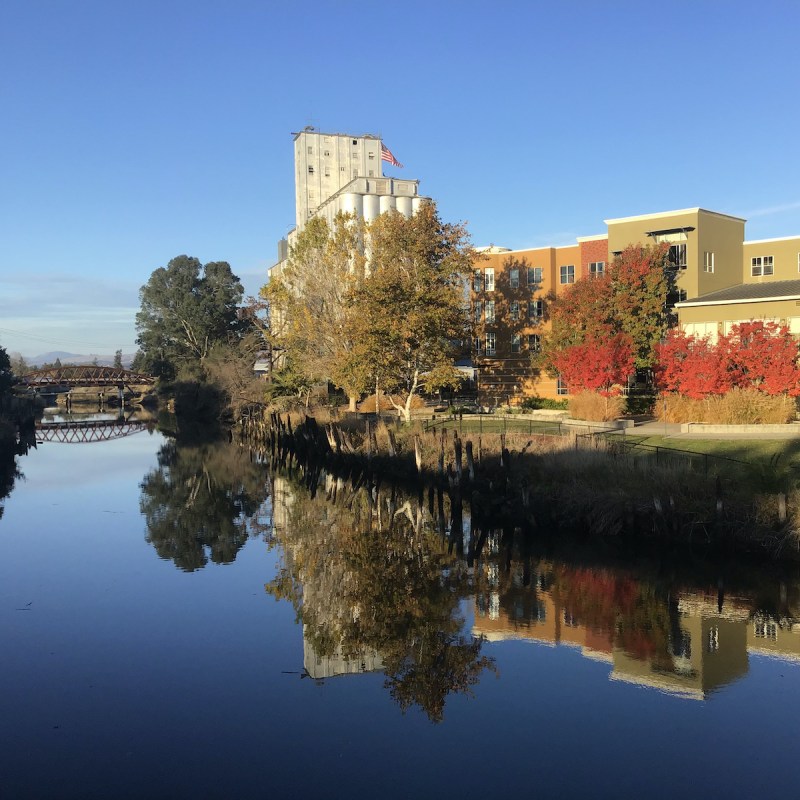 Fifty miles north of San Francisco, Petaluma, California, is bisected by Highway 101. It was easy to drive by without noticing the town; there were few off-ramps. On either side of the highway, there are egg ranches and dairy farms as far as the eye can see, supplying milk, eggs, and cheese to consumers all over the state. Petaluma was once known as the "egg basket of the world" because of its millions of laying hens. Today, Petaluma is still a well-kept secret. Farms, pastureland, strawberry patches, and auto malls line the highway, obscuring the authentic feel of this sleepy Bay Area town.
As the Bay Area grows, people discover the charm of the old Victorian-style houses, the shops and restaurants, and the rejuvenated Petaluma River frontage. Plus, Petaluma has been called Hollywood North because of all the movies filmed here (American Graffiti, Basic Instinct, Peggy Sue Got Married, and even Howard the Duck, to name a few).
Petaluma has also quietly developed as a foodie destination. There are many fine restaurants to choose from; at least one is listed in the Michelin Guide. Vineyards are springing up in the valley, and wineries now produce full-bodied wines that rival the best Napa Valley offers. It's no wonder that the food and wine scene is flourishing!
1. Stay At The Historic Hotel Petaluma
When visiting, Hotel Petaluma is the place to stay. Located at the corner of Washington and Kentucky Street, Hotel Petaluma is the second hotel built after Petaluma's first hotel, The Brooklyn, was heavily damaged in a fire. Hotel Petaluma rose from the ashes in 1923 and opened to the public in 1924.
The hotel was designed by architects from San Francisco in the Art Deco style. The hotel has been recently renovated and maintains the charm that is a part of the experience. You walk through the front doors and see what life was like nearly a century ago. The elevators even have the original pull-type doors. The stunning Goldman Ballroom can be rented for wedding receptions, parties, conferences, and large gatherings.
Hotel Petaluma offers easy access to the California wine country and a large selection of restaurants, breweries, distilleries, art galleries, and antique shops, many within a short walk. Barber Cellars has a tasting room on the ground floor and an oyster bar just off the courtyard.
Pro Tip: A short walk outside the hotel brings you to Petaluma Boulevard, where many fine dining establishments can be found. There are also antique shops, candy stores, and bakeries along the way. Experience the old town at your own pace.
2. Petaluma Adobe State Historic Park
Commandant General Mariano Guadalupe Vallejo built the vast Rancho de Petaluma, the largest private rancho in northern California, in 1836. The building was constructed of adobe brick and hand-cut redwood planks. The main products at the rancho were cowhides and tallow for soap, candles, and lubricants.
The Petaluma Adobe is a California State Park. Tour the grounds and go inside to view the museum displays, showing tools, products they made for sale, and a glimpse of everyday life. There is a small entrance fee to tour the building and grounds.
Pro Tip: Next to the parking lot is a shaded area with picnic tables. Bring some food and have a nice picnic before or after the tour of the building and grounds. Restrooms are available.
3. Marin French Cheese Company
The Marin French Cheese Company has been in continuous operation since 1865, making it the oldest cheese factory in the United States. Traditional French cheesemaking combined with artisanal innovation produces award-winning California cheeses. Brie and Camembert are handcrafted with truffles, jalapeno, and mustard, to name a few.
Pro Tip: A large area with picnic tables is available just outside. Everything you need for a lovely picnic lunch can be purchased inside the store. Grab your favorite cheeses, head out to the lake, and take in the view before continuing your journey.
4. McEvoy Ranch Olive Oil Producers
McEvoy Ranch is a small family-owned farm in Petaluma. They produce the finest extra virgin olive oil (EVOO) using sustainable methods. As a working farm, McEvoy Ranch has olive oil tastings, wine tastings, and private picnics that can be booked for parties of two or more. The ranch is 550 acres, of which 57 acres are planted with olive trees. Rosemary, basil, lemon, and jalapeno flavored oils are used in the oil tasting, along with the EVOO. The remarkable flavor of the oil has a surprising black pepper finish. Enjoy dipping in bits of bread with balsamic vinegar; your McEvoy Ranch olive oil tasting will be a lasting memory.
Pro Tip: Several miles from the City of Petaluma, the McEvoy Ranch is surrounded by hills. Cellular service is non-existent, and there is no Wi-Fi to connect to your cell phone — a great excuse to relax and enjoy the scenery and take advantage of the many offerings. Be sure to go online and reserve a tasting or ranch tour and get away from it all for a few hours.
5. Cucina Paradiso Italian Restaurant
Just as we arrived at the door, a couple came out of the restaurant. The woman asked me if we had been to Cucina Paradiso before. I said we had, and she replied, "We drove up from South San Francisco to eat here again. We love it!" That's a 60-mile trip one way. A ringing endorsement if I ever heard one!
Located smack dab in the downtown area of Petaluma Boulevard, Cucina Paradiso is a go-to favorite. With a welcoming ambiance and friendly waiters, you know that you are in for a delicious meal. Wine racks along the walls hold bottles from Italy and Sonoma County. White table cloths cover the rows of tables, and the kitchen is open and bustling with activity. Just feet away from your table, chefs prepare sumptuous meals for the hungry diners. Zagat has rated them one of the top Sonoma County restaurants based on their delicious food, exemplary service, and authentic feel. Choose to eat inside, on the back patio, or at a table along the Petaluma River.
Pro Tip: Order several dishes and split them with a dining partner. The waiters are more than willing to provide extra plates. In some cases, they will split your order into two plates for you, leaving more room for coffee and dessert!
6. Stockhome Swedish And Middle Eastern Food Restaurant
Stockhome is a Michelin Bib Gourmand restaurant. While they serve traditional Swedish favorites, Middle Eastern food has become popular in Scandinavia. The menu reflects this, offering pita and kebab choices, along with salmon, chicken, or beef Greek souvlaki.
Stockhome has a fun vibe and atmosphere, with counter service and a selection of the famous cuisine that you would find in Sweden. Candies in jars tempt the sweet tooth, especially the black licorice and sour drops. This is authentic Swedish food served in Northern California.
Stockhome offers a large communal table inside to share your meal with 10 or 20 of your new best friends. Outside there are tables under umbrellas to evoke a European feel. The great food and lovely atmosphere are a testament to their listing in the Michelin Guide.
Pro Tip: The Swedish meatballs are delicious. Silky smooth mashed potatoes and brown gravy were the perfect complements to the dish, along with lingonberry sauce that adds a sweet and tangy taste. The pickled sliced cucumbers added a nice contrast to the rest of the plate. It's a tasty treat that will bring you back for more.
7. Lala's Creamery
When the meal is over and the bill has been paid, there is one final place to visit in the downtown Petaluma restaurant district. Lala's Creamery has become the place to go after dining out at any restaurant along Petaluma Boulevard. Walk along the Petaluma River, and in a few minutes, Lala's Creamery comes into view.
Organic ingredients make all the difference in the taste of the ice cream, brownies, cookies, and waffle cones. Lala's Creamery is famous for its fresh, organic treats. All of the items on their menu are locally sourced and freshly made daily. Ice cream is a great way to cap off a fabulous meal. Stop in for a cone, cookie, cup, shake, or brownie. The '50s soda fountain feel makes everyone feel nostalgic and happy. A stroll along the Petaluma River with an ice cream cone in hand is the perfect end to a memorable dinner at Petaluma's finest eateries.
Pro Tip: Lala's has an activated charcoal cone that customers love, especially those who wish to enjoy a gluten-free treat.