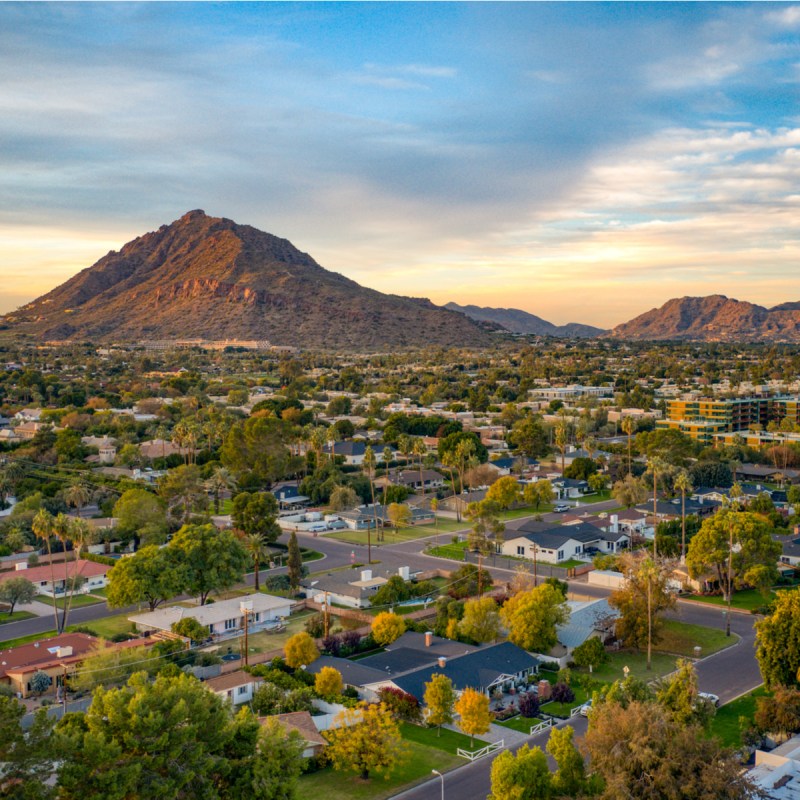 Scottsdale is a gorgeous southwestern destination for snowbirds who want to escape their frosty winter wonderland. The winter weather is perfect for a visit or an extended stay. You can soak up the warm and sunny desert climate every day. Offering gorgeous resorts, communities for the over 55 set, and short-term rentals, the Scottsdale-Phoenix area has the perfect accommodation option for your annual snowbird flight.
Active retirees, freelance semi-retirees, and soon-to-be retirees will love the activity options available to them in the Scottsdale community. Healthy outdoor adventures, a strong art community, excellent foodie restaurants, fun craft beer establishments, beautiful wineries, and a western culture that courses through the city's streets giving Scottsdale its unique vibe.
Some information in this piece was obtained during a sponsored press trip, but all recommendations are my own.
1. The Weather
The winter weather in Scottsdale is sublime. The U.S. Climate Data website lists Scottsdale's temperatures between November and April as having an average high ranging from 65 degrees to 75 degrees Fahrenheit. The sparse precipitation is approximately one inch per entire month. The minimal amount of rainfall offers plenty of opportunities to let the sun shine down and warm winter-weary bones. Snowbirds love to ditch the frosty weather and migrate to areas where it is summer year round and there is little to no humidity.
Arizona can get very hot in the summer months, but the winter weather is bright, sunny, and the perfect temperature to chase away chilly winter winds. Many snowbirds visit Arizona for a vacation getaway and end up returning for season-long stays.
2. The Golf Courses
The Scottsdale-Phoenix area has luxurious private courses, gorgeous semi-private clubs, and beautiful public golf options just waiting to test your swing. You can easily find a course that suits your game and your budget.
Membership courses with guest options like the Camelback Golf Club, which is part of the JW Marriott family, guarantee you will experience exceptional golf on their two club courses. Another great resort golf option is the Boulders Club at the Boulders Resort & Spa.
Great public courses around the Scottsdale area include Troon North Golf Club, one of the most highly-ranked public courses in the area, and Grayhawk Golf Club located just north of the city.
Many snowbirds visit during the winter months just to keep their golf game sharp and their swing well oiled. Scottsdale has courses to challenge scratch golfers along with forgiving, executive-style courses for the up-and-coming player.
3. Hiking
When you visit the Sonoran Desert, hiking is a pastime that brings many guests right into the heart of this beautiful, arid landscape. With the cool morning temperatures, early risers can complete a hike before the sun gets too high in the sky. Adventurous hikers can explore, according to AllTrails.com, over 100 trails in the Scottsdale area. With so many trail options, you can hike a different trail every day. From the easy 1.7-mile Horseshoe and Desert Parks Loop to the expert-rated, 11.1-mile Tom's Thumb to Bell Pass Loop, there is a trail for every fitness level.
If you want a more controlled hiking experience, visit the Desert Botanical Garden in Phoenix. The majority of the paths are flat and level, affording visitors a smooth and steady surface for strolling through the desert landscape. The gardens allow you to view the gorgeous native Arizona plants up close in their natural environment. The colorful cactus blooms are beautiful and not to be missed. The Botanical Garden is a respite to sit and enjoy all the gifts the desert has to offer.
4. The Foodie Culture
Amazing food, silky wines, and interesting craft beers afford locals and visitors the opportunity to kick back and explore the wealth of restaurants this desert town is proud to showcase.
When you navigate through Scottsdale, you will find a wide array of tempting dining choices. Explore fine dining restaurants offering seasonal, chef-driven cuisine coupled with expert wine pairings. The local craft beer scene elevates pub grub and a pint to not-your-average bar heights. The locally sourced ingredients are celebrated in their innovative dishes. Resort dining lets you explore their restaurants and is a wonderful way to experience a fabulous meal and get a peek at the resort and its amenities.
The wide variety of dining offers a variety of options for every occasion. You can dine on tasty tacos at the Barrio Queen, sip a cocktail at the hip saloon AZ88, enjoy a sumptuous brunch at the Prep & Pastry, and celebrate at fine dining restaurants like Virtu Honest Craft. The exploding foodie scene will tickle your tastebuds and open your eyes to new culinary possibilities.
Handcrafted libations are a part of the area's sipping culture. The Scottsdale wine trail includes wines produced on local vineyards and convenient tasting rooms where you can sit back, sip, and relax. For the homestyle brew aficionados, the craft beer operations will quench your thirst and expand your thoughts about traditional beer.
5. The History
Scottsdale's history is steep in the old west which is evident in the architecture across the area.
Old Town Scottsdale is a thriving hub of activity. More than just a collection of turn-of-the-century buildings, Old Town has a hip, party vibe inviting you to explore the neighborhood shops, restaurants, and green spaces.
Frank Lloyd Wright's Taliesin West, a UNESCO World Heritage Site, is a stunning example of Wright's architectural work. Taliesin West offers both self-guided audio tours and guide-led tours allowing visitors to get the most out of their visit.
The Scottsdale Historical Society located in the old Little Red Schoolhouse is home to preserving Scottsdale's history while actively engaging the residents and visitors in the area's past.
6. The Fun Activities To Explore
The Hotel Pool Day Pass program allows non-resort guests to spend a luxurious day enjoying hotel pools, cabanas, poolside service, and more. If you are looking to up your poolside game for the day, whether you're entertaining out-of-town guests, or you just want a different view, this program is an amazing way to visit exclusive resorts. Participating hotels include the Saguaro Scottsdale, Hotel Valley Ho, the Fairmont Scottsdale Princess, and many others.
The Scottsdale Civic Center not only houses the Scottsdale Center for Performing Arts, but also features an outdoor amphitheater, beautiful green spaces, fountains, and art sculptures all bordered by restaurants.
7. The Shopping
Among the many things you can do in Scottsdale, shopping options will definitely keep you busy for days and days. In Old Town, you can find cute shops that carry locally crafted goods, kitschy trinkets, and native artisan goods. The Arts District is home to galleries and showrooms that display a range of artistic styles from luxury to home décor pieces. In the Scottsdale Waterfront in the downtown district, you will discover well-loved luxury brand stores, up-and-coming shops, great restaurants, and thriving businesses.
8. The Community Of Retirees
The residents of Scottsdale happily enjoy an average of 299 days of sunshine; the U.S. national average is only 205 days. All this sunshine keeps locals and visitors healthy and happy. Couple the sunny days with only 11 inches of average rainfall each year and you have a sun-filled destination perfect for the weary and frozen snowbird. It does get a bit hot in the summer, but the late fall, winter, and early spring offer sublime weather for winter wanderers.
According to SmartAssets.com, Scottsdale ranked third in the top 10 cities retirees were keen on relocating to. Scottsdale is affordable, the weather is temperate most of the year, and there are a plethora of activities to keep residents and visitors engaged and busy.
A great place to start your search for an active, over 55 community is listing sites like 55Places.com. As you plan your full-time, part-time, or snowbird relocation, research is key to a successful transition. In Scottsdale, you will find active communities with exclusive golf privileges, active clubhouses, sparkling pools, and other fun-in-the-sun must-haves.
Many snowbirds migrate back to Scottsdale year after year. Some buy, some rent, and some nest in a resort setting. No matter what type of accommodation you prefer, you will find just the right spot to settle into an extended, leave winter behind, getaway.
9. The Proximity of Phoenix-Scottsdale
Scottsdale's proximity to Phoenix provides access to the city while residing in a relaxing resort town. The casual, laid-back vibe of Scottsdale makes it perfect for a kick-back winter getaway. Whether you are staying a week, a month, or a season, snowbirds in Scottsdale love all the hip, outdoorsy activities afforded by the Phoenix-Scottsdale proximity coupled with the big city sophistication.
You can explore some of the gifts that Phoenix has to offer in our articles: 8 Unique Phoenix Restaurants To Try and 7 Excellent Outdoor Activities In Phoenix.
Pro Tip: When you are on your first trip to Scottsdale and scouting out a sun-filled place to escape from the freezing winter weather, stay at one of Scottsdale's luxurious resorts and soak up the summer desert vibe. You will need to protect your skin from sun exposure so bring a hat, sunglasses, and sunscreen. You will love every minute relaxing by the pool, exploring local haunts, and connecting with other snowbirds. When you are ready to visit, go to Experience Scottsdale for more information on a perfect Scottsdale getaway.
Scottsdale, Arizona, and neighboring Phoenix are enticing destinations for vacationers weary of winter weather: