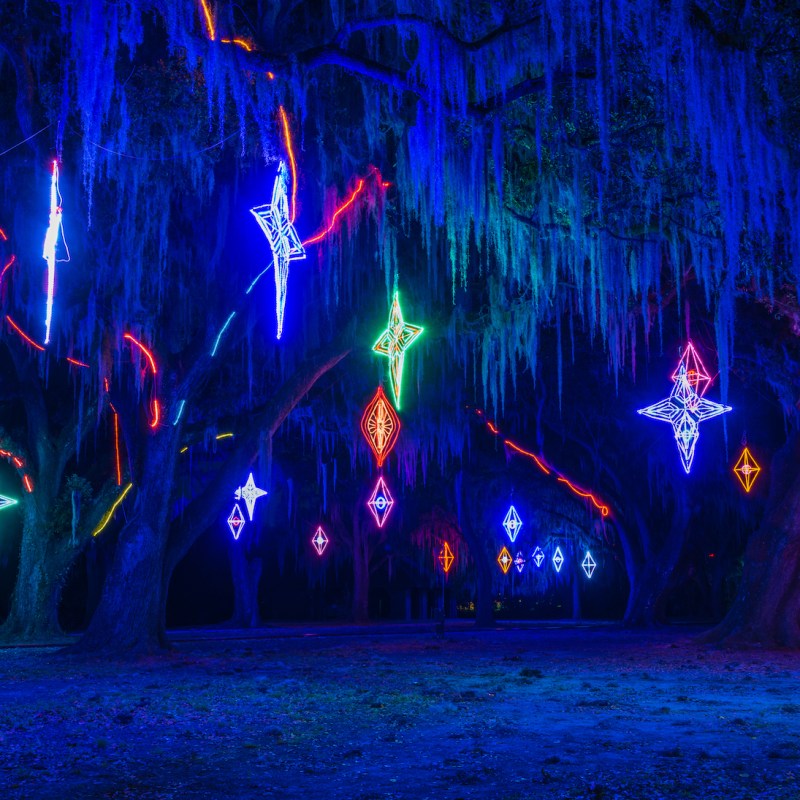 Festive displays decked out in millions of twinkling lights are part of what makes the holiday season the most wonderful time of the year. To help get you into the holiday spirit, our expert contributors shared their favorite holiday light displays from across the country. Check out some of these magical lights this year!
1. Lighted Boat Parade
Gig Harbor, Washington
"I love the Gig Harbor, Washington, annual Lighted Boat Parade," says Pacific Northwest writer Peggy Cleveland. "Sponsored by the Gig Harbor Yacht Club, the boat parade makes two loops around the harbor. You can watch from various viewpoints at the waterfront, or make a night of it by dining at one of the many restaurants that overlook the harbor. Many offer special events during the parade."
2. Santa's Wonderland
College Station, Texas
"Christmas in College Station in conjunction with Santa's Wonderland will once again light up the town with the most beautiful display of holiday lights you've ever seen in South Texas. And I can't wait to take my grandson to see it," says Texan travel writer and road trip enthusiast Kimberly Croisant. "People from miles and miles away travel here to enjoy all the excitement."
In addition to the holiday lights display, Santa's Wonderland offers a ton of things to see and do. Meet Santa, take a hayride or a horse and carriage tour, check out the gingerbread village, go ice skating, see the nightly horse riding performances at the Cowboy Christmas Corral, and more!
With other events and festivities in College Station like Christmas At The Tree Farm and the Christmas In The Park drive-through experience, and many more going on all over town, "it's truly a Texas Christmas experience not to be missed," says Croisant.
Croisant points to the Santa-Certified hotels that have been approved for visitors by the man in red. "Don't miss Christmas in College Station!" says Croisant. "Be sure to say 'howdy' when you see Santa — I'm sure he'll say it back!"
3. Country Club Plaza
Kansas City, Missouri
"With a single strand of lights hung over a doorway back in 1925, a Midwestern holiday tradition was born," Kansas City-based writer Sage Scott tells us. "Now, more than 280,000 multi-colored bulbs stretching 80 miles outline every window and tower of the Seville-inspired architecture of the Country Club Plaza in Kansas City, Missouri."
Residents and visitors alike usher in the holiday season by attending the annual lighting ceremony on Thanksgiving evening. "Live holiday music and fireworks transform the dark (usually cold) night into a spectacular scene when the Country Club Plaza is illuminated for the first time at 6:54 p.m.," describes Scott. "Visit any evening through mid-January to admire the festive lights, enjoy a horse-drawn carriage ride, or finish your holiday shopping," she suggests.
4. Celebration In The Oaks
New Orleans, LA
While New Orleans certainly gets attention for its world-renowned Mardi Gras celebration, it truly shines during the holiday season, according to TravelAwaits contributor Erika Ebsworth-Goold. "The drive-through Celebration in the Oaks has delighted families since the 1980s, and it's not hard to see why," she says.
Iconic City Park's grand live oaks are transformed into "sparkling, shimmering masterpieces," Ebsworth-Goold describes. "More than a million lights are used in the 2.25 mile-long display, which also includes stars, icicles, and fan-favorite flamingos! Be sure to tune into the celebration's set radio station for holiday tunes during your drive through," she advises. "And check out the Carousel Gardens Amusement Park. The rides, hot cocoa, and roasted marshmallows there will be sure to extend your holiday fun."
"The best part about Celebration in the Oaks? Money raised during the month-long event goes toward maintaining City Park and keeping it beautiful year round," explains Ebsworth-Goold. "It doesn't get any better than that!" she exclaims.
5. Tlaquepaque Arts & Crafts Village
Sedona, Arizona
"It might be the luminous red-rock backdrop or it could be the beautiful mission-style architecture," says Arizona-based writer Cindy Barks, "but for me, the Christmas scene at the Tlaquepaque Arts & Crafts Village in Sedona is among the most beautiful I have seen in the United States."
Sedona is one of the best cities in Arizona to visit during the holiday season. That is due in no small part to Tlaquepaque's light display, which is right out of a Hallmark Christmas movie. "The sprawling dining and shopping complex was fashioned after a traditional Mexican village, and its charming atmosphere is enhanced by the world-famous red rocks that surround the north-central Arizona town of Sedona," Barks explains.
"Each holiday season, the graceful arches, courtyards, and fountains of Tlaquepaque are decked out in festive Christmas decor," she describes. "By day, visitors can hike and bike the hundreds of miles of trails through Sedona's red rocks, and by night, Tlaquepaque provides an ideal spot for dinner and a drink and some Christmas shopping."
"The holiday scene takes on even more brilliance during and after the annual Festival of Lights event," Barks remarks. The mid-December event "involves the lighting of 6,000 luminarias, the paper-bag lanterns that traditionally have candles set in sand inside," she says. "The rows of glowing luminarias perfectly set off the lovely courtyards and the gorgeous red-rock terrain, making for a one-of-a-kind Christmas experience."
6. Cheekwood Holiday LIGHTS
Nashville, TN
"The Holiday LIGHTS at Cheekwood Estates and Gardens outside of Nashville, TN is more than a light show — it's an experience," asserts travel expert Amy Sward. "Wander along brightly colored paths through 55 acres of gardens lit up by more than a million lights.
"All generations love the reindeer village (with real reindeer!) and working miniature trains choo-chooing through the train village," Sward states. "Head over to the Children's Garden for a light display set to holiday tunes. There are s'mores and drinks to keep you warm on the chillier nights. Pay a little extra to go inside the Historic Mansion and Museum to see its stunning decorations and more than 40 nutcrackers! Be sure to get your tickets early, as this is a popular event and can sell out."
7. U.S. Bank Wild Lights At The St. Louis Zoo
St. Louis, MO
Author Cindy Ladage describes the St. Louis Zoo's light display as "quite magical." She snapped the swan photo above when she and her family visited last year. "With lights combined with the animals like the Penguin and Puffin Coast and the Insectarium, the zoo is both delightful and educational," she says. "The magic as you walk around wraps you in the holiday spirit," adding that, "free parking and social distancing allow visitors to experience holiday magic in a unique way.
"There is a hot chocolate station, a carousel tunnel of lights, and more," Ladage tells us. "The combination of fun light themes is just right for all ages. My grandchildren, daughter, and I were mesmerized by the variations we saw and loved the easily walkable paths and small crowds."
8. Festival Of Lights At Stone Hedge Golf Course
Tunkhannock, PA
"I love Christmas and Christmas lights!" exclaims writer Robin O'Neal Smith. "I've been known to drive all over the state to view a good light display," she says. "My favorite holiday light display is in my home state of Pennsylvania. I have written about many of the phenomenal light shows in the Keystone State in the article, 14 Dazzling Christmas Lights Displays In Pennsylvania.
"Last year, we visited the Northeast part of Pennsylvania in the Endless Mountains Region to take in several outstanding Christmas light displays. The Festival of Lights at Stone Hedge Golf Course in Tunkhannock, PA, is my absolute favorite. The two-and-a-half-mile spectacular drive-through display was impressive, with over four million glimmering bulbs illuminating the drive. The night we visited, there had been a light snowfall, and the lights were dazzling as they glistened in the snow. Everything looked magical," she recalls.
"My favorite parts of the show was the Wizard of Oz rainbow display that was 30 by 30 feet and used 3,202 bulbs, and the rainbow tunnel. Each year, they add more to the drive-through light display," Smith says. "I was also happy to learn that every light display used was made in the good old United States of America."
Pro Tip: "It takes between 30 and 45 minutes to drive through the display. But plan for approximately two hours since there is usually a long line waiting to get in," advises Smith. "After the drive-through light show, they have refreshments, a gift shop, and s'more stations available for a fun treat."
9. Holiday Fantasy In Lights
Madison, Wisconsin
One of author/entrepreneur duo Sue Reddel and Diana Laskaris's favorite holiday lights displays in the U.S. is the Holiday Fantasy in Lights in Madison, Wisconsin. It takes place annually in Olin Park from mid-November to the beginning of January. They recommend driving slowly through the park so you won't miss any of the over 50 colorful displays. According to Reddel and Laskaris, the playful, brightly lit scenes include everything from illuminated ice fishermen to canoeing elves to skiing Santas.
"Since you're in your car, it's easy to bring the whole family," they say. "You also get an unobstructed view of the Madison cityscape." Along with Christmas cheer, take in the majestic state capital and downtown skyline nestled along Lake Monona.
"When you leave, you always get free candy canes as a thank you for visiting and have a chance to donate to help local nonprofits," Reddel and Laskaris add. Check out the rest of the pair's favorite Badger State light displays in their article, 15 Amazing Christmas Light Displays In Wisconsin.
10. The Legendary Lights of Historic Clifton Mill
Clifton, Ohio
Ohio-based author and freelance travel writer Brandy Gleason's favorite Ohio light show is the Legendary Lights of Historic Clifton Mill, and she is looking forward to this year's visit. The Historic Clifton Mill in Clifton, Ohio, welcomes guests year round; however, visitors get a chance to see their legendary light show at Christmas time.
"For 32 years, Clifton Mill has lit up the night with over four million lights illuminating the mill, riverbanks, gorge, and bridges throughout the property. This year it is nominated as one of USA Today's 10BEST in its Reader's Choice Awards for Best Public Holiday Lights Display," Gleason tells us.
"Each year I go to the incredible light display, I see something I never noticed before," says Gleason. "I could stand for 30 minutes at the miniature village and look at each perfect little detail and still not take in everything.
"What light show would be complete without Santa?" she asks. "I enjoy taking our grandchildren with us and letting them peek into Santa's workshop to see him creating something special just for them."
Pro Tips: "If the night is brisk, Gleason suggests treating yourself to a warm "mug of their world-famous hot chocolate to sip as you wander through the lights as you take in each sparkle and twinkle. Historic Clifton Mill is open every night until December 30. Go on a weekday when there's less of a crowd," she advises.
11. River Of Lights At ABQ BioPark Botanic Garden
Albuquerque, New Mexico
"What began nearly 25 years ago as a fundraiser for Albuquerque's botanical garden has grown into one of the Land of Enchantment's most impressive holiday light displays," says Scott. "In fact, ABQ BioPark's River of Lights has repeatedly been named by USA Today as one of the best botanical garden holiday lights in the U.S.!
"Stroll past millions of twinkling lights and admire nearly 600 animated sculptures and other illuminated seasonal displays at New Mexico's largest walk-through light show. And while you wander, nibble on unique treats like chocolate chip waffle sandwiches," she suggests. "Visit this holiday light display between late November and the end of December. Attend on a weeknight in early December to avoid the crowds," advises Scott.
12. Austin Trail Of Lights At Zilker Park
Austin, TX
"Well, I suppose it's time to put in my two cents. It can be hard to get into the Christmas spirit in Texas when you barely have to break out your winter coat." Luckily, Zilker Park's annual Austin Trail of Lights helps spread Christmas cheer with millions of twinkling lights. "Everything's bigger in Texas, and this light display is no exception. It really is magical. The tunnel of lights inspired me to spin around, which caused my phone to fly out of my coat pocket. Luckily, it is also a well-organized affair, and I was able to reunite with my device thanks to a good samaritan and the lost and found.
"My husband and I went before the pandemic when visitors could still walk through the displays on foot. I certainly didn't begrudge the warm Texas winter then! Now, it's a drive-through display, which is nice since it's difficult to find parking in the area. It's also ticketed with certain admission times, so be sure to buy your vehicle pass beforehand."
13. Mission Inn Festival of Lights At The Mission Inn Hotel and Spa
Riverside, CA
"The clippety-clop of horses' hooves and jingle of sleigh bells ringing amid millions of twinkling lights adorning The Mission Inn makes an unforgettable magical experience for the holidays in Riverside," professional photographer, educator, travel writer, and journalist Julie Diebolt Price tells us. "The Festival of Lights at The Mission Inn Hotel and Spa, a National Historic Landmark, is a cherished Southern California tradition first created in 1992 and now draws over 500,000 visitors annually. It's one of the nation's largest holiday light collections that grows in popularity every year. Enjoy it this year from November 26, 2021, to January 6, 2022.
"This unique celebration delights people of all ages. I especially enjoyed the horse-drawn carriage ride," she says. "Courtyard dining surrounded by the Mission-Revival architecture and balconies swathed in fairy lights made the holiday meal taste particularly delicious. The holiday decorations in the shops and music in the air lend a festive mood to a tour of the grounds of this premier luxury California destination."
14. The Bronx Zoo Holiday Lights
"The Bronx Zoo Holiday Lights is a magical experience for all — young, old, and any age in between," NYC-based travel writers Sue Davies and Regina Ang tell us. "The setting, first of all, is the Bronx Zoo and you don't often get to be there after dark. It's an immersive experience. You walk right into the lights and are surrounded by animal lanterns: giraffes, gorillas, elephants, animals on stilts, and much more.
"Don't miss the oceans area — the penguins, turtles, and sharks are amazing. You can easily spend 2 to 3 hours walking the grounds, discovering the animals and displays," they say. "There's also a holiday train that's fun for children. Music and ice carvings bring even more ambiance to the setting. We could not stop smiling or exploring when we were there. For a snack, you'll find hot chocolate, s'mores, and roasted marshmallows."
Pro Tips: "Dress warm and wear good walking shoes," the duo advises. "You need a separate ticket for the Holiday Lights and they sell out, so pick a date quickly and go."
Spending some time in the city during the holiday season? Let Davies and Ang be your guides with 10 Magical Christmas Window Displays To Visit In New York City and 6 Incredible Christmas Markets To Visit In New York City.
15. Miracle On 34th Street
Baltimore, MD
"The most magnificent display of lights happens in Baltimore starting the Saturday after Thanksgiving on 34th Street in the Hampden community," according to expert contributor Desiree Rew. "Nicknamed Miracle on 34th Street, homes are lit up on both sides of the street, including aerial string lights that connect from one rooftop to the other. Every window, door frame, porch railing, and surface that can hold a light has a light," she says.
"What makes this so much fun is the ingenuity of each house. No two households are the same, although architecturally, they are just that. Blinking lights, scenes from movies, nativity scenes, lifesize figures, modest figurines, Santa Claus, elves, and whomever else lives in the wondrous Christmas mind of the homeowners could show up. You go by laughing out loud, scratching your head, or feeling very sentimental by what owners have dreamed up. It's such a sense of community when there which adds to the magic," says Rew.
Related Reading: