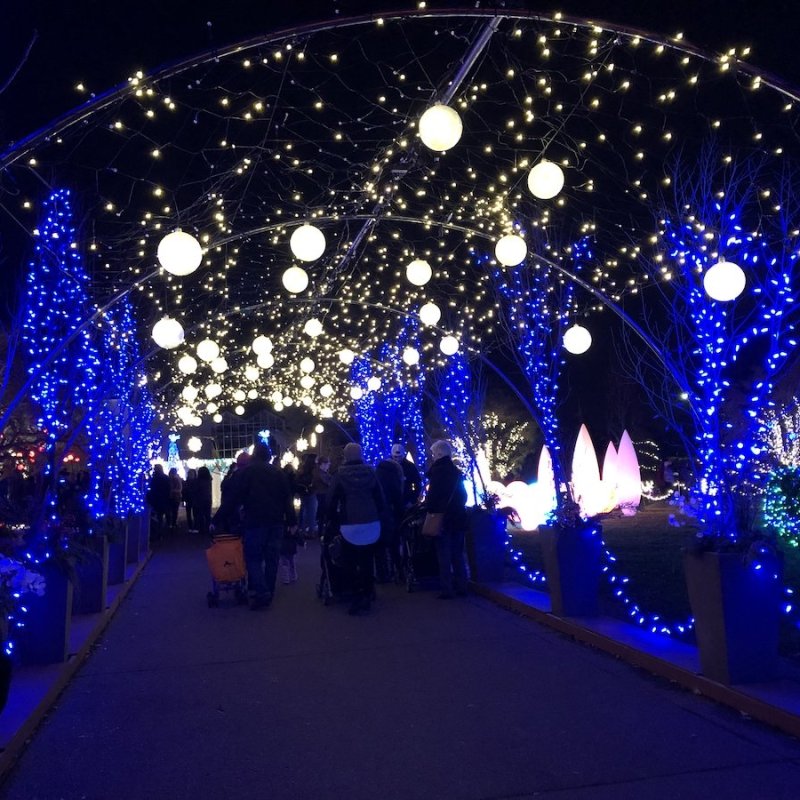 Pennsylvania has quite a few dazzling light displays turning our beautiful state into a twinkling paradise with millions of glimmering Christmas lights. Nothing puts me in the mood for Christmas like a beautiful, shimmering light display.
I have always loved Christmas lights. When I was a child, I remember enjoying evenings out with my parents as we drove around our small town looking at everyone's Christmas lights. We would ooh and aah at the sparkling lights glowing in the night, and that was long before LED lights hit the streets! My love for Christmas lights has never waned. I still enjoy seeing them. Not only do I visit the lights in our small community, but I also go to Christmas light displays across the Keystone state every chance I get.
Here are a few of the dazzling light displays in Pennsylvania that are my favorites. In selecting these brilliant illuminations, we looked at the number of lights, theme, use of lights, other decorations, activities, and events in conjunction with the lights. They are listed in no particular order.
1. Koziar's Christmas Village
Bernville
Walk through a magical winter wonderland, illuminated by over a million lights. The twinkling journey through the village will include stops at quaint shops, a kissing bridge, and some delicious food. Koziar's Christmas Village will welcome guests from November 5 through January 1. You can find Koziar's about 15 miles northwest of Reading. Koziar's is a seasonal attraction.
Koziar's Christmas Village was awarded the Best Outdoor Display in the World by Display World Magazine. It was nominated as one of USA Today's Best Public Holiday Lights Displays in 2020.
Pro Tip: Friday, Saturday, and Sunday nights are the busiest, and you must purchase timed tickets in advance online. Check out their website for more details.
2. Festival Of Lights At Stone Hedge Golf Course
Tunkhannock
The Festival of Lights at Stone Hedge Golf Course presents a dazzling drive-through display on their back nine, covering approximately 2.5 miles. They estimate that over four million bulbs are used in their light show. The best part about the Festival of Lights is that every display is made here in the U.S. They made some of their own displays by drawing up the designs and having their welders make the frames, and then they added the wires and bulbs. Several new light displays have been added for 2022.
If you go, be sure to check out the rainbow display in the Wizard of Oz section. This particular display has over 3,202 bulbs on it. It is 30 feet high and 30 feet wide. It takes between 30 and 45 minutes to go through the displays.
The Festival of Lights at Stone Hedge Golf Course is open every evening (besides Christmas Eve) until December 31.
Fun Fact: Creating the 2021 light displays, they used over 60,000 zip ties, and the cords for the wires stretch over 60,000 feet equaling over 11 miles of cords.
3. Longwood Gardens
Kennett Square
Take a walking journey through half a million glimmering Christmas lights, 50 spectacular Christmas trees, thousands of poinsettias, and dancing fountains at A Longwood Christmas. Enjoy carolers strolling about the twinkling gardens and join in a Christmas carol sing-a-long in the twinkling wonderland. A Longwood Christmas is sure to raise your holiday spirits.
New this year in the Italian Water Garden are an icy blue and white light installation and a 30-foot-tall floating tree with icy elements near the Chimes Tower. 
A Longwood Christmas was nominated as one of USA Today's Best Botanical Garden Holiday Light Displays in 2020. It runs from November 18 through January 8, 2023.
Travel Tip: Longwood Gardens has timed entrance tickets. Be sure to order your tickets online for the time you want to visit.
4. Overly's Country Christmas
Greensburg
Overly's Country Christmas is a drive-through country Christmas light display in Greensburg. It is about 40 miles southeast of Pittsburgh. In 2020, they expanded the driving route with new, mesmerizing light displays to capture even more holiday magic. Listen to Christmas carols over your car radio as you drive through the winter wonderland of lights. Keep a close watch for the Grinch. He may be hiding behind a light display.
Enjoy their old-fashioned walk-through Christmas Village, including live animals, horse-drawn sleigh and wagon rides, food vendors, and more. Overly's Country Christmas runs Thursdays through Sundays till December 30. (Closed on Thanksgiving,  Christmas Eve, and Christmas Day.)
5. Phipps Conservatory Holiday Magic And Winter Flower Show
Pittsburgh
The Holiday Magic and the Winter Flower Show at Phipps Conservatory is sure to put you in a holiday mood! I visit it every year.  
Take a magical stroll through the vibrant holiday flower and light displays inside the Conservatory. Then stroll through the illuminated outdoor gardens that provide a spellbinding display that makes you feel like you are in a magical winter paradise. Enjoy an amazing frozen journey with hanging snowflakes, dripping icicle lights, and trees glowing blue.  
New this year is a display featuring a tunnel of neon green and orange rope lights beside planters of glittering mesh flowers in bold tones of pink, yellow, red, and orange. 
This glimmering celebration of the winter season will be open from November 18 until January 8, 2023.
Pro Tips: Timed reservations are required, and ticket sales begin November 9.
6. Hershey Sweet Lights
Hershey
The sweetest place on earth hosts Hershey Sweet Lights. The whole town smells like chocolate with their chocolate kiss street lamps, and to top it off, they have a magical wonderland of lights while you stay warm in your car as your drive through Hershey Sweet Lights. With over 600 lighted animation displays as you drive the 2-mile wooded path, you will find it is a spellbinding experience of glimmering lights.
Nominated as one of USA Today's Best Public Holiday Lights Displays in 2020, Hershey Sweet Lights is open each evening starting November 11 and running until January 1. Check their website for details.
7. Holiday Lights On The Lake
Altoona
An old-fashioned amusement park is transformed into a twinkling wonderland at Holiday Lights on the Lake. The 51-acre drive-through Christmas lights display is entering its 26th year in operation and boasts over 1 million lights. Listen on your radio to 88.5 FM and enjoy synchronized Christmas carols and lights. When you come to the end of the spellbinding display, visit the gift shop for unique ornaments, decorations, and that special holiday gift. Local crafters also have handmade holiday decorations and delicious baked goods available. Check out the miniature railroad display before you leave.
Holiday Lights On The Lake will run from November 18, 2022, to January 8, 2023.
8. Christmas Magic At Rocky Ridge Park
York
Christmas Magic – A Festival of Lights at York County's Rocky Ridge Park is a half-mile glimmering walking path that winds through a forest nestled on an enchanted mountaintop. The annual celebration has earned acclaim in The Wall Street Journal and The Philadelphia Inquirer.
The festival is in its 39th year. New this year are several new light displays and numerous photo opportunities. With 600,000 plus Christmas lights, train displays, holiday scenes, and more, you will enjoy a stroll through this festive half-mile, ADA-accessible woodland trail. 
Returning this year are the Friends of the Parks cookie and hot chocolate stand as well as Susquehanna Valley Garden Railway Society's train display.The event runs from November 25 through December 30 and is closed on Christmas Eve and Christmas Day. All guests must make reservations online and have a timed ticket to enter the attraction; walk-ins are not permitted. Ticket sales begin November 15.
9. Kennywood Lights
West Mifflin
An amusement park all decked out for the holidays! Kennywood Park becomes a twinkling wonderland with over two million Christmas lights. Kennywood Lights deck the halls to the max, and you will marvel at the tallest Christmas tree in the Keystone state. It's 100 feet tall and boasts over 250,000 lights!
They have a massive model train display and a walk-through petting zoo. Some of the amusement park rides are open, and a special dinner with Santa is planned for 2022. Check their website for the select days of operation from November 19 through January 1.
10. Shady Brook Farm Annual Holiday Light Show
Yardley
Acres and acres of shimmering Christmas lights sparkle as you drive through the light displays at Shady Brook Farm's Annual Holiday Light Show. Over 3 million vibrant lights make up this spectacular drive-through display. If you don't feel like driving, take the scenic open-air wagon ride through the lights. This allows for the best photos.
Shady Brook Farm has lots of extras for the 50+ traveler to enjoy, a farm market serving hot cocoa and private bonfires to make s'mores, plus a gift shop and farmer's market. The Annual Holiday Light Show runs from November 19 through January 8.
11. Christmas Light-Up Celebration
Clinton
Drive through an enchanted forest of twinkling lights at the Christmas Light-Up Celebration in Clinton. It is often referred to as Pittsburgh's best-kept secret! The mile-long spectacular light display is enjoyed in the warm comfort of your vehicle. The neat thing about this magical display is it is created by volunteers every year. This is its 29th year, and all proceeds are donated to charities, those with financial needs, and students in the form of scholarships. How wonderful is that? The community of volunteers not only brings the Christmas Spirit to life but shares the Christmas cheer with you, the visitor.
Drive through one mile of stunning Christmas light displays at Christmas Light-Up Celebration, which runs through January 1.
12. Shadrack's Christmas Wonderland
Butler County
Considered the most immersive drive-through Christmas light experience on Earth, Shadrack's Christmas Wonderland is the world's largest drive-through, fully synchronized light and music show. In 2022, the light show moved from the fairgrounds to Coopers Lake in Butler. This will provide a better layout and driving route. A fairly new light extravaganza features thousands of vibrant LED Christmas lights and custom-built displays.
Just turn your radio on and sync up the light and music show to watch the twinkling lights dance with the holiday music during the 2-mile drive. Mature travelers will enjoy the 300-foot tunnel and the 50-foot light tree! Be sure to check out the 12 Days of Christmas light display.
Shadrack's Christmas Wonderland runs through January 1.
13. Presque Isle Lights
Erie
This glimmering display showcases the Presque Isle State Park and its natural beauty. PI Lights features sparkling holiday lights displayed at various places throughout the park, such as the Waterworks beach area, Presque Isle Lighthouse, and various other sites.
Tune into 95.9 on your radio while driving through the 13-mile park loop and enjoy the Christmas music along with interesting facts about the Isle.
Interesting Fact: Solar generators are utilized to power the park entrance lights and other areas without electrical utilities.
You have a number of dazzling light displays to choose from in Pennsylvania, Take your pick, and whichever you visit, I'm sure you will find the spirit of Christmas grows as you enjoy the winter wonderland of Christmas lights glowing in the darkness.
For more holiday travel inspiration, click here! Or, if you're ready to plan your camping trip, check out our favorite camping gear for cold weather!