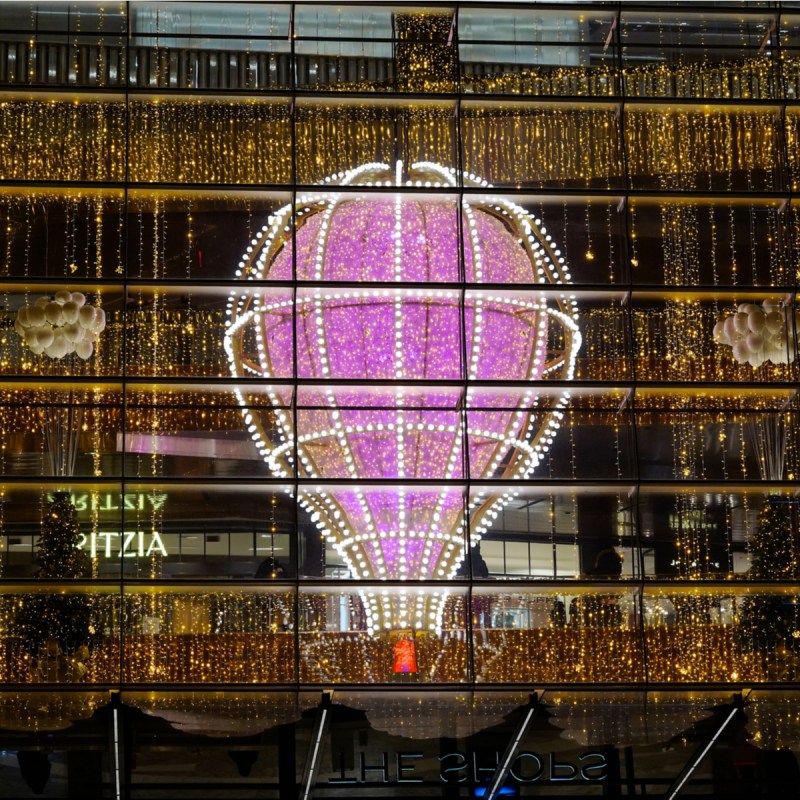 Christmas is a magical time in New York City. The aroma of hot apple cider and chocolate linger in the air. Holiday markets spring up around the city. The Rockefeller Christmas tree towers over midtown. New York and New Yorkers seem to slow down and speed up at the same time. Holiday cheer blankets the city and (hopefully) a dusting of snow.
New York is famous for the Christmas windows — Macy's, Saks 5th Avenue, Tiffany's, Bloomingdales, and many more stores have amazing window displays during the holiday season. Display themes change every year, and we eagerly await the moment in mid-to-late November when we can take a walk to view them.
Here are some of our favorite places to enjoy the seasonal displays.
1. Macy Herald Square, 151 W. 34 Street
According to local lore, Macy's was the first store to do holiday window displays in 1874. It was followed by Saks Fifth Avenue in 1914 and Lord & Taylor in 1938. Now all the stores and malls have beautiful holiday displays. In our opinion, Macy's still leads the way in time and presence. Santa makes his first appearance in the city at the end of Macy's Thanksgiving Giving Day parade.
In 2020, Macy's display was a thank you to first responders and essential workers, including a window where viewers were encouraged to clap for the essential workers like the 7 p.m. clapping that occurred early in the pandemic. Some windows were interactive, including one where you could help Santa's sleigh fly across New York City.
Pro Tip: Most people focus on 34th street. Walk around to the 6th Avenue side as well. We recommend going inside the store for some shopping or to see the décor. If you have children, make a reservation in advance to visit Macy's Santaland.
2. Bloomingdales, 1000 Third Avenue
Bloomingdales is another stop on our window circuit. We loved the 2019 tribute to the 50th anniversary of the moon landing called Out of This World. Other recent themes have included Doctor Seuss' The Grinch and a light theme a few years ago that included chandeliers by visual artists. Last year's theme was Lights Up Young Mind and included a virtual benefit for the Child Mind Institute. Some of the windows offer an immersive experience with the scent of pine, evergreen, and peppermint that waft through the air.
Pro Tip: Make sure to walk the Lexington Avenue side of the building.
3. Saks Fifth Avenue, 611 Fifth Avenue (At 49th Street)
Saks Fifth Avenue has wonderful windows, often with a family movie theme. In recent years, themes have included Snow White and the Seven Dwarfs and Frozen 2. Last year's theme was This is How We Celebrate which gave expression to the new ways of gathering and celebrating that were created by people during the pandemic. Saks usually does a 2- or 3-minute light show on the 10-story building. It's best seen in the evening. In the past, Saks had a very crowded celebration where it unveiled the windows. Last year, it chose to do 20 smaller lighting ceremonies. 
4. Bergdorf Goodman, 745 Fifth Avenue
Bergdorf's is a great stop on the window display trail. Bergdorf's often celebrates New York and the spirit of giving. Four years ago, Bergdorf's did our favorite windows — To New York With Love. It featured cultural institutions from around the city. The theme in 2020 was Bergdorf Goodness which was done in partnership with City Harvest and focused on values, including harmony, equality, unity, and kindness.
Pro Tip: Go inside Bergdorf's to see what surprises may be found (and to do some shopping).
5. Tiffany & Co., 6 E. 57th Street
Tiffany's windows are beautiful and iconic any time of year, but especially at Christmas. Whether or not you are planning to shop at Tiffany's, it is worth a holiday visit to look at the beautiful jewelry and to see the window displays.
Pro Tip: Tiffany's moved last year around the corner from the original flagship location at 727 Fifth Avenue. It now has a beautiful and large arched window for the display.
6. Cartier, 653 5th Avenue
While you're looking at jewelry, drop by Cartier. The tradition at Cartier is to wrap the building in a big red bow. It also has flags that show season's greetings in many languages. Last year, there was a white panther in the window and wrapped around the ribbon.
7. Louis Vuitton, 1 East 57th Street
The Louis Vuitton flagship store is stunning any time of year, but it pulls out the stops for the holiday season. Last year's display featured a 10+ story Christmas tree on the façade of the building. In 2018, it did Trees Around the World all decorated for the holiday. Picture a Cacti, Palm Tree, Bonsai Tree decorated for the season. We can't wait to see what the store has dreamt up for this year.
Pro Tip: You can see this display any time of the day, but we prefer to see it in the evening.
8. American Girl, 75 Rockefeller Plaza
The American Girl team does holiday displays in New York, Los Angeles, and Chicago. The window in New York is very large — 15 feet high and 24 feet wide. It used 15,000 fairy lights in the display. Last year, American Girl teamed up with Swarovski to create a beautiful display with 350 Swarovski crystal strands, and 130 pounds of crystal stardust. It also sold a Swarovski American Girls Doll with 5,000 Swarovski crystals and beads for $5,000.
9. World Trade Center Lights (View From Fulton And Church Streets)
One of the newer places to see holiday lights on windows is the World Trade Center. Images of giant presents, ornaments, reindeer, and more appear on the building. These are seen at night from near the Oculus to The Shops at The Oculus (also called Westfield). While there, you can go inside the Oculus which also has a holiday market and lovely lighting and displays.
Pro Tip: The World Trade Center lights are best seen at night. If you want to explore further, take the underground passageway to the Brookfield Mall for more shopping and holiday displays. You'll find the passageway as you walk towards the PATH trains on the right-hand side. You can also stop by the concierge and ask for directions.
10. Hudson Yards, Between West 30th And 34th Street From 10th To 12th Avenues
Opened in 2019, Hudson Yards has become a holiday (and year-round) destination with performances and wonderful Christmas and holiday displays. You can spend hours wandering the area — seeing The Vessel, enjoying performances, viewing outdoor art exhibits, and wandering into the shops. There is so much to do at Hudson Yards that you can spend the entire day there.
Christmas And Holiday Windows Pro Tips
The windows start being unveiled in mid-to-late November. Most are up until just after New Year's Day. There are variations, however, so make sure to check the store's website before you plan a trip.
You can try to do all these shops in 1 day or night, but we don't recommend doing that. It's best to space it out and combine it with other activities.
The World Trade Center, Louis Vuitton, Saks, and Cartier are best to do when it is dark.
We love to walk the city, so walking 50-60 blocks in a day is the normal way we get around. You can take subways, buses, or taxis to get around to see these displays. New York City is notorious for traffic and gridlock during the holidays so subways are much quicker than buses or cars.
The lights in the financial district (World Trade Center, Oculus, and Brookfield Place) can be seen in the late afternoon. You can combine it with a visit to the 9/11 Memorial and Museum. We prefer to visit the reflecting pools at night when they are peaceful and allow for reflection. Or, you can combine it with a trip to Freedom Tower (aka World Trade Center).
Another option is to do a midtown/eastside loop starting at Macy's (on 34th and 6th avenues), going east to 5th Avenue and walking up from 34th Street to 59th Street. You can then go east to Bloomingdales on 3rd Avenue.
A third option is to walk up 6th Avenue from Macy's and 34th Street to Rockefeller Center to see the Christmas tree and American Girl. On this route, you'll also pass by the Empire State Building and one of the largest holiday markets in the city at Bryant Park.
If you are a walker, then you can combine the 5th Avenue and 6th Avenue walks. Go north on 6th Avenue from Macy's to Rockefeller Center and then cut over east to 5th Avenue and go north up to 59th Street.
See one Christmas window or see all 10. Explore and find other windows that you love. Whatever you decide to do, New York is a fantastic place to celebrate the holidays.
While you're in New York City, check out some of the other exciting things to do: