All products featured on TravelAwaits are independently selected by our writers and editors. We may earn commission when you click on or make a purchase via our links.
With ocean beaches, mountain peaks, lush forests, and fertile valleys, the Oregon landscape has many adorable towns that capture the spirit of a Hallmark Christmas movie. These Oregon winter wonderlands are all steeped in seasonal hospitality. You'll find communities working together, train rides to Christmas Town, sparkling lights, Christmas boat parades, and more.
I have selected six adorable towns — Ashland, Medford, Newport, Hood River, Bend, and Klamath Falls — plus two national forests. Here are events you can enjoy in each area that will make you feel like you are in a Hallmark Christmas movie.
1. Ashland
Nested in the picturesque valley between the Cascades and Siskiyou mountain ranges, Ashland is the ideal location to experience all that makes up a Hallmark movie. Ashland celebrates the season beginning the day after Thanksgiving and continues through New Year's. The 30th Annual Festival of Light Celebration began Friday, November 25, when 1 million lights began to sparkle over the downtown. If you make it next year, enjoy the sounds of the season as carolers stroll the area.
Stroll downtown for all the trimmings of the season, from historic red lanterns to banners of snowflakes and streets decked with wreaths and bows. A fun activity for children of all ages is to join the Elf Extravaganza by finding elves hidden in downtown small businesses. Experience old-world charm with a stay at Ashland Springs Hotel, conveniently located right downtown.
Enjoy holiday performances at the Oregon Cabaret Theater. This year, catch Charles Dickens's A Christmas Carol at Oregon Cabaret Theater. Performances run from November 17 through December 31.
2. Medford
Medford is a Hallmark-type town where the season of cheer begins with the annual Winter Lights Festival, this year on December 3. Surrounding events include the Candy Cane Hunt at Pear Blossom Park, photo ops with Santa, holiday tree lighting, and fireworks are some of the magical Christmas experiences.
Enjoy Christmas experiences at the Craterian Theater, including such performances as A Chorale Christmas on December 3 and 4, Cinderella from December 10 to December 18, and A Celtic Christmas with two performances on December 22.
Remember: Letters to Santa must be dropped off at the Santo Community Center by December 17!
Stop by the nationally recognized Harry & David's Country Store for fine foods and unique gifts. Visit one of America's top chocolatiers at Lillie Belle Farms Handmade Chocolates to satisfy Santa's sweet tooth.
Of course, adult libations can add to the Christmas cheer. Stop by Dancin Vineyards for award-winning wines and delicious small plates.
Enjoy the Christmas spirit and beautiful accommodations at the Hilton Garden Inn, conveniently located in a peaceful, quiet area just off the freeway.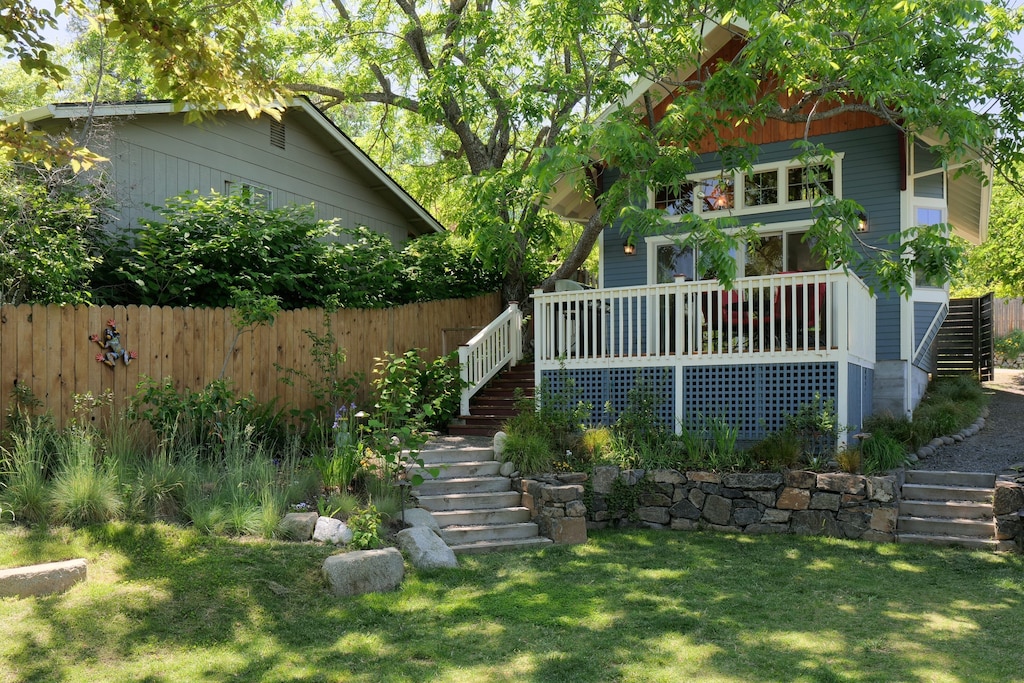 $173/avg nightly
Rent Now
3. Newport
Stroll the historic bayfront in Newport to make your holiday shopping merry, and enjoy the refreshments and treats of the local, family-owned businesses.
Head to the Oregon Coast Aquarium for the annual Sea of Lights Celebration every Friday evening during December. Get your photo with Scuba Santa! 
On December 3, reserve your holiday memories with the 11th annual Portraits With Santa at Simply Design Studios. Proceeds from the event benefit the area's Homeless Education Literacy Project, the 4-H Club of nearby Philomath, and various youth projects.
On Christmas, enjoy Hallmark hospitality at the Community Christmas Dinner sponsored by the Newport Oregon Elks and the Newport Church of the Nazarene. The Nazarene Church provides vans guests needing transportation.
Unique accommodations will be found at the Embarcadero Resort Hotel with stunning harbor views and the Sylvia Beach Hotel, a destination hotel for book lovers.
Staying at The Newport Belle, the riverboat B&B, is like being in a Hallmark movie. The main salon area has games and a sparking fireplace. The hosts are straight out of a Hallmark Movie with their exceptional hospitality, and they create a cozy community atmosphere. They even join the guests at the daily happy hour. Take time also to enjoy the specially crafted cocktails!
4. Hood River
Climb aboard the Mt. Hood Christmas Train that departs from Mt. Hood Depot in Hood River. From November 17 to December 23, trains depart several times daily. On the journey to the magical Christmas Town, guests enjoy cocoa and cookies as they listen to the Train To Christmas Town story. You are encouraged to wear your favorite pajamas, just like in the book. Do also wear closed-toed shoes and dress warmly as you board the train from outside. Santa and his elves board the train at Christmas Town and ride back with folks to the depot. Each child receives a small gift, and all folks join in the Christmas caroling. The train has accommodations for special needs. What could be more like a Hallmark Christmas movie than a train to Christmas Town?
Check out the other activities in Hood River here. For instance, the tree lighting ceremony and the static parade of festive floats warms hearts on December 2, and the Polar Plunge at the Pray for Snow freezes them.
An enchanting place to stay is Columbia Gorge Hotel and Spa, nestled on the bank of the Columbia River and featuring awe-inspiring views and award-winning dining.
5. Bend
You may know Bend as the home of the world's last Blockbuster, but it's also a phenomenal destination during Christmas season.
Embracing the small-town atmosphere of a Hallmark movie, the Bend Christmas Parade, one of the largest parades in the state, opens the holiday season on December 3 with the theme "A High Desert Christmas." That theme itself would make a pleasant Hallmark Christmas movie. Since 1992, the parade has been entirely organized by volunteers whose mission is "to capture the spirit of Christmas, connect and unify our community and bring a feeling of fun and excitement to participants and viewers alike."
Visit SantaLand to snap outdoor photos with Santa every weekend from November 25 to December 23. Did you know that Santa also flies in on an AirLink helicopter? See for yourself on November 25!
Enjoy accommodations on the scenic riverfront at Riverhouse on the Deschutes.
6. Klamath Falls
The premier winter event in Klamath Falls is the Snowflake Festival, a series of events beginning November 26 and running through December 11. Like a Hallmark Christmas movie, the events unite the community with activities and entertainment. The theme of this year's parade is Super Hero Holidays — it sounds like it is like a Hallmark Christmas movie with a Marvel twist.
Catch holiday-themed shows at the Ross Ragland Theater and Cultural Center throughout the season. It will be dressed in its Christmas splendor with neon lights shining red, green, and white. Celebrating holiday music, the Klamath Chorale choir presents Peace, Comfort, and Joy at the Ross Ragland on December 4. The Singing Christmas Tree runs from December 9 to 11.
Looking for a place to stay? The Running Y Ranch offers fine dining and winter activities, and it will be dressed in its holiday splendor.
Bonus: Willamette And Umpqua National Forests
What could be more like a Hallmark movie than a Christmas Ornament Hunting Contest in two Oregon national forests: Willamette National Forest and Umpqua National Forest? This is your opportunity to explore 20 scenic trails while searching for one of the 200 Willamette Valley-themed Ornaments. Once you find one, register your find and enter to win great prizes.
This holiday season, plan a visit to one of these adorable Oregon destinations to have your own Hallmark experience. You will be delighted that you did!
Many cities and towns take on that Hallmark Christmas aura. Check out Hallmark towns in North Carolina, Maine, Maryland, and Washington State. And if you want to hit the big city, enjoy the most magical Christmas experiences in Portland.