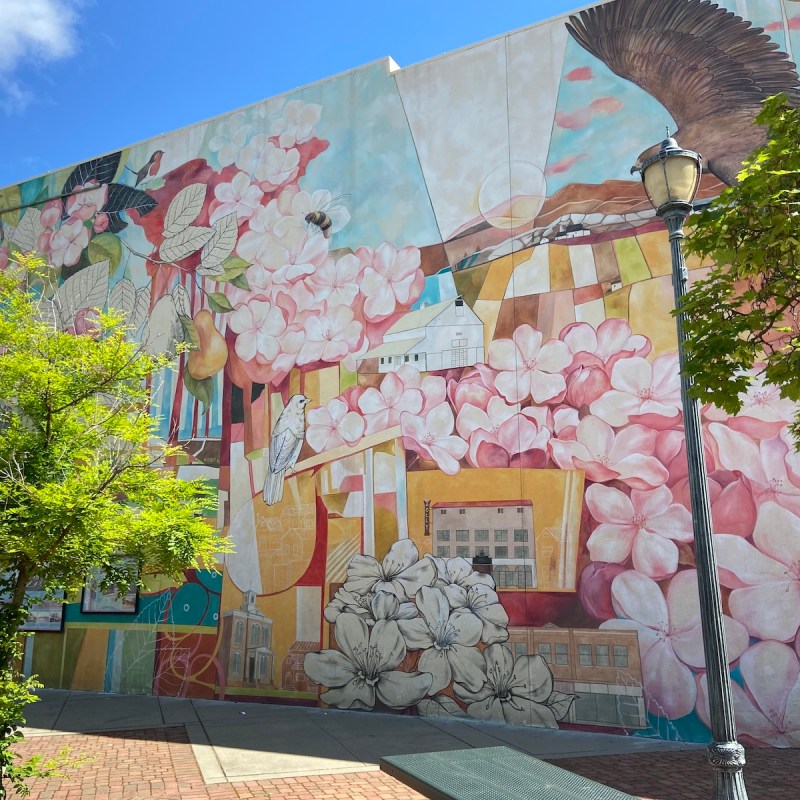 Located in the center of Oregon's Rogue Valley, Medford is often referred to as "Heart of the Rogue." With 200 days of annual sunshine and annual precipitation of 23 inches, the area is great for outdoor activities, wine tasting, and retirement living. Add in the culinary scene, with the "World's Best Cheese" and "one of the top ten chocolatiers in America," along with Harry & David's flagship store, your appetite is well-looked after. Team all this with craft breweries, vineyards, tasting rooms, and a state-of-the-art performing center; you have many activities to enjoy.
To reach Medford, one can fly into Medford or, as we did, take Interstate 5 south 286 miles from Portland, Oregon. The drive is particularly scenic on the 60-mile stretch from Grants Pass to the Oregon/California Border. Medford is 30 miles north of the border.
Here are my suggestions for how to spend a perfect weekend in picturesque Medford, Oregon.
Note: Travel Medford and Travel Southern Oregon sponsored this weekend visit. All thoughts and opinions are my own.
Things To Do In Medford
1. Tour And Taste Lillie Belle Farms Handmade Chocolates
Located on the western outskirts of Medford, Lillie Belle Farms Handmade Chocolates is named as "one of America's Top 10 Chocolatiers." Visit them to watch the handmade process, and be sure to try one (or more!) of their specialties: ganaches, bon-bons, caramels, and gourmet chocolate treats.
Pro Tip: Check out the Whisky In The Bar: Dark organic chocolate aged in charred oak. A unique combination!
2. Taste Award Winning Cheese At Rogue Creamery
Rogue Creamery is the proud recipient of the 2019-2020 title of "World's Best Cheese." Selected by a 250-member panel of cheese connoisseurs, Rogue River Blue is a seasonal organic, hand-made cheese, so quantities are limited. Rogue Creamery is located next door to Lillie Belle Farms.
3. Shop And Taste At Harry & David's Country Store
Makers of fine foods and gifts, Harry & David's are headquartered in Medford. Nationally recognized for fine fruit and food gifts, one can tour the bakery, candy kitchens, and gift-packing facilities at the main plant. Nearby, shop at the Harry & David's Country Store. Look for the annual fall event A Taste of Harry & David and the monthly Harry & David Hosted Dinners.
Pro Tip: Be sure to try the nationally famous Moose Much Premium Popcorn with buttery caramel and smooth chocolate. My favorite!
4. Marvel At Mountain Views Atop Roxy Ann Peak and Upper And Lower Table Rock
Drive, hike, or bike up Roxy Ann Peak, the 300 million-year-old dormant volcano which rises 2,000 feet about the city of Medford. The views of the city, the Rogue Valley, and surrounding mountains are spectacular. Birding and nature walks are favorite activities in the area.
Pro Tip: Watch for wildlife along the drive to Roxy Ann Peak.
Upper and Lower Table Rocks are two prominent volcanic plateaus to the west of Roxy Ann Peak. Also known as monolithic mesas, they tower 800 feet about the river. Atop the mesas are grassy mounds home to lovely wildflowers and seasonal ponds. It is a popular hiking destination with dramatic views of the city and valley. The area has been designated as an "Area of Critical Environmental Concern," so please stay on the trails.
5. Sip Fine Wine At DANCIN Vineyards
Enjoy award-winning wines, delicious bites, and marvelous scenery at DANCIN Vineyards. The spacious patio with its large koi pond overlooks the surrounding vineyards. In the distance, enjoy the view of Table Rock and snow-capped Mt. McLoughlin.
Named one of the top wineries in Oregon, DANCIN is a must-visit. Wine flights include a selection of reds, whites, or a combination of both. The classically trained chef prepares delicious bites, salads, pizzas, and flatbreads along with the wine flights. We particularly enjoyed the Formaggio Board with local cheeses (Fromage Blanc, Rogue's Mary Cheddar, Yerbas de Amor, and Oregon Blue), candied walnuts, pickles, mustard, cherrywood smoked honey, pinot salt, and baguette.
6. Take A Tempranillo Tasting Journey To Kriselle Cellars
Another award-winning vineyard, Kriselle Cellars, specializes in rich reds such as Tempranillo. Located high on a hill, the Tasting Room offers spectacular scenery, award-winning wines, cheese plates, and on weekends, pizza baked in a wood-fired pizza oven.
7. Enjoy A Pint Or Tasting Along The Medford Ale Trail
Medford is booming with craft brews, ciders, and spirits. There are 14 locations, all just a short distance apart. Look for award-winning beers at Wild River Handcrafted Food & Ale, Walkabout Brewing, and Common Block Brewing Company. For spirits, stop and sip at Immortal Spirits. Consider Medford's Pint Rider for a safe method to pub crawl.
Watch for annual events such as the Brews, Bluegrass, & BBQ at Roxy Ann Winery and Medford Beer Week, both held each June. In September, join the week-long celebration Southern Oregon Harvest Festival & Brewfest featuring beer gardens, live music, great eats, grape stomp competition, and a Rogue Run.
8. Stroll Historic Downtown
Stroll historic downtown Medford and stop to admire the Woolworth Building. Originally known as the Medford Furniture & Hardware Building, in 1910, it was the largest building in Southern Oregon. F.W. Woolworths occupied the lower floor till 1988. The building was named to the National Register of Historic Places in 1998 and renamed the Woolworth Building in 2003.
Stop at the Holly Theatre, originally one of the most ornate movie theatres in town. The doors closed in 1986. It is currently being restored to its original grandeur and is scheduled for reopening later this year.
9. Enjoy A Performance At The Craterian Theater
The Craterian Theater at the Collier Center for the Performing Arts is a 750-seat state-of-the-art performing center with various local, national, and international performers and artists. It is also the home of the Teen Musical Theater of Oregon (TMTO). Watch also for special holiday events like the Gingerbread Jubilee, a three-day event featuring fabulous Gingerbread Houses.
Historical note: Ginger Rogers performed here in 1926. She moved to Medford in 1990.
10. Tee Off At One of The Golf Courses Within Medford City Limits
Choose from four golf courses in Medford, all within easy driving distance. The 75-acre Quail Point Golf Course is a nine-hole course along with an 18-hole putting course. Further to the west is a challenging nine-hole course, Stewart Meadows, featuring 39 sandtraps, four ponds, 800 trees, and a creek bisecting the property. The Bear Creek Golf Course is a par-3 shorter-style course that is less intimidating for beginner and junior golfers and desirable for those who prefer a shorter-style game. Bear Creek also has a disc golf course featuring one of the fastest-growing new golf activities.
Centennial Golf Club, the newest addition to the Medford golf scene, is the 7,300-yard John Fought–designed course. Centennial claims the title of "#1 Best Golf Course in the Rogue Valley."
11. Have Fun At The Annual Pear Blossom Festival
Held annually each April, the Pear Blossom Festival has a number of activities, including golfing, biking, and running events. The Street Faire has food, fun, and games. Enjoy The Pearl A Faire, with tastings and samplings of local vineyards, breweries, distillers, and food makers. The Smudge Pot Stroll of Downtown also features tastings and samplings. The annual parade is the largest in Southern Oregon. John F. Kennedy was parade marshall in 1960!
12. Ride The Rails At Medford Railroad Park
Rail buffs will enjoy the Medford Railroad Park, a 49-acre outdoor museum celebrating the history of railroading in the state. There are several scale models, some full-size cars, and a mini Garden Railway you can ride. Great fun for the entire family.
Best Restaurants In Medford
Porters
Locals recommend Porters, and we agree. They are housed in a historic 1910 train station — the name Porters honors all serving food and drinks aboard passenger trains. The dinner menu is extensive with a range of entrees, including steak, seafood, pork, lamb, chicken, and Columbia River Steelhead. We enjoyed the chicken marsala, crab cakes, and Rail House Salad. They also offer an extensive list of wine, beer, and handcrafted cocktails. Both indoor and outdoor seating are available.
Lovers of historic buildings will find many original features at Porters, such as red roof tiles, wooden beams, and painted radiators. The site has been designated a National Historic Landmark
Common Block Brewing Company
We particularly enjoyed the pub atmosphere at the Common Block Brewing Company. Housed in the old Greyhound Bus Depot, there is both inside and outside seating. Some of the outside seating is heated.
The locals are very friendly and happily engage in conversation. I asked what they would recommend, and the response was "the cheese curds and the bacon mac and grilled cheese sandwich." We also enjoyed the panko parmesan chicken strips and the sweet potato quesadillas. There is an extensive list of local brews.
Pro Tip: Reservations are not accepted, so I recommend you either arrive early or well past the dinner hour to avoid standing in the long line of waiting diners.
Black Bear Diner
When we asked the hotel for a recommendation for a good breakfast restaurant, we were directed to Black Bear Diner. What an excellent suggestion! The food is delicious and the atmosphere delightful. We enjoyed the black bear memorabilia, both inside and outside. The interior has a homey, lodge feeling. Portions are large — you might want to share. They serve breakfast, lunch, and dinner. We enjoyed it so much, we returned.
Cultivate Coffee + Tea
We discovered Cultivate Coffee + Tea on our stroll through historic downtown. It is a great coffee house with spacious couches and ample tables.
Best Hotels In Medford
We stayed at the Hilton Garden Inn Medford. Although just off the freeway, the hotel is located in a peaceful, quiet area, close to shopping and sights. Our spacious room was most pleasant. The lobby and reception area are very inviting. Amenities include a 24-hour business center, laundry facilities, indoor pool, and fitness center. An airport shuttle is available.
If you're traveling with a larger group or prefer more space and privacy, consider a Medford vacation rental.
Medford is a delightful area to visit for a perfect long weekend. Try some of the activities I recommend, and I am sure that you will plan another visit!
Further Reading: