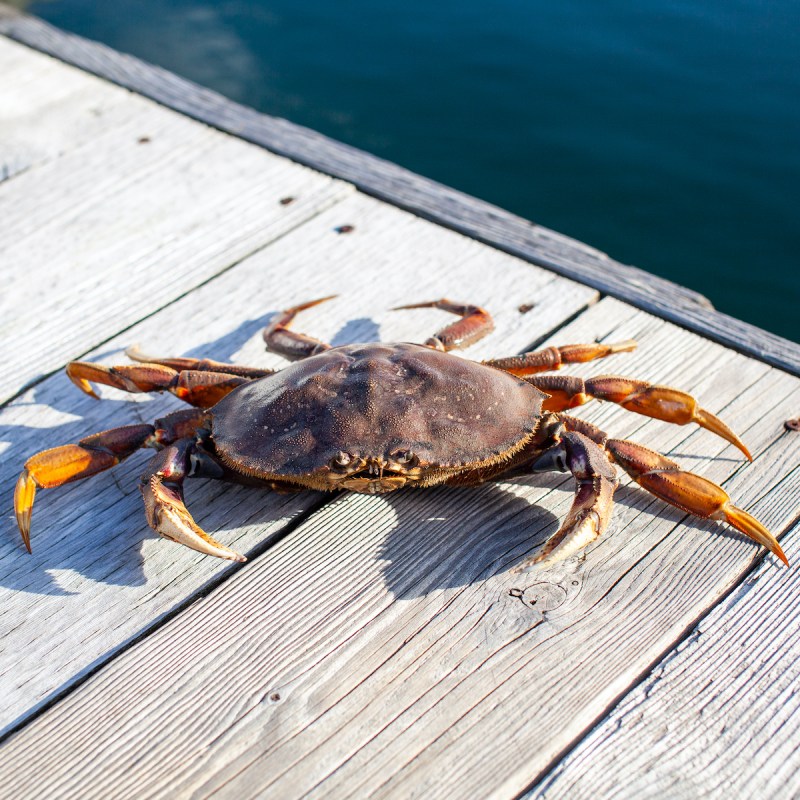 It's too late for those wanting fresh crab from the Pacific Coast waters, but commercial and recreational Dungeness crab fishing season finally has an opening date.
The season will open December 1 from areas north of Sonoma/Mendocino counties to the Oregon border, according to a release from the California Department of Fish and Wildlife.
Normally open on November 15, the start of the season was delayed this year due to the presence of humpback whales in the fishing area. Nearly 100 endangered humpback whales and Pacific leatherback turtles were spotted in aerial surveys earlier this month. State law allows the season to be delayed if 20 or more are spotted.
The whales appear to have migrated out of the fishing areas of the northern coast, where they can get caught in nets. That isn't the case further south, down to the San Francisco Bay Area and the Monterey Bay where much of the crabbing takes place.
"Based on aerial and vessel-based surveys, and after consulting with the Dungeness Crab Fishing Gear Working Group, the California Department of Fish and Wildlife will continue to delay the commercial fishery and temporarily restrict recreational crab traps in Fishing Zones 3 and 4," Director Charlton Bonham said in a release.
"Available data indicate high numbers of whales remain in the fishing grounds," he said of the bay area waters. "When data indicate whales have migrated out of the fishing grounds, CDFW stands ready to open the commercial season and lift the temporary trap restriction in Fishing Zones 3 and 4."
Bay Area fishermen are not happy with the new rules, claiming methods used would not impact whales but will cause harm to the fishermen and the ability of residents to serve fresh crab for the holidays.
"The RAMP (Risk Assessment and Mitigation Program) rules include provisions which will make it unlikely for the bay area tradition of Thanksgiving holiday crab to be available on any given year, as the presence of even a few whales spotted in Central California will prevent the season from opening before December," Ben Platt, president of the California Coast Crab Association, said in a statement to the Sacramento Bee.
How the delayed season will impact prices is unknown at this point. Antonio Bezoni, a seafood manager in Redding, said he hopes stores and restaurants will get a fair price from fishermen.
"We're hoping to see a fair price for crab," he told KRCR. "With the way everything has been in this last 6 months, seafood-wise getting crab sorted seafood items, prices have been jumping up. But we're hoping it's still going to be a fair price because last season wasn't the best, and we're hoping we're going to see an even better season than last year."
Read more about the sea and seafood in these articles: