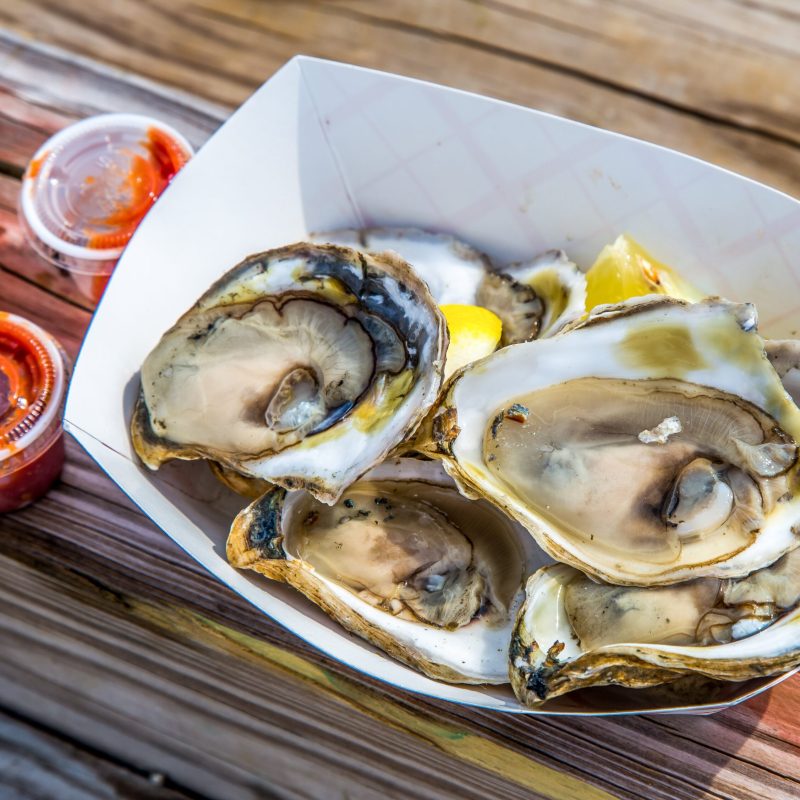 From Connecticut to Maine, the states along the Northeastern seaboard all have one thing in common: fantastically fresh seafood. One of the major seafood hubs for the entire country (and the world), New England lives and dies by the water, and their seafood recipes are some of the gems they have to show for it. From oysters and mussels to succulent lobster fixed with all the trimmings, seafood is akin to religion in this part of the country. And New Englanders love to worship.
If you're ready to tuck into the freshest fish and the briniest bites, and look forward to washing it all down with a local craft beer or a glass of wine and a side of energetic, local entertainment, here are the best seafood festivals in New England.
Newport Oyster Festival
Rhode Island gets a dose of the decadent each year with the annual Newport Waterfront Oyster Festival. The Ocean State comes right to your palette at this luxe event, presented by Champagne company Moet and Chandon. Taste oysters from more than a dozen different Rhode Island growers, paired with a glass of bubbly or an elegant cocktail, all with stunning views right at the water's edge. The weekend is packed to the brim with shellfish, and hungry visitors can choose from a variety of tiered tickets. Tickets purchased in advance will afford festival goers several oysters, as well as a beverage. Tickets for additional oysters are sold on site. There's also a full bar and food from local restaurants available.
Newport Waterfront Oyster Festival is all about bivalves (a scientific term for oysters, clams, mussels, and scallops) and beverages, plus live music and entertainment.
Portsmouth Chowder Festival
When it comes to chowder, New England only has one (Turn around, Manhattanites!). That creamy, thick, chunky, buttery goodness known as New England clam chowder isn't only a local favorite, it's a rite of passage, and no where in New England celebrates it better than the annual WOKQ Chowder Festival in Portsmouth, New Hampshire. All weekend long, chowderheads tuck into piping hot bowls from dozens of restaurants. The feasting, typically hosted the first weekend in June, is accompanied by live music and festive beverages. Previous recipes have included a spicy seafood chowder, a veggie chowder, and, yes, even a Manhattan chowder. Tastings start at 11:30 and run until there's no more chowder to be had.
Yarmouth Clam Festival
Situated on Casco Bay between Portland and Freeport is Yarmouth, Maine, a New England town steeped in charm and fishing history. This historic town is usually sleepy, but for one long weekend in the summer, it explodes with activity, excitement, and delicious seafood during the annual Yarmouth Clam Festival. This entirely free festival was designed to promote the community. Each year volunteers dedicate thousands of hours to transform the town into a magical mecca for seafood. The long weekend, which always kicks off on the third Friday in July, begins with a Friday-night parade. Saturday night is capped with fireworks, live music from three stages, food, art, and more. One of the highlights of the festival is the craft show with tables of jewelry, clothing, pottery, and other handicrafts curated by more than 140 artisans. This is the ultimate festival for clam lovers, but it is also one of the best places to absorb New England culture.
Maine Lobster Festival
It doesn't get more quintessentially New England than Maine lobster, and one of the region's most beloved seafood events each year is undoubtedly the Maine Lobster Festival. The festival dates back to the late 1940s, when it began as a way to boost the town's spirits following World War II. Since then, it has become an iconic event not only in the Camden and Rockland communities, but throughout New England. Today the event is five days of sun, entertainment, carnival rides, craftsmen, and, of course, lobster. The Food Tent is the main hub for digging into all things lobster, from steamed lobster dinners to lobster bisque, lobster mac 'n' cheese, and more. There is also the Lobster Cafe that serves lobster rolls, wraps, and lobster Caesar salad. The event is put on by a non-profit organization that gives all proceeds back to the communities of Maine's Midcoast. Rockland, Maine, is less than two hours from Portland and four hours from Boston.
Milford Oyster Festival
Thirty thousand oysters, one New England town: No one goes home hungry. The Milford Oyster Festival is an annual cultural and oyster fest that celebrates the sights, sounds, and flavors of Connecticut. The thousands upon thousands of oysters that are shucked and shared here are harvested off the shores of Milford itself. Beyond that, the festival cooks ups heaps of sausage and peppers, lobster rolls, fried dough, pulled pork, and steak and cheese, all of which can be washed down with local beers or delectable wines. In addition to food, the festival celebrates local and international bands across a variety of stages. Past acts include everyone from Eddie Money, the Gin Blossoms, and Bret Michaels to Joan Jett and even Badfish, a tribute to Sublime. It's one of Connecticut's most exciting festivals of the year.
Charlestown Seafood Festival
Every summer, rain or shine, the quaint Ninigret Park in Charlestown, Rhode Island, transforms into a frenzy of fish and entertainment. This seafood extravaganza lays it on thick with Rhode Island's bounty of lobsters, steamers, chowder, fish and chips, clams, and even a raw bar. But beyond food, the Charlestown Seafood Festival displays arts and crafts, features amusement rides, and even boasts a car show. Of course, no New England seafood festival is complete without live entertainment, and the Charlestown Seafood Festival offers an array of options including karaoke, local DJs, and live bands. Visitors come for the food and stay for the beaches. This coastal community has expansive New England beaches that are the perfect place to relax and unwind after a day (or weekend) of filling up on fresh seafood.
Eastport Salmon And Seafood Festival
For many Mainers, the end of summer means the smell of grilled salmon wafting through the air. For more than 30 years at the close of the summer season, Eastport, Maine, has celebrated with a festival devoted to fresh, Atlantic salmon raised in the Passamaquoddy Bay. Eastport is about as far east as you can get in the United States. It sits on Moose Island right across the bay from New Brunswick, Canada. The centerpiece of its iconic summer seafood weekend is Salmon Sunday, a massive salmon cookout enjoyed under an expansive tent with what seems like the entire town. In addition to salmon there are succulent oysters and plenty of beer, wine, and rum. Local entertainment includes music, arts and crafts, and more.
Rhode Island Seafood Festival
Tuck into the briny taste of the Ocean State at the annual Rhode Island Seafood Festival, a state-loved event that brings together the top purveyors of seafood in Rhode Island. Providence sets the scene for the epicurean event hosted in India Point Park. Tickets are incredibly affordable (less than $10), but if you really want to splurge, the main event is the Lobster Boil. A feast for the senses, a Lobster Boil ticket buys you steamed lobsters, clams, mussels, rosemary potatoes, corn on the cob — all the fixings — and an open bar with wine and local beers. The Lobster Boil ticket also includes a two-day pass to the festival on Saturday and Sunday. It's the ultimate entrance to the flavors of Rhode Island, and a must for any seafood aficionado.
Hampton Beach Seafood Festival
For three decades, the beaches of southern New Hampshire become a frenzy of fish, fun, and festivities during the Hampton Beach Seafood Festival. Drawing crowds from all over New England (more than 150,000 people descend on the peninsula during the festival), the annual event shows off 50 of the Seacoast's best restaurants and their very best dishes. Plus, there is non-stop entertainment, local crafts, a beer tent, a lobster-eating contest, and demonstrations from local chefs, all capped off with a gorgeous fireworks display. During the event, be sure to stop by the two stages that book local bands. The 200-foot beer tent will be prime real estate for lovers of local craft beers; wine and soft drinks are also served. The biggest attraction is, of course, the seafood. From fresh lobster to fish tacos, cannoli, mussels, shrimp, and more, there is no New Hampshire delicacy left off the menu.
Norwalk Oyster Festival
Norwalk, Connecticut, wraps up its summer season with a festive, fresh flourish, and a few thousand oysters, to boot. The Norwalk Oyster Festival brings together the best of the region in terms of food, entertainment, and family activities. A craft beer tent pours more than 40 different beers, while Kids' Cove offers rides and games. There is an arts and crafts pavilion with nearly 100 local artists, too. But most people show up for the food, specifically the oysters, which are slurped by the dozen.