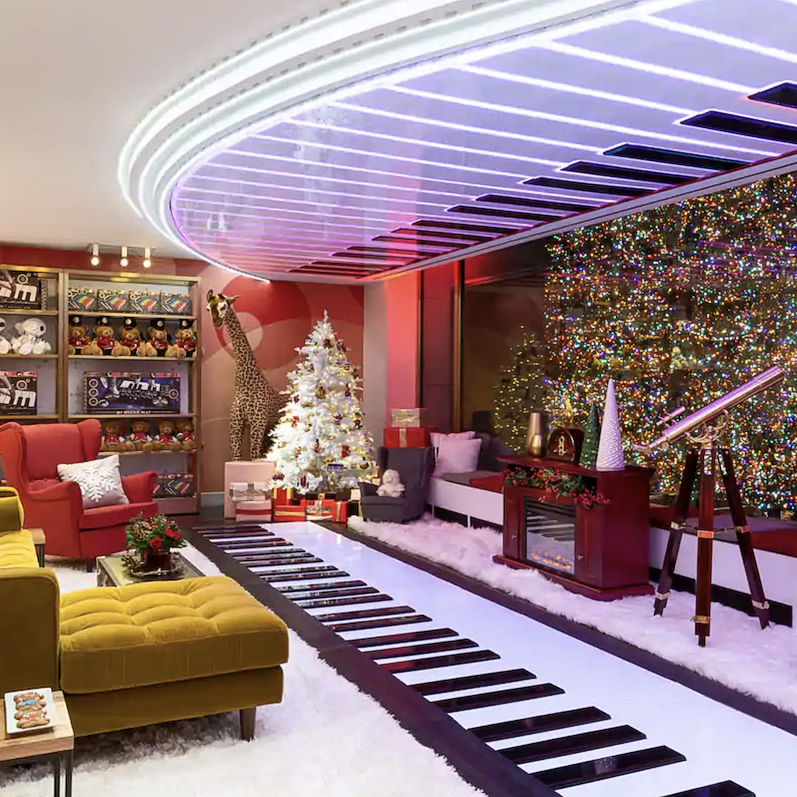 FAO Schwarz and Airbnb are teaming up to give one New York City family the ultimate sleepover this month: an enchanting night in the world-famous toy store.
One family of four will earn the experience for the overnight stay on December 21. The listing will go live on Airbnb on December 15 at midnight EST, and you can bet it will be booked within seconds.
The winning family, which will be limited to four people, will have complete access to the toy store at 30 Rockefeller Plaza as well as the associated apartment, where they will spend their special night. The listing is limited to families from New York City to reduce any travel to the location during the coronavirus pandemic.
An FAO Schwarz toy soldier will be the host for the evening, which will start with a tour of the 20,000-square-foot toy store. A selection of games, puzzles, and toys will be available all night.
The store is just the start. The real adventure will begin when the guests are taken to their accommodations for the night.
Living Room
The most iconic piece of FAO Schwarz's inventory is the star of this room. Tom Hanks and Robert Loggia brought the giant dance-on piano to attention with their performance in Big, and the guests can do the same.
The piano stretches across the room, which also features giant stuffed animals and velvet sofas. And the cherry on top? The huge window that looks out onto Rockefeller Plaza and the 75-foot Christmas tree almost within touching distance.
Bedrooms
There are several to choose from to get some sleep, if sleep is possible.
One features a giant circular bed with a huge teddy bear for a headboard. The room has a variety of other stuffed animals and a view out to Rockefeller Plaza.
Another features bunk beds with a slide down from the top into the waiting arms of another giant stuffed bear. A fireplace brings a cozy feel to the room.
A third features a larger-than-life, elevated sleigh bed that requires two steps to climb into. The room also features a fireplace and more stuffed animals.
Dining Room
You'll eat dinner after your arrival and breakfast the next morning in FAO Schweetz, a room lined wall-to-wall with candy. The lavishly decorated table includes a toy train that circles the surface as you eat.
Experiences
In addition to the accommodations, guests will have access to a few special experiences in the store. They'll get a music lesson on the dance-on piano, the chance to build a plush toy and a remote-controlled car to race down the aisles of the store, and a science experiment guided by the iconic Professor Atlas.
Guests will also be given a credit to pick up toys of their choice from the store.
Further Reading: