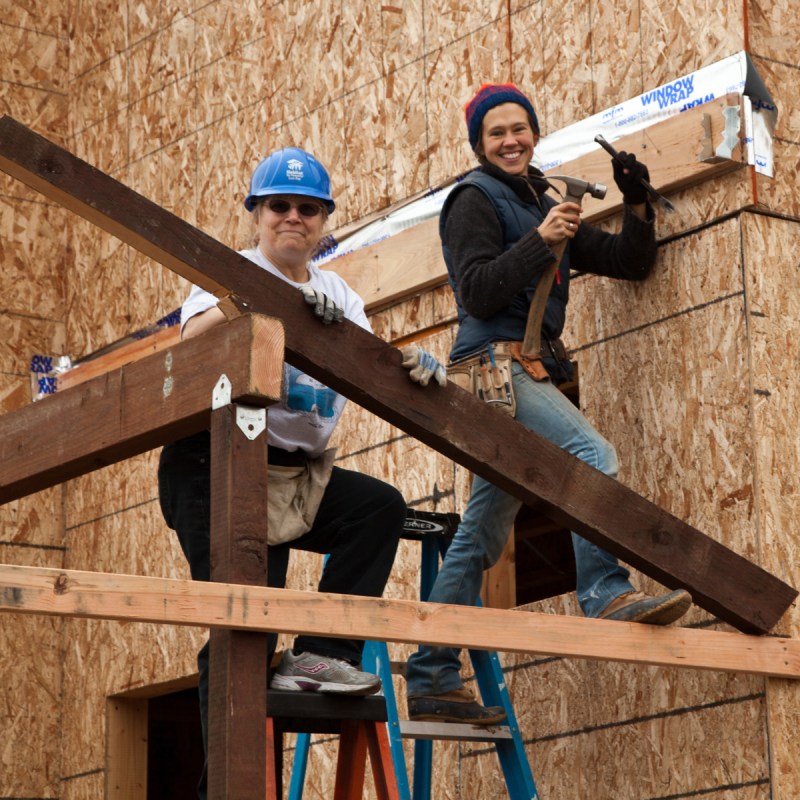 Sure, vacationing on a glorious sun-drenched beach in the Caribbean, shushing down a glistening snow-capped mountain, or just kicking back at home and letting the pressures of everyday life melt away are wonderful ways to spend your vacation. But once in a while, you may find yourself wanting something a little more. A vacation with a purpose that is both satisfying and rewarding.
While you consider your next vacation destination and options, consider taking a volunteer vacation.
A volunteer vacation is just that — a week, maybe more, volunteering with a nonprofit organization to help it and the community in some way. You will be visiting areas of the country — or the world — you may have never seen before while making a difference helping animals, building hiking and biking trails, or aiding a community in some way.
Nonprofits set up specific weeks where volunteers pay for their travel expenses — airfare or gas to drive to the location and sometimes their lodging and meal expenses, although many times these are included in the registration fee — and provide their time and effort for a cause.
I know, it sounds daft paying someone to work, but the rewards are so satisfying when you complete your journey. Plus, after your volunteer hours are put in for the day, you are free to explore the surrounding communities and culture.
Before we tell you about six amazing volunteer vacations, here are some things you should know before signing up.
Things To Know Before You Register
What interests you? Maybe helping sea turtles? How about maintaining sections of the Appalachian Trail? Maybe it's lending a hand to people trying to recuperate after surviving a hurricane or wildfire. There is a volunteer vacation out there for you. A couple of good resources to find upcoming vacations include Discover Corps, One Brick, and International Volunteer HQ.
Start planning a vacation no less than 4 months in advance and don't be surprised if a vacation closes registration quickly. They book up fast.
When searching for a vacation, look for programs that are open about how the fees and donations they receive are used. A good rule of thumb is that 90 to 100 percent of the money received should benefit the program and not marketing. Also, make sure the organization is an official 501(c)(3) nonprofit, which means it is registered with the IRS and must follow strict regulations. Oh, and by being a 501 organization, a portion of your fees may be tax deductible (talk with your tax preparer for details.)
Odds are you will have to pay for your airfare or gas to get to the vacation. Additional expenses may be incurred, but for the most part, lodging and a specified number of meals are usually included.
Unless otherwise noted in the vacation information, no experience is necessary.
Once you register, the organization should send you a handbook that tells you what to expect, including training that will be provided.
And it's not all about work. You will still have plenty of free time to roam and explore the area, its sites, and its culture.
The Vacations
Hudson River Sloop Clearwater — New York State
The Hudson River Sloop Clearwater was the creation of legendary folk singer Pete Seeger, who was grieving over the plight of the river in the 1960s. Incredible amounts of pollution were killing the river. He created a replica of an 18th-century sloop (a one-masted sailboat) with a mission to further environmental education through hands-on learning and music and help turn the plight of the river around.
Today, the river has made a dramatic comeback, thanks in part to the Clearwater. You can help in its continuing mission by signing on for a weeklong volunteer vacation. From mid-April to October, volunteers live aboard the sloop and sail the beautiful river to various ports along the river including New York City. Volunteers receive a full day of training so they can run educational programs, do a few chores to keep the ship up and running, and help with public relations.
No experience is necessary. The fee is $125 with a portion offsetting the cost of food. The fee also helps fund the sloop's Youth Empowerment Program.
American Hiking Society
If you love the outdoors, nature, and outdoor recreation, then here is your chance to give back by helping build and maintain trails across the country with the American Hiking Society (AHS).
Each year, AHS organizes dozens of volunteer vacations to some of the most beautiful landscapes you will ever see. It's your chance to give back to the trails you love while meeting interesting people, experiencing wildlife, and making new lifelong friends.
An example of a recent event had volunteers cleaning public trails at the California Coastal National Monument through incredible redwood forests to the spectacular crashing Pacific coastline.
Each vacation consists of six to 15 volunteers plus a trained crew leader who will teach you the skills you need to know. Volunteers will either do day hikes or backpack to the work area. Accommodations range from primitive tent camping to cabins and bunkhouses and all tools are provided. Meals are included in your registration fee.
Visit the AHS website for more information on their volunteer vacations and to find a project just right for you.
Habitat For Humanity
Here is a volunteer vacation that can be either in your own neighborhood or a country halfway around the world. Habitat for Humanity is world-famous for its mission to "build strength, stability, and self-reliance through shelter." Habitat provides decent, affordable housing to countless people in all 50 states and in 70 countries.
Volunteers work alongside the homeowner to build — or rebuild — their dream home. Vacations run the gambit of exciting options such as the Disaster Rebuild Team, which rebuilds homes following a natural disaster; the RV Care-A-Vanner, where you drive from community to community in your RV to build homes around the country; or the Global Village program, where your help is needed in a community around the world.
For more details, visit the Habitat for Humanity volunteer page.
Best Friends Animal Sanctuary
If you are an animal lover, then this one's for you. What started as a small sanctuary for homeless animals in Kanab, Utah, is now the nation's largest such haven. The Best Friends Animal Sanctuary provides shelter for homeless animals, adoption and spay and neutering programs, as well as educational programs not only in Utah but across the country.
The volunteer experience at the Best Friends Sanctuary can include providing animals with enrichment and encouragement through car rides and playing, taking the animals for a walk, preparing and serving the animals meals, and helping with the upkeep of the grounds.
And you don't have to go to Utah to volunteer. Best Friends has regional facilities in Los Angeles, New York City, Atlanta, Houston, and Arkansas.
There is no fee to volunteer. You can register for as many days as you like. Vegan box lunches are available for volunteers at the sanctuary for $5, or you can eat offsite at one of the area restaurants — and of course, explore the town of Kanab or a nearby national park, like Zion. Lodging is available onsite at the pet-friendly Best Friends Roadhouse and Mercantile or in one of their cottages, cabins, or RV sites
Many questions about a volunteer vacation with Best Friends can be answered by visiting its FAQ page.
All Hands And Hearts
The world is seeing a sharp rise in the number of natural disasters occurring across the country and the world: wildfires in California, hurricanes along the Gulf Coast, earthquakes in the Caribbean, all leaving hundreds of thousands of people without homes and the basic necessities of life.
All Hands and Hearts organizes volunteer vacations to aid these victims and help them get back on their feet with resilient and safe buildings and infrastructure. In Australia, for example, All Hands and Hearts are aiding communities and animals recovering from the 2019 brushfire that burned 27 million acres and destroyed 3,102 homes. Volunteers are building hygiene facilities, getting sanitation up and running, installing water tanks, and more.
Accommodations and meals vary depending on the program. Visit the All Hands and Hearts volunteer page to view current programs and for details.
See Turtles
One of the most wondrous sights in nature is to see literally hundreds of baby sea turtles poke their head out of a sandy ocean shoreline and race for the crashing waves. You would think that nature would give these youngsters all they need to survive from nest to sea, but predators — including humans — make their journey perilous.
See Turtles is an organization that offers volunteer vacations to those who are interested in saving these incredible creatures in places like Costa Rica and Belize, but its focus isn't only on sea turtles.
Volunteers spend a week assisting scientists and researchers in their study of turtles, dolphins, and even manatees, with profits from each trip going to protect over 500 hatchlings along a turtle nesting beach.
Your registration fee includes in-country transportation, meals, lodging, after-work activities, and airport pick-up and drop-off.
Travel can inspire a range of emotions and learning experiences, like these: