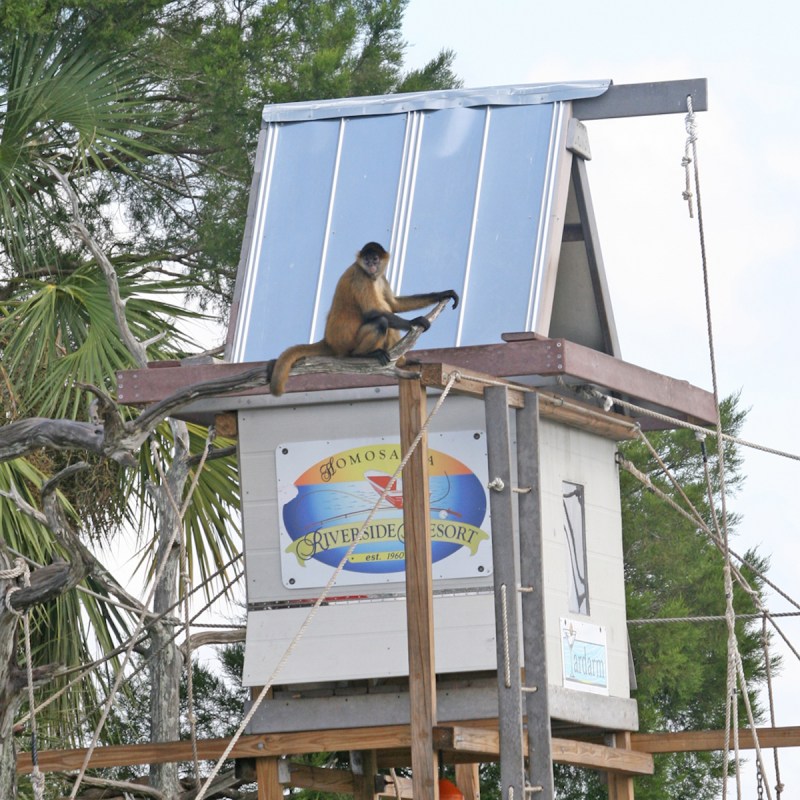 Monkey Island is a unique attraction in Citrus County, Florida. It is a tiny island in the middle of the Homosassa River, inhabited by five monkeys. I loved watching them frolic from the restaurant window. While viewing Monkey Island was not part of a sponsored tour, the Swim with Manatees Tour at River Ventures, Ozello Boat Tours, and the dining places were subsidized. The opinions about them are my own.
History
How the monkeys came to live on their own little island in the middle of the Homosassa River is an interesting story. Originally, the island was a pile of rocks just below the water's surface that damaged many tourists' boats. In the late 1960s, Mr. G. A. "Furgy" Furgason was a developer who owned much of the area.
Furgy owned an attraction called Nature's Own Attraction. He also owned what is today the Florida Cracker Homosassa Riverside Resort. Boaters were unhappy when their boats were damaged by the rock outcropping that lurked just below the waterline. That did not help Furgy's businesses. He solved the boaters' problem by having his workers dump some mud around the rocks to make them visible. The workers got carried away and dumped a lot more than he intended. The result was an unattractive, muddy island in the middle of the river. To improve the view, he had a small lighthouse built on it.
Meantime, he was having a problem at his Nature's Own Attraction. He had a few monkeys in the park. Dr. John N. Hamlet, a naturalist who worked for Furgy at his wildlife attraction, had provided the monkeys. Hamlet had captured those monkeys previously for research on the polio vaccine. The monkeys were not working out well. They kept escaping from their cages and stealing visiting kids' candy bars, getting into cars, and even biting visitors.
Furgy kept saying he "wanted to send them to Alcatraz." With his new island, he realized he had his own version of a monkey prison. He exiled three spider monkeys and two squirrel monkeys to the island. When he added a hut for them to live in and some climbing toys and netting, he realized he had created an additional tourist attraction. The tradition has continued for over 40 years and today, when I visited, I saw five happy spider monkeys — Ralph, Sassy, Ebony, Eve, and Emily — playing on their island. They seemed to enjoy watching us, too. Homosassa Riverside Resort feeds them a specially-prepared diet daily. The island is currently being upgraded to keep the monkeys safe and happy.
Viewing
You can watch the monkeys from the pier in front of the Riverside Resort or anywhere along the riverbank. If you want to eat or drink, you can watch from the open dining area at Riverside Resort's Country Kitchen or Monkey Bar. The monkeys are a "Look-but-don't-touch" attraction. You can rent or launch your own kayak, canoe, or boat and glide around the island. You cannot land. The island is under camera surveillance, and you will get arrested if you attempt to dock.
Other attractions
What was once Furgy's Nature's Own Attraction is now Homosassa Springs State Wildlife Park. It houses manatees that cannot be returned to the wild because of injuries, as well as a variety of other native Florida wildlife including panthers, bears, otters, bobcats, deer, eagles, alligators, wading birds, and birds of prey. I entered the park on its pontoon boat from the entrance on Highway 19, but you have a choice of entering on a tram if you prefer.
After seeing manatees in the park, I got to see them in the wild on my Swim with Manatees Tour at River Ventures. It was an exciting adventure as Captain Laura found plenty of manatees still playing in the waters even though it was late in the season. Being under the crystal-clear water allowed me to see the gentle giants in every detail.
Captain Greg at Ozello Boat Tours gave me an airboat ride over the shallow wetlands. There were wading birds all around. My biggest thrill was seeing and photographing an eagle perched in an old dead tree at the water's edge.
Dining
There are many dining choices. Seagrass Waterfront has a tiki hut, music, and wild bird viewing. Seafood Sellers is not on the water but offers real Cajun food.
Pro Tips
Timing is everything with manatee viewing in the wild. Manatees come into the inland waters when the ocean becomes cold in winter, so October through February is the best time.
About 46 percent of Citrus County is park and preserve land, making it a nature lover's paradise. Manatee sanctuaries are set up in the waters of Crystal River, Kings Bay, Chassahowitzka River, and other waterways the manatees frequent.
Florida has many unique areas to see nature and wildlife: