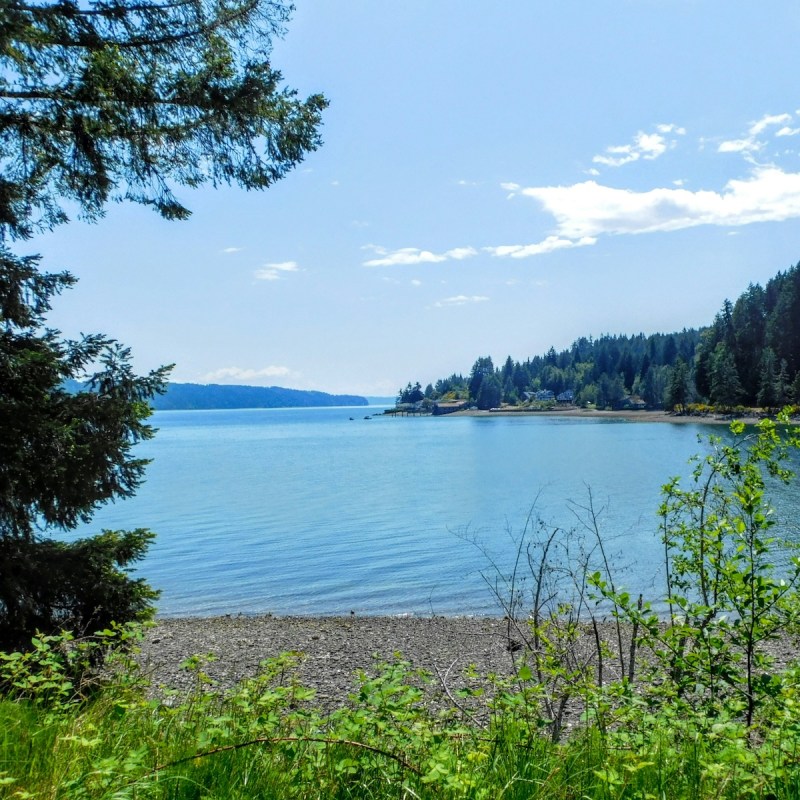 Tucked away from the bustling spotlight of popular destinations, underrated towns emerge as hidden gems waiting to be discovered. These quaint havens often escape the frenetic pace set by urban life, offering a serene escape for those seeking to sink into life, find authenticity, and experience the local charm of a small town.
Port Gamble, located on the Kitsap Peninsula in Washington State, is one of these rare gems. It also happens to be a National Historic Landmark. Stroll along the streets of one of Washington's oldest settlements, a company-owned town, and step back in time, far away from the city. Allow it to unveil its unique character through streets lined by white-picket fences and steepled churches. In Port Gamble, find a place where welcoming locals eagerly share their rich history, whispering tales of a bygone era.
Pro Tip: Getting to Port Gamble from the mainland is relatively easy, making it a great day trip or better yet a long weekend. Take a ferry across Puget Sound from either Edmonds or Seattle and enjoy the breathtaking scenery on this 30-minute trip. Check the Washington Ferry Schedule for sailing times.
5 Best Things To Do In Port Gamble, Washington
1. Historical Charm
The town of Port Gamble was established in 1853 by timber businessmen William Talbott and Andrew Pope. Mirroring their hometown of East Machias, Maine, these founding fathers wanted it to look and feel like home, replicating many of the structures found in its East Coast twin. Today, Port Gamble is a living time capsule, showcasing the timber industry's legacy through well-preserved 19th-century architecture and a glimpse into its past as a bustling company town.
Port Gamble boasts remarkable accolades, hosting the oldest continuously operating sawmill in North America until its closure in 1995. Additionally, its Masonic Lodge, active since 1859, remains the oldest in Washington, attesting to this small town of 75 residents and its enduring history.
Walk along any of Port Gamble's charming blocks and discover red plaques along the fences of homes and buildings. These describe the home's original use and its owners. Perhaps the town physician once lived here or the manager of the timber mill. Even the iconic steeple of St. Paul's Church echoes the same design as its Maine counterpart.
2. Picturesque Setting
Situated on the shores of Puget Sound, Port Gamble sits on a bay with breathtaking views of the scenic Hood Canal — one of the largest naturally made fjords in the continental United States — with a backdrop of the Olympic Mountains.
Grab a hot coffee or an ice cream cone from the Port Gamble General Store and set yourself down for a spell in the local park simply soaking in the beauty of this northwestern landscape.
3. Quaint Shops And Cafés
Explore Port Gamble's charming shops, boutiques, and cozy cafés where you can indulge in local crafts, antiques, and delicious treats while experiencing the warm hospitality of the community.
Stop in at the Port Gamble General Store and take a gander through their curated gifts and goodies.
Once the heartbeat of the community, this historic landmark now houses a café and retail store, offering an array of delights from ice cream to northwestern wines. Find a spot outside on the old-fashioned porch, settle in, and indulge in delicious desserts.
Quilted Strait
The Quilted Strait is housed in the Old Stables Building, followed by the Artful Ewe wool and knitting shop. The quilt shop stocks an impressive collection of nearly 4,000 fabrics and sewing essentials, including embroidery flosses and cross-stitch materials. Knitters can find artisan fibers, spinning, and weaving tools inside the warm environment of the Artful Ewe.
4. Outdoor Activities
For outdoor activities, try the Olympic Outdoor Center, located in the old fire station. This center offers private sea kayaking tours of Port Gamble Bay and the surrounding Hood Canal. Paddle along the calm waters of the Hood Canal while enjoying serene views and the chance to spot wildlife like seals, bald eagles, or even a whale. Enjoy mountain bike rides through the Port Gamble Forest Heritage Park, a 4,300-acre tree farm designed for hiking, biking, and exploring the great outdoors of the Kitsap Peninsula.
Across the street, find the Port Gamble Theater built in 1906. They offer family-friendly community theater as well as musical productions.
For history buffs, dive a little deeper into the fascinating stories of this timber town at the Port Gamble Historic Museum. Step back in time as you walk by the original timber equipment used in this sawmill and learn about the men and women who lived here. Find rooms filled with artifacts and intriguing facts dating back to the town's origins and stop outside to run your hands across the enormous grindstone sitting sentinel in front of the museum.
A must-stop for an afternoon walk is the Heronswood Garden, a beautiful botanical garden owned by the S'Klallam Tribe. Walk along these garden habitats showcasing over 8,000 plant varieties and featuring diverse flora from around the world and adapted to the northwestern climate. Many of the varieties are culturally significant to the S'Klallam people.
5. Community Events
Experience Port Gamble's vibrant community spirit through various events and festivals held throughout the year, adding to the town's allure.
Kick off the summer at Summer Faire for a fun-filled weekend of community, friends, music, and of course, great food all along the shores of Port Gamble Bay. Then in November, get ready to be spooked with the annual Ghost Conference. Did you know Port Gamble is rated as the most haunted town in Washington? If the supernatural stirs curiosity in you, book a tour with Port Gamble Ghost Tours, where the permanent residents of this town may pay you a visit.
Then in December, stroll the town square underneath 100,000 string lights at the Country Christmas. Sing with carolers, ride in a horse-drawn sleigh, gaze at fireworks, and end your evening inside Santa's workshop.
Small Town's With Mighty Charm
While overshadowed by their more famous counterparts, hidden gems like the small town of Port Gamble beckon intrepid travelers with the promise of genuine experiences and a chance to unearth the beauty of life, often concealed in plain sight.