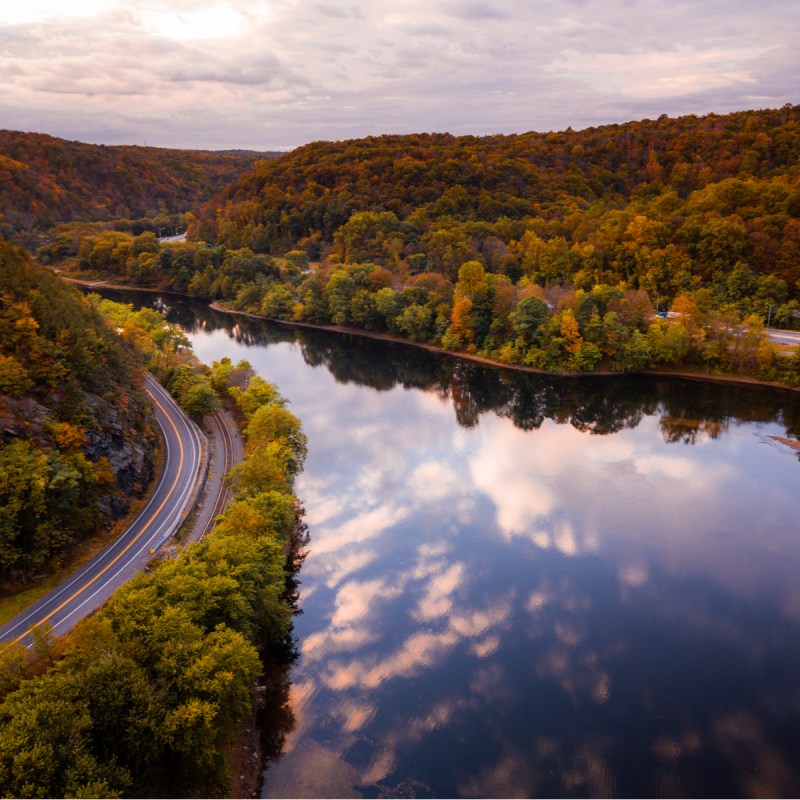 The Delaware Water Gap is one of the very best places for outdoor experiences in the U.S. We've had a home near the Delaware Water Gap for many years and have spent countless hours hiking, kayaking, and exploring the region. Winter, summer, spring, and fall, the Gap has plenty of things to do. It's a great weekend trip from New York City, Boston, Philadelphia, or anywhere else you might be coming from.
There are more than 70,000 acres in the Gap. Go to a popular spot with lots of people or find yourself alone in the woods.
Here are some of the best outdoor experiences in the gap.
1. Visit The Pocono Environmental Education Center
There are hundreds of hikes to do in the Gap — some easy, some hard, and some in between. The Pocono Environmental Education Center (PEEC) it's one of the most family-friendly places to go. PEEC has a family camp weekend as well as workshops on orienteering, cross-country skiing, hiking, natural history, and more.
Pro Tip: Pack a picnic lunch when you go to PEEC. There isn't a very close place for food and it's much more fun to picnic.
2. Find Silver Spray Falls
If you love waterfalls, the Gap won't disappoint you. The most popular are Buttermilk, Raymondskill, Hornbeck/Upper Indian Ladders, Silver Thread, and Dingmans Falls. They are all wonderful falls to see, and they get crowded. To get an off-the-beaten-track waterfall experience, go in search of Silver Spray Falls (also called Hidden Falls). It is not far from the much more popular Buttermilk Falls and most people never see it.
Pro Tip: There are many downed trees on the way to the waterfall. You'll need to have good hiking boots and walking sticks to find the falls. Park near Buttermilk Falls. Find the intersection of Houck Lane and Mountain Road. If you are walking towards Buttermilk, you'll see a path on the left. Best to look it up on the map first so you have a sense of where you're going.
3. Fish On The Delaware River
We live on a lake and can fish right off our dock. To be honest, we catch about one fish a year. We have many friends that are avid fishermen. There are tons of lakes to fish in the Gap. If you are going to fish, then try fishing in the Delaware River. One of the best places to launch your boat is from Milford Beach in Pike County, PA. There's also a small boat launch just after you cross the Dingmans Ferry bridge into PA. There are many places to launch a boat upriver, or you can charter.
Pro Tip: You need a license to fish on the Delaware. You need to determine if you're going to fish in on the New Jersey or Pennsylvania side to make sure you have the correct license. Make sure to check out the specific regulations for each state. Stop by Pike County Outfitters in Milford, PA for bait, supplies, and more information on fishing.
4. Bike Along The Delaware River In The Fall
The McDade Trail runs along the Delaware River for more than 30 miles. Sections of it are very good for biking. In late fall after the leaves have fallen, you will easily see some great views of the Delaware River. If you're there in summer or spring, you can still see the Delaware at certain points but there's a lot of trees between the trail and the water.
Pro Tip: Avoid the area between the White Pines and Pittman Orchard Trailheads — there is no biking there. If you don't want to bike, the McDade Trail is a good place to hike.
5. Canoe Or Kayak The Gap
One of the most peaceful ways to explore the Gap is by kayak or canoe. You try it out on the lakes or in the river itself. There are numerous companies that provide kayaks and canoes. Some of them do multi-day trips that include camping. The park doesn't rent kayaks or canoes but try some of these outside vendors.
6. Swim At Milford Beach
In the Gap, you always have a choice between doing something in a lake or doing something in the Delaware itself. You have to be careful in the lakes, especially the ones in state parks. Some of the locals go swimming in the pools by the waterfalls even though it's not allowed. It's tempting but you might get a ticket. Try swimming in the Delaware River. Milford Beach has a lifeguard and is one of the safest places to go swimming in the river. There are gorgeous views from the beach as well. There are public bathrooms at Milford Beach.
Pro Tip: There are dangerous currents within the Delaware River, so we recommend only swimming if there's a lifeguard on duty and wearing a life jacket at all times.
7. Learn To Cross Country Ski Or Snowshoe At High Point State Park
Technically, High Point, the highest spot in New Jersey, is just outside of the Delaware Water Gap. At 1,800+ feet, the views of the Delaware River as it winds between New Jersey and Pennsylvania are worth the detour. High Point is a good place to learn cross-country skiing or snowshoeing. The trail system is easy to follow.
Pro Tip: It can get crowded at High Point Park. If you go on a weekday, it will be much less crowded.
8. See The Season's Changing At Milford Knob
The Delaware Water Gap is a great place to see the seasons change whether it's winter, spring, summer, or fall. Our favorite place to see the seasons change is from the top of the Milford Knob Trail where you can see the changing colors along the Delaware River for miles. Or check out the easier to ascent Cliff Trail which meets up with the Milford Knob overlook for a spectacular view of Milford.
Pro Tip: The Milford Knob hike is steep and uneven. You'll need hiking shoes and a walking stick. Bring water and insect repellent as well.
9. Camp In The Gap
There are camping sites all over the Delaware Water Gap. Since the Appalachian Trail runs through the Gap, there is backcountry camping for hikers on the trail. There are also Developed Campgrounds at Dingmans Campground, Mohican Outdoor Center, and Worthington State Forest. In addition, there are river campsites for kayakers and canoers. Some campsites are open year-round but many close for the winter.
Open year-round, the Mohican Outdoor Center has self-service cabins to rent if you are not up for camping. You would need to bring your own sleeping bags and towels although the center does provide towels. Activities available at the center include wooded hikes with several trails of different levels, waterfalls, and wetlands, paddling ponds, swimming holes, and fishing.
Pro Tip: Reserve your spot ahead of time as they fill quickly.
10. Learn The History Of The Gap On Old Mine Road
One of the most scenic drives in the Gap is along Old Mine Road. It is a small road that runs south from Milford Beach along the Delaware River for miles. It is a wonderful drive in the fall or any time of the year. There are a number of historic sights along the drive, including Millbrook Village, Walpack Center, and Minisink Dutch Reformed Church which dates to 1737.
Pro Tip: If you do this drive from south to north, you can end in Milford for a nice lunch or go to Milford beach for a swim. Alternatively, bring a picnic lunch with you on the drive.
11. Take A Scenic Drive On Route 209
If hiking, biking, or canoeing is not quite your cup of tea, take a scenic drive along US 209. Start from Milford, at the north end of the gap, and follow 209 all the way down to Kittatinny Point. There are many points to stop along the road, where you can pull off and explore. Do a short hike and take in the scenery.
Head Inside And Bring Home A Unique Gift From Peters Valley School Of Craft
Peters Valley School of Craft is at the southern end of Old Mine Road. Stop by the school to check out its gift shop. It has handcrafted jewelry, metal works, ceramics, and much more. If you are inspired, you can sign up for a weekend workshop on how to carve wood, tie dye fabrics, blow glass, do blacksmithing, make fine metal jewelry, and other crafts.
Pro Tip: The class schedule comes out in the winter/early spring and the most popular classes can get reserved quickly.
The Delaware Water Gap is an outdoor playground for people of all ages. Come explore for an afternoon, an evening, a weekend, or more.
There are many Philadelphia area sites to visit: