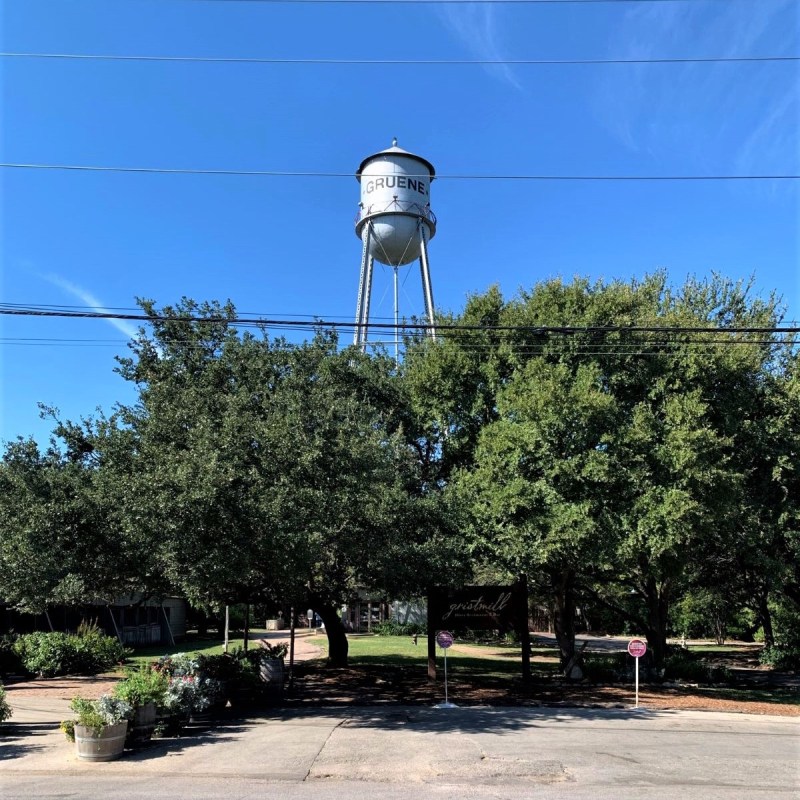 Although many folks think Gruene (pronounced "green") is a town in Texas, it's not. Formed by German settlers in the mid-1840s, Gruene, Texas, became a thriving cotton mill town for many years, but in the early 1920s, that all came to a halt after the death of the last Gruene son, the boll weevil epidemic, and the Depression. In 1974, the town was taken over by New Braunfels and was placed on the National Register of Historic Places. Today, Gruene is a thriving part of New Braunfels, with rich history, original historic buildings, and a quaint atmosphere. But you would not be wrong calling it Gruene, Texas — I still do.
Situated between Austin and San Antonio, Gruene makes a wonderful day trip to the country under an hour's drive each way. Coming from the Dallas-Fort Worth area or from Houston, a weekend stay might be in order. Either way, you're in for a treat with this historical part of the Texas Hill Country. Look for the Gruene water tower, and then you'll know you're there!
Things To Do In Gruene
The Gruene Historic District is entirely walkable. With tall trees offering shade and close free parking, it's very doable for everyone — and you'll be getting in some steps. Two main roads connect it all — Gruene Road and Hunter Road. Everything is in proximity to each other, and taking a leisure stroll up and down the street on both sides is the thing to do. But don't overlook the alleys because unique shops and small eateries are there, too. Restaurants, wineries, eclectic boutiques, a local coffee shop, afternoon ice cream treat, and of course, checking out the Guadalupe River will take up most of your time. I'd plan for at least 4-6 hours in town.
1. Shop Gruene Historic District
My favorite shop is pictured above. The bright colors on the porch draw my attention every time. But if you're looking for something different, keep walking because there are plenty of other shops and boutiques up the street that sell clothing, decor, souvenirs, and the like. A must-visit is the Gruene General Store. It's the first mercantile store built in 1878 and still standing as a gift shop and is chock-full of Texas items, gourmet foods, fudge, nostalgic candy, and more.
2. Live Music At Gruene Hall
Gruene Hall is Texas's oldest dance hall and still going strong. It's the only place in Gruene that never closed when everything else did back in the day. Big names like John Michael Montgomery, Ray Wylie Hubbard, Ricky Scaggs, and Wynonna Judd have played there or are in the lineup for future shows. Some shows are free. Sometimes the doors open before a show, and if so, you can take a peek inside.
Pro Tip: Only snack food is sold, so you may want to eat a good dinner before you go. But there are lots of beer and wine choices.
3. Rockin' R On The Guadalupe River
The place looks like a mansion, but inside is a whole lot of fun for the whole family —and the Guadalupe River is a big part of it. The Rockin' R is the place to rent tubes, rafts, and stand-up paddle boards. If coming to town after September, tubing down the river may not be available or wise because the river is just too cold, but other outdoor recreation will be available. Look for bands playing outside, outdoor games, food, and beer to be a part of the fun.
4. Local Wine
Enjoy the largest selection of Texas wines, other wines from around the world, several varieties of beer, and eats at The Grapevine. With the abundance of shade from the tall trees, you may want to sit outside on the lawn with your favorite drink. The outdoor space has plenty of picnic tables and benches for the whole family and is the perfect place for kids to roam. It's pet-friendly outside.
There is a winery down the road called Winery On The Gruene. Enjoy wine tasting and barbeque outside or limited seating inside. It's pet-friendly outside as well.
5. Old Gruene Market Days
If your plans bring you to town on the third full weekend of the month, and you like farmers markets, you're in luck. The Old Gruene Market Days showcase around 100 booths of handmade goods from talented artisans from all around central Texas.
Pro Tip: It doesn't operate in January and the Christmas market in December is on the first weekend — not the 3rd.
6. Gruene Mansion Inn
Extend your day into night at the Gruene Mansion Inn, a rustic Victorian B&B with 30 rooms, a delicious breakfast, and a gift shop. Some rooms back up to the Guadalupe River, and the patios are spacious. When we were in town, the "no vacancy" light was on. We didn't notice anything going on, and I bet this place fills up fast, especially since it's the only hotel in the historic district and it's right next to Gruene Hall.
Best Restaurants In Gruene 
From family-oriented casual dining to river views, patio seating, and wine with your meal, you'll find a little bit of everything in this small historical section of New Braunfels. From what I noticed, most restaurants in the area open at 11 a.m. for lunch, and all are open for dinner. Also, outdoor dining is trendy in this area, so look for that too at almost, if not all, restaurants. The hard part is which one to choose!
Gruene River Grill
If you like dining by the river and a good chicken fried steak and mashed potatoes, you will love this American cuisine and casual dining experience. Gruene River Grill offers outdoor seating and inside seating with air conditioning, a nice bar, and party rooms. Catch happy hour Monday to Friday, 3-6 p.m.
Gristmill River Restaurant And Bar
The Gristmill River Restaurant & Bar has been operating in the old 1878 cotton gin since 1977. You'll see the sign from the street, but it's a short walk down the path toward the river to the restaurant. Seating is available outside on the shady patio with river views, inside open-air, and all around the old cotton gin. It's a sight to see and a great experience if you only have one night for dinner. Its cuisine features ribs, steak, hamburgers, salads, and chicken. Afterward indulge in a sharable German chocolate cake dessert.
Gruene Coffee Haus
Whether you enjoy your coffee in the morning, afternoon, or evening, the Gruene Coffee Haus is open from 7 a.m. to 7 p.m. and is a full-service micro-roaster and full espresso bar serving cold brew and fresh coffee by the cup. It's one of those places that's located in the alley — not hidden but in a very quaint area next to Fickle Pickles and Tipsy Gypsy. There is outdoor seating and it is dog-friendly.
Rhea's Ice Cream
Rhea's is open Friday, Saturday, and Sunday only from noon to 10 pm. When the line never ends — it must be good! Grab an ice cream and keep walking. And when the owners boast that they "could be" the best ice cream in the world, I think that's enough incentive to try it out. The small shop is adjacent to The Gruene Grove, where you can sit outside on the patio and listen to live music while enjoying food and your ice cream. Also, look for Black's Barbeque serving barbecue from the big black food truck. It's all there for your enjoyment.
Pro Tip: These three share the same parking lot but may have different hours.
Cantina Del Rio
For tacos, burgers, fajitas, beer, and the best margaritas in town, head to the colorful bungalow Cantina del Rio. Enjoy your meal on the porch by the outdoor bar or inside. Either way, you're close to the river where everything is better!
Adobe Verde
Homemade Tex-Mex food made fresh daily, Adobe Verde is the place to have a great time. Its huge outdoor space allows for many family members to be together to celebrate whatever it is they're celebrating! They also cater events, or you can have your event at the restaurant. Parking is available.
The River House
For some home-cooked Southern food like corn fritters and fried green tomatoes, get in the car and drive a very short distance to The River House.
Pro Tip: It's just down the street on New Braunfels Ave. But, there's a spa next door!!
Mozie's
Sports-minded folks will love this casual bar & grill complete with happy hour, premium liquor, wine, beer, and TVs to watch your favorite team. Located across the street from Gruene Hall. Mozie's welcomes you for lunch, dinner or just to kill some time waiting for Gruene Hall to open.
Pro Tip: Seeing that there are more visitors than there are residents on any given day — the Gruene Historic District will always be a fun entertainment place for the entire family.
Other small Texas Towns worth a look-see: