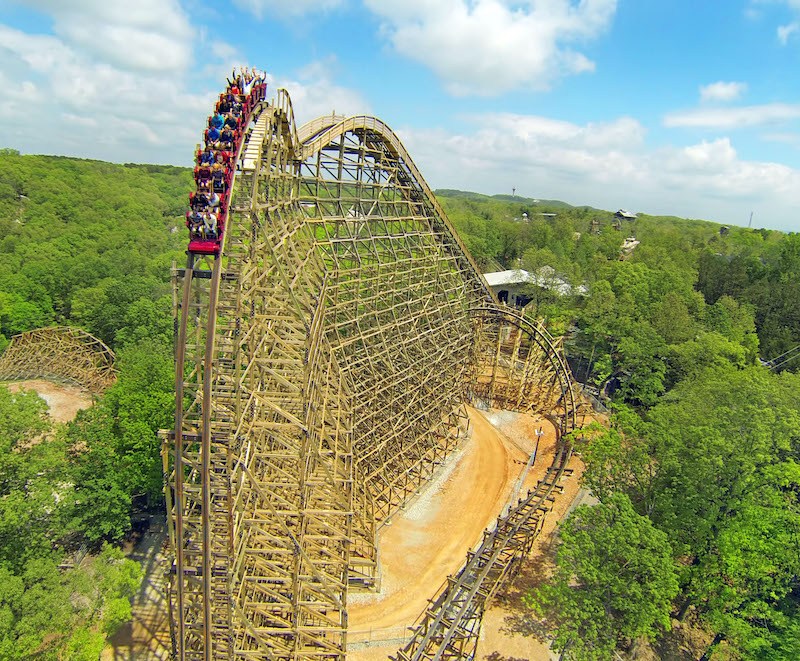 Silver Dollar City is one of the top-rated theme parks in the United States. Located in Branson, Missouri, in the heart of the scenic Ozark Mountains, Silver Dollar City recreates the look and feel of an 1800s Ozark village. Although the park has grown over the years since its 1960 opening, it remains true to the Herschend family's original vision and continues to showcase the natural beauty of the Ozarks and the history and heritage of the area.
Silver Dollar City feels like four parks in one. Amusement park rides, heritage craftsmanship demonstrations, historic buildings, and entertainment are included in the ticket price. Open from mid-March through late December, Silver Dollar City offers fun for all ages. Many of the attractions are accessible. Guest Relations provides information on accessibility to help all visitors enjoy their experience.
Here are 10 fantastic reasons to visit Silver Dollar City.
My visit was hosted by Silver Dollar City and Explore Branson as part of the 2018 North American Travel Journalists Association conference. All opinions are my own.
1. A Step Back In Time
As you walk through Silver Dollar City, you may feel as if you've stepped back in time. Everything in the clean, beautifully landscaped park conveys that historical feeling, from the new buildings to the original 1800s buildings that have been relocated to the park and restored.
At McHaffie's Homestead, a hewn-log cabin built in 1843 by the pioneering Levi Casey family, you can sit on a feather bed, rock in a chair in front of the fire, and talk with the homestead family as they go about their chores. See what pioneer life was like at Birdie's Cabin.
A hand-carved pulpit is a highlight of the 1849 Wilderness Church. A large sycamore tree once stood on the spot where the church currently sits. Mary Herschend allowed the tree to be chopped down only on the condition that it be carved into the church's pulpit.
A steam train takes you on a leisurely 20-minute ride through the countryside surrounding Silver Dollar City. Watch out for train robbers and a humorous hold-up.
2. The Craftsmanship
The people of the Ozarks were resilient, making most everything they needed themselves. Craftsmanship became part of everyday living. Today at Silver Dollar City, more than 100 resident craftspeople — some second- or third-generation crafters — demonstrate heritage crafts throughout the village. The U.S. Congress has declared Silver Dollar City "The Home of American Craftsmanship."
There are potters, blacksmiths, woodworkers, leather workers, glassblowers, soapmakers, and candlemakers. Candymakers still use recipes from years ago. Wheat and corn are ground into flour and used to bake bread at Sullivan's Mill, a water-powered gristmill. Their cinnamon bread is delicious and a must-try.
The craftspeople explain as they demonstrate and are willing to answer questions. While there are many things to enjoy at Silver Dollar City, the heritage craftsmanship demonstrations are my personal favorites.
3. The Cooking Classes
Silver Dollar City's Culinary & Craft School offers cooking classes and demonstrations featuring all kinds of dishes in a state-of-the-art kitchen housed in a beautiful building handcrafted by woodworkers, tinsmiths, and glassblowers. Note that cooking classes require reservations and may require additional costs.
4. The Thrilling Rides
Silver Dollar City has amusement park rides for people of all ages, from flying elephants, spinning tea cups, and leaping frogs for young children to spinning disks, a swinging carousel, and an eight-story freefall drop for older adventurers. There are several roller-coasters, including one for younger children. Water attractions include a rafting journey and a log-flume ride that climbs more than five stories and splashes down at speeds reaching 35 miles an hour. Entire families can wage an all-out water gun war at one of the attractions.
The rides use modern technology but retain an old-fashioned look. The 1880s feel continues through the amusement park area.
5. The World's Fastest, Steepest, And Tallest Spinning Coaster
The Time Traveler roller-coaster, custom-designed for the mountainous terrain of the Ozarks, spins, climbs, loops, and drops. It features three inversions, speeds of up to 50 miles an hour, and a 10-story, 90-degree vertical drop. I don't do roller-coasters myself, but I watched friends scream and laugh on the ride and, when the ride was over, immediately line up to do it all again.
6. The Breathtaking Limestone Cave Formations
Marvel Cave, a wet limestone cave, was Branson's first tourist attraction. Today, that attraction is part of Silver Dollar City. The cave was called Marble Cave at one time because people believed its limestone walls were marble. A mining company and town formed in the 1880s to mine the marble. Within a few years, the mining company shut down and the town became a ghost town. In 1894, the cave opened as a tourist attraction. Silver Dollar City was built around the entrance to the cave on the foundations of the old mining town.
Hourlong tours into the mine take you nearly 500 feet below the surface to see living and growing limestone formations. You'll see the largest cave entrance in the U.S., hear entertaining anecdotes, and ride a unique cable train back to the surface. Note that the tour is strenuous, with much of the time spent descending and climbing stairs. The tour is included in the admission price. A special Evening Lantern Lights Tour is available at an additional cost.
7. The Live Entertainment
Branson is known as the live entertainment capital of the world, so it should be no surprise to find live entertainment at Silver Dollar City. A street troupe wanders through the park entertaining visitors with shenanigans and their own brand of Ozark humor. Enjoy 1880s-style entertainment as the Homestead Pickers play and sing old-time favorites at McHaffie's Homestead. Sadie's Wild West Revue at Boatworks Theater features song, dance, and zany comedy. The Horsecreek Band plays traditional country, bluegrass, and gospel music at the Gazebo.
All shows occur several times a day and are available on a first-come, first-served basis. An outdoor amphitheater hosts concerts from April through October.
8. The Hearty Meals And Delectable Treats
Restaurants and food stands throughout the park serve a variety of food. Silver Dollar City is known for its mouthwatering skillet meals. You'll also find barbecue, burgers, homemade fried chicken, ribs, wraps and sandwiches, pizza, hearty breakfasts, and more. Satisfy your sweet tooth with floats, funnel cakes, peach cobbler, cheesecake, ginger cookies, and bakery pastries. Brown's Candy Shop contains a large selection of handcrafted candies. Make sure to visit Hannah's Ice Cream Parlor for ice cream crafted on-site in an old-style, four-bucket churn. Note that no alcohol is served on the premises.
9. The Unique Shopping
The beautiful items created by the park's heritage craftspeople are charmingly displayed and offered for sale at stores throughout the park. Silver Dollar City is a great place to pick up a special gift, buy a treat for yourself, or simply browse. You'll find pottery, glass, metalwork, carved items, leather products, and even furniture. At the General Store, you'll find preserves, vintage-inspired kitchenware, farm-themed decor, and nostalgic toys and games.
10. The Festivals
Festivals staged throughout the year bring additional performers to Silver Dollar City. The Bluegrass & BBQ Festival, Southern Gospel Picnic, and Country Music Days are just a few. During the 16 days of Moonlight Madness in midsummer, the park stays open until 10 p.m., when the evenings end with fireworks. The Crafts and Harvest Festival in the fall brings many visiting artisans to the park. November and December are special months to visit Silver Dollar City for an old-time Christmas. There are dazzling light displays, nightly parades featuring Rudolph the Red-Nosed Reindeer, and live holiday shows.
Pro Tips
Pay attention to the vintage signs on the fronts and sides of the buildings. Along with old advertisements, you'll find signs with employee names on them. Silver Dollar City employees get their own sign after working in the park for 25 years.
With so much to see and do, a one-day visit may not be long enough. Silver Dollar City offers deals on two-day and three-day passes to be used within a five-day period. A season pass offers the flexibility to visit again and again throughout the year. One-day visitors who find themselves wishing to return for another day's enjoyment can apply the price of that day's admission to a season pass, but only on the same day of the visit. While more expensive than the two-day or three-day pass, a season pass is cheaper than two one-day tickets. Note that season pass reservations may be required during peak attendance days.

For more on the Branson area, see this page.