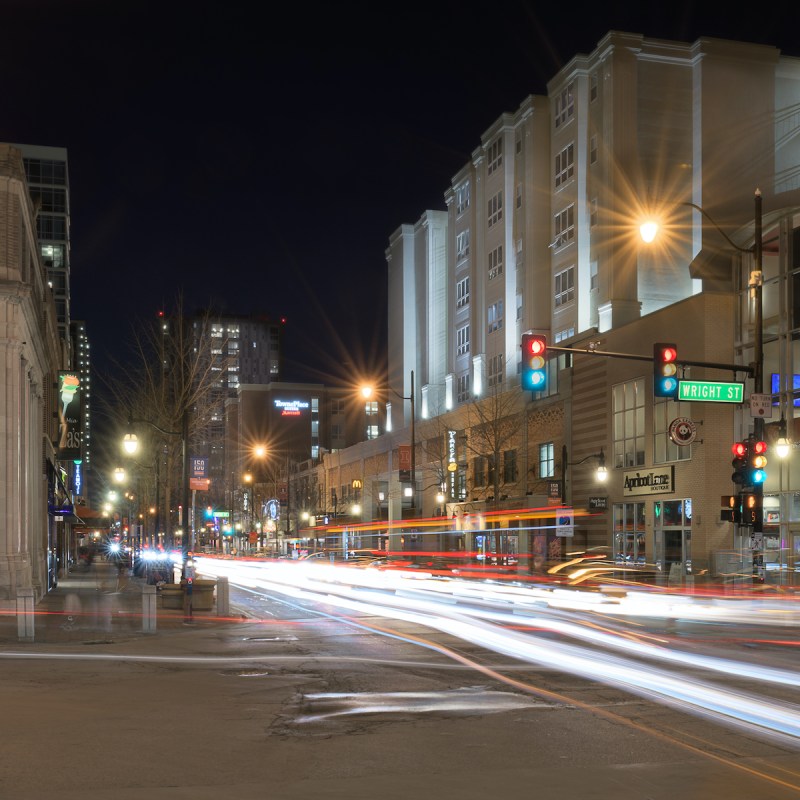 Champaign/Urbana is a college town, home to the University of Illinois's Fighting Illini. With the international mix of students, the town offers an eclectic mix of dining options as well as those with a distinctive Midwestern flavor. All in all, Champaign County has some great dining opportunities. In the past year and a half, I have traveled this direction for a couple of events and to see the art and gardens in the area. Over the years, I have enjoyed the variety of food, that are Champaign-only dining options, and those that I have only tried in Champaign.
I have found out about the restaurants through friends, and in a few instances from suggestions from Terri Reifsteck of Visit Champaign. Champaign is located in east-central Illinois, and has some fun finds with distinctive flavors!
1. Black Dog Smoke & Ale
This restaurant is a fun stop with great history. I visited the Black Dog Smoke & Ale on a hosted visit this past summer. Visit Champaign invited me to try dining at this wonderful stop. The restaurant is charming. The Black Dog Smoke & Ale is a former train depot where my friend Annie Jansen and I dined with Visit Champaign's Terri Reifsteck. Terri said it's known for its barbecue, so I had barbecue chicken and enjoyed the restaurant's wonderful cornbread.
During its renovation, a porch was added, and this expanded the dining options offering outside seating. The Black Dog Smoke & Ale has been open since 2015! Best of all, its location is near downtown.
Pro Tip: When dining at the Black Dog Smoke & Ale you may want to walk around downtown Champaign and enjoy some of the over 200 pieces of public art in the city of Champaign. Also, where downtown parking is concerned, make sure you have plenty of change for parking meters.
2. Prairie Farms Fruits & Creamery
The same day that Annie and I dined at the Black Dog Smoke & Ale, we had taken a tour of Prairie Farms Fruits & Creamery earlier that day. Lisa Wells, the marketing talent shared that Prairie Farms Fruits & Creamery make its own cheese and gelato out of goat's milk.
Leslie Cooperband and her husband Wesley Jarrell own Prairie Fruits Farm & Creamery. Leslie is the head cheesemaker. We got to see where she makes the cheese and sample some of their wonderful cheeses! "We make gelato, cheeses and have local meats and beer. You can build your own cheese platter when you visit," Leslie said.
Since I am diabetic, I couldn't try the gelato, but Annie assured me it was marvelous! We loved the cheese and our tour of the goat herd. The farm also offers private dinners, and you can also take a tour. Annie and I plan to come back for that cheese and meat tray! Prairie Farms Fruits & Creamery also sells its cheeses in several local shops and Chicago locations as well, and you can buy them in the shop at the farm, too. We loved the creamy taste. This is a seasonal stop, so be sure it's open before heading out!
Pro Tip: If you love animals and touring farms, in nearby Rantoul, Hardy's Reindeer Ranch is a great diversion!
3. Original Pancake House
This was a new restaurant for me, but it is a standby for many. My friend Kelli Dozier's son Clint went to college in Champaign and said that he and his girlfriend loved it. That was how I first learned about this fun dining option when looking for a breakfast spot. My mom Lori Disque and Annie Jansen and I headed to Champaign for a fun day, and the Original Pancake House was on our list.
This chain was founded in Portland, Oregon, in 1953 by Les Highet and Erma Hueneke. Today it is a 2nd and 3rd-generation business with several different locations. It offers an array of items using recipes from sourdough starters in its kitchen. The apple pancake is one of the signature items, so we had to order one. We ordered that along with an entrée of pigs in a blanket, a sausage wrapped in a pancake, and a serving of scrambled eggs that came with pecan pancakes.
We ordered regular syrup and sugar-free syrup. What pleased me the most was the fact that the business heated the sugar-free syrup, which never happens at most restaurants! Our hands-down favorite breakfast item was the pigs in a blanket. Great service and good food!
4. Seven Saints Bar
After eating a big breakfast, Mom, Annie, and I did a bit of shopping at Jane Addams Books and Ten Thousand Villages. The bookstore had an extensive selection of used books, and Ten Thousand Villages is a retailer selling fair trade crafts and housewares.
We wanted a bite to eat, but we were not hungry enough for a full-blown lunch. We received advice for a great place for good appetizers, and the name Seven Saints came up. In the heart of downtown Champaign among the art and flowers, this was the perfect spot to enjoy a few appetizers to round out the afternoon.
The architectural aspects of the bar and grill were quite captivating. At Ten Thousand Villages, the young man that waited on us had recommended the cheese curds, so we tried them along with tomato bruschetta and their amazing diced tomato basil spread served with toast points. Yum!
Cheese curds were good, and although they were a heavier version than the ones I have had before, they were good, just different. The bruschetta was wonderful and the homemade spread delectable. I had stopped here before when heading to Champaign for a concert. Evening food was as good as the appetizers and the beer we had then was cold and fresh, too!
Pro Tip: After a stop at the Seven Saints, take time to take a picture sitting next to the Humpty Dumpty sculpture!
5. The Courier Café
My husband and I and friends enjoyed this fun dining experience during an earlier stay in Champaign! Together with this group of friends we always try to seek out eclectic places with good food, plus a cool environment. The Courier Café offered both! Terri Reifsteck of Visit Champaign had also recommended this as one of the top breakfast places in Champaign.
The building is the former home of the Courier newspaper which closed in 1979. The inside of the building is filled with authentic antiques. This made the dining experience a neat décor offering a cool interior. The food was great; I chose a great omelet!
6. Portillo's Hot Dogs
While Portillo's is undoubtedly known as a famed Chicago dining place, it was in Champaign that I tried this hot dog treat. Not only is the Portillo's in Champaign very good, but it is less crowded than the Windy City counterpart and offers the same good food! We met some antique tractor and farm toy friends here, and they took us to this fun find.
7. Dos Reales Mexican Restaurant
The same friends that took us to Portillos helped us discover Dos Reales, which seemed to be an authentic Mexican restaurant. I enjoyed the beef burrito and colorful décor. Mexican food is always one of my favorites! Champaign is centrally located and a great place to meet friends from all over the state!
These are just a few of the places that I have been too. As you can guess, there are many more dining names I had not been to that came up in conversation with friends and family that probably should be mentioned, meaning that I need to go back!
In addition to good restaurants, Champaign is a town full of beautiful gardens. Annie and I saw the amazing IDEA and Children's Garden and the Japan House/Arboretum Garden. We loved the beauty of the town that is full of sculpture and architecture. The town is also filled with museums. While I have been to the Champaign County History Museum it has since been updated. I also want to visit the Spurlock Museum and the Krannert Art Museum when I return to try out some new restaurants!
Food choices abound in and around nearby Chicago: