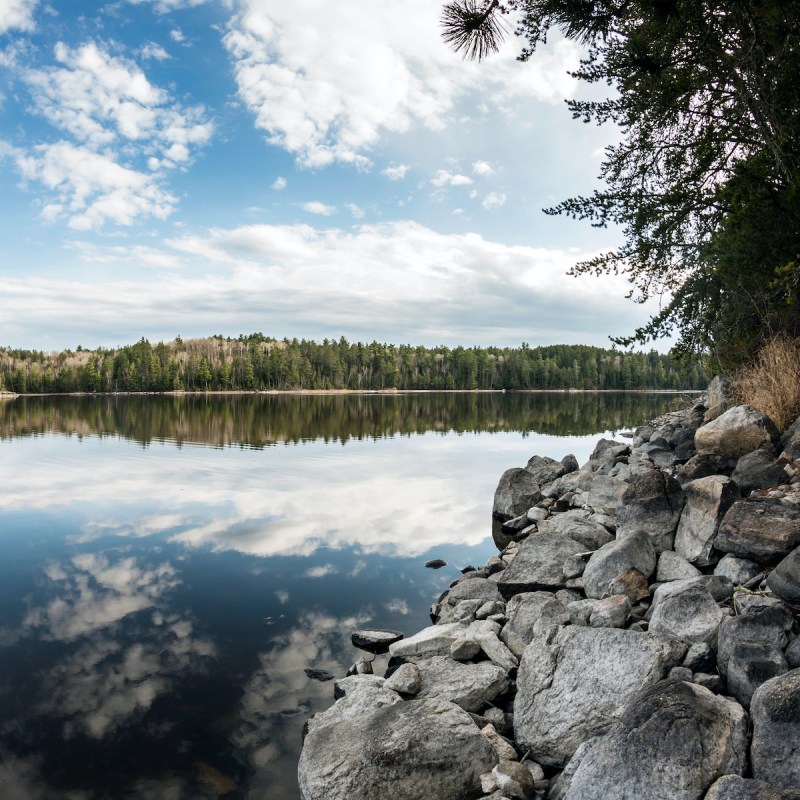 It's imperative to feel comfortable and safe while traveling.
Medjet
provides premier air medical transport, travel security, and crisis response memberships, providing peace of mind for an affordable price.
Remote and rugged, Voyageurs National Park is located in northern Minnesota, a stone's throw from the Canadian border. About 40 percent of the park is composed of water, and several of its most striking natural attractions — as well as a lodge and campsites — are accessible only by boat.
It's certainly not the easiest U.S. national park to get to, but if you make the trek to Voyageurs National Park, you'll be enveloped in pristine wilderness and encounter few people.
Unlike wildly popular national parks like Great Smoky Mountains and Yellowstone, which attract millions of visitors annually, Voyageurs has about 240,000 recreational visitors every year, the bulk of them hiking, boating, camping, and fishing in the park in the summer months. The park is open in the colder months as well, with fewer folks exploring a snow-covered winter wonderland by snowmobile, snowshoe, or cross-country skis.
In my ongoing effort to visit all of the national parks in the continental United States (I'm up to 31 of 53!), my husband and I built this summer's RV road trip around visiting secluded Voyageurs National Park as well as Isle Royale National Park in Michigan, also close to the Canadian border.
With an ambitious road trip schedule over the course of several weeks of travel, we had just one full day to explore Voyageurs, so we barely scratched the park's surface. Still, we experienced some highlights, and we pocketed some information if we're ever able to get up to this pretty, pristine part of the U.S. again!
Here are my firsthand tips for visiting Voyageurs National Park in the summer months.
1. Stop At A Visitor Center To Get The Scoop
Whenever I visit a national park, my first stop is always a visitor center to talk to an in-the-know park ranger. I love picking up official maps, hiking guides, and any other paraphernalia and information on the park. Typically, my husband and I are on the hunt for a great day hike, and it's the rangers who'll know firsthand where to send us for our timeframe and hiking ability, and, of course, they'll be aware of any trail closures or trail conditions.
2. Maximize Your Time On The Water With Rentals And Tours
My husband and I, unfortunately, encountered some cloudy, cool, and rainy weather on the one full day we had to spend in the national park. We didn't have flexibility in our itinerary, as we had other booked reservations coming up later in the week, so we couldn't extend our stay, otherwise, our other travel plans would be compromised. But, we made the most of our morning and early afternoon on the shores of the large lakes, traipsing around wooded hiking trails and checking out the exhibits at two of the open visitor centers.
Ideally, if I were to visit again, I'd build in a cushion for inclement weather and more time to spend a couple of days on the water, exploring the lakes' many islands by houseboat and spending the nights parked at one of the houseboat sites. Commercial outfitters and lodges outside of the park rent houseboats — as well as other types of watercraft, such as fishing boats, pontoon boats, canoes, and kayaks.
For example, Voyagaire Lodge & Houseboats on Crane Lake has a variety of different houseboats for rent. My husband and I camped in our RV at Pines of Kabetogama on Kabetogama Lake; had the weather been sunny and warm, and we had more time, we might have rented a motorboat or kayak right from the resort's dock, steps from our camper.
Another alternative for overnighting in a remote area of the park that's accessible only by water is the historic Kettle Falls Hotel. Built in the early 1900s, the hotel offers villas with kitchens and standard hotel rooms. If you don't have your own boat to get to the hotel, boat shuttle service is available.
Finally, the National Park Service offers daily guided boat tours that depart from the Kabetogama and Rainy Lake visitor centers. Learn more and make reservations here.
3. Consider These Hikes Accessible By Land
From the Ash River Visitor Center, my husband and I enjoyed the Blind Ash Bay Trail, a 3-mile round-trip trail through deeply wooded scenery to a looped turnaround at Blind Ash Bay. The moderate trail with a couple of lake overlooks was lightly trafficked during our visit, allowing for a peaceful trek.
A short drive from the Ash River visitor center is the small parking area for the 1.2-mile, out-and-back trail to Sullivan Bay. Here, we encountered a striking amount of trees that had already started changing colors in late August, making for a pretty scene. We also liked the rocky overlook with a picnic table, where we spotted parked houseboats at nearby islands.
We also did the very short, interpretive Ethnobotanical Garden Trail at the Rainy Lake visitor center. Here you can learn about the Ojibwe Indians who were among the first inhabitants of what we know today as Voyageurs National Park. The surrounding garden features plants that the native people used in their daily lives with informative placards describing what their daily life was like.
4. Bring Your Own Food And Drink
The only place to purchase meals at Voyageurs National Park is at Kettle Falls Hotel, which, as mentioned, is only accessible by water. If you're just visiting the park on land for the day, or if you're camping (via tent or houseboat) in one of the more remote locations, you'll definitely want to bring all the supplies you'll need.
That said, if you're making your way around the national park by land, stopping at a couple of different visitor centers, there are plenty of gateway towns with general stores, gas stations, and grocery stores to pick up a picnic lunch or snacks. The biggest city near Voyageurs National Park is International Falls.
5. Look Up At Night For Stellar Stargazing
With its distinct lack of light pollution and wide-open spaces providing unobstructed views, Voyageurs National Park is a great place to gaze at the stars. The National Park Service reports that clear, moonless, summer nights are ideal for admiring the Milky Way and spotting shooting stars.
While the northern lights, or aurora borealis, may be seen in the summer months in Voyageurs National Park — especially on cloudless nights — it is slightly more common to witness flashes of green light at night in the winter. Read more tips for maximizing your chance of seeing the northern lights here.
6. Take Time To Learn About Voyageurs National Park History
At the Ash River visitor center, my husband and I took the time to watch a short film on the history and highlights of Voyageurs National Park — a movie I highly recommend.
Not having done much research on the park before having arrived, I was fascinated to learn that the park was named for the French-Canadian voyageurs who made their way by birchbark canoes — portaging overland at times — from Montreal, Canada, all the way to the remote Canadian Northwest. The waterways they traveled in the 18th and 19th centuries, trading with the Ojibwe Indians for valuable beaver pelts, included what is today Voyageurs National Park.
Inspired to visit some less crowded U.S. national parks? Learn more here: