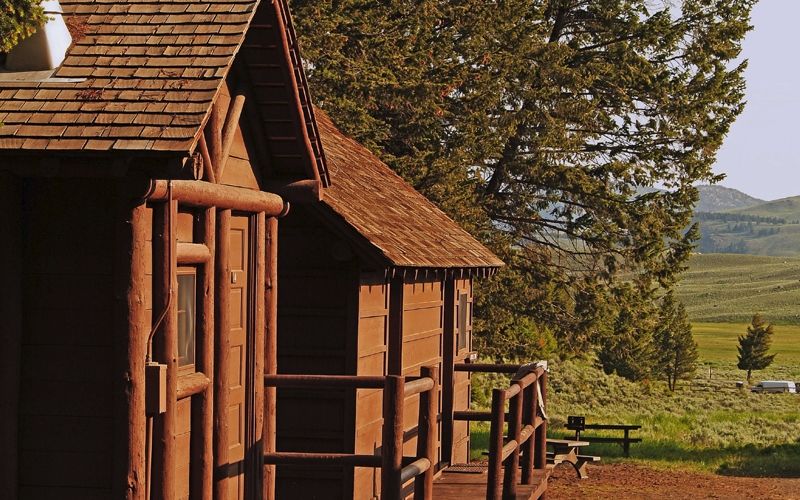 For many travelers, Yellowstone National Park represents a rite of passage. It is the world's first national park, and a flagship of the National Park Service, bringing millions of visitors every year. The park itself is more than 2 million acres, which is larger than the states of Rhode Island and Delaware combined. Inside is a feast for the senses, from thousands of miles of hiking trails to hundreds of species of animals and mind-blowing geological formations.
In fact, the park is home to one of the world's largest calderas, with more than 10,000 thermal features and more than 300 geysers. It truly is the country's greatest playground for adventure enthusiasts.
But where to stay? There are a variety of lodging options in and around Yellowstone Park that cater to a number of different styles. Accommodations vary based on budget, location, and amenities. Most people prefer to stay within the park, as this provides the best access to its sites. Plus, when the rest of the day visitors leave, it often feels like you have the entire park to yourself.
If you're planning a visit to Yellowstone National Park, here are some of the best places to stay.
7. Grant Village Lodge
Named for Ulysses S. Grant (who was the one to declare Yellowstone National Park the first national park in the world), Grant Village Lodge is one of the most convenient options for visitors who want to be close to Old Faithful. The six two-story buildings each have 50 rooms, and all have private bathrooms. The area also has two restaurants with lake views, a lounge, and a small shop. This is also one of the resorts that is closest to Grand Teton National Park, should you want to visit another park while you're in the area. The amenities are comfortable, the location is convenient, and the majority of reviewers would describe a stay as perfectly decent, though many would rather spend a bit more money for slightly more upgraded accommodations and meals. That said, if it's important to be staying within the park and all you need is a comfortable place to rest your head, Grant Village certainly fits the bill.
6. Roosevelt Lodge And Cabins
If staying in the park is a priority, but cost is a concern, the Roosevelt Lodge Cabins are a wonderfully affordable option. Named for Theodore Roosevelt, who was a regular in the park, the cabins are located near a campsite that was once used by the former president. It is one of the quietest corners of the park, with the Lamar River Valley right out the front door. Be prepared to see bison, black bears, and other wildlife. There is also great hiking nearby.
Cabins are simple and sparsely furnished but comfortable and clean. Choose from the Frontier Cabins with two double beds and a bathroom, or the Roughrider Cabins, which have wood burning stoves and contain one or two double beds. Roughriders are not equipped with bathrooms, but there are communal showers and bathrooms nearby. Keep in mind these rooms are particularly rustic and spartan, so if it's luxury comforts you're looking for, this won't be the right fit. This is a step-above-camping experience.
5. Old Faithful Snow Lodge And Cabins
The Old Faithful Snow Lodge is one of two properties that are open in Yellowstone during the winter season. It also happens to be one of the newest of the park's full-service hotels (built in 1999). Built in that frontier design with log columns and a cedar roof, accommodations include lodge rooms, Western Cabins, and Frontier Cabins. There is also a dining room, a grill restaurant, and a gift store. Be aware that there are no televisions in the rooms (though this is common for many hotels within the park), and the Wi-Fi is spotty. That said, you'll be there to enjoy the view! The hotel is within walking distance of Old Faithful, which guests really appreciate. Plus, if you get snowed in (which can happen), the staff is known to be super friendly and attentive.
4. Lake Yellowstone Hotel And Cabins
When it comes to elegance, story, and location, Lake Yellowstone Hotel and Cabins has the trifecta. First, let's start with the history: Lake Yellowstone Hotel was originally built in 1891 and has been listed on the National Register of Historic Places. In 2014, the historic, stately home underwent extensive interior renovations to bring it back to its roots. The hotel was also given a Green Seal Lodging Certification because of its prioritization of sustainability. The renovation included all guest rooms, the dining room, bar, and public spaces.
This is one of the best lodging options for larger families since you can book a big suite within the park. Family lodging options inside the park are limited, so if you're traveling with kids, this is a good property to consider.
It's also important to note that Lake Yellowstone Hotel and Cabins are only open between the months of May and October. Some visitors have complained that toward the end of the season things take a really long time because the hotel staff is preoccupied with closing things up for the season. That said, this is one of the most elegant and comfortable lodging options in Yellowstone.
3. Mammoth Hot Springs Hotel And Cabins
Following a major renovation to the public spaces and guest rooms, this historic hotel is one of the favorites among visitors to the park. It also happens to be the other one of two hotels in the park that are open during the winter season, so if your plans are taking you between December 15 and March 2, this is a more-than-suitable option.
Guests are loving the renovations, though many visitors say that the price is a bit high for what you get. This, however, is to be expected from most hotels that are situated within the park itself. Location, location, location! Visitors can opt for a room within the main house, or for one of the standalone cabins, which offer a private-rental type of experience.
The hotel was built in 1936 and even has a wing of guest rooms that were built in 1911. The hotel is located in what was once Fort Yellowstone and is incredibly close to Mammoth Hot Springs. This must-see feature of the park is a cascade of tiered hot spring pools that stagger down a hillside. There are about 50 hot springs within the area, and it is truly a visual treat.
2. Old Faithful Inn
You won't do much better in terms of historic value and location when staying within Yellowstone National Park. That said, the Old Faithful Inn is one of the most highly desired addresses for visitors looking for accommodation. It is a National Historic Landmark, dating back to 1903 and constructed from local logs and stone. In fact, it is thought to be the largest log structure in the world.
When it comes to cozying up after a long day of sightseeing, it's tough to beat the brilliant stone fireplace in the lobby. Curl up around the fire in the evenings while listening to live music, or snuggle into one of the inn's 327 rooms. There is also a restaurant, lounge, snack bar, gift shop, and daily tours.
The hotel is just steps from Old Faithful, so if you can get up early, you may have a viewing of the geyser eruptions all to yourself. Guests also rave about the architecture of the hotel, saying it truly is like a step back in time. The restaurant receives a great deal of praise as well.
Basically, if accommodations are high on your priority list for a visit to Yellowstone, Old Faithful Inn should be at the top of your list.
1. Four Seasons Resort And Residences Jackson Hole
Four Seasons Resort and Residences Jackson Hole is the perfect luxury accommodation for the traveler who favors creature comforts and style over location. The resort is not located within the park (it is about an hour's drive away), but it is one of the most exclusive and comfortable resorts in the region. That said, if it's time in Grand Teton National Park you crave, you will be right at its doorstep. All rooms come with private balconies and optional gas-stone fireplaces. They also have views of either Jackson Hole valley, the courtyard of the hotel, or the Grand Teton mountains. For travelers who want to stay connected, this is the hotel to beat, with flat-screen TVs in the rooms, as well as free high-speed Wi-Fi.
The service is outstanding, and the amenities are all superb. Guests leave feeling as though they truly have been taken care of. And while the experience does come at a premium (it's one of the most expensive resorts in the area), you'll leave knowing you've gotten your money's worth.
Planning your adventure? Read up on the best hikes in Yellowstone National Park.