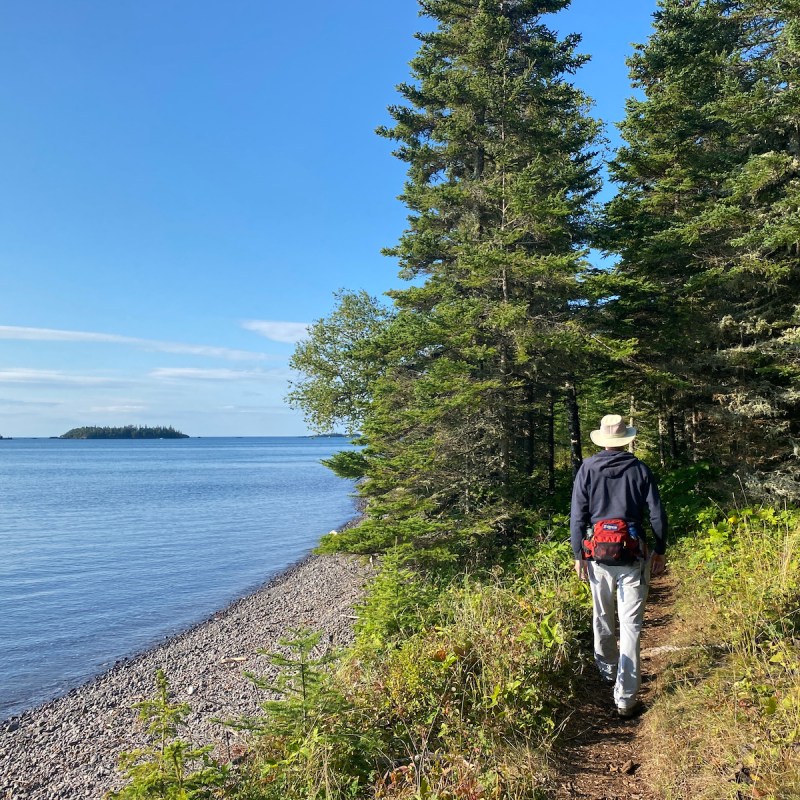 Isle Royale National Park regularly makes lists of the country's least-visited national parks. Which is really no surprise, since the park is not easily accessible.
You can only reach this national park, an island on Lake Superior, via seaplane, boat, or ferry. Plus, the window for visiting Isle Royale is relatively small. It's open to visitors from mid-April to late October.
So why would you visit this national park when it's so remote? Well, that's precisely the reason.
Isle Royale National Park, which is actually an archipelago composed of one large 45-mile long island and 400 much smaller islands, is pristine, rugged, and breathtakingly beautiful.
Amenities and visitors are minimal here. So when you do make it to the park, you feel as if you're part of a special club, experiencing a destination known only to a select few.
In reality, around 25,000 people typically make their way to Isle Royale National Park every year to backpack and hike, canoe and kayak, and simply take in the unspoiled landscapes, from the rocky shorelines and crystal clear waters to the towering evergreen trees. Still, this is a tiny fraction of the millions of folks who spend time in wildly popular national parks like the Grand Canyon or Yellowstone annually.
Fewer people at Isle Royale National Park on any given day means that there's no crowding scenic overlooks for that perfect photograph. You won't experience traffic jams at park entrances or fight for parking spots at busy lots since cars aren't allowed on the island. With so few visitors, you could spend an entire day on the Isle Royale hiking trails or at a remote campsite and not see another soul.
If solitude, raw natural beauty, and opportunities to commune with Mother Nature are appealing for your next national park visit, Isle Royale is certainly the place to do just that.
Below are more things to know about visiting Isle Royale National Park, based on my full-day visit to the secluded park this summer. After arriving in a seaplane, traipsing on quiet, wooded trails, sampling wild thimbleberries, picnicking near the ferry dock, checking out the Rock Harbor Lodge, and then relaxing on a restaurant terrace with a cold local beer, I deemed it one of my favorite national parks ever (and I've been to 35). Yep, I enjoyed the experience that much!
1. You Can Arrive By Plane Or Ferry At Either End Of The Island
Unless you have your own boat or want to charter one, you'll likely be taking a commercial ferry or a seaplane to Isle Royale. The National Park Service details all of the different seasonal transportation options from ports in both Minnesota (Grand Portage and Grand Marais) and Michigan (Hancock/Houghton and Copper Harbor). Daily schedules for seaplanes and ferries vary, but round-trip reservations can accommodate both day and overnight visitors.
Ferries and planes arrive at either the southwest end of the island (Windigo) or the northeast end (Rock Harbor). Both areas have facilities and amenities for visitors, such as a visitor center, lodging options (more on those below), store, nearby campsites, hiking trailheads, and canoe and kayak rentals. More information on each area's recreational offerings can be found in the Windigo Area Guide and the Rock Harbor Area Guide produced by the National Park Service.
2. Making Your Transportation Plans Early Is Key
As soon as you have your dates nailed down for your trip to Isle Royale, you'll want to make commercial transportation reservations, whether you're traveling by plane or ferry to the island.
It wasn't until mid-July that my husband and I finally solidified our late-summer RV road-trip plans, determining we'd want to visit Isle Royale on August 30. I put in a reservation request with Isle Royale Seaplanes then — 6 weeks before we wanted to visit — waited… and waited… for confirmation that we'd be able to fly from Hancock, Michigan, to Rock Harbor at the times and date I selected.
When I didn't get word after a couple of days, I called the Isle Royale Seaplanes office, only to be told that there were 176 more reservation requests before me that they had to get to in the queue. Yikes!
I got nervous we might be shut out of even getting to the national park, so we booked reservations on the Isle Royale Queen IV ferry service from Copper Harbor, Michigan, to Rock Harbor. Once I got confirmation on August 7 that indeed our seaplane reservations were accepted, I canceled our ferry reservations (with a 15 percent cancelation fee).
The bottom line: Had I started making plans earlier, I might not have panicked and felt the need to double-book transportation. It all worked out in the end but was a little nerve-wracking for a while.
3. You Might Get Stuck On The Island
Isle Royale Seaplanes gives passengers a flyer that describes what to do if foul weather moves in and your return flight from the island is delayed. (First piece of advice: Be patient.)
The lack of cell service and Wi-Fi on Isle Royale makes it difficult to relay information about transportation updates to individual passengers (text alerts aren't an option). But both the seaplane and ferry operations staff can talk to park rangers, so if there are changes to the schedule due to weather or other issues, rangers will update a big whiteboard outside the visitor center.
The day before we visited Isle Royale National Park, the weather was terrible. Extreme winds messed with the ferry schedule, and at least one ferry couldn't make the trip out to the island to pick up passengers. So when we arrived on Isle Royale the next day, we encountered people who had their trip unexpectedly extended by a night!
There was quite a crowd waiting to get on the ferry to leave the island that afternoon — both the folks who had confirmed reservations on an August 30 departure as well as passengers who'd wanted to leave on August 29. But we heard the ferry captain meeting with passengers, doing his very best to get all visitors back to the mainland as quickly and as safely as possible.
4. Lodging Options Range From Comfortable To Rustic
At Rock Harbor, you can stay in a Rock Harbor Lodge lakeside room, which is steps away from two restaurants (only one of which was open in 2021) and close to where daily sightseeing boats pick up passengers. Further afield are the cottages in Tobin Harbor, which is where the seaplanes land. 
At Windigo, 45 miles away on the other side of the island, rustic camper cabins are available. These cabins are an alternative to tent camping. There are beds in the cabins, but no linens, and there's no indoor plumbing — outhouses are nearby.
Even more rustic are the camping options — and those are plentiful. Campsites designated for groups (seven or more people) and individuals are clearly marked. Some are very close to the harbor docks, so you don't have to trek far into the wilderness to set up your tent. Others are much more remote and require a couple of hours of hiking to get to. Some sites have shelters where you can set up your sleeping bag, and the campgrounds do have consecutive night stay limits. Read all about the different camping opportunities and permits required here.
5. National Park Staff Are Immensely Helpful
After landing in our seaplane, we made the short wooded walk from Tobin Harbor to Rock Harbor to check in with a national park ranger, as instructed. Rangers are staffed at a tent to greet visitors on arrival.
Our orientation meeting with the ranger was quite helpful, as he shared information about area hiking trails — one popular route was closed due to a wildfire on the island. He detailed the scoop on where we might go for food (at the Greenstone Grill) and how to rent a kayak. We also enjoyed learning more about the animals that make their home on the island, namely nearly 2,000 moose and about 15 wolves (we saw neither on our day hike).
Rangers are also familiar with the history of the island, and they're happy to share what they know. It was first inhabited by the Ojibwe tribe, whose members called the island "Minong." Later, European settlers made their mark, embarking on commercial fishing, hunting (for furs), copper mining, and maple sugaring on the island. Tourism developed in the 1900s, and Isle Royale became a national park in 1940.
6. You Have Opportunities To Enjoy Downtime
We had about six hours to spend on Isle Royale, which was plenty for us to go on one four-mile hike and otherwise get to know the Rock Harbor area of the island. We opted not to rent a canoe or kayak (but could have), and the MV Sandy sightseeing boat tours weren't running (they're scheduled to return in the 2022 season), so we stayed on land. We wandered around to see different scenic vantage points of Rock Harbor, took our time eating a picnic lunch, and checked out the souvenirs in the store and in the visitor center.
We were also glad to have brought books to read on a bench by the water, where we also watched kayakers unload their gear on the beach after multi-day kayaking and camping trips. (We heard one kayaker say they'd been out for 11 nights, and she couldn't wait to order a pizza and have a draft beer at the lodge's restaurant!)
Indeed, enjoying the slow pace, resting in the natural surroundings (with or without a book), and taking in the quiet atmosphere are what make a visit to Isle Royale so appealing. With no cell service and very limited Wi-Fi, it's easy (and wonderful!) to forget about the real world for awhile at Isle Royale and simply enjoy the company of Mother Nature.
For more information on Isle Royale National Park and other less crowded national parks, consider: