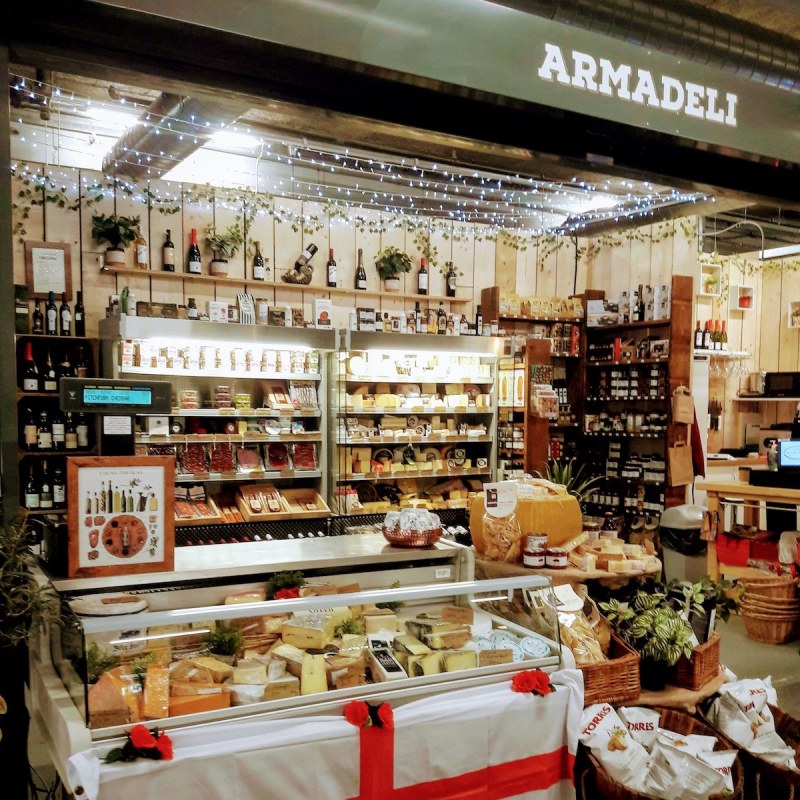 I love a good cheese and wine shop. There's something so decadent about an entire shop dedicated to the pairing of wine and cheese. I love the cheese counter with all the varying sizes, shapes, colors, and scents of the wedges and balls of cheese. I love the display cabinets and the fridges of wines, all the labels enticing me to try. I love how international the selection is. But most of all, I love choosing the cheese I think will go best with the wine.
When it comes to the question of why we pair cheese with wine, it's all about the "mouth feel." Two such distinct textures and flavors are apparently so far apart from each other, yet compliment each other so well because of how they feel in our mouths. If you haven't tried it, there's a whole world of cheese and wine mouthfeel to delve into. It all begins with the discovery of a new cheese and wine shop and the delights on sale inside. Here are my picks for the best cheese and wine shops in the UK, according to locals.
1. I.J. Mellis, Edinburgh
Iain Mellis has opened shops in Glasgow and Aberdeen since he unlocked the door of his first cheese and wine shop on Victoria Street in Edinburgh, but this pioneering cheese and wine shop is still my favorite. The setting is beautiful, located halfway up the curling street, and when the rustic awning is unraveled above and the door is opened, something magical happens. I've waited patiently outside for this shop to open, it's so good. A small and traditional cheese and wine shop, it feels very authentic, and inside, it's like a cheese and wine Aladdin's cave.
Pro Tip
Try the Hebridean Blue cheese with a bottle of the Divine Poison French red wine. The creamy blue cheese with its slight tang pairs perfectly with the oaky red wine. The Hebridean Blue is supplied to local restaurants in Edinburgh, too, and placed on the cheese boards on their dessert menus, so you know it's good. 
2. Armadeli, Stroud
Armadeli, as the name suggests, is more of a deli than a simple cheese and wine shop, but although it has branched out to include antipasti, cured meats, and some beers, it is still essentially a cheese and wine shop at heart. Located in the market and surrounded by a shopping center, the small store feels like it's a part of a shopping experience and you can wander at your leisure, browsing the stalls. But it's the impressive selection of cheeses and wines on display that always draws me in.
Pro Tip
I love the gifts and accessories the shop sells here. The lovely cheese boards are unusual and make great gifts, and the artisan crackers for cheese make the perfect accompaniment to cheese and wine. It even sells fondue sets and mini raclette sets, so you can have your own cheese and wine party at home.
3. Czerwik, Brighouse, West Yorkshire
Czerwik began life as a specialist wine merchant on this very site 25 years ago. Since then, it has expanded its range to include some crackers, spirits, and liquors, but it remains essentially a cheese and wine shop. If you really love cheese, you can have a cheesecake made for your special occasion, even for a wedding. A cheesecake is a tiered cake made of rounds and blocks of different cheeses — only for serious cheese lovers! If you lean more toward the wine side, the wine cellar in the basement of this shop is not to be missed.
Pro Tip
Take a look at the hampers they put together at Czerwik. The "Ultimate Night In" cheese and wine hamper is pretty amazing. It includes three white wines, three red wines, a beer, and a cheese to perfectly pair with each one.
4. The Cheese And Wine Shop, Wellington
The Cheese and Wine Shop in Wellington is a more modern looking store, with bright and airy spaces, beautifully arranged displays, and a luxurious feel to it. But it's still a cheese and wine shop, and you can find a wide variety of unusual cheeses and fine wines, plus some other products like spirits and chocolates. There are wine and cheese tastings arranged now and then, but not on a regular basis, so it's a case of checking back for any upcoming events. It also recently added a front-of-shop pavement table and chairs, so you can select your cheese and then relax Parisian style to taste it.
5. Renoufs
With branches spanning across Dorset and Hampshire, Renoufs is something pretty amazing, and rare — a cheese and wine bar. This makes pairing cheese and wine a very social event and you can book a table for you and your friends to relax over a cheese board with a few bottles of wine. Staff are very knowledgeable and recommend the best pairings, giving you the chance to try a few out before you commit to buying any to take home. Renoufs doubles as a cheese and wine shop, as you can buy the products and take some home after you've tried them in the bar.
Pro Tip
Try the Dorset Blue cheese to keep things local, or if you prefer a richer cheese, the Red Thunder. The wine list is extremely long, so order the tasting set, the drink flights, and you can try out three different wines or ports before you order a bottle.
6. Cheese And Fizz, London
Following a successful 10 years in London, Champagne and Fromage have launched in its new Brixton Village location, Cheese and Fizz. As before, it is still serving rustic fare and fizzes the French way, while adding nibbles, mix and match tapas, and still and sparkling wines. The cheese menu includes a selection of baked cheeses, cheese boards, raclettes (plain, with truffle or duck), tartiflettes, and more. French-style tapas are also featured on the menu, including tartines, pasta, and a variety of both meat and vegetarian options. Cheese and Fizz has a choice of over 50 Growers champagne available by the glass or bottle, including some exclusives. They've also got a fantastic new portfolio of white, red, and rosé wine, and a selection of local and international artisan beers.
Pro Tip
Cheese and Fizz offers some great cocktails, including the classics Aperol Spritz and Negroni as well as some champagne-based cocktails, too. So if you fancy something different with your cheese board, choose a cocktail.
7. IberiCo, Sheffield
This newly opened tapas bar has a staff of wine specialists and an amazing cheese counter with fully stocked wine crates. IberiCo is a bit like a local Spanish deli with a tapas bar attached. Everything is authentically Spanish here, from the cured meats on hooks behind the counter to the incredible Spanish cheesecake. The cheese and wine section is at the entrance to the bar, creating a little mini cheese and wine shop within a tapas bar. The cheeses on the board are separated into "sheep" and "goat," and you can buy them by the gram.
Pro Tip
Try IberiCo's own exclusive wine, Vina Rufina. Available in Crianza and Roble, and pairing perfectly with a good Manchego cheese. Also, pick up a bar of the Spanish chocolate that's sold at the cheese counter — seriously good if you like dark chocolate.
8. The Cheese And Wine Shop, Darlington
This quirky little cheese and wine shop first opened in 1999 with the intention of bringing to Darlington hard-to-find cheeses with the best in locally produced ones, and pairings of good wines. What's really great about this traditional cheese and wine shop is there are often samples out on the counter so you can try them before you buy. If you're not sure which wine goes with which cheese, the staff can recommend, or you can take a sample of the day's brie and a sip of the suggested wine, and see for yourself.
Pro Tip
This cheese and wine shop runs a gift box service that's very personal. Order for someone's birthday as a gift, and simply tell the staff a little bit about what your friend or family member likes, and they'll put together a box of treats based on the information.
9. Toscanaccio, Winchester
Based on the Italian Econeta, a wine shop that allows you to taste wines at a small price before having the option to buy the bottles, Toscanaccio has a distinctly Italian feel to it. But that doesn't mean you'll only find Italian wine and cheese here, it also stocks wines and other deli items from all over the world, including those from local suppliers. Situated in the heart of Winchester, this is a popular wine and cheese shop, and it also runs a varied program of events.
Pro Tip
The cheese and wine pairing events are a great way of getting together with other curious people and finding out how to pair cheeses with wines. You can book an evening as an individual and join others, or you can book it for you and your friends as a fun evening out.
You might want to learn more about wine tasting and cheese with these tips: