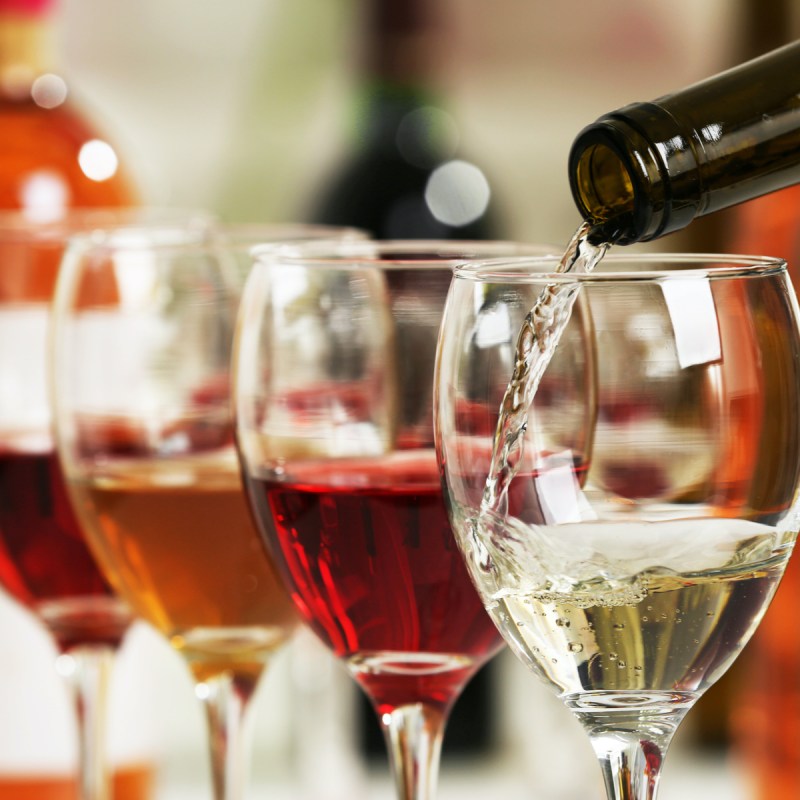 I am a professional writer who focuses on travel and wine regions. I find the two are a perfect blend of history, culture, scenery, and wine. In fact, it was through travel writing that I was led to study wine more in-depth with the Wine & Spirit Education Trust. Not long after completing that course, I began hosting tastings for various event companies. Today, I continue to study and host tastings for both public and private events. 
By acquiring just a few key items and a little basic wine knowledge, it's easy to host a wine tasting at home. Here are my top tips.
1. What Kind Of Wine To Serve
There are many possible themes or concepts to organize a tasting. One idea is deciding on a favorite grape varietal like Cabernet Sauvignon or a wine region like Napa Valley. You could focus on the color of the wine, sparkling wines, or a particular vintage. As you can see, the possibilities are endless. Whatever appeals to you can become the theme for a fun tasting event. It could even be the best $10 bottle of wine! Once you have decided on a theme, the next decision to make is how many bottles to buy.
2. How Many Bottles To Buy
The first thing you must determine is how many guests will attend. A 750 ml bottle of wine yields about five 5-ounce glasses of wine. But for a tasting event, you'll pour just 2 ounces, otherwise, you'll be hosting a slumber party, or sending people home in taxis. After every guest has tasted each wine, you can then offer a glass of wine of their choice. If you're not sure how much 2 ounces is, you can use a shot glass until you feel comfortable without it.
3. Wine Temperature
For any wine to truly shine, it should be served at the correct temperature. Why is temperature so important? It can either enhance flavors or detract from them. It's that simple.
Wine should be served chilled — how chilled depends on the wine, of course.
Red wines should be served at 55 to 65 degrees Fahrenheit. Notice that that is quite a bit cooler than the average room temperature. If your red wine is light bodied, perhaps a fruity Grenache blend, you can chill it in the fridge for 90 minutes. If it's a more full-bodied tannic wine like a Bordeaux or Tannat, 45 minutes is enough. If it's too cold, the flavors will become muted. If it's too warm, the wine will taste highly alcoholic.
White wines vary from light unoaked wines to more full-bodied Chardonnay from California. The lighter-bodied wines should be served colder: 50 degrees is the optimal temperature for a Chardonnay, and 45 to 50 degrees for a light-bodied white wine or a rosé. Sparkling wines should be served at 40 to 50 degrees. The proper temperature enhances the acidity and delicate floral, citrus, and fruit notes of white wines.
If you forget to chill the wine, you can pop it in the freezer. I do this all the time when I host a tasting demo in a store and they have not chilled the wine in advance. Be sure to set a timer or you may end up with a frozen, slushy mess on your hands. Note that 30 minutes is best if chilling wine in the freezer.
You can also put equal parts of ice and water in a bucket to chill your wine. Allow at least 30 minutes if using this method.
4. Glassware
The proper wine glass is another component that, while not as critical as temperature, can enhance, or not, your experience. A minimalist approach is to have separate glasses for red and white wines. You will also need a flute for sparkling wines. The larger bowl on the red wine glass helps capture the aromas. The smaller bowl of the white wine glass helps keep the temperature cool longer. The flute glass helps to enhance the bubbles and aromas of sparkling wines. When choosing stemware for wine tasting, avoid colored glassware. A simple clear glass is best for observing the color of the wine.
I believe that you should drink from whatever type of glass you like. But do not use stemless glasses for white, rosé, or sparkling wine. The heat of your hands will warm the glass and the wine.
If you want to splurge on stemware, Riedel and Zaltos make beautiful glasses that are definitely worth the dollars. To really look like a pro, serve your sparkling wine from a tulip-shaped glass.
5. When To Decant Wine
Most white wines do not need to be decanted. The same goes for rosé. Red wines that are highly tannic and young will usually benefit from decanting. Sometimes an inexpensive red will taste better after decanting, too. If when you open a bottle it tastes a bit off, try decanting it before you pronounce it hopeless and pour it down the drain.
More On Decanting
Decanting wine is simply the process of opening the bottle and pouring it from the bottle into another container — the decanter.
It is not always easy to know when to decant a wine, though. Usually, it's to remove the sediment in an older bottle of wine. It can also be helpful to decant highly tannic red wines like Barolo, Cabernet Sauvignon, or Syrah, for example. Decanting simply exposes the wine to more oxygen, which helps soften the tannins. It doesn't take long either, usually 30 minutes is enough time.
A quality Cabernet Sauvignon can be aged for up to 10 years or more. If you have a 2017 Cabernet Sauvignon, and you want to open it in 2021, it's considered a young wine. If you decant the wine, it will help to soften the tannins and allow the aromas to develop.
Have you ever been to a restaurant where they served your wine in a tall slender vessel called a carafe? That's a decanter. You should be able to find those at big box stores like Target for around $5 to $10. Nice but still affordable decanters can be purchased at places like Crate and Barrel. A pitcher can also serve as a decanter in a pinch.
If decanting is something that interests you, but you're uncertain about it, try experimenting with an inexpensive Cabernet Sauvignon or a Rioja. Taste it immediately, then let it aerate for about 15 minutes and taste it again. Then, give it another 15 minutes. It's fun to notice the subtle changes.
6. Foods That Pair Well With Wine
As any true wine lover knows, the best food pairing is cheese. Why? Because cheese is generally fatty and wine is acidic. The acidity of the wine and fattiness of the cheese are a match made in heaven. However, not just any wine and cheese will do.
When pairing wine and cheese, a rule of thumb is to pair a wine with a cheese from the same region. A good Chianti pairs well with a Pecorino Toscano, for example. Brie pairs perfectly with sparkling wines, especially Champagne. The creaminess of the cheese is countered by the acidity and strength of the bubbly. Champagne has some yeasty notes that pair well with the buttery flavor and texture of brie. The tangy flavors of goat cheese pair well with crisp white wines like Riesling, Albarino, and Sauvignon Blanc, to name a few.
Other good food options for a tasting include cured meats and bruschetta with simple toppings like tomato and basil. Blueberries, raspberries, and strawberries pair well with most white wines and some red wines, too, such as pinot noir. It all depends on how the wine is made and the region it's from. Fresh vegetables, deviled eggs, and seafood are also good choices.
It's a good idea to have some breadsticks or plain water crackers as palate cleansers.
If you'd like your tasting event to have an educational flair, organize it around learning how different flavors pair with wine. Tannins, sugars, salt, and acids in foods affect the taste of wine. Try pairing salty nuts, bitter chocolate, lemon, and honey with different wines to see how the tastes change. Try tasting the same wine with all of those foods and see how the food either enhances or totally kills the wine. This is a super fun and easy way to learn a lot about wine in a very short time.
7. Wine Accessories
Corkscrews are absolutely essential, and there are many variations. Choose what works best for you. Personally, I like and use a classic waiter's corkscrew. I have never broken a cork using one, and I can only think of one occasion when I simply could not get the cork out of the bottle. They also have a small serrated knife for cutting the capsule.
Many people like electric corkscrews or winged corkscrews. There's also a lever-style corkscrew. They all work great, so just choose what is easiest for you. I like the waiter's corkscrew for the reasons I mentioned before, plus, it is very portable; however, it does require more effort. If you have problems with your wrists or weakness in your hands, an electronic device is probably the best choice.
Finally, have some fun cocktail napkins, a pitcher, and glasses for water to keep everyone hydrated, and simply have fun! You can close your eyes and put a pin on a map and likely hit a region that produces wine. A world full of flavors awaits you.