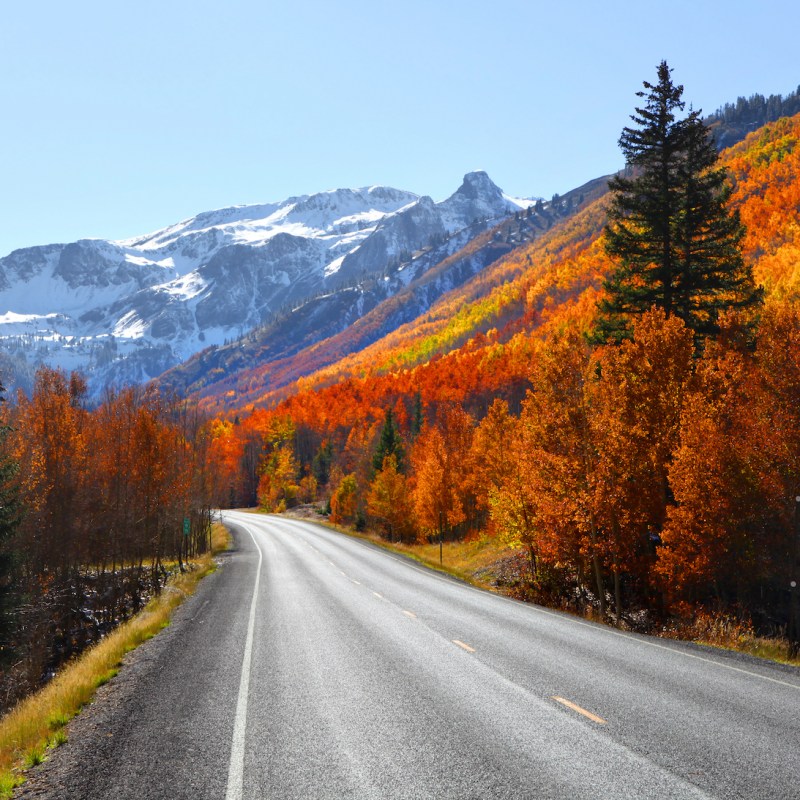 Depending on where you live, it may be a while before you see peak fall foliage. Dedicated leaf-peepers don't have to wait on the brilliant colors of autumn to come to them, though. Head north to see the leaves turn as early as the end of September. Here are two spots our writers recommend for prime autumnal hues now.
The Million Dollar Highway
Between Silverton And Ouray, Colorado
"The 25-mile stretch of road between Silverton and Ouray in Colorado, dubbed the Million Dollar Highway, seems to earn its nickname with the million-dollar views around every bend, especially in autumn," says Phoenix-based TravelAwaits writer Emese Fromm.
All of San Juan Highway — from Durango through Silverton to Ouray — features stunning autumn colors, but Fromm's favorite stretch is the Million Dollar Highway. "The name might have nothing to do with the views," reflects Fromm, "but they make the drive spectacular, especially when the aspens turn multiple shades of brilliant golden yellow. Juxtaposed to the dark green of the pines and the stark beauty of the bare peaks, I can't imagine anything more beautiful," she says.
No matter where you look along the Million Dollar Highway, you'll see aspens dressed in autumn colors, but the largest aspen colony can be found near an abandoned cabin in Ironton. Nearby Crystal Lake offers hiking surrounded by tall peaks and aspen-filled mountains.
Chippewa National Forest
Cass Lake, Minnesota
A few years ago, Cindy Barks and her sister Jody took a road trip down memory lane and ended up stumbling upon a "gorgeous rainbow of fall colors," according to the Arizona-based newspaper reporter and travel writer. The pair took a 5-hour drive from the "fascinating" Lake Superior city of Duluth, Minnesota to their alma mater in Grand Forks, North Dakota. Barks recalls exploring neighboring northern Minnesota's beautiful lake country decades ago as a student.
Heading northwest on U.S. Highway 2, the duo passed through Minnesota's Chippewa National Forest along the way. "Our favorite stop was at the Norway Beach Recreation Area on the southern shores of Cass Lake," Barks remarks. She says the 1930s-era log cabin center was closed for the season, but the "secluded beach area was still wonderful for its tall pines, as well as the maple, birch, and aspen trees that were putting on a show of reds, yellows, and oranges."
Related Reading: