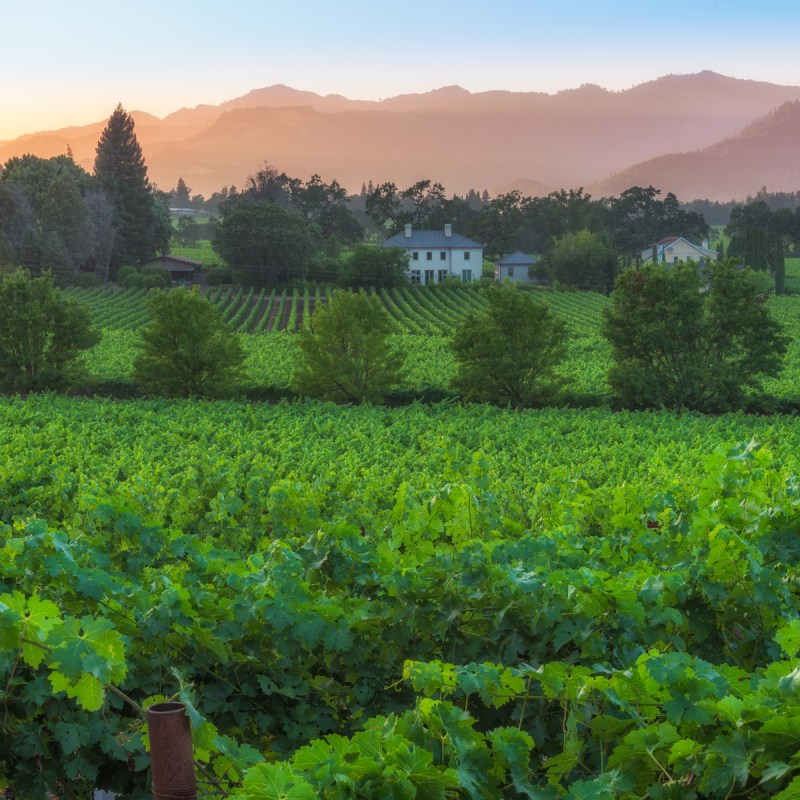 If you have to choose just one town in Napa Valley to visit, it should be St. Helena. Its tree-lined Main Street is flanked with historic red brick buildings and old-fashioned electrolier street lights. Here you'll find a mix of casual and fine dining restaurants, cafes, art galleries, and boutiques selling wares from around the world. Within a 30-minute drive are over a hundred wineries and tasting rooms to explore. And when it comes time to rest, you'll have a wide range of luxury hotels and resorts to choose from.
Founded in 1854, St. Helena is home to both the oldest continually operating winery in Napa and the oldest wine tasting room in California. Today, it's one of the top destinations in wine country. If you have just one day to explore St. Helena, it'll be a very good day, but ideally, set aside a weekend to truly explore all it has to offer. Or better yet, plan to make multiple trips because this town is truly one of the best wine tasting destinations in the world.
This trip was hosted by Colangelo & Partners but all my opinions were arrived at independently.
St. Helena Wineries
With 174 wineries in St. Helena — and more than 400 throughout Napa Valley — there are endless opportunities for wine tasting. Here are six that you'll definitely want to consider.
Charles Krug
As the oldest wine-tasting room in California, Charles Krug is a great place to start your journey. Especially well-known for its cabernet sauvignon, Charles Krug also produces sauvignon blanc, chardonnay, merlot, pinot noir, and malbec. There is a variety of tasting experiences here ranging in length from 1 to 5 hours. If you're in town with friends, consider reserving a cabana and ordering some food.
Cardinale Estate
Cardinale Estate is a small production winery well known for its cabernet sauvignons crafted by the highly respected winemaker, Christopher Carpenter. If an exceptional, limited availability cab is what you crave, be sure to make a reservation to visit Cardinale.
Nickel & Nickel
The grounds of Nickel & Nickel are covered in flowering trees and shrubs making it a particularly beautiful tasting stop. What the winery is especially known for is its single vineyard cabernet sauvignons crafted by winemaker, Joe Harden. Single vineyard, single varietal wines pose a unique challenge to winemakers since they cannot do any blending. Instead, they must rely on the quality of the fruit, fermentation, aging, and the composition of the barrels for producing the perfect taste.
Ehlers Estate
The Stone Barn, built in 1886, rises out of the surrounding vineyards of Ehlers Estate. This stylish tasting room is a relaxing spot to sample wines crafted by Laura Diaz Munoz, including sauvignon blanc, cabernet sauvignon, cabernet Franc, merlot, and Petit Verdot. If you're a morning person, schedule an early tasting accompanied by a croissant from Bouchon Bakery and then stroll the gardens planted with a mix of vegetables, herbs, and flowering shrubs.
Larkmead Vineyards
Larkmead Vineyards is located a bit outside St. Helena in the nearby town of Calistoga, but it's worth the extra drive. Here you'll enjoy cabernet sauvignons, merlots, and sauvignon blancs, all crafted by winemaker Avery Heelan. The property is filled with native plants and flowers which in turn attract bees, butterflies, and a wide range of birds. In response to climate change, Larkmead has planted 3 acres of vineyards to test different varieties of grapes to determine which will best stand up to rising temperatures in the region.
Lokoya
If you're an avid collector of wines, then Lokoya is for you. Each year a new cabernet sauvignon is created by renowned winemaker, Christopher Carpenter (also of Cardinale), sourced from four of Napa Valley's most celebrated mountain appellations; Mount Veeder, Howell Mountain, Spring Mountain, and Diamond Mountain. Tasting opportunities are limited, so be sure to call in advance if you're interested.
Pro Tip: Most wine tasting in Napa is by reservation only. If you're coming on a weekend, be sure to make reservations a few weeks in advance. Tastings range in price from $80 to $150, depending on the winery and the experience you choose.
Hopefully, wine tasting results in the purchase of bottles, or even cases, of wine. If you've flown into the area, check with your airline about shipping options. Alaska Airlines will fly your wine home for free if you're traveling to one of 32 West Coast airports. There are many shops in Napa Valley that sell packing materials to protect your wine during shipping.
St. Helena Restaurants
Great wine must be accompanied by excellent food, and fortunately, St. Helena offers plenty of options. Ranging from casual picnic fare to fine dining establishments included in the Michelin Guide, there are hundreds of restaurants to choose from during your stay.
PRESS
Featuring fresh ingredients from its own two gardens as well as from Bay Area purveyors, PRESS should be on everyone's list of dining spots while in Napa Valley. Whether diners opt to sit indoors in a dimly lit setting featuring large fireplaces or outdoors surrounded by gardens, this is the place to settle in for a long, relaxing dinner. The yellowfin tuna and truffle-glazed entrees are both highly recommended. And be sure to ask the sommelier to recommend the perfectly paired wine for your meal.
Mustards Grill
Named for the wild mustard flowers that bloom in the vineyards every Spring, Mustards Grill has been serving delicious fare for over 30 years. Whether you're looking for an upscale lunch or a romantic dinner, this is the place. Its wood burning grill prepares excellent meat and seafood dishes like baby back ribs, pork chops, and grilled hanger steak.
Model Bakery
For the perfect breakfast, head to Model Bakery on Main Street. Best known for its fluffy English muffins, Model also serves a large variety of freshly baked pastries every morning including scones, muffins, and Danishes. For something savory try one of its breakfast sandwiches or burritos. Weather permitting, grab an outdoor table and enjoy the early morning light along Main Street.
Places To Picnic
While there are endless restaurants to choose from in St. Helena, picnic dining in the beautiful environs of Napa is hard to beat. Grab the fixings for a picnic lunch — or a fully pre-packed picnic — and head to one of the wineries in the area that permit outside food. Laird Family Estate allows picnics with the purchase of a tasting or bottle of wine.
Picnic provisions can be purchased at Oakville Grocery, which is a destination in its own right. As one of California's oldest, still operating retail stores, Oakville Grocery serves the best of local food inside a historic wood building. Order delicious sandwiches from the deli, order a wood-fired pizza, or purchase all the ingredients you'll need for a picnic.
Oxbow Market is the perfect option when you can't decide what to eat. This food hall and market features a dozen options for dining-in, including Hog Island Oyster Bar and Live Fire Pizza. It's also a good spot to grab some food souvenirs from merchants like Oxbow Wine and Cheese and The Olive Press.
Pro Tip: Fine dining restaurants in St. Helena book up quickly, especially on the weekends. Be sure to make reservations at least a week in advance.
St. Helena Hotels
For upscale and luxury lodging, St. Helena is the place. Many hotels and resorts are nestled among vineyards providing lovely views and a peaceful setting.
Harvest Inn
Couples looking for a romantic getaway should head directly to Harvest Inn. Set amidst a giant redwood grove and brick-lined walkways, this inn offers spacious and stylish rooms with wood burning fireplaces — they even provide a small bag of pinecones and matches to start a small fire. It gets even better if you select a room with views of the vineyards. There are two pools on the property along with a restaurant and bar. Guests can also enjoy tastings at nearby wineries.
Wine Country Inn & Cottages
Set in the midst of a vineyard, Wine Country Inn & Cottages offers well-appointed traditional rooms along with private cottages. Each morning, guests can enjoy a freshly made hot breakfast delivered to their room. As a dog-friendly property, this is the perfect destination for anyone traveling with pets.
Meadowood Napa Valley
There are just 13 properties in the world to earn a triple five-star rating from Forbes Travel Guide and Meadowood Napa Valley is one of them. Each of the 36 lodge-style rooms and suites is tastefully decorated and features a fireplace. Amenities include bathrobe and slippers, a daily wine reception, and a selection of fitness classes.
Pro Tip: Napa Valley accommodations are quite expensive, especially during the peak season of August through October. The most affordable, and least crowded time of year is January through March. While there is a greater chance of rain during these months, you will have a quieter experience for less money.
As one of the premium wine destinations in the world, St. Helena should be on the bucket list of all wine lovers. Set in the valley of Napa between the Mayacamas and Vaca Mountain Ranges, this charming town promises the perfect weekend of wine-tasting, dining, and relaxing in upscale accommodations.
Napa Valley has a variety of experiences waiting for the curious traveler: