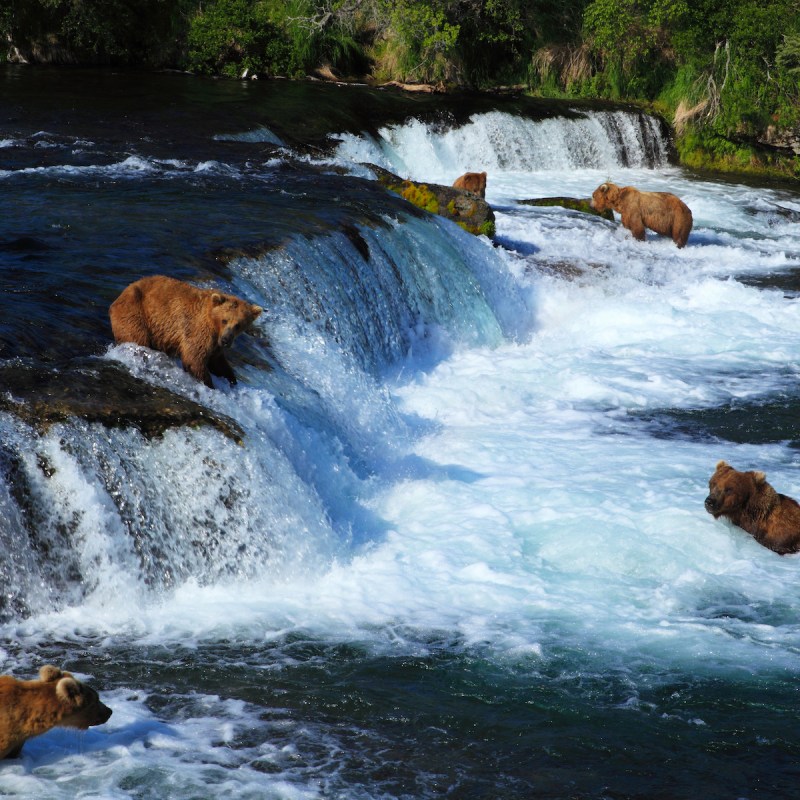 Annually, the National Park Service (NPS) releases data about the number of people who have visited America's national parks. In 2020, that was an incredible 237 million visitors to 62 parks. (Next year's numbers will include the 63rd park, New River Gorge National Park and Preserve.)
Visitors flock to the country's most popular national parks, with their unusual natural formations, jaw-dropping scenery, and ease of access, but the least visited parks have their merits, too. Namely, a whole bunch of solitude!
Unsurprisingly, the least visited parks are remote — 6 of the 10 are in Alaska — and in 2020, with travel disrupted and parks closed for part of the year, they saw big drops in visitor numbers.
Here's a snapshot of the 10 least visited U.S. national parks in 2020 — perhaps a list to keep in your back pocket if you're eager to encounter few crowds as you plan future travel.
10. Katmai National Park And Preserve, Alaska
Katmai National Park and Preserve on the Alaskan Peninsula saw 51,111 visitors in 2020, down about 39 percent from 2019. This remote spot is not accessible by car. Most visitors fly the 300 miles via commercial plane from Anchorage; you can also get there by private or chartered boat.
The main attraction at Katmai? Watching brown bears! In the summer months, it's actually hard to avoid bears at Brooks Camp, where visitors will see them meandering around the trails and fishing for food in the river. Stay overnight at Brooks Lodge or in the campground. Fishing, hiking, kayaking, and canoeing are other popular activities in the pristine wilderness.
9. Dry Tortugas National Park, Florida
Dry Tortugas National Park, with 48,543 visitors in 2020, is another national park that's rather remote. About 70 miles west of Key West, Florida, the 100-square-mile park is only accessible via boat or plane; typically visitors arrive via a high-speed ferry or small chartered seaplane.
Most of the national park is actually composed of water. So, if you're eager to see the remarkable sea life that makes its home in the crystal clear waters here, be sure to pack your swimsuit and snorkel.
Another key attraction is Fort Jefferson on Garden Key. This massive 19th-century fortress was built to help the military protect important shipping lanes between the U.S. Gulf Coast and its eastern seaboard, and it was used as a prison in the Civil War.
8. North Cascades National Park, Washington
Even though North Cascades National Park is less than a 3-hour drive from Seattle, it saw just 30,885 visitors in 2020, down 19 percent from 2019. That may be due in part to heavy snows that close mountain roads and make accessibility difficult in the late fall, winter, and spring months. But visitors who make the trek are rewarded with plenty of rugged mountain scenery for backpacking, hiking, and camping.
In North Cascades National Park there are more than 300 glaciers, the most in one location outside of Alaska. Waterfalls abound, and wildflowers are most abundant in July and August.
7. Wrangell-St. Elias National Park And Preserve, Alaska
At 13.2 million acres, Wrangell-St. Elias National Park and Preserve is the country's largest national park. It saw 16,655 visitors in 2020, and that's with a drop of about 78 percent from 2019. This rural and remote park in southeast Alaska borders the Yukon. It's so vast, the NPS publishes travel times between the visitor services areas, and trip itineraries can help you make the most of your time in the park.
Mount Wrangell is an active volcano in the park — yes, visitors may actually see steam plumes rising from its vents. Otherwise, people visit to admire glaciers, forested valleys, rushing rivers and streams, and potentially spot moose, Dall sheep, and mountain goats.
6. Kobuk Valley National Park, Alaska
Kobuk Valley National Park is incredibly isolated in northern Alaska. There are no roads that lead to it, so visitors typically arrive by plane. It's no wonder only 11,185 people made the trip in 2020. (And in fact, many "visitors" are locals passing through on foot or by boat along the Kobuk River, and there are no entrance gates collecting fees, so visitor numbers are an estimate.)
For an exciting, if pricey, adventure, consider booking a flightseeing tour. A flight in one of these four-passenger, tiny planes gives you a bird's-eye view of the park and a pilot's expert narration of the geologic wonders below. You might even spot a herd of caribou from the air, and some outfitters can take you to the Great Kobuk Sand Dunes.
5. Isle Royale National Park, Michigan
Isle Royale National Park saw only 6,493 visitors in 2020, a drop of 75 percent from the previous year. An island in Lake Superior that's quite close to the border of Canada, Isle Royale can only be reached by boat or by plane. Many visitors visit this designated wilderness by passenger ferry from Houghton, Grand Portage, or Copper Harbor, Michigan, and the park is only open from April 16 to October 31.
Once on the island, you can hike, fish, or take a guided boat tour around the island. Feeling adventurous? Consider scuba diving in the chilly waters. The most intrepid visitors — bring your own dry suit! — can swim among multiple shipwrecks. If you want to stay a night or two, the only lodging on the island is the Rock Harbor Lodge.
4. Glacier Bay National Park And Preserve, Alaska
Glacier Bay National Park and Preserve in Alaska saw an unprecedented 99 percent drop in visitors in 2020. That's because the vast majority of its visitors come via cruise ship, and ships were largely not in service in 2020 due to the COVID-19 pandemic. Only 5,748 visitors made their way to Glacier Bay in 2020, while 672,097 visited in 2019.
Alas, it looks as if there may not be too many people admiring Glacier Bay's wild coastline anytime soon, as many Alaska-bound ships are canceling their itineraries for 2021 since Canada has banned ships from landing on its shores. (Due to regulations, major cruise lines like Holland America, Disney, and Princess must stop in a foreign country — Canada — before docking in Alaska.)
When cruise ships can stop in Glacier Bay again, visitors will be treated to some incredible sights, from calving glaciers to floating icebergs. Animals that make their home in the area include brown bears, sea otters, sea lions, and bald eagles.
3. Lake Clark National Park And Preserve, Alaska
Yet another national park accessible only by plane or by boat, Lake Clark National Park and Preserve in the south part of Alaska saw 4,948 visitors in 2020. A variety of air taxi services bring visitors in from Anchorage, Chugiak, Homer, and other cities and towns.
Like Katmai National Park and Preserve, this isolated spot is known for its bear viewing. Brown bears love to fish for the salmon that swim in the rivers here. Another popular activity in the rugged park is bird-watching; 187 different species have been documented in the area.
2. National Park Of American Samoa, American Samoa
About 2,600 air miles southwest of Hawaii, American Samoa (a U.S. territory) in the South Pacific Ocean saw very few visitors in 2020 due to travel restrictions during the COVID-19 pandemic. In 2020, the National Park of American Samoa had 4,819 visitors, which was a 92 percent drop from 60,006 in 2019.
The park is actually spread out among three different islands; buses make their way around the island of Tutuila, and there's a ranger station here for in-person information on what to see and do in this remote park. This tropical paradise is ideal for hiking, beachwalking, and snorkeling. Its protected waters are home to hundreds of species of fish and coral.
1. Gates Of The Arctic National Park And Preserve, Alaska
The least visited national park in the United States in 2020 was Gates of the Arctic National Park and Preserve, with just 2,872 visitors. Gates of the Arctic in northern Alaska also held this honor in 2019 — but then it had 10,518 visitors.
No roads, no trails, no visitor services — just wild rivers, sweeping tundra, and vast valleys to explore — if you're an experienced wilderness traveler willing to make this far-off journey. Indeed, you must be totally self-sufficient to visit Gates of the Arctic, where temperatures drop to -50 degrees Fahrenheit in the winter months. No wonder America's least developed park is also its least visited national park!
Editor's Note: The data referenced in the first paragraph of this article can be accessed here. If you've been inspired by all the Alaska parks that made this list, consider