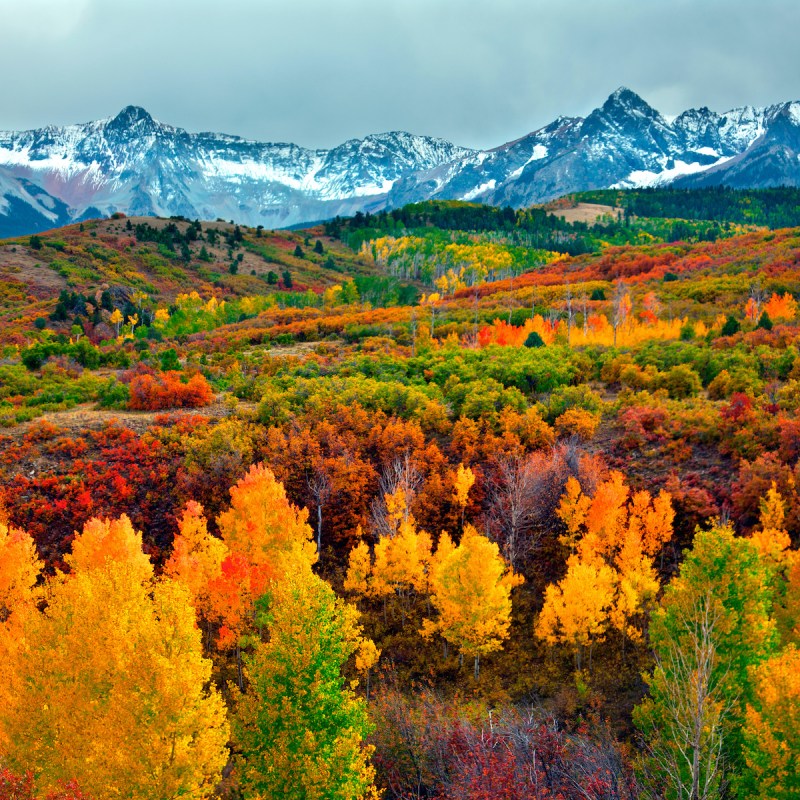 Autumn is a glorious time of year to visit Colorado. Temperatures are cooler, summer crowds have disappeared, and — the best part — the changing leaves provide a beautiful backdrop for outdoor exploration. From hiking amid quaking golden aspen leaves to admiring fall foliage along a scenic mountain drive, you're surrounded by a dazzling kaleidoscope of colors that range from fiery red to flaming orange to bright yellow.
Mother Nature determines when peak leaf-peeping might take place; the season depends on how dry the summer's been and whether there's an early frost. Generally speaking, you'll see leaves change color in Colorado between mid-September and mid-October, and leaves turn earlier in the higher elevations than in the lower ones.
No matter what your exact travel dates are, Colorado offers several different locales for fabulous fall getaways. And I say that having made the state my home for more than 25 years. Here are a few of my favorite spots to revel in the outdoors and take in the sights on an autumn vacation in Colorado.
1. Aspen
The mountain town of Aspen may be known for its excellent skiing, but it shines in the fall because there are so many great places to take in the fall colors. Chief among them is Maroon Bells, two jagged mountains that loom over a pristine valley, whose plentiful aspen groves in the White River National Forest put on quite a show in the autumn months.
But you can also see amazing fall foliage with a drive up Castle Creek Valley to the ghost town of Ashcroft or up Independence Pass to the Continental Divide. Simply strolling around Aspen's historic downtown core will also reveal magnificent color. Or hike an in-town trail, such as Smuggler or Ute, for some birdseye views of the surrounding area. Don't want to trek up a hill on foot? Hop on a gondola to the top of Aspen Mountain.
Snowmass is the mountain resort area that's less than 10 miles from downtown Aspen, and September brings the annual Snowmass Balloon Festival. It's three fun days of watching hot-air balloons launch in the early morning, plus a festive evening balloon glow.
Explore hotels and Airbnbs near Aspen.
2. Telluride
Telluride is another Colorado ski town that had its start as a booming mining community in the 19th century. Visitors flock in the winter for its stellar ski slopes, but it's also well known in the summer and fall for its popular annual events. For example, the Telluride Film Festival, Telluride Blues & Brews Festival, and Telluride Wine Festival all typically take place in September, while October brings Colorado's longest-running horror film festival, Telluride Horror Festival.
Whether or not you're visiting for a special event, you'll want to take the free gondola from charming downtown Telluride up to Mountain Village, perched at 9,500 feet in elevation. It's the best way to take in the glorious fall colors in the surrounding San Juan Mountains.
Otherwise, Telluride is known for its scenic waterfalls. They may not be gushing as tremendously in the fall as they do in the spring months, but consider Bear Creek Trail right from town to Bear Creek Falls, or make the hike to Bridal Veil Falls, the longest freestanding waterfall in Colorado.
Explore hotels and Airbnbs near Telluride.
3. Grand Lake
Rocky Mountain National Park (RMNP) is one of my favorite national parks (I've been to 33!), with its variety of hiking trails, pretty lakes, and opportunities to view wildlife, such as elk and bighorn sheep. You'll feel on top of the world with a drive along Trail Ridge Road, the highest continuously paved road in the United States, topping out at 12,183 feet.
Trail Ridge Road connects two towns that are gateways to RMNP: Estes Park on the east side (closer to Denver) and Grand Lake in the west. I suggest making Grand Lake your home base for a visit to RMNP. While Estes Park has its charms (and plenty of downtown souvenir shops), Grand Lake is much quieter and spread out amid unspoiled natural surroundings.
In Grand Lake, you might go boating, stand-up paddling, or kayaking on the largest and deepest natural body of water in Colorado, stroll through town on Old West wooden boardwalks, or tee off at the local golf course. Your forays north into RMNP from Grand Lake will include motoring through Kawuneeche Valley, featuring a grand display of yellow willows in the fall. Keep a listen for the male elk bugle (you'll know it when you hear it!) during the annual fall mating season.
Explore hotels and Airbnbs near Grand Lake.
4. Durango
In southwest Colorado, Durango offers visitors a chance to go back in time with a stroll down its historic Main Avenue, lined with buildings that have been preserved from the late 1800s when it was a booming mining town. For another slice of history, and a chance to see fall foliage without having to navigate mountain passes on your own, take a trip on the Durango-Silverton Narrow Gauge Railroad. With little cell service and no Wi-Fi, you'll be unplugged on this scenic train ride along a rail line that's been in continuous operation since 1882.
If you're game for a scenic drive, the spectacular 235-mile loop dubbed the San Juan Skyway is absolutely worth your time. It will take you north to the historic mining towns of Silverton, Ouray, and Telluride, and west through Cortez and Mancos, skirting Mesa Verde National Park. The section of road between Silverton and Ouray is known as the Million Dollar Highway, reaching more than 11,000 feet in elevation. This scenic byway isn't for the faint of heart as there are sections of the road that feature steep dropoffs and no guardrails. Take it slow, for sure!
If time allows, I highly suggest exploring Mesa Verde National Park at some point during your vacation to Durango. Cooler fall temperatures bring more comfortable daytime weather for exploring the ancient cliff dwellings the Ancestral Puebloans left behind centuries ago.
Explore hotels and Airbnbs near Durango.
5. Palisade
On the western slope of Colorado near Grand Junction, the small town of Palisade celebrates its harvest bounty every autumn. Fruit orchards and grapevines are in large supply in Palisade, with its sunny days, cool nights, and generally moderate temperatures at high elevations. Visitors can sample the goods at u-pick farms, wineries, and area restaurants that include seasonal produce and local wines on their menus.
If you don't have a designated driver, but would like to check out some of the dozens of wineries, vineyards, and distilleries in the area, consider booking a wine tour or hiring a limo driver. Still more fun: Rent an electric bike to make your way from tasting room to tasting room. (Just think about doing more spitting than sipping to stay safe as you cycle along rural roads!)
Explore hotels and Airbnbs near Palisade.
6. Fort Collins
Home to Colorado State University, the city of Fort Collins comes alive with tens of thousands of college students every autumn. CSU boasts a bike-friendly campus and new football stadium, plus it's steps away from charming downtown teeming with boutiques, cafes, and plenty of restaurants and bars. With more than 20 craft breweries, beer reigns in Fort Collins — though I'm eyeing a couple Old Town wine and cocktail bars, too!
For fall color, I'd head to Horsetooth Reservoir, with its plentiful hiking trails not far from Fort Collins' urban center. It's just one of the area's many open spaces to enjoy nearby nature. And if you're visiting in early October, check out the whimsical Tour de Corgi in Civic Center Park.
Explore hotels and Airbnbs near Fort Collins.
Tips For Visiting Colorado In The Fall
Pack Layers
Weather changes on a dime in Colorado, and in September and October you might experience sunny 70-degree days, rain and sleet, or even snow with temperatures dipping into the 30s.
Keep It Casual
Coloradoans are, generally speaking, a very casually dressed group. If you don't have time to change out of your hiking boots and fleece before you hit the local brewpub for dinner, no worries! You'll fit right in.
Enjoy Locally Grown Produce
Keep an eye out for seasonal produce on local menus. Farms in Colorado continue harvesting into October, so you might be able to enjoy salads and entrees featuring apples, pears, beans, peppers, and tomatoes that were freshly picked the day before.
Drive Slowly
Take it slow on the twisty mountain passes; those "slow down at the curve" signs are there for a reason. It's easy to get distracted with all the gorgeous fall foliage surrounding you on the road. If you can, take turns driving with a travel partner so each of you can enjoy the sights safely!
Mother Nature has been very kind to Colorado, and visitors to this western state will find a wealth of outstanding scenery, places to see, and things to do: