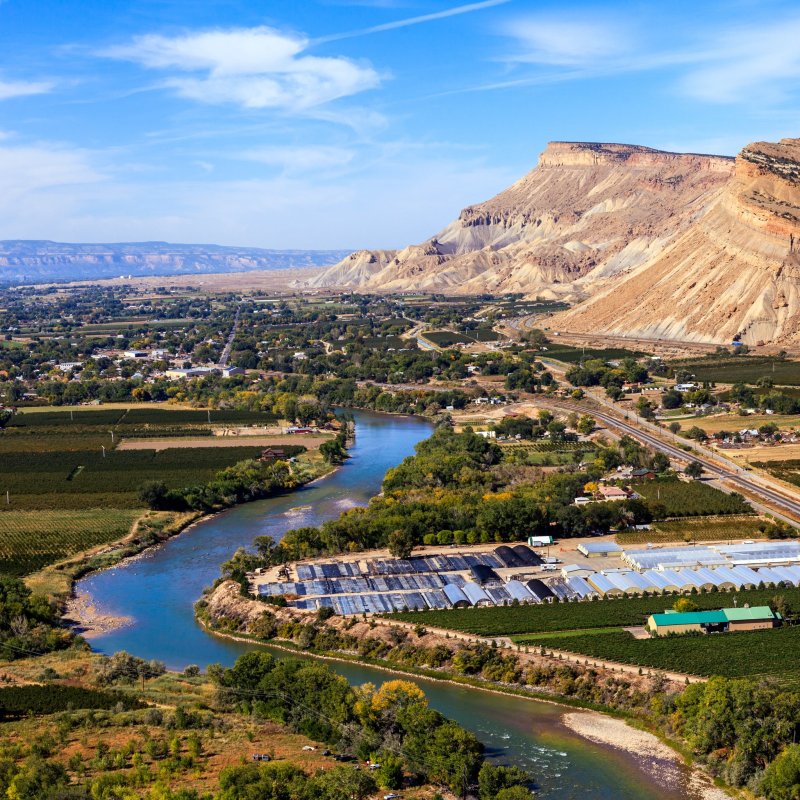 Located in Western Colorado, just 30 miles from the Utah border, is Grand Junction, Colorado. With a population of about 63,000 people, Grand Junction is in the top 20 biggest cities in the Centennial State. It's home to Colorado Mesa University — a public Division II school — and is surrounded by spectacular red rock formations formed millions of years ago.
Things To Do In Grand Junction
Grand Junction is an outdoor enthusiast's dream. From hiking to biking, fishing, and wildlife viewing, it's easy to enjoy Colorado's beauty from this town.
Grand Mesa National Forest
One of the biggest attractions is Grand Mesa — the largest flat-topped mountain in the world. The Grand Mesa is more than 500 square miles, goes for about 40 miles, and has more than 300 alpine lakes. It reaches an elevation of 11,000 feet and the top is sealed by lava rock that's about 10 million years old. Just driving to the mesa is an adventure in wildlife viewing. The Grand Mesa Scenic Byway starts just east of Grand Junction and will wind you through 63 miles of meadows, lakes, and scenic overlooks as you make your way up and over the 11,000-foot tall mesa. Along the way, keep your eyes peeled for wildlife like elk, moose, coyotes, or even a porcupine. Start your trek at the Grand Mesa Visitor Center to learn about the mesa's history, ask questions, and grab maps. The drive offers several pull-outs to take in the breathtaking views, as well as convenience stores, local restaurants, and stands selling fruit from nearby orchards. Head off the main road for a side trip to the Land's End Observatory. At the end of a 12-mile partially dirt road lies the now-unused building. And on a clear day, the view lives up to its name — you can see all the way to Utah and back into Colorado from the sweeping cliff-side overlook. It will add about 40 minutes to your trip, but it's worth the extra effort. And even though it's a dirt road, most vehicles can maneuver it just fine.
The Grand Mesa sits in Grand Mesa National Forest, which is filled with hiking and biking trails, pristine mountain-water lakes perfect for trout fishing, and waterfalls. A popular hike is the Mesa Lakes Trail — a 2.8-mile loop that starts near Mesa Lakes Lodge and is rated easy. For a little more challenging hike, try the Lost Lake Trail — a 3.5-mile round-trip trail that starts at the Glacier Springs Trailhead. The moderately-rated hike will take you to Lost Lake, which is a high alpine lake with greenish water that sits between massive rocks. Lost Lake is also popular for fishing large, yet elusive, trout. Perhaps the most difficult hike is the Crags Crest Trail. It's 12 miles out and back and will take you along what's described as the "spine" of the mesa which, in parts, is very narrow. Whatever your skill level, there are about 3,500 miles of trails within the Grand Mesa National Forest, taking you through meadows, past lakes, and, if you're lucky, near some mountain wildlife.
Colorado National Monument
Spanning an impressive 31 square miles, the Colorado National Monument is part of the National Park System and houses impressive views of Colorado's red rock formations, as well as canyons, junipers, and sandstone towers. There is only one paved road inside the park — Rim Rock Drive — which is 23 miles long and takes you up plateaus and down through valleys. You might even spot some longhorn sheep or hawks along your way. Be careful while driving: This road is popular for road bikers because of its views and level of difficulty. Hop out of the car to hike the popular Monument Canyon Trail — a seven-mile trail stretching the length of the canyon. You can hike the entire trail or just part of it, but be aware that there's a steep 600-foot descent at the start of the trail from Rim Rock Trail (and therefore a steep 600-foot climb on the way back). Along the way, you will pass rock formations including Independence Monument and the Kissing Couple.
The sandstone structures inside Colorado National Monument are popular with rock climbers. Hundreds of climbers will flock to the park to conquer the 400-foot Independence Monument and Sentinel Spire. There are several rock climbing companies permitted to operate within the park, which can put together itineraries for your group based on skill level.
Water Activities
The Colorado River flows around the Grand Junction area, and there are several ways to enjoy this scenic waterway. The most popular stretch of river for whitewater rafting is the Westwater Canyon, which features class III and IV rapids. The Canyon is actually in Utah, but it's only about 40 minutes west of Grand Junction. This 17 miles of river is surrounded by vast cliffs built from ancient rocks and interesting wildlife. Or you can enjoy similar scenery in a more mellow manner, on a float trip lasting anywhere from an hour or two to several hours. Some tour companies, like Palisade River Trips, combine calm float trips with wine tasting at nearby Palisade.
There are several areas to launch your boat in Grand Junction. The James M. Robb Colorado State Park is made up of five sections, or "pearls," each offering different launch points and experiences. Highline Park is popular among locals, and for good reason. The spot boasts two lakes with water skiing, boats, canoes, and kayaks. There's also a boat launch in Grand Junction at Redlands Parkway. Stand-up paddleboarding (SUP) is popular on the many lakes in Grand Mesa National Park and along the calmer sections of the Colorado River. GJ SUP is a local company that specializes in these rentals.
Best Restaurants In Grand Junction
Start your morning off at Dream Cafe — a hip spot along Main Street in Grand Junction known for its massive cinnamon rolls that are baked fresh daily. Or try out one of their specialty pancakes, like the pineapple upside-down pancake or the blueberry muffin pancake.
Colorado is known for its craft beers, so head on over to Rockslide Restaurant and Brewery in downtown Grand Junction to try out its rotating taps and seasonal beer specials. The menu is traditional bar food, but with locally sourced meats and produce.
With 28 different pizzas on the menu, you're going to be hard-pressed to find anything better than Pablo's Pizza. The combinations are as unique as your imagination. The Spudstacular combines roasted potatoes with a sour cream sauce, bacon, and mozzarella. The Sweet Caroline uses Thai peanut sauce as its base. There are more typical pizzas on the menu, but it's always fun to try something new.
The entire concept around Bin 707 Foodbar is to infuse the local economy. The executive chef and his business partner/wife design the menu around ingredients they can get on the Western Slope. The Colorado-focused food includes dishes like trout and Colorado lamb accompanied by locally sourced root vegetables.
Best Hotels In Grand Junction
When it comes to staying in Grand Junction, your choices range from camping to upscale lodging.
Hotel Maverick boasts itself as the only boutique hotel in Grand Junction. Located on the campus of Colorado Mesa University, this hotel has 60 modern rooms with a rustic twist. It has a rooftop restaurant and bar offering sweeping views, plus bikes to rent and a shuttle service that will take you downtown.
French vibes abound at the relatively new Chateau at Two Rivers Winery. Take in a wine tasting and tour before settling into one of the property's 10 guest rooms. The owners are natives of the Western Slope and the winemaker is on hand to answer any questions you have about their award-winning wines.
Surround yourself with history by staying on Grand Mesa. The Mesa Lakes Lodge sits by seven lakes and has cabins, as well as a lodge that houses the on-site restaurant. The lodge has everything you need for adventure, offering snowmobile, snowshoe, and cross-country ski rentals in the winter, and boat rentals in the summer. The Grand Mesa Lodge has 16 rustic cabins with full kitchens and bathrooms, plus an on-site restaurant. Or grab your tent and set up in one of the park's established campgrounds. Big Creek Campground is a popular spot because it's close to the reservoir, Weir and Johnson Campground is popular because of its proximity to towering spruce trees and boat ramp, and the Island Lake Campground — which is not near water — has amazing panoramic views of the lakes below.
Pro Tip: Grand Junction is a long drive (4+ hours) from the nearest international airports — Denver and Salt Lake City. Instead, consider flying into the smaller Grand Junction Regional Airport. It offers a few direct flights from big cities like Los Angeles, Phoenix, and Dallas. Alternatively, pack the car and enjoy this Colorado road trip: Denver to Grand Junction.