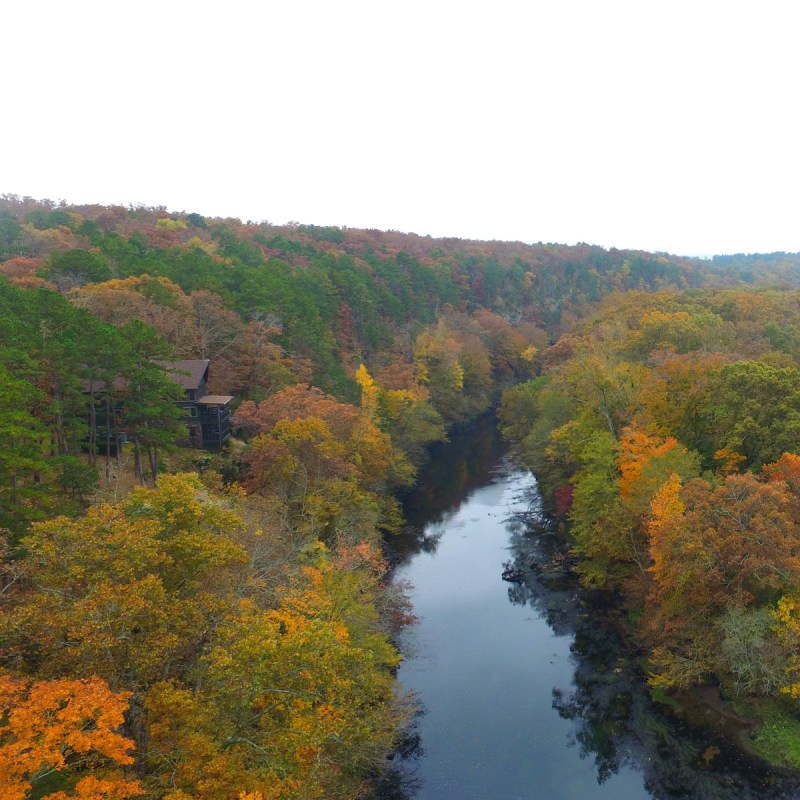 Memphis is a fun city full of musical history, culture, great food, and fun. It is Tennessee's second-largest city, located in the southwest corner of the state. There are a wealth of day trips within a few hours drive of Memphis that are fun, educational, and exciting.
Memphis is an excellent base to explore other parts of Tennessee and neighboring states. Let's look at some natural wonders, state parks, unique towns, cities, and exciting destinations to consider for a day trip from Memphis.
Each of these trips is three and a half hours or less drive from Memphis. The day trips selected are listed in alphabetical order. Every destination mentioned will provide a perfect day trip.
Note: Some information was obtained during press trips to Arkansas, Mississippi, and Tennessee. All opinions are my own.
1. Brownsville, Tennessee
An hour's drive north of Memphis is Brownsville, a music heritage destination. Known for its award-winning barbecue, Hatchie River, and the West TN Delta Heritage Center home to the Tina Turner Museum, you will find plenty to do during a day trip to this destination.
Pro Tip: For delicious authentic barbecue, eat at Helen's BBQ. One of the few women pitmasters of the south, Helen has been featured on the Food Network and various magazines.
2. Franklin, Tennessee
The quaint city of Franklin feels more like a small town. The quintessential Main Street includes a plethora of shops and restaurants in the historic downtown area, including Landmark Booksellers, which was the setting for the Hallmark movie, The Bridge.
If you need more shopping options, the Franklin Factory is full of artisan shops. Or visit Leaper's Fork for Antiques.
Franklin is the place to visit if you have pets since it is a model pet-friendly town, one of the first to be certified in the Better Cities for Pets program.
You can visit a working vineyard at Arrington's, enjoy a distillery tasting at H Clark Distillery, or a distillery tour and tasting at Leiper's Fork Distillery.
The food in Franklin is worth a visit in itself; try breakfast at The Coffee House, lunch, or dinner at Puckett's. If you want an upscale meal for date night or special occasion, check out the 1799 Kitchen & Cocktails in the Harpeth Hotel in historic downtown Franklin.
Franklin is a little over a 3-hour drive from Memphis.
Pro Tip: The downtown area is flat and walkable. Take comfortable shoes.
3. Hatchie National Wildlife Refuge, Tennessee
The beautiful protected area of wild swampland with murky waters known as the Hatchie National Wildlife Refuge is about an hour from Memphis.
If you are into the outdoors, the refuge is an excellent place for kayaking, hiking, and biking. You can observe wildlife such as deer, bald eagles, various ducks, geese, and turkeys.
4. Heber Springs, Arkansas
A drive of about two and half hours brings you to Heber Springs, a wonderland for nature lovers. You will find a quiet retreat with mineral springs to relax at, while also enjoying many water activities such as boating, fly-fishing, and more on the Little Red River and the Greers Ferry Lake. If you are into hiking, there are excellent trails throughout the springs.
The town hosts markets, vintage shops, restaurants, galleries, and train lovers will enjoy the Ruland Junction Toy Train Museum.
5. Holly Springs, Mississippi
Along the Southern Tennessee border is the small city of Holly Springs. Located in Marshall County, the city hosts the Strawberry Plains Audubon Center and the Marshall County Historical Museum, which houses artifacts of the Civil War.
Holly Springs is only an hour's drive from Memphis and is also another nature lover's paradise.
6. Hot Springs, Arkansas
Anytime I am within driving distance of a day trip to Hot Springs, I will try to fit it into my schedule. The 3-hour trip is a bit longer drive, and I have to warn you, the drive from Memphis to Hot Springs via Route 40 is a beast. But once you get there, you will be glad you made the journey.
Hot Springs is a resort city with thermal mineral springs. The water is heated beneath the earth, and many believe that soaking in it or drinking it provides healing powers. I'm not sure it will heal you, but it sure feels wonderful to soak in the hot spring water. Check out the traditional mineral baths popular with travelers on Bathhouse Row. You can also visit the Hot Springs National Park and other fun spots in town.
You can read more about the many fun things to do in Hot Springs in this article, 17 Fabulous Things To Do In Hot Springs, Arkansas For Mature Travelers.
Pro Tip: Get a view of the entire city from the Hot Springs Mountain Tower.
7. Jackson, Mississippi
The capital of Mississippi, Jackson is another fantastic day trip, but it is a bit of a drive (3 hours), so plan to get an early start for a full day of exploring.
Named after President Andrew Jackson, it is considered the cultural center of Mississippi. You can enjoy a variety of museums and historical buildings as well and a growing foodie trail. The city also has a lively music scene.
Check out 9 Fantastic Experiences In Historic Jackson, Mississippi, to learn more.
8. Jackson, Tennessee
Yes, there are two cities named Jackson in two different states. This Jackson is in Tennessee and is much smaller. It is also named after the same former president, Andrew Jackson.
Jackson, Tennessee, is much closer (about an hour-and-a-half drive) and makes for a perfect day trip. Located in West Tennessee, Jackson serves up Civil War history, music heritage, and exciting outdoor adventures. A few places of interest include Rusty's TV and Movie Car Museum, the Cypress Grove Nature Park, and the Casey Jones Home & Railroad Museum, highlighting the expansion across the states and some Civil War sites.
9. Little Rock, Arkansas
A small city that you can explore in a day in a neighboring state, Little Rock, the capital of Arkansas, is a 2-hour drive west of Memphis.
Sitting on the bank of the Arkansas River, there are state museums offering tourists an insight into the people, cultures, and diverse history of the state.
Consider a tour of the Governor's Mansion, the Clinton Presidential Center and be brave and walk across the world's longest pedestrian bridge, Big Dam Bridge.
There are a variety of fabulous self-guided tours available.
Pinnacle Mountain State Park sits right outside of the city and offers excellent hiking.
For more ideas about things to do in Little Rock, check out The Best Things To Do In Little Rock, Arkansas: Where To Stay, Eat, And Play, and for some restaurant ideas, Fabulous Restaurants To Try In Little Rock, Arkansas.
10. Meeman-Shelby Forest State Park, Tennessee
This day trip stays within the state and is just a mere 15-minute drive from downtown Memphis. Meeman-Shelby Forest State Park provides natural surroundings when you want to escape from the city.
This unique swampland hovering along the Mississippi River provides wildlife and various habitats. There are numerous walking trails, and you can paddle the swamps in canoes or kayaks. There is also a visitor center.
11. Nashville, Tennessee
This is a longer drive, but you can't ignore "Music City." A little over 3 hours away from Memphis, so head out early. Nashville is the state capital of Tennessee.
Known for its country music scene, there is much more to do and see, from historical attractions, tasty food to an abundance of activities. You won't be disappointed with a day trip to Nashville.
Things To Do During A Weekend In Nashville will give you ideas for things to do while visiting.
12. Oxford, Mississippi
Closer to Memphis (80 minutes), just over the Mississippi border, lies the city of Oxford, home to the University of Mississippi, and full of interesting things to do, magnificent architecture to see, and cultural places to visit during a day trip.
Tour Rowan Oak, the former home of writer William Faulkner, stroll around the town square, visit the Oxford Treehouse Gallery and enjoy an abundance of shopping and dining options.
Check out 9 Fantastic Things To Do In Oxford, Mississippi.
13. Paris, Tennessee
Located in rural Northwest Tennessee (two and half hours from Memphis), Paris is full of character, intriguing history, friendly folks, scrumptious food, and picturesque nature.
Be sure to check out the Eiffel Tower Park to view the 70-foot tall lighted replica of the Eiffel Tower. There is also a splash park, disk golf, pickleball, biking, fishing, and more.
Downtown Paris showcases unique shops and dining experiences, and the outdoor scene is fabulous at Paris Landing State Park.
Pro Tip: Don't forget your camera! Lots of photo opportunities in Paris.
14. Pinson Mounds, Tennessee
A unique day trip, located less than 2 hours northeast of Memphis, dozens of Woodland Native American ceremonial and burial mounds are located here. Pinson Mounds permits visitors to climb among the mounds built between A.D.150 and A.D. 250. There is a museum in the state park where you can learn more.
15. Tupelo, Mississippi
Tupelo is the birthplace of Elvis Presley, the "King of Rock-n-Roll." If you are an Elvis fan, you won't want to miss this day trip to Elvis's birthplace.
Less than 2 hours from Memphis, you can visit the house where Elvis was raised and a museum showcasing his life.
The Tupelo National Battlefield and a Tupelo Buffalo Park and Zoo are other sites of interest.
Elvis fans should be sure to check out this article before visiting Elvis And Beyond: How To Spend An Amazing Day In Tupelo, Mississippi.
16. Union City, Tennessee
A revitalized downtown with shops, restaurants, and historic landmarks welcomes you when you make the 112-mile drive northwest to Union City.
The surrounding area will enchant nature lovers. Reelfoot Lake encompasses 25,000 acres and is home to golden and American bald eagles.
Indoor fun can be enjoyed at the Discovery Park of America. From exciting interactive motion simulators to antique cars in the transportation gallery. Discovery Park is fun for all ages.