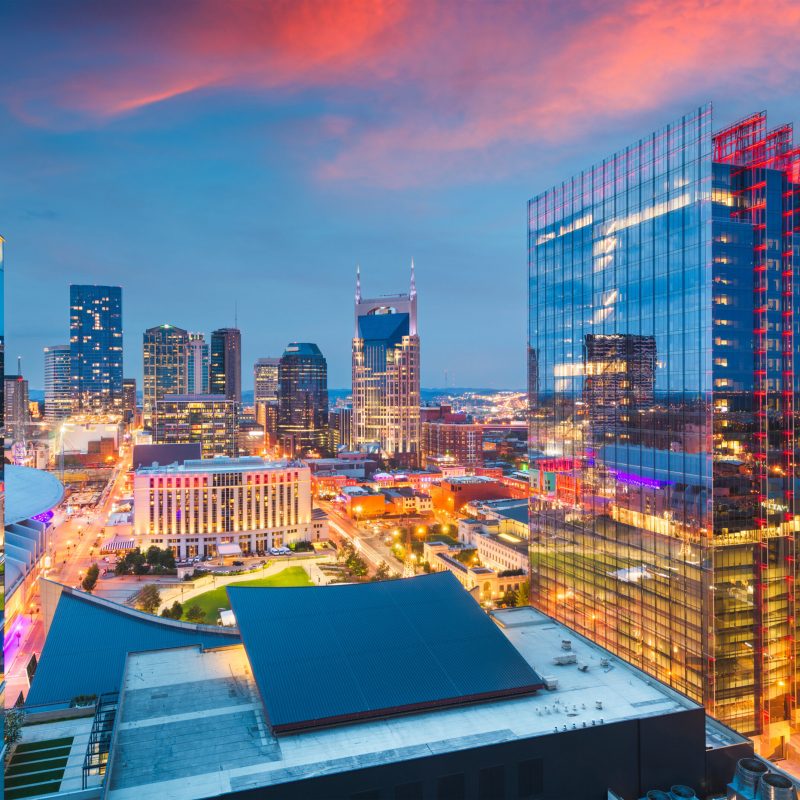 Known as the country music capital of the world, Nashville, Tennessee, has become a popular destination, not only for country and other live music, but for bachelor and bachelorette parties. Despite its rising popularity as a party hotspot, Nashville has so much more to offer, including some of the best Southern cuisine throughout all of the U.S., stunning state parks, museums, historic attractions.
If you're heading to Nashville–but only for a weekend–read on to discover the best things to do during a short trip to Tennessee's bustling capital city.
The Best Things To Do In Nashville
If you're visiting Nashville, you'll want to pay your respects to its famed music scene. Many of Nashville's main attractions revolve around music, and if you're only in Nashville for a weekend, these are the main attractions you'll want to see.
Grand Ole Opry
Arguably Nashville's most famous attraction, the Grand Ole Opry is an iconic venue named after a Nashville radio show founded in 1925. The program was marketed as a one-hour radio "barn dance."
Since its inception, the Grand Ole Opry has hosted some of the most famous country, bluegrass, folk, comedy, and gospel artists, including Trace Adkins, Bill Carlisle, Alan Jackson, Johnny Cash, the Carter Sisters, Rose Maddox, and many, many more.
Ryman Auditorium
Best known as the home of the Grand Ole Opry from 1943 to 1974, Ryman Auditorium is a 2,362-seat live performance venue dating back to the late 1800s.
Ryman Auditorium is the alleged birthplace of bluegrass, which some say was born when Earl Scruggs made his debut there with Bill Monroe's Blue Grass Boys in a performance that served as the prototype for the bluegrass sound.
In 2017, the auditorium was inducted into the International Entertainment Buyers Association (IEBA) Hall of Fame in recognition of its reputation as a leading live entertainment venue.
The Parthenon
Yep, that's right, you read correctly: the Parthenon! It's just like the one in Greece, except it's situated in Nashville.
The Parthenon in Nashville is a full-scale replica of the original structure in Athens. It stands proudly as the centerpiece of Centennial Park, the city's leading and most popular urban park, and also serves as Nashville's art museum, housing 63 paintings by 19th and 20th century American artists donated by
James M. Cowan–a passionate art collector who decided to anonymously donate a portion of his collection as soon as he knew the Parthenon was being constructed.
Country Music Hall Of Fame Museum
Known as one of the world's largest museum and research centers dedicated to the preservation and interpretation of American vernacular music, Nashville's Country Music Hall of Fame Museum houses one of the world's most extensive musical collections.
Travelers visiting the Country Music Hall of Fame Museum in 2019 can check out The Judds: Dream Chasers, an exhibit highlighting the story of the famous mother-daughter duo, or Little Big Town: The Power of Four, a special exhibit telling the story of the group's history, from their early years to their Grammy-winning fame.
Free Things To Do In Nashville
Centennial Park
Home of Nashville's full-scale Parthenon replica, Centennial Park boasts 132-acres and features a one-mile walking trail, Lake Watauga, the Centennial Art Center, historical monuments, an arts activity center, a band shell, an events shelter, sand volleyball courts, a dog park, and an exercise trail. You won't run out of things to do at this wonderful free park!
Free Live Music At The Bluebird Cafe
This intimate venue invites you to enjoy the tunes of local artists and songwriters–no cover charge–at daily performances. Times depend on the day of the week; check the event calendar here to see who's show you can enjoy during your visit. Note that there is a $10 food or drink minimum per person during shows.
While country music is the hometown favorite, the Bluebird Cafe features artists who perform everything from pop and rock to contemporary Christian.
Tennessee State Museum
The Tennessee State Museum invites visitors to learn about the history of The Volunteer State and to view historic artifacts from our nation's history. The museum features paintings, a print shop, and historic weapons. Its mission: to collect, preserve, and interpret the material culture of Tennessee and Tennesseans.
Bicentennial Capitol Mall State Park
Another beautiful park in Nashville, Bicentennial Capitol Mall State Park is situated in downtown. It's a 19-acre park with a 200-foot granite map of the state, a World War II memorial, a 95-Bell Carillon, a Pathway of History, and the Rivers of Tennessee Fountains. The park also features native plant species from different regions of the state.
The Best Restaurants To In Nashville
Nashville is home to some delicious Southern cooking, with popular dishes including fried pickles, fried sweet potatoes, cornbread, macaroni and cheese, country ham, hot chicken, and biscuits and gravy. Check out the following best restaurants in Nashville:
Hattie B's Hot Chicken
A more affordable local favorite known for serving the best hot chicken in town, Hattie B's Hot Chicken has several locations throughout Nashville and is an ideal option for some good, cheap Southern cooking.
To get their secret recipe just right, Hattie B's fries their chicken, then bastes the meat in a fiery spice mix not fit for the faint of heart! When dining at Hattie B's, be sure to round out your meal with some essential Southern comforts, such as pimento mac and cheese, black-eyed pea salad, or seasonal fruit cobbler.
Etch Restaurant
An open-kitchen setting with eclectic, upscale dining, Etch Restaurant is located at the bottom of Encore Tower in downtown Nashville. The menu features famous dishes such as duck tart, lamb loin, veal and shiitake meatballs, and scallops. The restaurant's chef, Deb Paquette, was the first woman in Tennessee to qualify as a certified executive chef.
Monell's Dining And Catering
The top-rated restaurant in Nashville according to TripAdvisor, Monell's Dining and Catering is yet another sought-after eatery, serving some of the best Southern meals in the city. Known for its fried chicken, pork ribs, roast beef, mac and cheese, and turnip greens, Monell's is dedicated to serving family style Southern food in a hospitable atmosphere.
Best Hotels In Nashville
Nashville offers travelers several neighborhoods to choose from when deciding where to stay. Whether you want to check into the city's bustling downtown area, be closest to the best nightlife, stay in more sprawling accommodations, or be close to Nashville's renowned music scene, there's something for every traveler.
Downtown
Downtown Nashville is home to several of the city's main attractions and activities, including many of its art galleries, Ryman Auditorium, the Country Music Hall of Fame Museum, and the Johnny Cash Museum. The city's lively and vibrant character comes to life in downtown Nashville!
Midtown/Vanderbilt/West End
Midtown, commonly referred to as the West End, is known for its thriving nightlife scene, with clubs and bars lauded for their live music, drag shows, and LGBT-friendly atmosphere. It is also home to Centennial Park and the Parthenon, a true-to-size replica of the famous Grecian structure.
Music Valley And Music Row
If you're traveling to Nashville to indulge in its celebrated country-music scene, you'll undoubtedly want to look for accommodations in Music Valley or Music Row. Both neighborhoods are home to country music hotspots, famous recording studios, and renowned music halls including the Historic RCA Studio B and the Grand Ole Opry.
The Gulch
The Gulch is a more luxurious neighborhood in Nashville known for its industrial history, dining experiences, and high-end boutiques. It is the first LEED-certified neighborhood in the South–meaning it boasts innovative environmental design–plus, it's home to the Station Inn, the city's best live bluegrass venue.