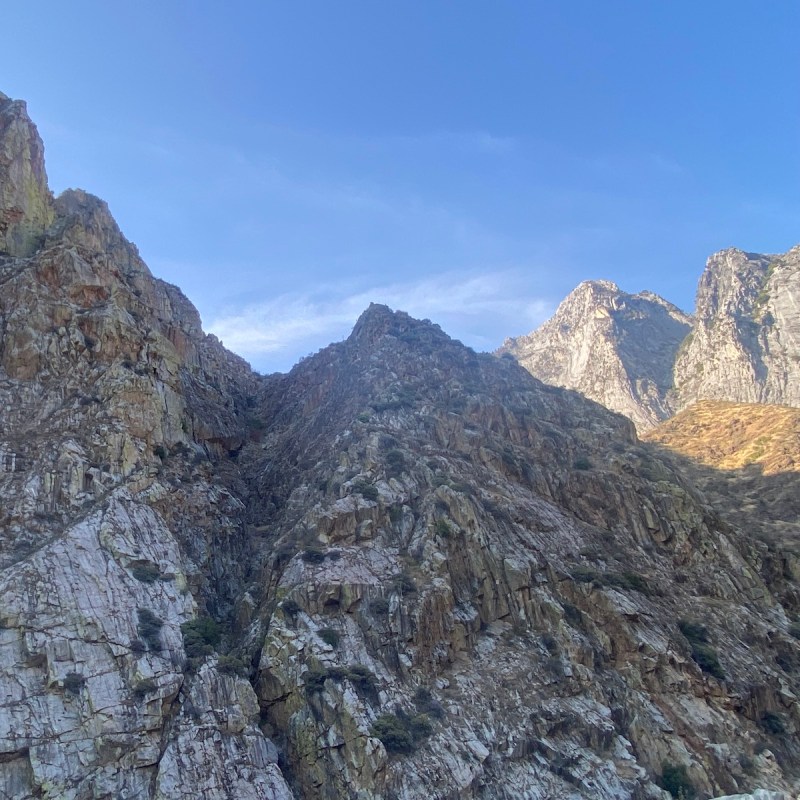 For a national park that contains a large part of California's longest mountain range, one of the deepest canyons in North America, and the nation's only living shrine, Kings Canyon in California still sometimes feels like a runner-up to its neighbor, Sequoia National Park.
Sequoia earned its national park status half a century before Kings Canyon. Sequoia gets twice as many visitors each year. It has the world's largest tree while Kings Canyon has the second largest. Sequoia even gets top billing on the National Park Service's web page for the jointly administered parks: "Sequoia & Kings Canyon National Parks."
Yet Kings Canyon can easily stand alone as a destination that delivers at every turn. Whether you choose to seek out just one big tree or see what happens when you take a road until its very end, Kings Canyon offers an opportunity to get away from it all and get a break from the huge crowds at many other national parks. Here are seven experiences you can add to a Kings Canyon bucket list.
1. Look (Way) Up To Appreciate A Runner-Up
Golfer Walter Hagen is quoted as once saying, "No one remembers who came in second." Kings Canyon National Park offers a challenge to that belief — with an opportunity to see the world's second-largest tree.
Admittedly, after spending a couple of hours in Sequoia National Park, seeking out the world's largest tree — the General Sherman — I had a moment's pause wondering if it was worth it to see the slightly smaller General Grant in Kings Canyon. It was — because of its size and its unique history.
The General Grant Tree is about 268 feet tall and 40 feet in diameter. That's so wide, a sign near the tree explains, it would take about twenty people holding hands to reach around the diameter at the base. Another sign explains that if the tree's trunk could be filled with sports equipment, it could hold 159,000 basketballs or more than 37 million ping-pong balls. With numbers like those, being the second largest in the world still seems pretty significant!
General Grant is an estimated 1700 years old, and it's had a special status for about 130 of those years. Back in 1890, Congress established General Grant National Park to protect the giant sequoia and those in a grove around it. Fifty years later, the space was expanded to include canyons to the east and renamed Kings Canyon National Park. In the meantime, General Grant picked up a few other titles: the Nation's Christmas Tree and "a living shrine" dedicated to people who gave their lives serving their country.
Pro Tip: The National Park's website says, while some websites mention a shuttle in the Grant Grove area, it is no longer operational. There is a large nearby parking lot with restrooms, however, and the General Grant Trail is a flat, paved one-third-mile loop. NPS also has a series of videos providing an overview of all kinds of accessibility in Kings Canyon and Sequoia National Parks.
2. Take A Hike — Or A Horse
Kings Canyon National Park's 461,901 acres offer vast space to explore sequoias, lakes, waterfalls, meadows, and mountain passes. Some of these trails are short with big payoffs, like the 0.3-mile Roaring River Falls paved trail and the 1.5-mile Zumwalt Meadow out-and-back trail. Kings Canyon requires wilderness permits to stay outside of designated campgrounds if you're interested in some of the longer, more isolated wilderness trails.
Pro Tip: There are in-park lodging opportunities for those who like a day in nature and a night in a soft bed. The John Muir Lodge and Grant Grove Cabins put you near all the amenities around General Grant, while the Cedar Grove Lodge is located deep in Kings Canyon.
Another way to check out the park is with a four-legged friend. Guided horseback rides in the summer give people of all experience levels an hour or two to explore with an expert, and there are backcountry options as well.
3. Hit The Highway By Taking The Byway
Kings Canyon National Park has two different sections divided by Sequoia National Forest and Giant Sequoia National Monument. The Kings Canyon Scenic Byway connects those sections in spectacular fashion with 50 miles of highway which is the only vehicle route into the park. You will go from 6,500-feet-high views of the Sierra Nevada — California's longest mountain range — way down to Kings River, weaving your way through unforgettable landscapes along the way. It will take you a minimum of 2–3 hours to drive this round trip, and that doesn't include time for short hikes or stopping to take in the scenery. Part of the road closes for the winter — so plan according to season.
I was drawn to the signs which told the distance to Road's End — how could we not travel to see what was at the end? It turns out to be a jumping-off point for many trails, and a bonus was seeing a bear not far from the sign. It also gives you an opportunity to check out a fourth experience in Kings Canyon: channeling your inner John Muir.
4. Channel Your Inner John Muir
Naturalist John Muir, often known as the "Father of the National Parks," had high praise for Kings Canyon, calling it a "rival of the Yosemite." At Muir Rock, located close to Road's End, you can see where he stood on a rock, a few feet above Kings River, to extol the glories of the space to anyone who would listen. The National Park Service says Muir's advocacy eventually helped convince people Kings Canyon was worth national park status. You can stand on the rock for yourself, and the park says you may even be able to swim in the water around it, though the river is cold and can be dangerous.
5. Go Deep
There are three national parks dedicated to canyons so impressive, they show up in the name: Arizona's Grand Canyon, Colorado's Black Canyon of the Gunnison, and Kings Canyon. So how did Kings Canyon make the list? As the National Park Service explains, just a few miles outside of the park boundaries, Kings Canyon gets deep enough to become "arguably the deepest canyon in North America" for a short distance. Though it's not as long or wide as the Grand Canyon, this canyon carved out by glaciers is more than 8,000 feet deep at some points, and the Kings River dramatically winds its way through the canyon. It creates spots for summer beaches, and you can fish in most areas of the park — anyone 16 years and older will need a California fishing permit. There's also a chance to fly fish with an NPS-approved guided service. Go just outside of the park, and you can take advantage of seasonal whitewater rafting to add an extra dose of adrenaline to your visit.
6. Go Deeper
The only way to go deeper than a deep canyon is to go underground, and Boyden Cavern is a way to do so. Boyden Cavern is technically in the Sequoia National Forest, though you go through Kings Canyon National Park near Grant Grove to get to the marble chamber. That means you must pay the national park entrance fee in addition to your cavern ticket, which ranges from $16–$22. You will enter near the 2,000-foot King Gates marble walls with views of Kings Canyon, and the environment cools quickly when you go underground. The private company tour operators say it can be 55 degrees in the cavern, so they suggest wearing hiking boots and layers to stay comfortable. The company also describes a short but steep hike to the cave which it says some customers may find challenging, and the cavern is not wheelchair accessible. Also, there are no backpacks allowed, so plan on traveling light. Once inside, look for stalactites, stalagmites, and formations like "Mother Nature's Wedding Cake."
Pro Tip: Boyden Cavern's operators say they follow all current COVID-19 health and safety guidelines. They also recommend buying tickets online in advance to ensure a spot on the tours.
7. Listen In
I made one of my favorite discoveries of Kings Canyon when my trip had wrapped up and I was back at home exploring the national park's website. It turns out, scientists have recorded soundscapes of Kings Canyon and Sequoia National Parks, helping to hear how life sounds in different parts of the park. The park explains that scientists can compare sounds to understand how controlled burning impacts birds, or how different animals may use space over the course of a season. The tour is a great way to remember what Kings Canyon sounded and felt like, or to get an understanding of the park if you're unable to visit in person. Without these soundscapes, I certainly would never have heard what a California newt sounds like underwater. It's a reminder of how much you see in a park, and how much remains undiscovered in just one trip. Kings Canyon may often get second billing to Sequoia on national park bucket lists, but it's worth a first-rate visit.
For more information about California and its national parks, visit these articles: