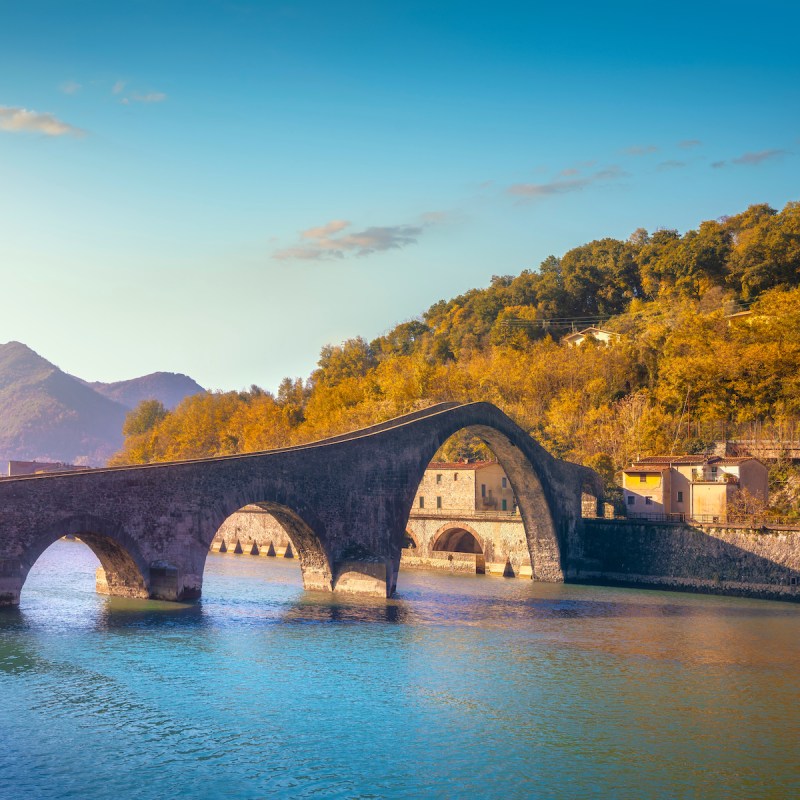 Fall is a good time to cross the pond. For one thing, it's shoulder season in Europe, meaning you're likely to score bargains on accommodations and, if you're lucky, maybe even airfare if you plan to fly during October or November. However, those discounts may vanish closer to the Christmas holiday season.
While you're plotting your great escape, think outside the box a bit. Maybe skip European favorites like Paris, London, and Barcelona. Go for second-tier, lesser-known locales. You'll avoid the crowds — and with it being off-season — these cities should be quieter still. If you're looking for where to begin your search, start here.
1. Algarve, Portugal
Lisbon gets all the buzz in Portugal, but about two and a half hours away is a smaller, quieter slice of the country. In Algarve get your fill of sun, sand, and golf. Check into the Anantara Vilamoura Algarve Resort. Expect pampering at its best. Anantara Spa, Vilamoura's award-winning spa, uses healing traditions of the world's richest wellness cultures, centuries-old Mediterranean therapies, Turkish hammam rituals, and exotic Asian treatments to perfection, creating an unforgettable experience. It's among my favorite spas in the world. Five years later, I'm wondering who will top that experience. Golfers can play on one of Europe's best courses — the Victoria Course — designed by Arnold Palmer and home to the Portugal Masters. It's a short drive in a Tuk-Tuk to the award-winning beaches.
Indulge your inner foodie. The Spice Spoons program offers the opportunity to go to the local market of Loule with a hotel chef to buy local and fresh ingredients for lunch. You and other class members can get in on the game and help the chef prepare traditional Portuguese dishes. No worries if you're a rookie, they were quite kind to my somewhat challenged kitchen skills. The food in Algarve is outrageously good like it is in Lisbon. It's hard to have a bad meal. Traditional foods rule. Think clam xerem (stew with maize meal), cataplana (southern Portuguese meat and seafood stew), seafood acorda (bread casserole), and a whole host of others. Salt gets much respect, particularly salt flower. Other local favorites include grilled fish, such as sardines dripping on bread accompanied with a montanheira salad, made with tomato and oregano to add that special taste.
2. Bordeaux, France
For sure, when it comes to France, Paris often hogs the spotlight. There's more to France's story and you'll find it in Bordeaux. I once took a trip through southern France and it was the highlight of my journey.
Bordeaux is a different beast than Paris. You won't have to wind your way through the massive crowds. That's not to say you'll have the town to yourself. It's hardly a sleepy place. Bordeaux is among France's top 10 cities — but it strikes the right balance — with a bit of bustle from tons of college student energy, edge, and bliss. Better still, you generally won't find expensive Parisian price tags, be it dining or accommodations.
For the action, check out Rue Sainte-Catherine, 1.2 kilometers of shopping believed to be the longest pedestrian street in Europe. The designer stores, stunning Gothic, Renaissance and contemporary architecture pack enough pizazz to make it worth a stroll, even if the shops are beyond your budget. Sprinkled in the mix you'll find eateries, along with a handful or so of less fancy stores. While the scene is high-end retail, there are street musicians and people otherwise expressing themselves — like the man on stilts draped in a full-length gold gown with branches sprouting from his body and his head thrown back. You can't tell me he's not a tree. You'll love the show that can be Sainte-Catherine.
This region is world-renowned for its wines. Whether you're an oenophile or not, you will be impressed by La Cité du Vin, a museum/cultural center that celebrates wine. What goes with great wine, but great food? Bordeaux's culinary scene is vibrant. In the last few years, celebrity chef Gordon Ramsay opened two restaurants in Bordeaux. Good luck getting a reservation at 2-Michelin-starred Le Pressoir d'Argent Gordon Ramsay or Le Bordeaux. As much as Bordeaux continues to emerge as a hipster, funky city — where you have to watch out for the skateboarders and bikers as much as the pickpockets — this UNESCO World Heritage city is awash in history with landmarks dating back to the 15th century and it's a city of museums. As for where to stay, the InterContinental Bordeaux – Le Grand Hotel is as luxurious as it sounds with its sophisticated, elegant 19th-century décor. You'll feel like you're in old-world France.
3. Surrey, England
In the southeast region of England, about an hour from London, is Surrey. Many who visit London never venture there. Don't you miss out. There are award-winning vineyards, charming country pubs and eateries, and stunning hilltop views. Surrey also boasts some of Britain's best gardens. Fall is ideal for a visit because harvest season is in full swing, and you'll be able to observe the harvesting process firsthand. Fall is also perfect for taking in the memorable site of the rolling hills and valleys. Indulge yourself with a stay at the Beaverbrook Estate. Lose yourself in IG-worthy landscaped gardens with cascading fountains and feast on innovative culinary experiences. The sprawling, 470-acre property is uber luxe. Take a 90-minute masterclass with the resort's bar team. Go home with bragging rights about your new ability to mix and match exotic spirits. Keep yourself busy fishing, fencing, playing croquet, tennis, badminton, or chilling at the private cinema.
4. Maribor, Slovenia
Maribor is a city often overlooked by travelers, but full to the brim with parks and quaint streets featuring Romanesque buildings to wander. Spend time in Maribor City Park with its three ponds, aquarium, terrarium, playground, and more. Chill out on the banks by the ponds and watch the water birds. The city is overlooked by Pyramid Hill, a hill covered in vineyards. It is the perfect place to take in the tree-filled city views and beyond amongst the vines that are ready for picking just as it hits fall. If you want to try some of the local brews, then a short drive away is the Maribor Wine Trail and the Heart-Shaped Road. Views, wine, and colorful fall landscapes await. Enjoy the many museums and galleries, the Maribor Cathedral, and other sites.
5. Lucca, Italy
Rome and Venice are so yesterday. Go off the beaten path. Give Lucca a look-see. This quaint town birthed great composers such as Giacomo Puccini, Nicolao Dorati, and Giovanni Lorenzo Gregori. The city's well-preserved Renaissance walls feature lush, groomed greenery. This is the kind of place you want to stroll around or bike. Music and culture are plentiful.
Stay in the town's first luxury hotel, the Grand Universe Lucca, Autograph Collection. Enjoy a glass at Eterno, the hotel's wine cellar that features top-of-the-line collections and tasting sessions. Dine in the Legacy Restaurant that encompasses Lucca's decadent gastronomy.
Overlook the Tuscan vineyards atop the Sommitá Martin Orsyn Champagne rooftop bar as you sip champagne. Do something you can't do anywhere else. Have your own "Prelude of Existence" written by a classical composer. (In musical terms, a prelude is an introductory piece of music, most commonly an orchestral opening to an act of an opera). This curated experience takes place in the Symphony Lounge. Fill out a brief questionnaire that identifies your personality traits and the composer will create a song based on them. Keep the good times going with Tuscan olive oil tasting, where you'll learn what makes for an excellent extra-virgin olive oil and how to pair oils with food and dishes.
6. Trondheim, Norway
When you think of Norway, Oslo likely comes to mind. But there's also Trondheim. It was once the Viking capital of Norway. Though it's the third-largest city, it's not a household name — yet. For sure though, it's emerging as a culinary destination in Europe, from locally sourced seafood, meat, and produce gracing the menus of the city's restaurants, to the casual local spots, and the many Michelin-starred tables — including the Michelin-starred Speilsalen restaurant at the historic Britannia hotel, which was named Norway's 2020 Restaurant of the Year. In 2022, Trondheim and the surrounding Trøndelag region were officially designated as the European Capital of Gastronomy. Fall is an ideal time to visit Trondheim. The effects of the Gulf Stream on the city's weather mean temperatures are much less cold than one might imagine for a Norwegian city in autumn. You'll want to bike, hike, kayak the Nidelva River, explore the wharves, warehouses, and boathouses that have stood at the mouth of the Nidelva River since forever. Do tour the Nidaros Cathedral, built in 1070 over the tomb of St. Olav, the patron saint of Norway and the Viking king who brought Christianity to the region.